SHARE YOUR BATTLE Weekly Challenge! DRAGONS!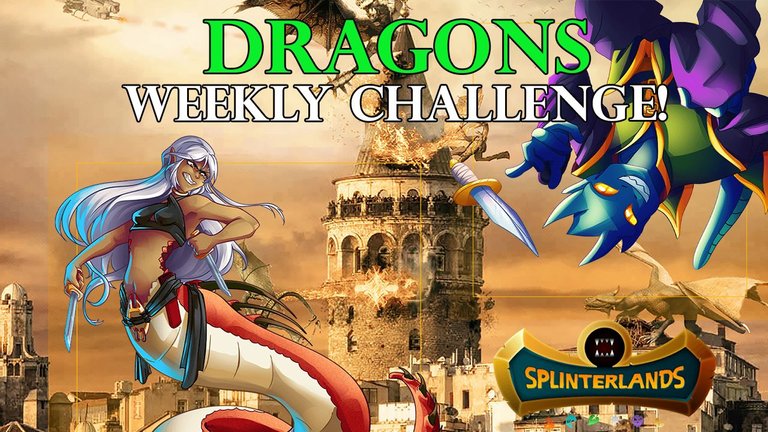 This week's battle challenge focuses on the Dragon Splinter. When you play dragons, you can also combine them with another Splinter. This gives you the option to choose more Monsters. I use this Splinter in low mana battles. Why? You will find out reading my post.
THEME: DRAGONS
Edition: ANY
Rarity: ANY
Element: DRAGON + ANY
ATTACK: ANY
ABILITIES: ANY
Naga Assassin
Naga Assassin is rare monster from Chaos Legion Rewards cards. You can use it in all fights in Modern format. At level 1, she has the no abilities, 1 Range Attack, 2 Health and 5 Speed. When you level her up to level 10, then She gets abilities below:
Swiftness - All friendly Monsters have increased Speed by1.
Backfire - If an enemy misses this Monster with an attack, the attacker takes 2 damage.
This card costs only 2 mana and is very strong in low mana battles. She is very fast and has backfire, as a result can damage the opponent when enemy misses attack. I like to choose Dragon +Life Splinter. Those two Splinters are the best for low mana battles. In this post I will show you how to build the best lineup.

My strategy and lineup
The Ruleset of the battle is as follow:
Fog of War - Monsters lose the Sneak and Snipe abilities.
Healed Out - All healing abilities are removed from Monsters and Summoners.
Mana Cap of 13.
Available Splinters - Fire, Water, Earth, Life and Dragon.

In Fog of War Ruleset monsters lose Sneak and Snipe abilities. The only abilities that can hit backline monsters are Opportunity and Scattershot. That's why It is important to use couple meat shield monsters with 1 or 0 mana. As a result my opponent can waste some attack to kill them. In meantime I can easly kill his monsters one by one.

Round 1
My tank position took Pelacor Conjurer. This card has many Health Point, Flying, Magic Reflect and Divine Shield ability. This is very strong tank in low mana battles.
Second position is for Chaos Agent. I expected him to Dodge couple attacks.
Third position monster costs 0 mana so I used him as a meat shield.
Celestial Harpy is on the 4th place. She has Opportunity ability so can attack low Health monster in Fog of War Ruleset.
Last two position are for Ranger Attackers. These cards have highest HP so can survive opportunity attacks.
Let's check if my strategy works as planned.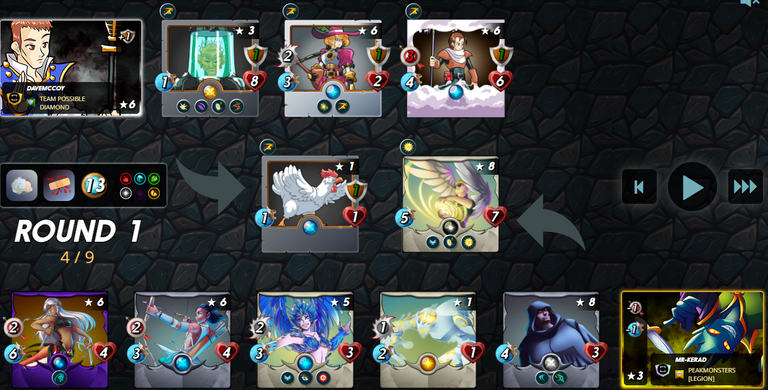 Round 2
My opponent chose Life Splinter. My Dragon Summoner Quix the Devious lower his Speed and Range attack by 1. My tank has Divine Shield so first attack is ignored. My Ranged attackers hit his tank and killed him very quickly. My opponent has only one monster that can attack from backline. In addition, his tank has no attack at all. It is worth to remember that this tank has strong defensive abilities: Shield, Void, Magic Reflect and Thorns. Unfortunatly, most of my monster are Rangers so can hit him witout taking any damage.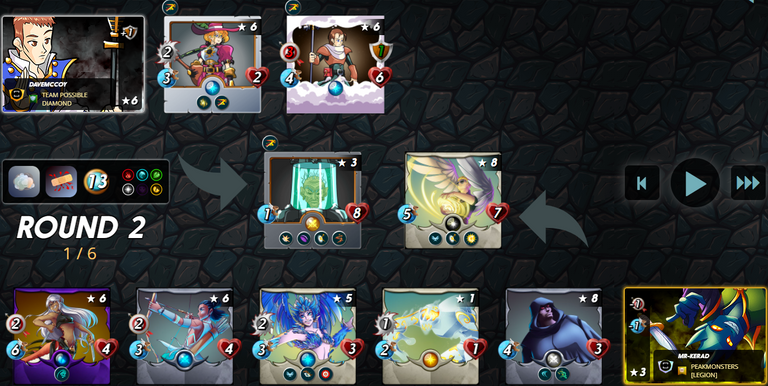 Round 3
I still have full team on my side. My opponent left with two monsters. I have to make couple more hits to go through his Shield. How many rounds will it takes?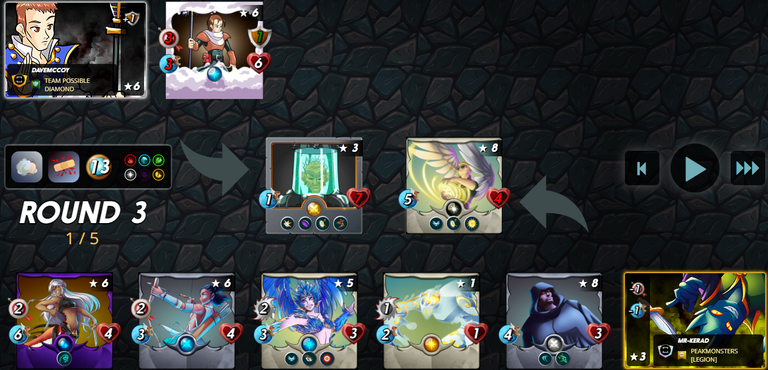 Round 4
This is another round of hits. His tank is still alive. It takes some time until I can finally kill him. I this round my Opportunity monster will be defeated due to Thorns ability.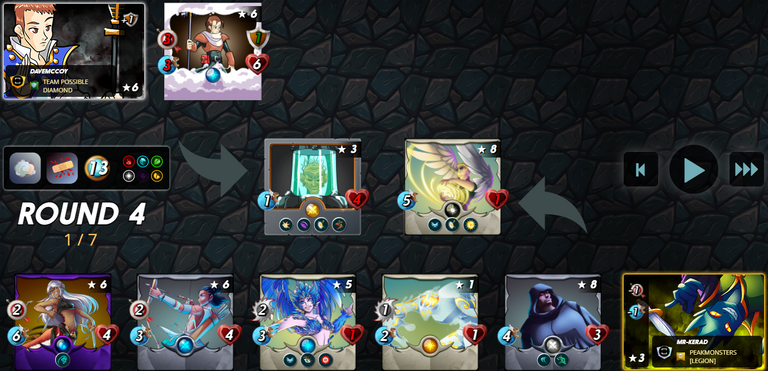 Round 5
My tank is dead but my opponent still have 1 HP. My strategy work very good. I need to make one more hit to kill his tank. Moreover, I have two more monsters in front to keep my Rangers monster alive.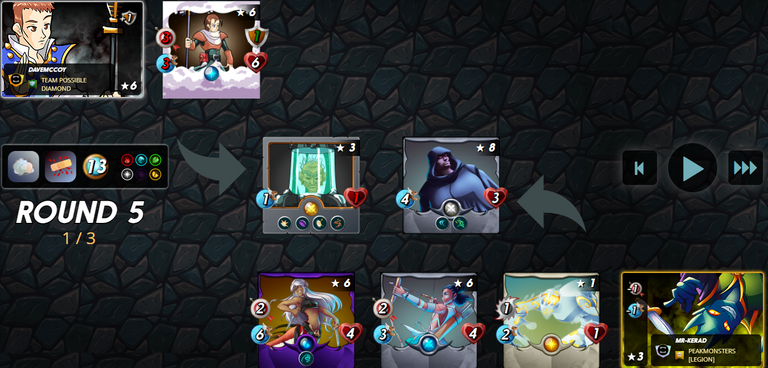 Round 6
Only one Ranger monster left. Ranger cannot attack from first position. As a result the battle is over. My monsters can easly hit from backline. Thank you for battle.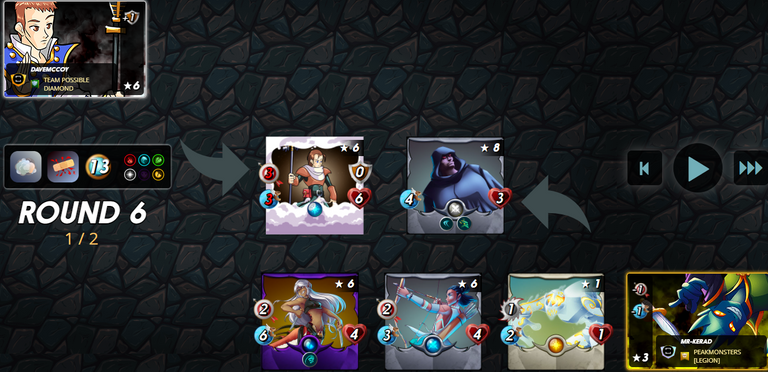 Battle Results
This was battle in Diamond III league. You can see how much DEC can you get once you reach this level. I am in the guild so have extra bonus for every win battle.
Do you want to see it online? Link to the » Full Battle!!!

Did my strategy work? What I would do differently next time?
The strategy works fine. Life and Dragons have many low mana cards. It is enough to use a few 0-2 mana monsters as a tank,then the back line can attack without any problem.
What do I like about Dragons most?
Dragons offer a lot of possibilities. All it takes is a few strong cards that can be combined with other Splinters. Thanks to this, even if you do not have the entire collection of cards, you can create a strong deck.
What I do not like?
I usually use them in Ruleset which requires high Speed. Most dragons have the ability to increase Speed. As a consequance Dragons are very weak in Reverse Speed Ruleset.

If you don't have account yet join The Splinterlands

Thank you for taking the time to read my post, i hope you enjoy it.
Keep imroving your deck!!!
Regards @mr-kerad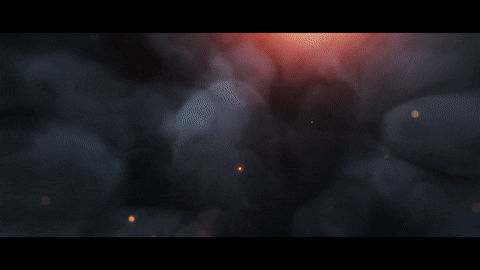 ---
---