SHARE YOUR BATTLE Weekly Challenge! GOBLIN PSYCHIC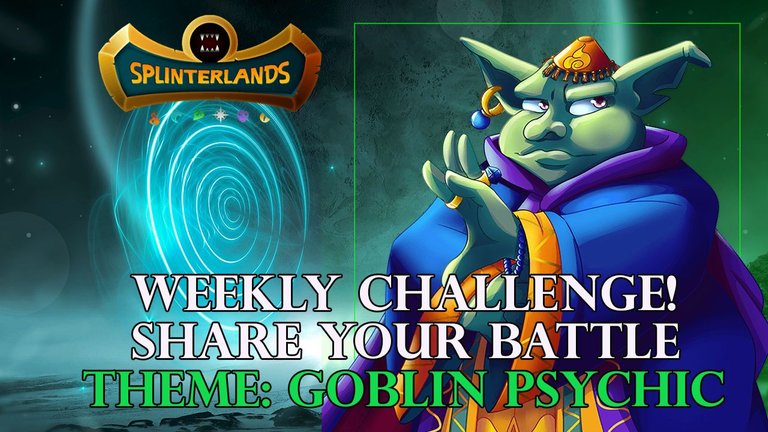 The Goblin Psychic is the monster of this week battle challenge. It is the only earth splinter monster in Chaos Legion edition that has tank heal ability. In addition, Goblin Psychic is a monster with two magic attack. What else make this card powerful? Check it out in my article!
THEME: GOBLIN PSYCHIC
Edition: CHAOS LEGION
Rarity: COMMON
Element: EARTH
Attack: MAGIC
Abilities: Tank Heal


The Goblin Psychic Overview
Goblin Psychic is common earth monster from Chaos Legion edition. This monster has magic attack, as a result it can attack from any position. Magic is the only attack that hit directly your opponent monster, unless it has some ability like Void (Magic attacks hit this Monster's armor before its Health). Goblin Psychic has a special ability at the 1st level that is called tank heal (Restores 1/3 of the max health, rounded up of the Monster in the first position each round). It is very solid card with decent amount of magic attack and overall good stats. It unlocks Affiliction ability at level 4, which makes your target monster to be unable to heal. Then at level 7 it has Silence ability that reduces the Magic Attack of all enemy Monsters. Goblin Psychic is very powerful at max level due to all abilities available and high amount of HP. In my opinion it is one of most useful monster in earth splinter.
No financial advice but at the time of writing it costs only $0.26 per BCX.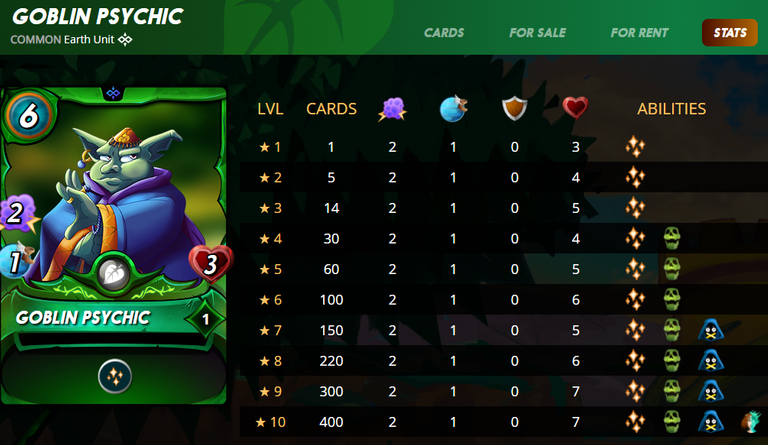 Key abilities:
Tank heal - Restores a portion of the Monster in the first position's health each round. Restores 1/3 of the max health, rounded up
Affiliction - When a Monster with Affliction hits a target, it has a chance of applying Affliction on the target causing it to be unable to be healed.50% chance of applying Affliction on the target.
Silance - Reduces the Magic Attack of all enemy Monsters.
Dispel - When this monster hit an enemy, it clears all positive status effects on that enemy.

My strategy and lineup
The ruleset of the battle is as follow:
Armored Up - All Monsters have 2 Armor in addition to their normal Armor stat.
Rise of Commons - Only Common and Rare Monsters may be used in battles.
Mana Cap of 48.
Available Splinters - Fire, Water, Earth, Death and Dragon.

Usually for Armored UP ruleset the best strategy will be to place some monsters with magic attakcs because they hit directly your opponents monsters. The best summoner for this ruleset is Obsidian that increse magic attack by 1.


Round 1
As my tank I chose Pelacor Mercenary due to high amiount of HP and heal. It work very good with Goblin Psychic beacause it can heal twice per turn. As a result my tank was max healed each round. I used Myceli Splipspawn at the back row. This moster has taunt (enemy target him if they able to) and forcefield. This ability reduce damage to 1 get hit by attacks with power +5. In the middle there are two monsters with ranged attacks in case that my opponent use some magic debuffs.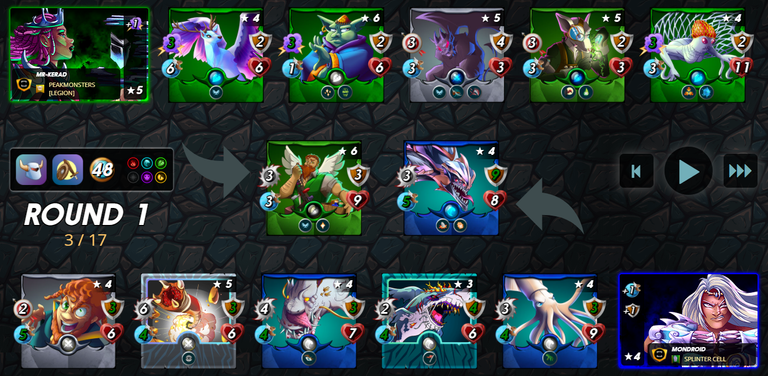 Round 2
I killed my opponent tank in first round. 9 Magic attacks hit him directly. That's why magic is very strong in this ruleset. All my enemy monster hit Myceli Splipspawn at the back row due to taunt ability. It survive all heavy melee attacks because of forcefield ability. At the end of this round second tank was defeated very quickly.

Round 3
My Pelacor Merceneary has still max health. This is reward card from Chaos edition which is currently very undervalue. I like it very much because it has high winrate, especialy when it is on the battlefield with Goblin Psychic. Round 3 was ended with result of killing another two monsters in my opponent team.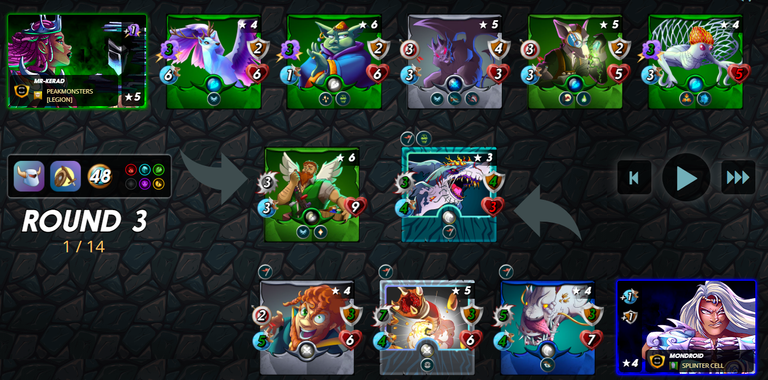 Round 4
This is the final round. My team is still full due to double tank heal. My monsters hit once again and the battle was over. I won it!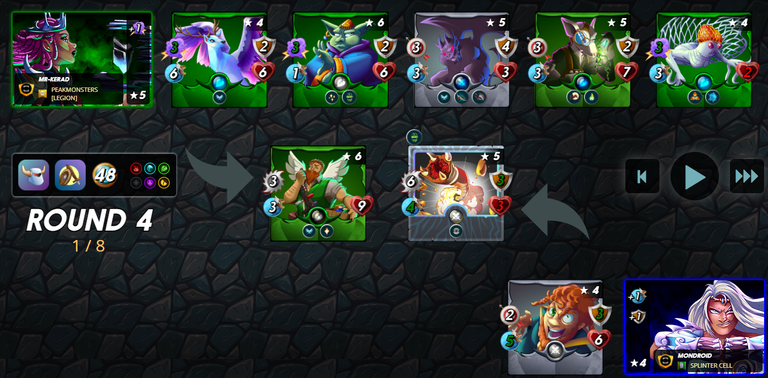 Battle Results
This was battle in gold II league. You can see how much DEC can you get once you reach this level. I am in the guild so have extra bonus for every win batttle.
Do you want to see it online? Link to the » Full Battle!!!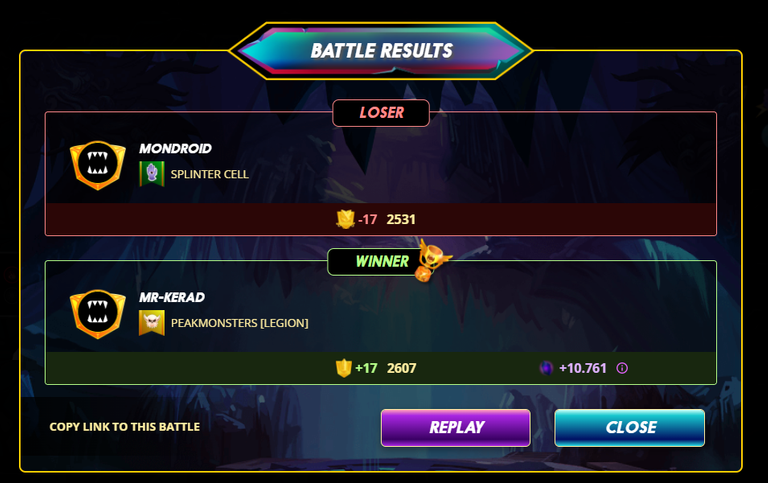 Did my strategy work? What I would do differently next time?
Yes. Definitly my strategy worked as planned. Putting strong tank in front is very effective, my backline mosters could easly make many attacks without any damage. In addition Goblin Psychic supports perfectly my tank. These two monsters together makes battle works effectivly.
What do I like about Goblin Psychic most?
Goblin Psychic has tank heal ability which I like to use quit often. It also has magic attack, affiliction and silence. All of these abilities are my favourite, that'swhy I use Goblin Psychic in most earth splinter battles.
What I do not like?
This monster is overall very good. So only positives no negatives.

If you don't have account yet join The Splinterlands

Thank you for taking the time to read my post, i hope you enjoy it.
Keep imroving your deck!!!
Regards @mr-kerad



---
---