SHARE YOUR BATTLE Weekly Challenge! MYCELIC MORPHOID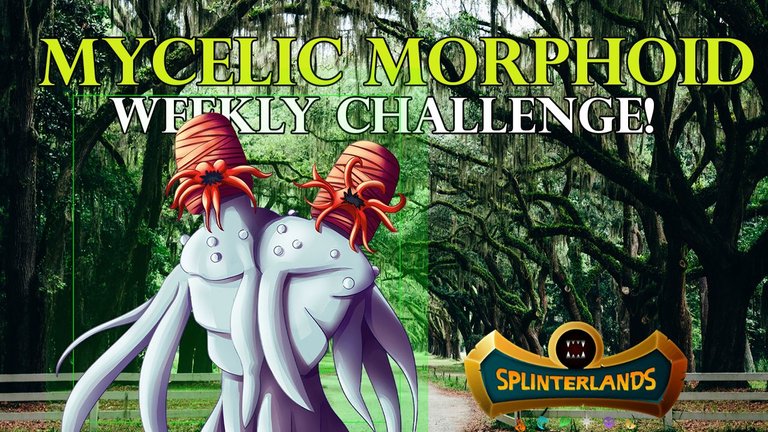 This week's battle challenge focuses on the Mycelic Morphoid. This is a Earth Splinter monster with melee attack for only 1 mana cost. Low mana monster are very usefull in any deck. They can absorb one damage and save life of other more important card. In Equilizer Rulest they have the same amount of HP like all monsters. If you get some ability at higher level, then Mycelic Morphoid can be very powerful. Let's see what make this card so special.
THEME: MYCELIC MORPHOID
Edition: CHAOS LEGION
Rarity: COMMON
Element: EARTH
Attack: MELEE
Abilities:Thorns
Mycelic Morphoid is common Earth Splinter monster from Chaos Legion edition. This monster has 1 melee attack at level 1. Melee is very effecitve from tank position because monster with this type of attack can't attack from the back row unless the battle ruleset has any special ruleset. Mycelic Morphoid one special ability "Thorns" at level 3. It is very solid card for only 1 mana. Mycelic Morphoid is overall good card in some circumstances. At max level this card has 2 melee attack and 3 Health.
Ability:
Thorns - When hit with a Melee attack, does 2 damage back to the attacker.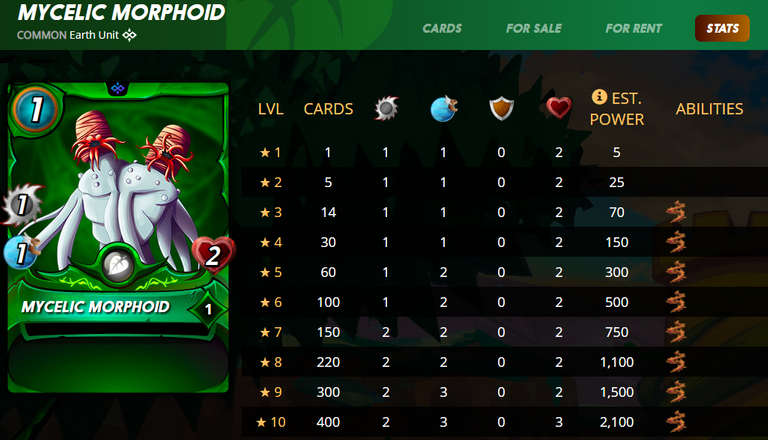 My strategy and lineup
The ruleset of the battle is as follow:
Spreading Fury - All Monsters have the Enrage ability. Increase Melee attack and Speed when damaged. Values are multiplied by 1.5 and rounded up.
Earthquake - Non-flying Monsters take 2 Melee damage at the end of each round.
Mana Cap of 15.
Available Splinters - Fire, Water, Earth, Death and Dragon.

Usually for Eearthquake Ruleset the strategy will be to use flying monsters.Why? You will take 2 Melee damage at the end of each round if you use Non-flying Monsters. If you monsters have armor, then it hit armor first. Once armor is removed it will damage you monster health.

Round 1
My tank position took Mycelic Morphoid. I used this monster because I had 1 mana left.This monster has Thorns ability so I expected that Mycelic Morphoid can hit once and then make another damage from Thorns.

Second position is for Pelacor Mercanery. This monster has Flying ability and Heal. As a result Pelacor Mercanery can win sometimes battle in Earthquake Ruleset alone. I had 15 mana so

I had 15 mana so I used my last 3 mana for Uraseus. Main purpouse for this card was Poison ability. I expected him to hit once or twice my opponent and poison him. In case of mirror match like Pelacor Mercanery vs Pelacor Mercanery, my opponent would loose more damage each round.
Let's check if my strategy works as planned.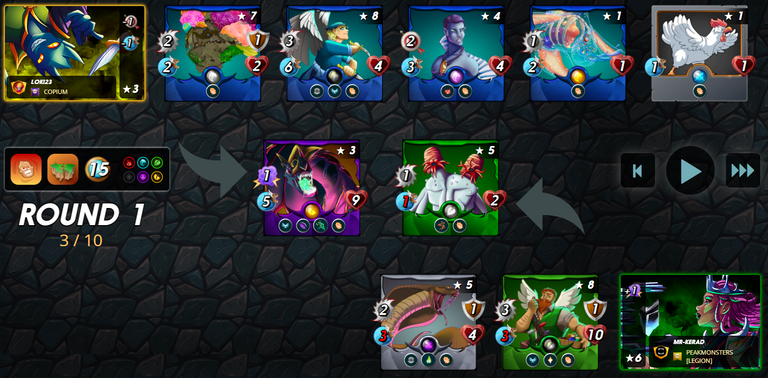 Round 2
My opponent put 2 low mana monsters at the back row. As a result my Uraseus with poison hit them instead of more stronger characters. In addition my Mycelic Morphoid faced Magic attacker, so could use his Thorns ability and was dead in first round. I could put him at the back to protect from Sneak monsters. Anyway I couldn't predict every move.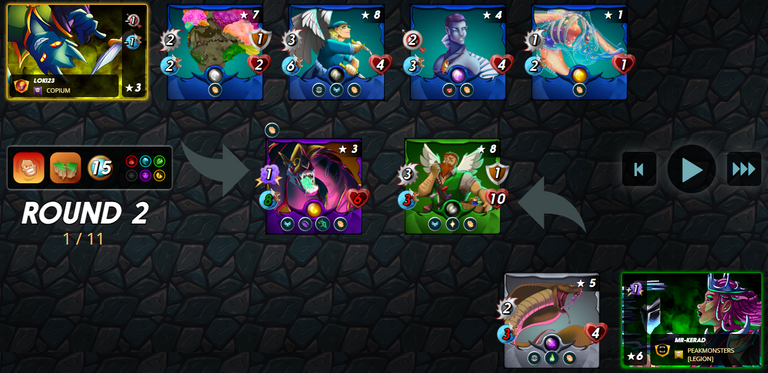 Round 3
One more wave of Earthquake and low Health monsters without Flying are dead. I left with my only Pelacor Mercanery. My opponent still have 4 monsters on the board. Two of them with Flying and two which will die next round from Earthquake.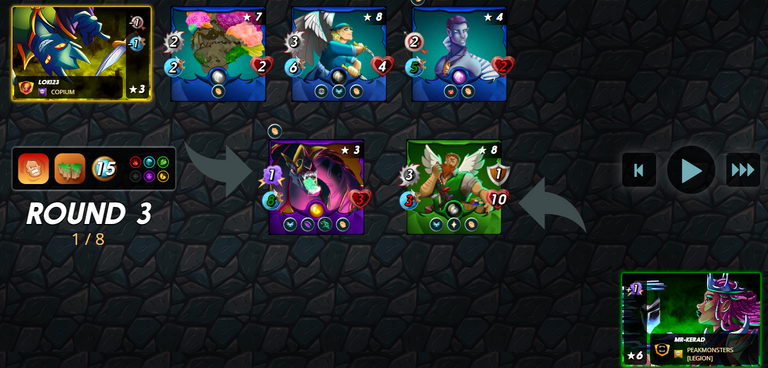 Round 4
Pelacor Mercanery had Armor and Heal, as a result he could survive three attacks from my opponent.Each round Void Dragon is hit by my tank. This is last round for him if I don't miss.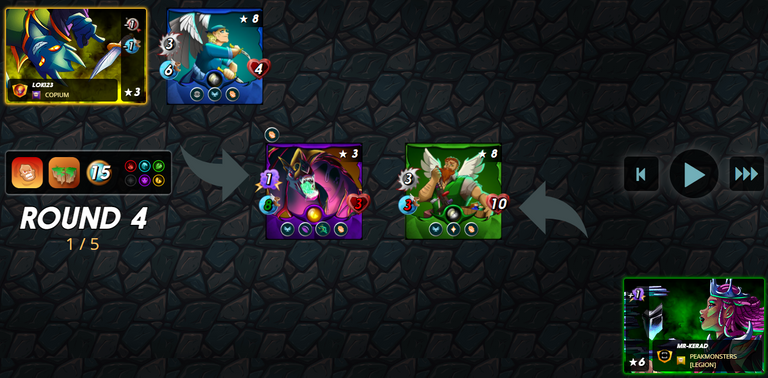 Round 5
Pelacor Mercanery hit and defeat last monster on the battlefield. The battle is over.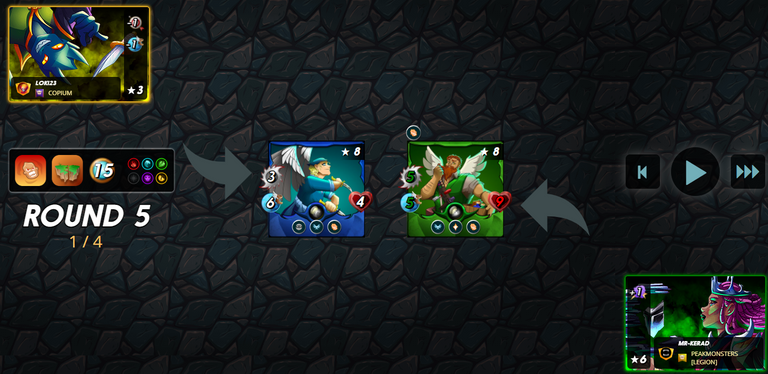 Battle Results
This was battle in gold I league. You can see how much DEC can you get once you reach this level. I am in the guild so have extra bonus for every win batttle. Off course this is end of season so DEC rewards are very small.
Do you want to see it online? Link to the » Full Battle!!!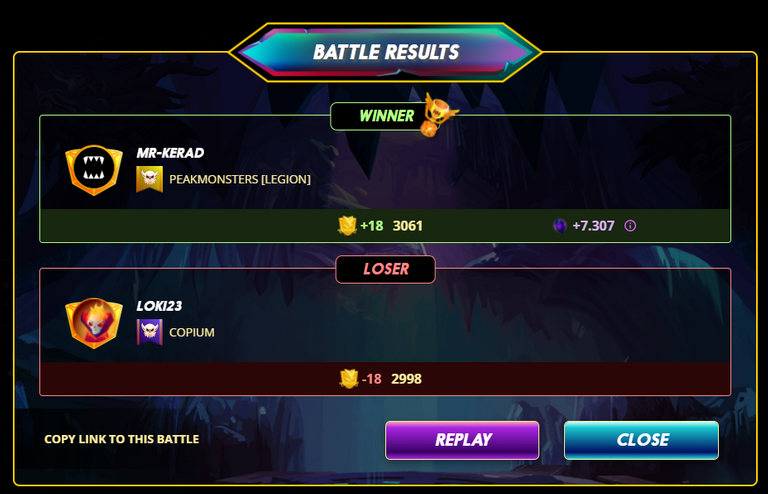 Did my strategy work? What I would do differently next time?
I won the battle but my strategy didn't work as planned. I expected diffrent setup from my opponet. As a result my Mycelic Morphoid didn't show his strongest power in this battle.
What do I like about Mycelic Morphoid most?
Mycelic Morphoid is super usefull in Equilizer Ruleset but I couldn't find any recent battle in this condition. It is also be very solid monster with overall goods statsfor 1 mana cost. If Mycelic Morphoid is used in right context then can help a lot in the battle.
What I do not like?
Mycelic Morphoid is mainly used in low mana battle, this is his place. I don't recommend to use his in other condition. Mycelic Morphoid is also very weak agianst magic, as you could see in my battle.

If you don't have account yet join The Splinterlands

Thank you for taking the time to read my post, i hope you enjoy it.
Keep imroving your deck!!!
Regards @mr-kerad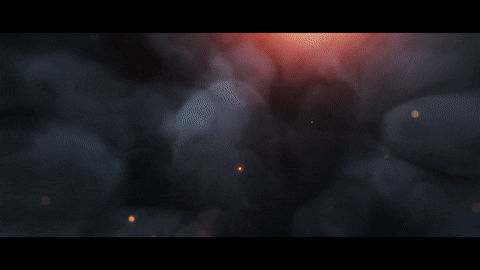 ---
---