SHARE YOUR BATTLE Weekly Challenge! TIME MAGE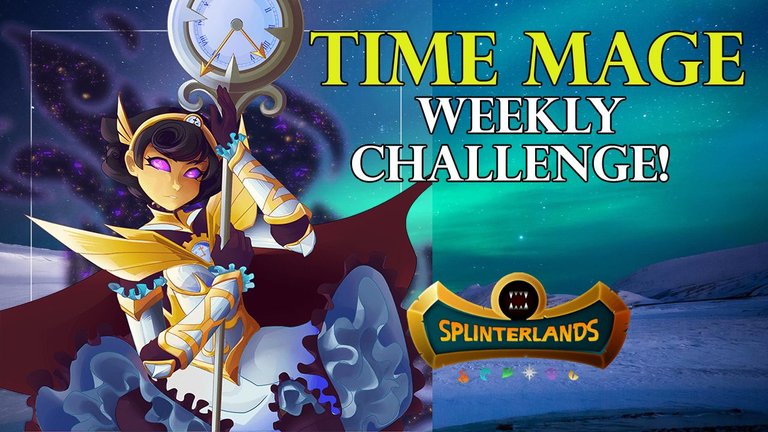 This week's battle challenge focuses on the Time Mage. Time mage is an amazing card from the Chaos Legion collection. This is the character that everyone should have in own deck. What can it do and how to use it well in combat? You will learn more by reading my post.
THEME: TIME MAGE
Edition: CHAOS LEGION
Rarity: RARE
Element: LIFE
Attack: MAGIC
Abilities: Slow
Time Mage card overview
Time Mage is rare Life Splinter monster from Chaos Legion edition. This monster has 1 magic attack and slow at level 1. Magic is very effecitve from any position because this monster can attack from any position. Time Mage has two special abilities "Slow" and "Rust". It is very solid card for only 4 mana. Time Mage is overall good card with decent amount of Speed. At max level this card has 3 magic attack and 4 Health. I use this card quite often in combination with Pelacor Conjurer. As a result my tank can avoid more attacks. Additionally, at higher levels, Rust lowers the Armor level of my opponents, so I can kill them more easily.
Ability:
Slow - Reduces the Speed by 1 of all enemy Monsters
Rust - Reduces the Armor of all enemy Monsters by 2.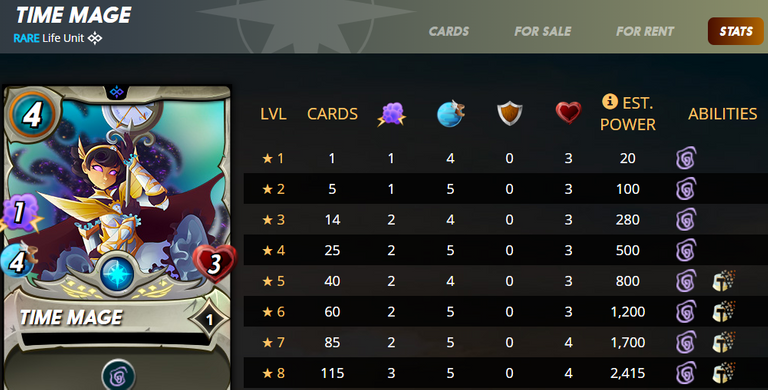 My strategy and lineup
The ruleset of the battle is as follow:
Equalizer - The initial Health of all Monsters is equal to that of the Monster on either team with the highest base Health.
Poison - All Monsters start the battle Poisoned. Each rounds they health is reduced by 2.
Mana Cap of 99.
Available Splinters - Water, Life and Death.

When I have Ruleset Poison, a card with a lot of HP is usually a good choice. Equalizer Ruleset helps with this because you only need to use one high HP card and all others monsters will have the same amount of HP. It is worth paying attention to the Posion Ruleset. Because each card will take damage of 2 each round. This can be easily avoided if you have the Immunity ability or your card is Resurrect after dead.

Round 1
My tank position took Pelcor Conjurer. This card has many defensive abilities such as Flying, Magic Reflect, Speed and Divine Shield. W Equalizer Ruleset is more effective becase his HP is incresed from 2 to 13 in this battle.

Second position is for Uriel the Purifeir. This is my second off tank. I use it in case my first tank is dead. It has self heal gives him more regeneration each round than Posion can make.

Djin Renova is on the third place. I like to use her in Poison Ruleset due to Triage ability. This ability can heal herself each round, as a result she can survive Poison damage. This is the reason why I used also Spirit Hoarder in this battle. Two Triage can heal almost all backline.

Adelade Brightwing is my support card in Poison Ruleset. As I mention above, Rersurrect can bring back dead card to battlefield. Remember! It will come back with 1 HP but without Posion.

Time Mage is super support card with Slow ability. As a Result my tank can dodge multiple attacks. In addition She has Magic attack and Rust ability, which reduce Armor.
Let's check if my strategy works as planned.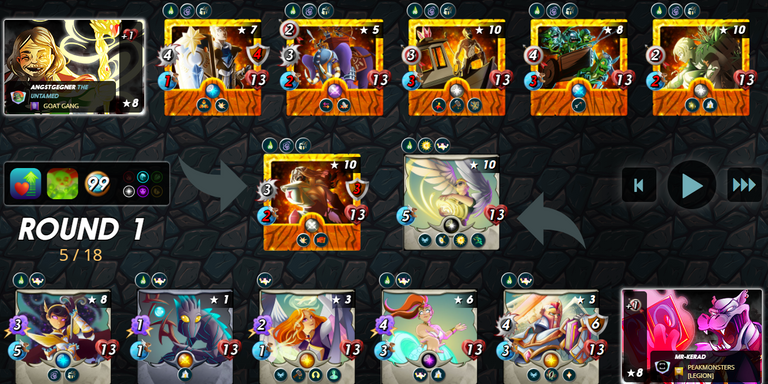 Round 2
After first round all monster are still on the battle field. They have high amount of HP, so it takes some time to kill them. You can notice that my monsters still have from 9 to 11 HP. My opponent Shieldbearer health was reduced to 5. This means that He should be dead next round. This defence strategy takes some time but it is worth the effort.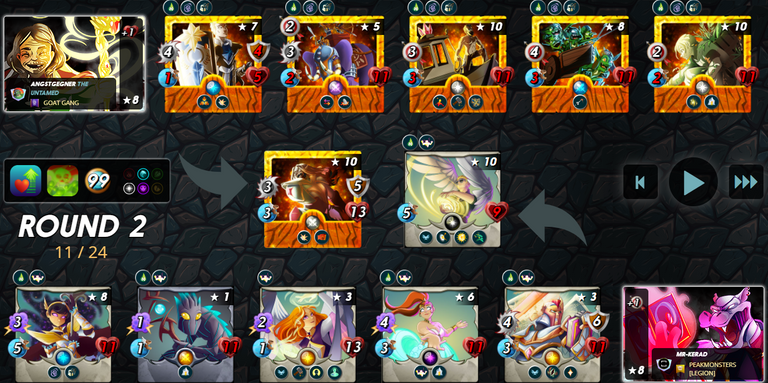 Round 3
One monster on my opponent side is dead. My backline monsters heals themself as a result they have almost full HP. My tank took couple hits but is still protecting front line.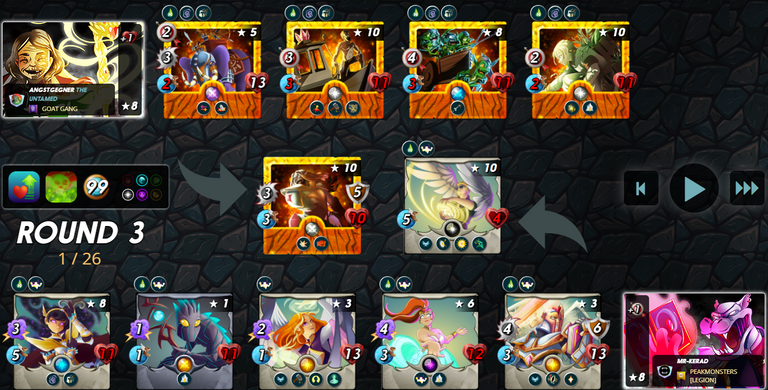 Round 4
I can make 10 Magic damage each round. This is enougt to kill my opponent tank in one round. My tank has only 1 HP but I still have Adelade Brightwing with Resurrect ability. So If Pelacor Conjurer will be dead. She can bring him back to live with 1 HP, Divine Shiel and without Poison. Time Mage works pretty good with Pelacor Conjurer. Those two cards fits perfectly. My opponent misses many attacks.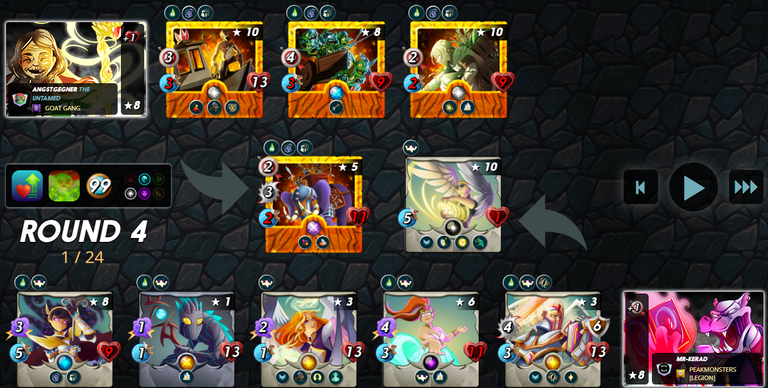 Round 5
Finally my opponent went through my first tank. I also have Uriel the Purifier as a second tank. This card is one of my favorite tank in Poison Ruleset because can win the battle alone in some circumstances. I also have support team at the back row with almost full HP. It is only matter of time to win the battle.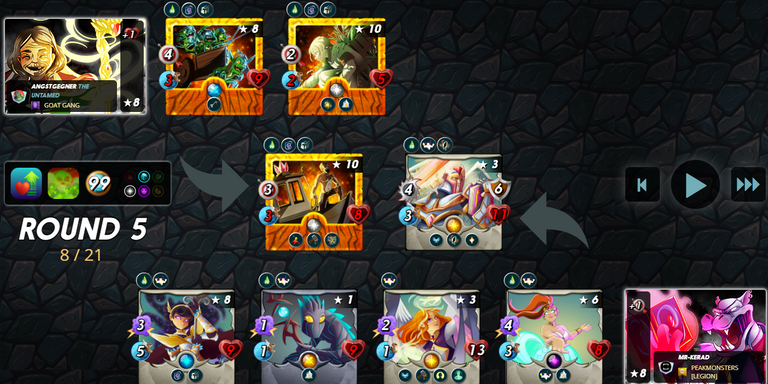 Round 6
This is the final round. My monsters hit last two monsters and the battle is over. I won it!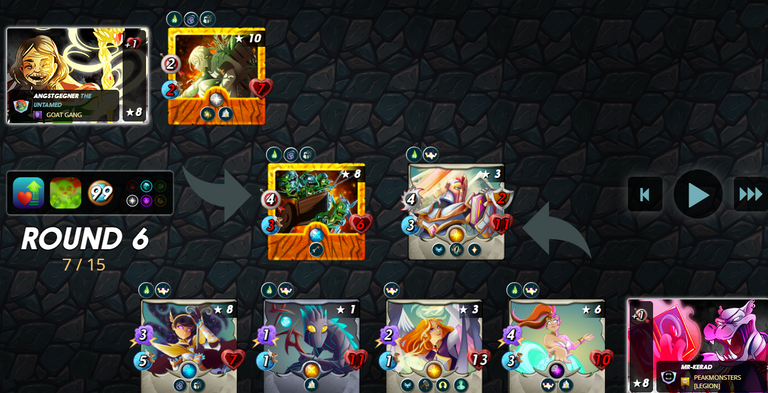 Battle Results
This was battle in Diamond III league. You can see how much DEC can you get once you reach this level. I am in the guild so have extra bonus for every win battle.
Do you want to see it online? Link to the » Full Battle!!!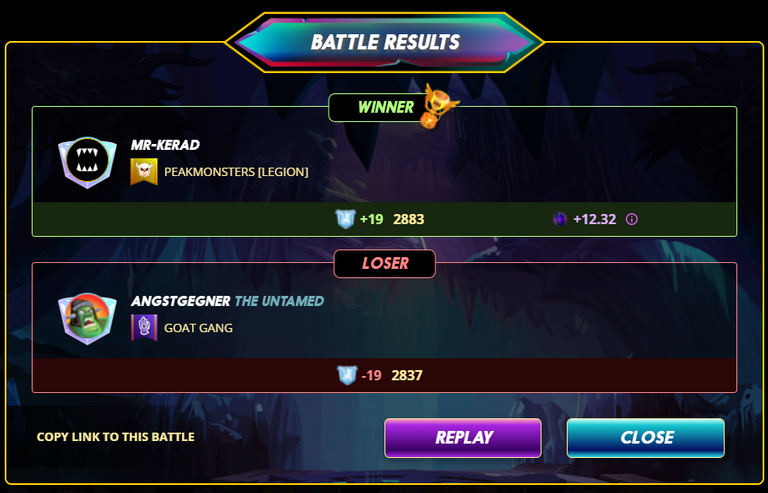 Did my strategy work? What I would do differently next time?
My strategy works fine. I used two strong cards as a tank and the others with support abilities. This allowed me to endure many rounds, healing myself and making damage to my opponent at the same time.
What do I like about Time Mage most?
Time Mage has my favorite ability, which is Speed, Magic attack and Slow. Combining these abilities offers many possibilities. This card is very strong. When you lower the opponent's Armor and his Speed, you can easily kill him before he makes any move.
What I do not like?
Honestly, it's a very good card for 4 mana cost. He has good ability as support monsters. As for me, I see only positives.

If you don't have account yet join The Splinterlands

Thank you for taking the time to read my post, i hope you enjoy it.
Keep imroving your deck!!!
Regards @mr-kerad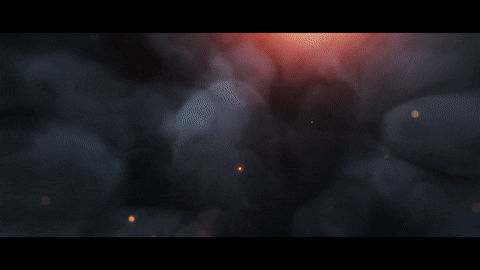 ---
---