Earning APR of 24% with SPS Staking is a great deal
Hello Friends
Happy weekend and hope that you're doing well. The weekend is here, and this is the time that we can enjoy ourselves and do whatever we want. Gaming is always fun and there is a lot to explore and learn. It's Saturday today and a time for us to enjoy the time and place game.
Play-earn game is a growing segment in the blockchain and cryptocurrency space. Some people say that it is almost dead, but I do not agree with this because still there are projects which are doing good. Sprinterlands is a well-known name in the play-to-earn segment and the project is doing pretty well. We cannot deny the fact that because of the market slow down this has been affected but still, the amount of development is going well. It happens in every market and Crypto is not new for sure. With this game, we are getting a bunch of opportunities for the players as well as investors so there is no reason to call a play-to-earn game segment going dead.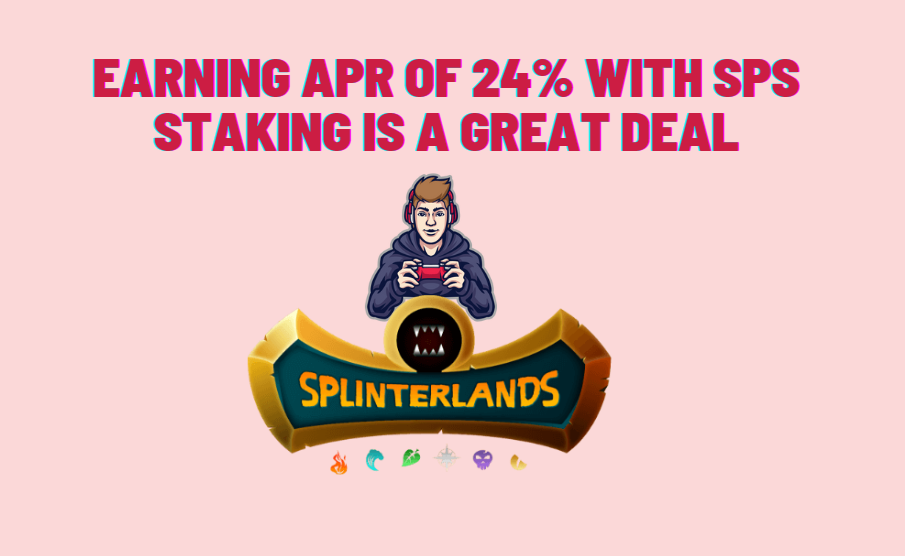 SPS is one of the high-value coins of the game and this is also a governance coin. The current apr is almost 24% and this is the highest ever I believe in the segment. In the traditional world, we can earn approximately 8 to 10% on the higher side but with Crypto, we are getting much more and that is something that good enough to confirm that it is a better place to invest.

Can you imagine that with any coin you can earn such a bigger percentage of earnings which is 24% approximately? Now there is another benefit because if you buy the coin now, so you are going to get a much more discounted deal. On top of this, you will be able to grow your holding with this fantastic app. Even the gaming is so much fun that I can share based on my experience. This is one of the projects that is offering a bunch of opportunities for players as well as investors. You do need not be an expert in the game instead you can spend some time learning about it and the same I have been doing for the last catalog months.
I have been building my account open period of months with the goal that by end of this year I should be in the silver League at least. Currently, I hold approx. 12000 connection power and my focus are more on card building which is why I am not buying SPS. Needless to mention that buying SPS now at this price is a great deal as well as the offered apr makes it even more rewarding and becomes a better earning opportunity on Crypto through the play-to-earn game segment.
This is not a project where we can have short-term goals instead, I believe if we are here for the long term then I am sure things are going to be so much more profitable and we can build a lot over the period. This is that kind of project where we can rely on things and once things are grown in the next few years then the decision, we are taking now will make us happy.
I have started playing battles in the game this weekend only, but my cards are basic and even today I purchase some cards to grow my collection. I know that it is not one day game instead I am always ready to spend more on the game which I consider an investment. I will see how fast I can reach my goal and when I can start generating a nice reward through the gameplay as well as making it a fun activity that I need to do every day.
If you have not joined this game now then I highly recommend joining it using the link provided below and spending some time learning and understanding. I am very sure that you will like it and once you feel comfortable then only start investing and do not consider my post as financial advice. Do your research and decide whatever you think about the project I am this fantastic game.
If you are not part of the game and want to join, then please join through my affiliate link-
https://splinterlands.com?ref=mukund123
Keep on playing the game and have fun.
Thank You
Posted Using LeoFinance Beta
---
---