First Cards Shopping of this Year on Splinterlands through monstermarket.io
Hello Friends,
Happy weekend to you and hope that you are having a great time with your family and friends. The weekend is for fun and gaming is the way option to choose. I am not good at games, but I am trying my best to explore and learn as much as possible. I believe that we need to change as per the trend and now it's time to make a smart move in gaming to play to earn games. I know that it's not that easy, but nothing is impossible if we have a fire to learn and want to spend some time on this. I have been exploring about splinterlands game for the last few months and based on my experience I can say that this is a great project. I admit that there is a lot to learn from me and still I am not in a position to play battles, but I am growing my cards holding.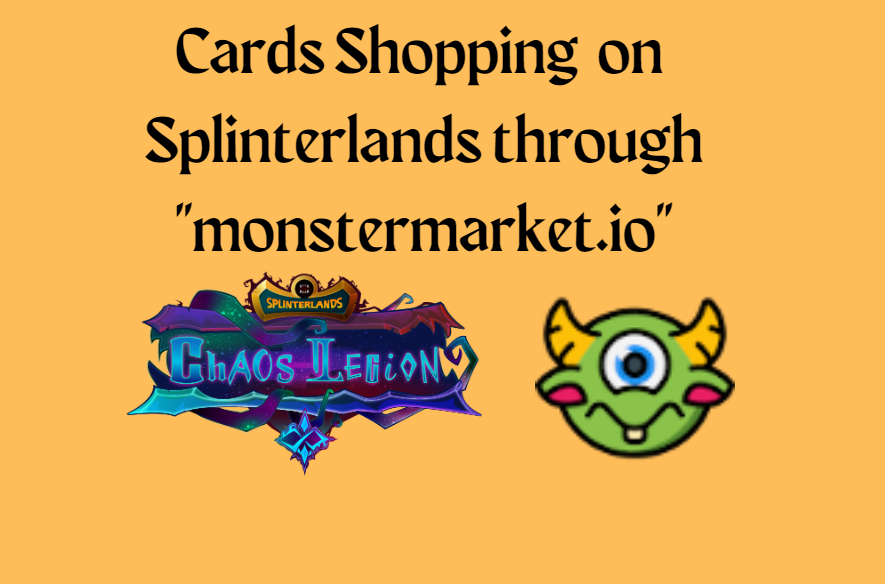 I don't know much about the cards whichever card I find at a lower price, I buy it from the monstermarket.io website. I also bought some gold foils, and my collection power is now 11400 and I achieved this in the last 3 months. This will grow even more in the coming months because at least now I have a better understanding of the game as compared to what I had 3-4 months back.

I believe in this project, and I go through a couple of posts created by amazing content creators on the platform. This helps a lot to learn and understand. I have not decided where I want to reach because I think it will be easy for me once I have even more knowledge and information about the game but for now, I am trying to grow my account gradually. Whatever cards I think are good and available at a discounted price then I buy them. I even try to buy credits when the price for hbd is more than $1 so this way I get double the benefits. First, I get more credits for the less amount, and second, I get the cards at discount. Credits are never expiring so whenever I see a better price for hbd then I buy it and later I plan to buy cards from the market. This is something helping me to avail the opportunity available around the game and I am not sure if there is any better way than this to buy cards at an even better price.
I did some shopping today for the cards on the monstermarket.io portal. This is a great website where I get cashback in form of dec later I can utilize the stokers to buy more cards. Here is how I get the cashback and it's always great to see this notification because it's another benefit that I get on my cards shopping on splinterlands. I just try to avail the maximums benefits options through this.

---
There is so much stuff in the game to buy but I think that cards are the basic requirements so I am focusing first on this and hopefully in the next few months I will be able to achieve a good collection power. I also expect that by that time I would be able to grab more knowledge about cards and abilities which can be used to play battles. I know that there are so many abilities, and this is an important component to consider in the battles.

I also have some gold foil cards in my account and with GF we get better rewards. Some gold cards are available at cheap prices, and I am trying to grab them. I hope that I can move to increase my card holding for gold and later it will make my gameplay better if I choose to rent out then I can earn more through rental.
If you are not part of the game and want to join, then please join through my affiliate link-
https://splinterlands.com?ref=mukund123
Keep on playing the game and have fun.
Thanks a lot
Posted Using LeoFinance Beta
---
---