Investing on Chaos Legion Summoner cards to grow my Collection.
Hello friends,
Hope you are doing well and having a nice time. Today in this post I will be discussing my recent purchase of cards in the game and why I am focusing only on parts this time. My current collection power is more than 11000 but I am trying to make it 25000 if possible because this will make my gameplay better. The more collection power bhi holds makers are eligible to generate better rewards with the battle and this is the reason why playing with a level 1 card is not at all beneficial.
I am planning to grow my account first with a better card collection and then I will start playing but, in the meantime, if I get a better rental income then this can be considered. This week I invested in some cards from the Chaos legion. Now I hold almost every summoner card from Chaos legion and now I am planning to upgrade. I can think about monster cards later but as of now, these summoner cards are my priority. I don't know much about the game is up now but I know that I will be able to learn it. With my limited resources, I am trying to grow my account, and this is the reason why I am not trying to be in a hurry because it will take time and I have the patience to wait.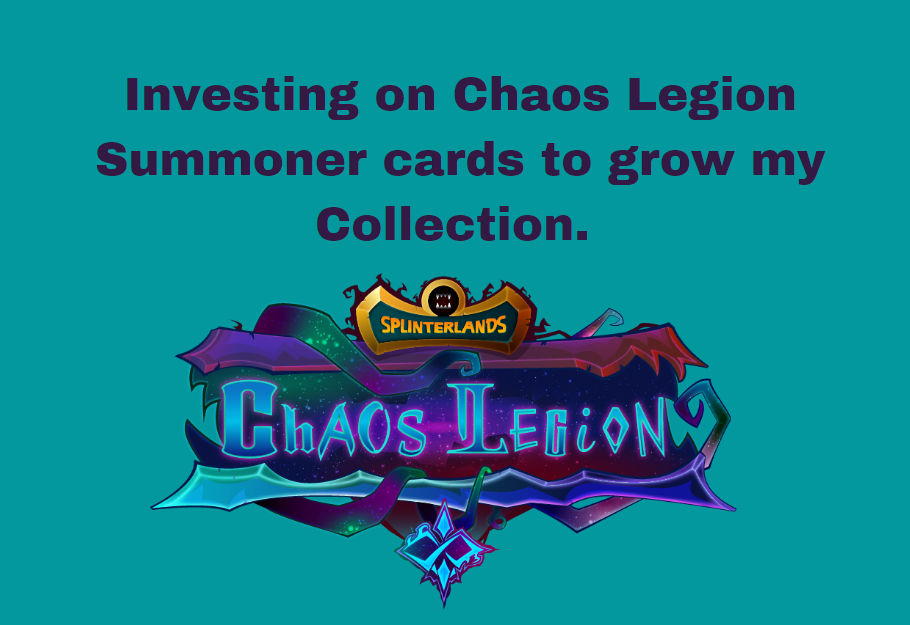 Chaos legion is the best edition for me because most of the cards are available and a discounted price. The prices are lower, and this is the reason why I am trying to buy as much as I can as later the price will spike. Before the price increase, I am trying to have a better collection and holding of monster and summoner cards. I know that there are tokens that I can also consider but I am focused on one thing at a time.
Below is the screenshot of my collection from the Chaos legion and it will continue to increase over the period. Last week when the price for HBD was increased then I added some credits to my account. We get to see this type of price pump sometimes and I try not to miss this type of opportunity because I get more credits at a less price. The current value is immediately synchronized with sprinterlands and this is the best way I always prefer to use with an increased price for HBD.
Chaos Legion Collection

I have upgraded the fire and life Summoner cards to level 2 and will try to do the same with other cards also. These are expensive cards as compared to monsters and this is why I am trying to grab this opportunity because I don't think it will stay for a long period. I don't want to regret it later and that is why my only focus as of now is to buy more cards.
Gold Foil Collection

It's been about 4 months since I was in the game, and I am trying to learn more about it. Most of my post rewards are used in sprinterlands to buy assets and I will continue to do the same for the entire year. My goal is to reach the silver League this year and I think that is going to be a great achievement once I make it happen. It will be a happy moment for me whenever I make it a reality but till time, I will continue to work the same way and keep on sharing updates from time to time. I explore various elements in the game and as far as abilities are concerned, I think there is a lot for me to learn because I do not know much about it.
If you are not part of the game and want to join, then please join through my affiliate link-
https://splinterlands.com?ref=mukund123
Keep on playing the game and have fun.
Thanks a lot
Posted Using LeoFinance Beta
---
---