More power through Splinterlands Community Proposals

Hello Friends,
Happy New year to you and hope that you had a great time with your family and friends.
Splinterlands is known to take the initiative that is good for the community and recently they have done it again through the proposal system for the community. The proposal is a mechanism in the game where SPS holders have the power to approve or rejected and if the majority of people agree to the same then it will be implemented. This is part of the government where SPS plays an important role. Only SPS token holders are given this opportunity to support or reject any proposal and this is where the power goes to the community where any change or new initiative will only be applicable if the community agreed.
Recently they have announced that anyone can create a proposal and put it for voting. Earlier this option was only with the team but now things are expanded by providing this option to any player who can create the proposal by following certain requirements. This is explained in the post and by following these guidelines anyone can create a proposal that can be either supported or rejected by the community.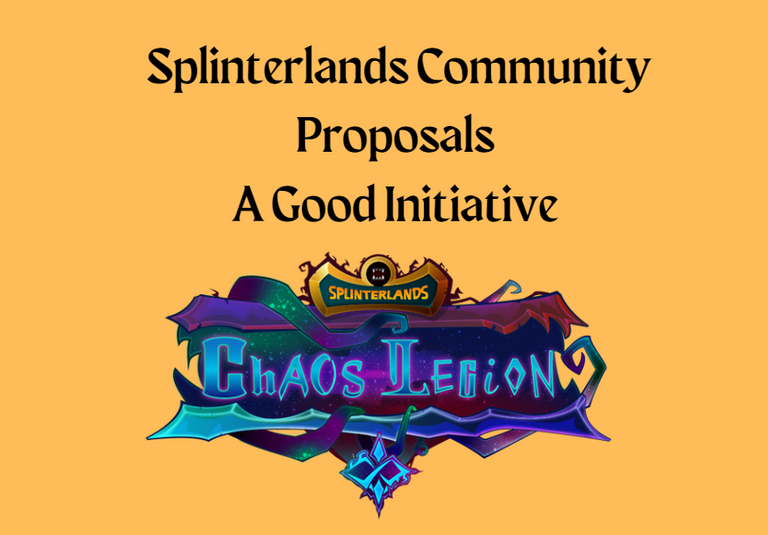 (created with Canva)
I believe that this is a good initiative wire community feels more powerful because they are the ones who can decide if something is good for the project then they can support else this can also be rejected. If you look into the past where the majority of proposers were approved but still, some proposers were rejected. I know that the rejection ratio is less, but it exists and that shows the acceptance or disagreement of the community which is a good thing.
There has been a lot of development going on this time when we are going through the bay market. Main Bhi we can say that the silent actions and development are in progress which you cannot see but things are happening behind the scenes and once created they will be able to witness such stuff in the game. Lands are one of the big additions to the game which we are expecting to go live this year. There has been no clear timeline provided by the team most likely we are going to get this enabled for us. I am excited to get this thing to go live because this will bring another level of excitement to the game as well as it can also bring a lot of knee users into the ecosystem which is needed for the project.
Transfer 100,000 (100k) DEC tokens to null from the same account that will be publishing the proposal post and note the Hive blockchain transaction ID of the transfer (can be found on https://hiveblocks.com and will be added to the Currency Activity page on the Splinterlands website shortly)
We have a good number of active users, but this number should grow even more because that can add more value to the overall game. This will also help to grow the project and active users are considered an asset in any project. Play-to-earn game is in the early stage, but this is such a nice concept why things are transparent, and we are given the option to earn real money through gaming. For many people, it is still hard to believe that real money can be earned through gaming and that we can invest to make the rewards even better. It is difficult I know but I am quite positive that this will go further where more people are considering it as an option to make it the primary gaming as well as an option for investment where returns are pretty good.
Official post- SPS Governance - Community Proposals v1
If you are not part of the game and want to join, then please join through my affiliate link-
https://splinterlands.com?ref=mukund123
Keep on playing the game and have fun.
Thanks a lot
Posted Using LeoFinance Beta
---
---