Splintershards - Bringing game to real Life
Hello Friends,
It's weekend time and hopes you are doing well. As usual, I spent some time on the splinterlands game today to learn more about the cards. Splinterlands is not just a game that is built on the blockchain instead it is a project that is fundamentally strong. The team behind the project is hard working as they keep on trying new things and experimenting to bring more innovations to the community.
Even now a majority of the people in the world do not believe that we can earn real money through gaming. Believe it or not but this is the truth and if you look around you will see a lot of people with the same thought process. I believe they are not wrong because gaming is meant to be something that can help us get a dose of entertainment and that is the only expectation we have from gaming. When it goes beyond entertainment then it is called play to earn which means we can play the game and earn real money. It is obvious that when money is involved then it also brings the opportunity to invest and that is how the splinterlands create an ecosystem where people can invest and earn.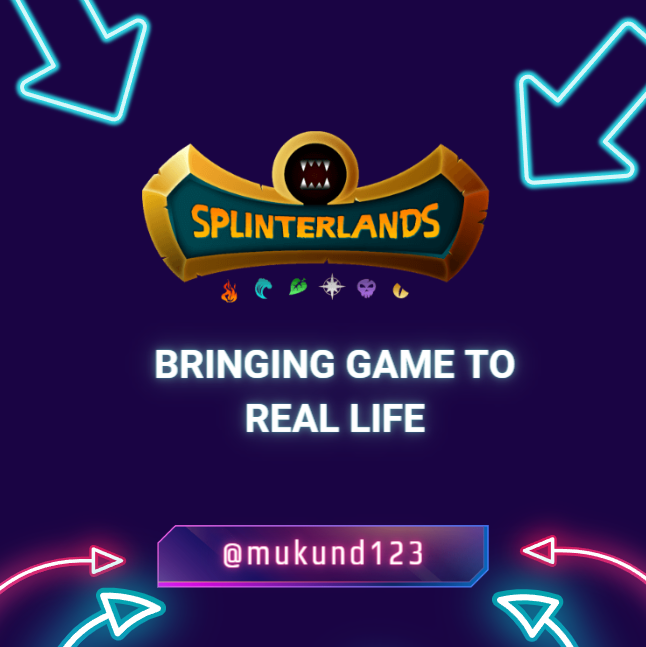 This project is not just limited to the game players instead it has gone ahead, and anyone can be part of the project. Even if you are not a player then also you can be part of the ecosystem and you will find a bunch of options to invest and earn a decent amount of income. Needless to say that you can't make money here overnight and you need to have a long-term approach to the investment. I have been spending many hours learning about the project and it's been almost two months for me here. I have a basic understanding of the project, but I know that there is a lot that I need to learn and I'm doing it.
Crypto is a vast space where we can get many things to explore, and we can also see the possibility to build a nice portfolio for the long term. I would like to mention that his splinterlands is not a free game so if you want to be part of the ecosystem then you will have to invest some amount. If you are not ready to invest anything, then it's better to stay away because you are not going to get any returns with no investment. Even with the money investment, you might have to spend some time planning your investment accordingly because there is a lot to invest, and I don't think one can invest easily with all assets. The best way would be to plan things in such a way that you get enough time to learn and explore and then decide what assets you want to buy. A token economy is strong especially with sps because this is a governance token, and we can expect a significant return in the future.
I don't think we need to look at the current price because it is low, but one thing is for sure this will not stay here always. Now because the market is down so we can see the effect on his peer's prices as well but once things will improve then we can see better pricing for sps. The more you explore then more you will get to experience many other things to be studied and I'm sure this is going to be a fun journey for anyone who is interested to be part of the play and earn segment in the crypto market.
If you are not part of the game and want to join, then please join through my affiliate link-
https://splinterlands.com?ref=mukund123
(all the images are taken from splinterlands)
Thanks a lot
Posted Using LeoFinance Beta
---
---