The Last Opportunity to Buy Chaos Legion is Now!
Hello Friends
Hope you are doing well and having a nice time with your near and dear ones. Here is my post that is about the chaos legion boost pack's ongoing sale, and this is going to end soon.
Finally, we are at the age of the chaos legion pack and the inventory is going to end soon. We have already got the card that was airdropped a few days back from this edition. It was a valuable card and the price was approximately $20 for the standard version I can see that this is one of the cards that we should hold in the account for a better gaming experience.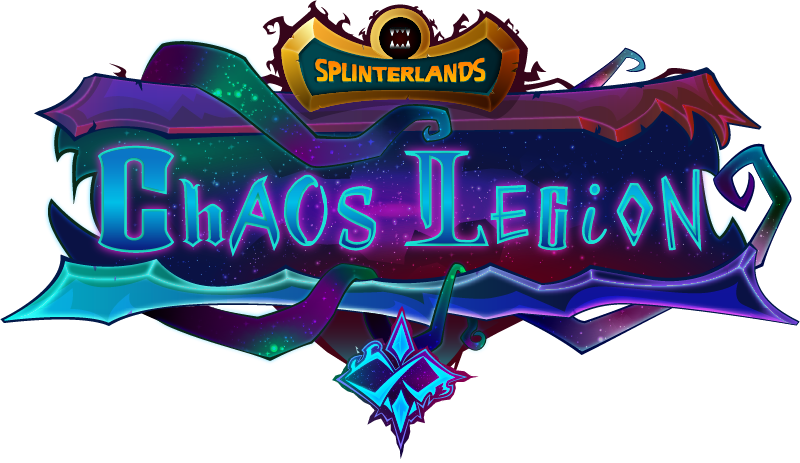 I hope that I will be able to buy this card later on once the price gets settled down. In my opinion, there is no way we should be buying in Hari because it will remain here and once the price is down then it is a good time to buy it.
Whoever is still interested to buy the booster pack from the CL edition must act now before it's too late. Below is the snapshot of the current inventory it is selling faster which means we are going to see the end of the same in the next 1 to 2 weeks. This has been one of the biggest pack editions in the game but finally, it is about to end, and we do not know when it will happen because it can happen at any moment.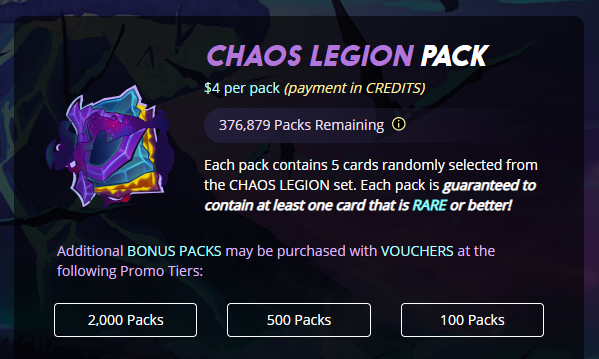 The CHAOS LEGION card set is the third major card expansion to be introduced into the Splinterlands game. With over 100 new cards bursting with eye-popping artwork and strategy-changing abilities, it represents our largest and most ambitious release to date!
I own many cards in my account from this card edition and it's because the price was low. Even now we have low prices, and we should take benefit as much as possible. Once the supply and chaos legion then I expect that the price will increase, and you never know where it will end. I have no plan to buy the booster pack instead I will continue to buy the card from the market because I believe that is the best way to grow the overall holding and collection power. I tried playing battles but most of the battles I was losing due to a lack of a nice card in my account. I am going to put a pass for some time and in the meantime, I am going to increase the card collection so that later my game experience and winning ratio improves.
Hopefully, the next card version which is called rift watcher is also going to get the same kind of value so that I can buy more once I gather a bunch of cards from the current version. I don't know how things will be done but as of now this is the client which I want to follow and through this, I intend to make things work for me.
Latin has also announced in the discord server that the supply is selling faster so whoever is still interested to buy the pack should act as soon as possible and make benefit of this available inventory that is not less than any opportunity I believe.
If you are not part of the game and want to join, then please join through my affiliate link-
https://splinterlands.com?ref=mukund123
Keep on playing the game and have fun.
Images are taken from splinterlands game site
Thank you
Posted Using LeoFinance Beta
---
---