A complete walkthrough to reach Silver Tier with rent cards. [ENG-ESP]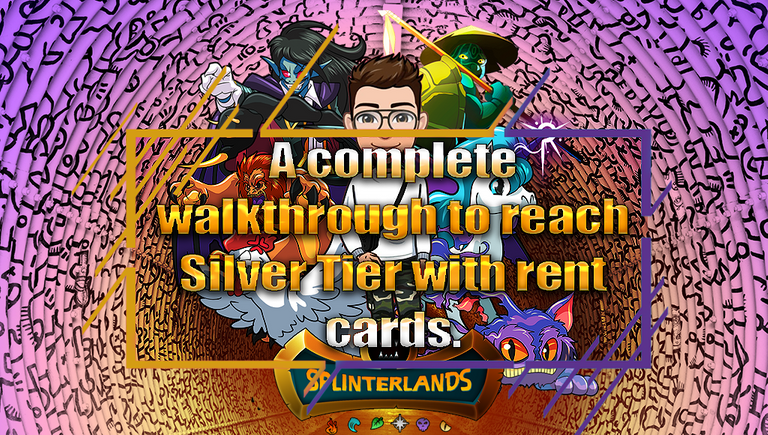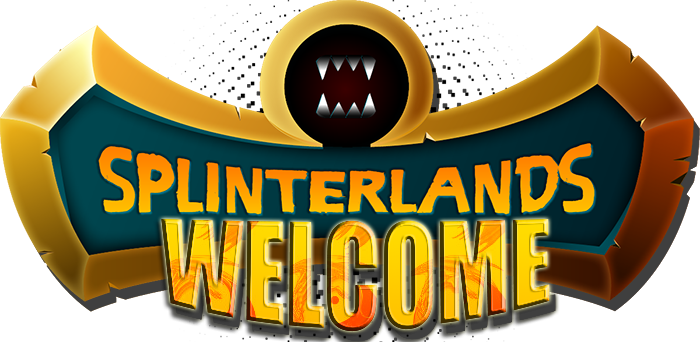 Is it advisable to upgrade to Silver III?
As it is already well known by all Splinterlands players, it is recommended in the game is to advance as much as possible in the rank table at least to Silver because in bronze there is very little drop due to the bots. to get more and better rewards, but for people who have few investment resources within the game and we can not open packs of cards because they are quite expensive and the Chaos Legion still can not be opened, passing the Bronze rank can be a challenge due to the high cost of rentals, because no matter how good you are and how high you are in the ranking, if you don't have the CP needed to advance, you will stay where you are, reaching the Silver III league is the first step we must take if we want to get a good amount of DEC for victories and besides that, start opening daily 2 chests instead of 1 and with a 50% chance of getting reward cards, 25% potions and 25% DEC, forget about the credits in Silver Rank! combine all these benefits make being in silver rank much more profitable than in Bronze, because you get to receive cards (which can even be legendary, golden, or golden legendary, who knows?).
¿Es recomendable subir a Plata III?
Como es bien sabido ya, lo recomendable en Splinterlands es avanzar lo maximo posible en la tabla de rangos para obtener mas y mejores recompensas, pero para las personas que tenemos pocos recursos de inversion dentro del juego y que no podemos abrir paquetes de cartas porque son bastante caros y los Chaos Legion todavia no se pueden abrir, pasar del rango Bronce puede ser todo un desafio debido a los altos costos de los alquileres, ya que por muy bueno que seas y por muy alto que estes en el ranking, si no tienes el CP necesario para avanzar, te quedarás donde estes, alcanzar la liga Plata III es el primer paso que debemos dar si queremos obtener una buena cantidad de DEC por victorias y ademas de eso, empezar a abrir diariamente 2 cofres en lugar de 1 y con un 50% de probabilidades de obtener cartas reward, 25% pociones y 25% DEC, ¡olvidate de los creditos en Rango Plata! combinar todos estos beneficios hacen que estar en rango plata sea muchisimo mas rentable que en Bronce, porque accedes a poder recibir cartas (que incluso pueden ser legendarias, doradas, o legendarias doradas, ¿quien sabe?).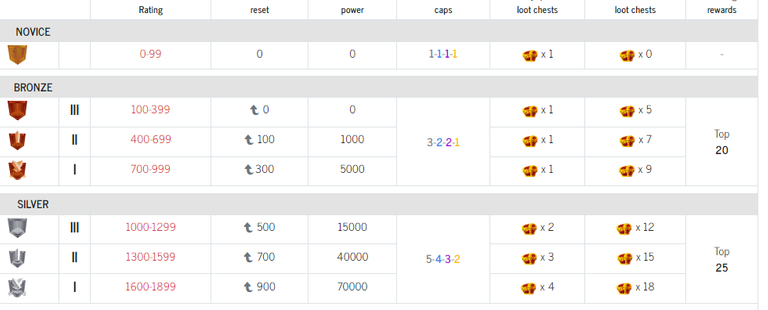 What do you need to climb?
So, to reach the Silver III rank 2 things are necessary:
1000 Rating Points.
15,000 Power Points (CP).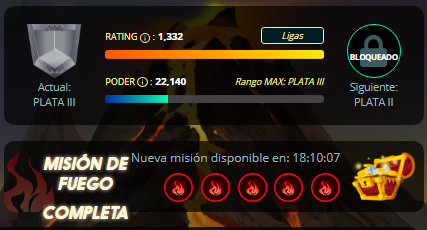 Renting cards from the market is something that practically all players do, especially new players, so you get CP at a much lower price than you would spend buying this cards for your colection, the best option to do that is PeakMonsters, soon I will make a complete guide on how to use PeakMonsters, watch out for it. My first advice is to climb with the Rating, that is, it doesn't help you to rent the 15k CP the first day of the season if you are in Rookie/Bronze III because you will pay DEC in rent that you still can't pay back with your victories, obviously the main thing is to climb as fast as possible to 1000 Rating points, but also keep in mind that the earlier you rent, the more and better offers you will find there for your colection power, so you must find the middle point between those two situations, not rent too early but not too late either.
¿Que necesitas para subir?
Entonces, para alcanzar el rango Plata III son necesarias 2 cosas:
1000 Puntos de Rating.
15,000 Puntos de Poder (CP).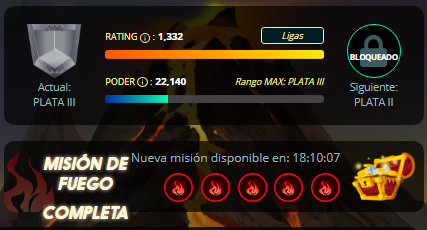 Rentar cartas es algo que hacemos prácticamente todos los jugadores, sobre todo los nuevos, así se obtiene CP a un precio mucho mas bajo del que gastaríamos comprando las cartas, la mejor opcion para hacer eso es PeakMonsters, pronto hare una guia completa sobre como usar PeakMonsters, atentos a ella. Mi primer consejo es que escalen con el Rating, es decir, no te sirve de nada alquilar los 15k CP el primer dia de la temporada si estas en Novato/Bronce III pues pagaras DEC en alquiler que todavia no puedes retribuir con tus victorias, obviamente lo primordial es subir lo mas rapido posible a 1000 puntos de Rating, pero tambien ten en cuenta que mientras mas temprano alquiles, mas y mejores ofertas encontraras, asi que debes encontrar el punto medio entre esas dos situaciones, no alquilar muy pronto pero tampoco muy tarde.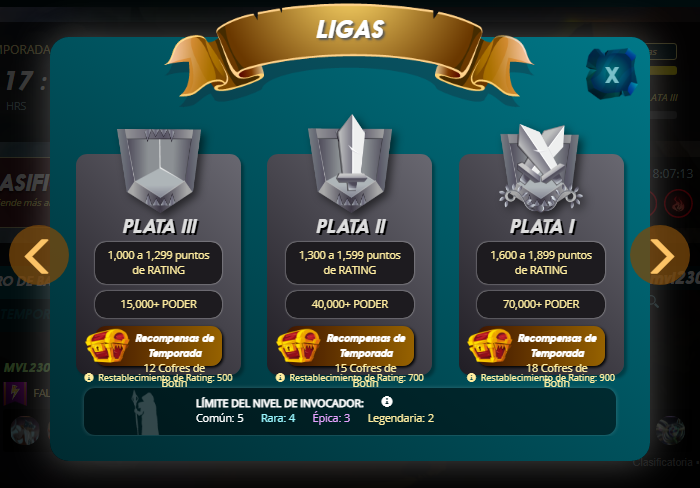 The second thing to do is very simple, you must know how to get the maximum potential out of the cards you have rented, because the strongest cards are usually more expensive, so it is profitable to rent a lot of these if not rather build good strategies using cheap cards, study the market first, study your way of playing and build your own strategies according to that. For me, the best cards in relation Power/DEC are the golden cards of epic/rare rarity, especially the Untamed that give more CP, a good strategy is to rent one of these that gives you a lot of power (and if it is useful for your strategy even better) and then rent the rest of loose cards you need to play. Using Peakmonsters is advisable that every day you are checking your CP, so you can know if you cancel any rental, keep in mind that this is something that probably happens because in the last days is very common to see that they cancel rentals to place them at a higher price than normal, and I think here is an important point to make, and is that of course we all want to open many chests at the end of season but be careful not to overspend just for that, because these season loot chests are a lottery that does not guarantee anything inside of it.
What rewards do you get?
In Silver III you get 12 chests at the end of the season, three more than in Bronze and with better drop, but sometimes the rented power is not worth that, because in those 12 chests and with a lot of bad luck, you can get 12 legendary potions or alchemy, it is better to concentrate on the season itself, start as soon as possible from Silver III where you get 2 daily chests, which would be 30 in a season, so if at the end they cancel everything and you are left with Bronze rewards, you already got double that reward throughout the season, and with a better chance of reward in each of them. It is much better this way because you earn more DEC by being in Silver ranks and you get better rewards during the season.
Lo segundo es muy sencillo, debes saber sacarle el maximo potencial a las cartas que tienes, ya que las cartas mas fuertes suelen ser mas caras, asi que resulta rentable alquilar un monton de estas si no mas bien armar buenas estrategias usando cartas baratas, estudia el mercado, estudia tu forma de jugar y arma tus propias estrategias de acuerdo a eso. Para mi las mejores cartas en relacion Poder/DEC son las cartas doradas de rareza epica/rara, sobre todo las Untamed que dan mas CP, una buena estrategia es alquilar una de estas que te de mucho poder (y si te sirve para tu estrategia mejor aun) y luego alquilar el resto de cartas sueltas que necesitas para jugar. Utilizando Peakmonsters es recomendable que cada dia estes revisando tu CP, asi puedes saber si te cancelan algun alquiler, ten presente que esto es algo que probablemente te pase porque en los ultimos dias es muy comun ver que cancelan alquileres para colocarlos a un precio mas alto del normal, y creo que aqui hay una acotacion importante que hacer, y es que por supuesto todos queremos abrir muchos cofres al final de temporada pero cuidate de no gastar de mas solo por eso, ya que estos cofres son una loteria que no garantiza nada.
¿Que recompensas obtienes?
En Plata III recibes 12 cofres al final de la temporada, tres mas que en Bronce y con mejor drop, pero a veces el poder alquilado no vale eso, ya que en esos 12 cofres y con mucha mala suerte, te pueden caer 12 pociones legendarias o de alquimia, es mejor concentrarse en la temporada en si, empezar lo mas pronto posible desde Plata III donde obtienes 2 cofres diarios, que serian 30 en una temporada, por lo que si al final te cancelan todo y quedas con recompensas de Bronce, tu ya obtuviste el doble de esa recompensa durante toda la temporada, y con mejor oportunidad de recompensa en cada uno de ellos. Es mucho mejor asi porque se gana mas DEC al estar en Plata y se obtienen mejores recompensas durante la misma.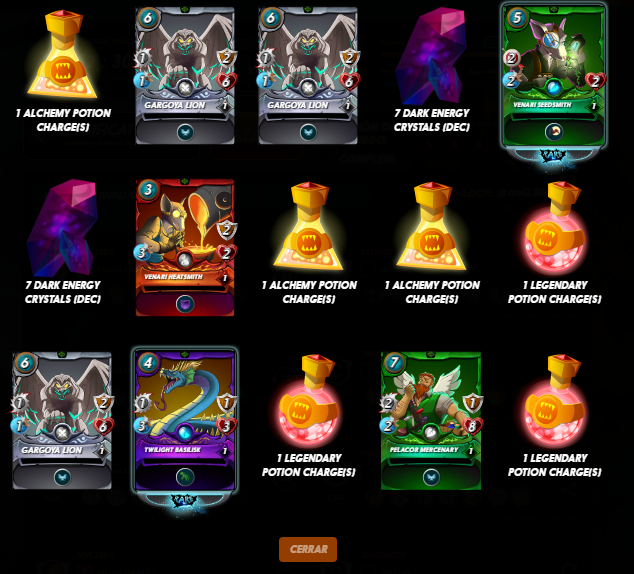 Which cards are better?
I think the best options are always the Dragon decks (renting cards) and the Water decks (with the Venari Wavesmith and Djinn Oshannus giving a lot of headaches), the dragon deck combines with any deck, very useful in any situation and the water cards have certain hidden jewels that if you know how to use them, they win you many games, below I leave you cards that I think work very well on the way from Bronze to Silver.
¿Que cartas son mejores?
Pienso que las mejores opciones siempre son los mazos de Dragon (alquilando cartas) y los de Agua (con el Venari Wavesmith y Djinn Oshannus dando muchos dolores de cabeza), el mazo dragon se combina con cualquiera, muy util en cualquier situacion y las cartas de agua tienen ciertas joyas ocultas que sabiendolas usar, te ganan muchas partidas, abajo te dejo cartas que creo que funcionan muy bien en el camino de Bronce a Plata.







What is the conclusion?
To conclude, another tip, if your daily earnings budget allows it and you have the necessary power, keep moving up the league, from my point of view starting in Silver III from day 1 and finishing in Silver I / Gold+ is the best performance you can have, as long as you can afford those rentals, of course, if you finish the season in Gold III, you will start the next one in Silver I, and there the process starts all over again. Anyway don't get discouraged, this game has many opportunities for everyone, you just have to know how to take advantage of them, so don't wait any longer, if you want to play Splinterlands click here and start today!
All card images were obtained from the Splintercards website.
¿Cual es la conclusion?
Para concluir, otro consejo, si tu presupuesto de ganancias diarias te lo permite y tienes el poder necesario, sigue avanzando de liga, desde mi punto de vista empezar en Plata III desde el dia 1 y terminar en Plata I / Oro+ es el mejor performance que puedes tener, siempre que puedas permitirte esos alquileres, claro, si terminas la temporada en Oro III, comenzaras la siguiente en Plata I, y ahi el proceso vuelve a empezar. Sea como sea no te desanimes, este juego tiene muchas oportunidades para todos, solo debes saber aprovecharlas, asi que no esperes mas, si quieres jugar Splinterlands ¡haz click aqui y empieza hoy mismo!
Las cartas fueron obtenidas en el sitio web de Splintercards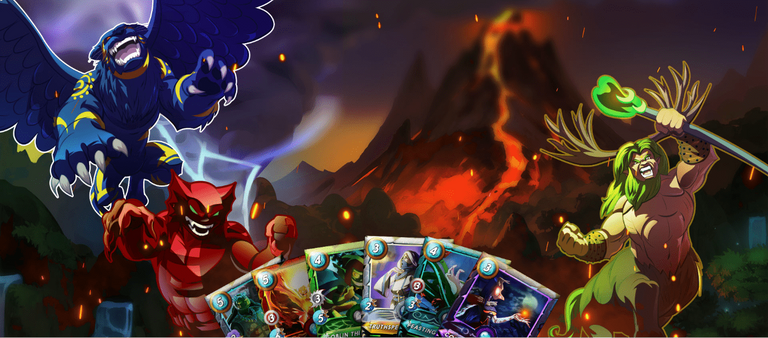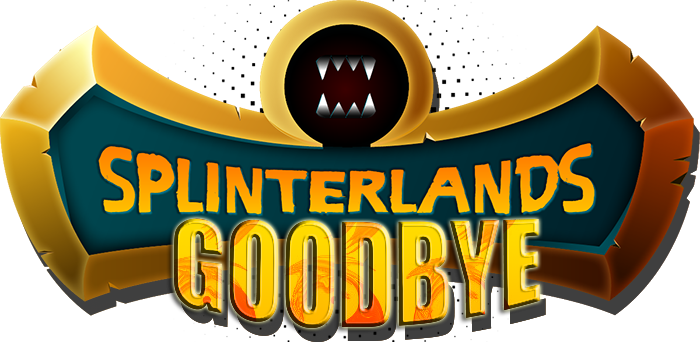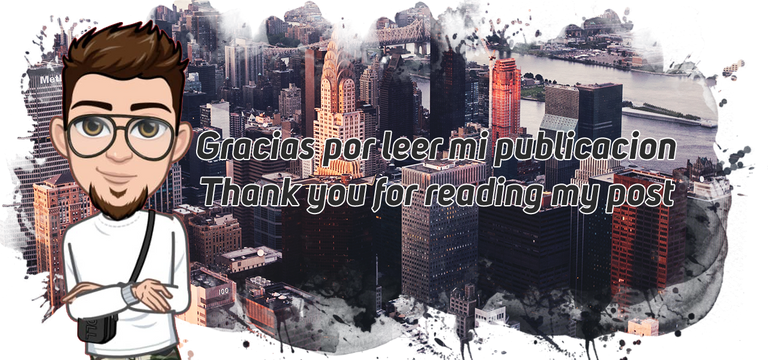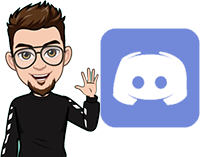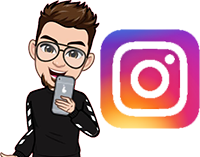 ---
---