Turning Crypt Beetle into an incredible tank!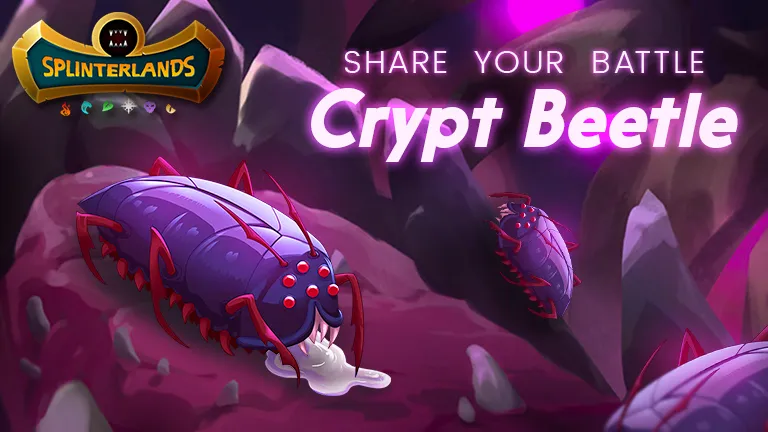 Hola a todos, hoy vamos de nuevo con un desafío de batalla. Esta vez le tocó el turno a mi Splinter favorito y a una de las cartas que mas me gustan de este elemento en la nueva edicion: Crypt Beetle. Una carta excelente porque cuesta muy poco maná y tiene Shield, una habilidad que se ha vuelto muy importante en el nuevo meta, hoy vamos a hablar mas a fondo sobre ella en este post asi que no esperes mas. ¡Bienvenido!
Hello all and welcome to a new Battle Challenge post, today we go again with a battle challenge. This time it was the turn of my favorite Splinter and one of the cards that I like the most of this element in the new edition: Crypt Beetle. An excellent card because it costs very little mana and has Shield, an ability that has become very important in the new meta, today we are going to talk more about it in this post so don't wait any longer. Welcome!


Crypt Beetle es una carta Comun de la nueva edicion Chaos Legion y que forma parte de las cartas del Splinter Muerte. La puedes encontrar entre las cartas Starters actuales y si quieres comprarla la podras encontrar por 0.075$ en su version Regular y 0.945$ en su version Dorada. En el nivel 1 aprende la habilidad Shield y es la unica que tendrá pero eso la hace suficiente para la funcion que esta carta debe cumplir en una batalla. Para mi no es una carta que vaya a estar seguido en tus batallas pero en ciertos momentos será espectacular por su gran combinacion de virtudes: Una gran habilidad por muy poco maná.
The Crypt Beetle is a common card of the new Chaos Legion edition and is part of the Splinter Death cards. You can find it among the current Starter cards in the game and if you want to buy it for your colection you can find it now on the market for 0.075$ in its Regular version and 0.945$ in its Gold version. At level 1 it learns the Shield ability and it is the only one it will have but that makes it enough for the function that this card must fulfill in a battle. For me it is not a card that will be often in your battles but at certain times it will be spectacular for its great combination of virtues: A great ability for very little mana.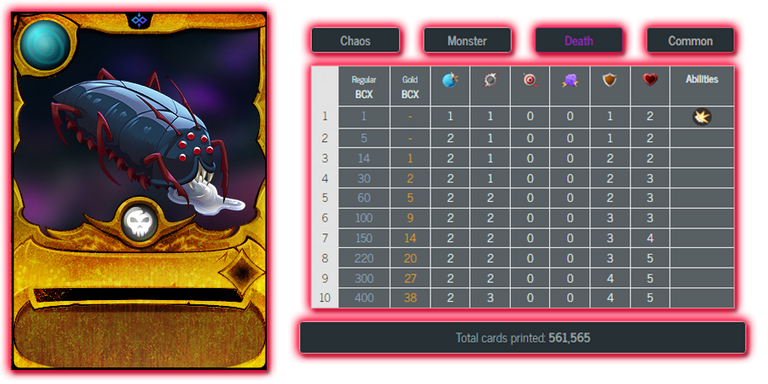 ¿Como le sacas provecho a esta carta?
A menos que el ruleset haga de las suyas, el potencial de esta carta estará muy marcado por su mana y sus stats, esta hecha para ser usada en batallas con mana bajo y si es posible, en peleas de solo Melee. Para el formato Wild la veo perfecta para usarla con Zyntar Mortalis, Thaddius no le da ningun buff aunque su debuff de vida es muy util siempre, contra magia no le veo utilidad a esta carta porque tiene muy poca vida y seria un desperdicio, ahora cuando los rulesets aparecen esta carta se transforma y yo hoy vengo a mostrarte justamente uno de esos momentos con: Equalizer.
How do you take advantage of this card?
Unless the ruleset appears does its thing, the potential of this card on your battles will be very marked by its mana and stats, it is made to be used in battles with low mana and if possible, in Melee only fights. For the Wild format I see it perfect for use with Zyntar Mortalis, Thaddius does not give any buff although its life debuff is always very useful, against magic I see no use for this card because it has very little life and it would be a waste, now when the rulesets appear this card is transformed and today I come to show you just one of those moments with: Equalizer.


Llegó el momento de luchar. ¿Están listos? veamos la siguiente batalla:
Analizando el ruleset.
It's time for fight, are you ready? let's see the next battle:
Analyzing the ruleset.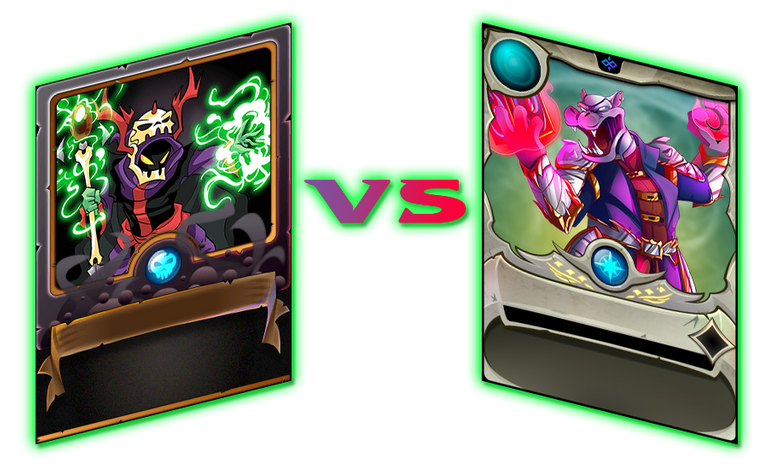 Equalizer es un ruleset muy bueno porque hay muchas cartas que se pueden convertir en verdaderas bestias y Crypt Beetle es una de ellas, automaticamente se iguala su Vida con la carta mas alta y esomas el Escudo la convierten en un mega tanque. En esta batalla mi oponente supo sacarme ventaja desde antes de empezarla pero una buena alineacion de mis cartas me ayudaron a sacarme la victoria, analicemos:
Crypt Beetle como Tanque, sabia que iba a aumenmtar su vida minimo a 5 puntos pero el Warrior of Peace de mi oponente me sorprendio mucho y fue lo que terminó dandome ventaja.

Undead Priest para darme ventaja contra mi oponente pues con el todas mis cartas tendrian mas vida que las de el, ademas serviria como tanque secundario si mi Beetle caia.

Undead Badger con su Sneak y vida aumentada, otra opcion excelente para alinear una carta con solo 2 de mana y 11 puntos de vida.

Silent Sha-vi era el buff de mi equipo con su vida de 5 puntos y un ataque brutal de 3 puntos, mortal para esta cantidad de mana.

Twisted Jester con Snipe, para terminar de armar la alineacion como era debido, el Crypt Beetle aguantando mucho en la primera posicion y toda mi linea secundaria destruyendo la segunda linea enemiga.

Weirding Warrior para apoyar al Beetle con su Shatter, asi le facilitaba mas el trabajo a mi tanque.
The Equalizer ruleset is a very good ruleset because there are many cards on the game that can become real beasts with the Life points buff and Crypt Beetle is one of them, it automatically matches its health with the highest card and the Shield makes it a mega tank. In this battle my opponent knew how to take advantage of me before starting it but a good alignment of my cards helped me to get the victory, let's analyze:
Crypt Beetle as a Tank, I knew I was going to increase his life to at least 5 points but my opponent's Warrior of Peace surprised me a lot and that's what ended up giving me the advantage.

Undead Priest to give me an advantage against my opponent because with it all my cards would have more life than his, besides it would serve as a secondary tank if my Beetle fell.

Undead Badger with its Sneak and a very increased life points, is another excellent option to align a card with only 2 mana and 11 life points.

Silent Sha-vi was the buff of my team with his 5 life and a brutal 3 point attack, deadly for this amount of mana.

The Twisted Jester with its Snipe ability, to finish the lineup as it should be, the Crypt Beetle holding a lot in the first position and all my secondary line destroying the second enemy line.

and for last, the Weirding Warrior to support the Beetle with his Shatter, making my tank's job easier.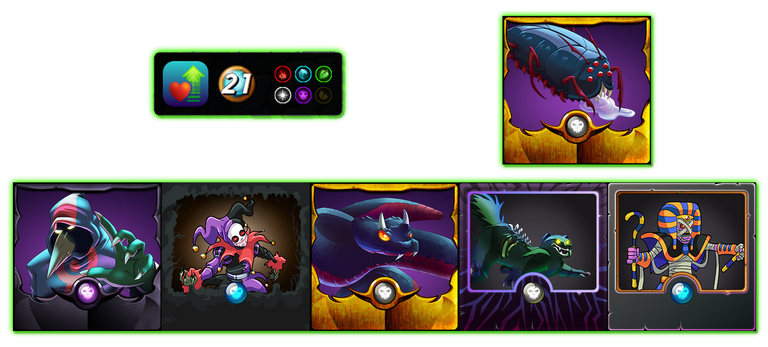 Como dije, al principio de la batalla mi oponente arrancó con ventaja y eso ya se podia ver en la ronda 2 donde mis cartas habian recibido mas daño pero donde yo saque ventaja real fue en dañar a las cartas adecuadas, la principal amenaza de mi oponente era Divine Healer por su curacion y su daño magico, de lo demas ya se encargarian mi Sha-vi y mi Badger, pero que el Twisted Jester acabara rapido con Divine Healer era primordial.
At the beginning of the battle my opponent started with an advantage and that could already be seen in round 2 where my cards had received more damage but where I took real advantage was in damaging the right cards, the main threat of my opponent was Divine Healer for its healing and magic damage, the rest would be taken care of by my Sha-vi and my Badger, but the Twisted Jester to finish quickly with Divine Healer was paramount.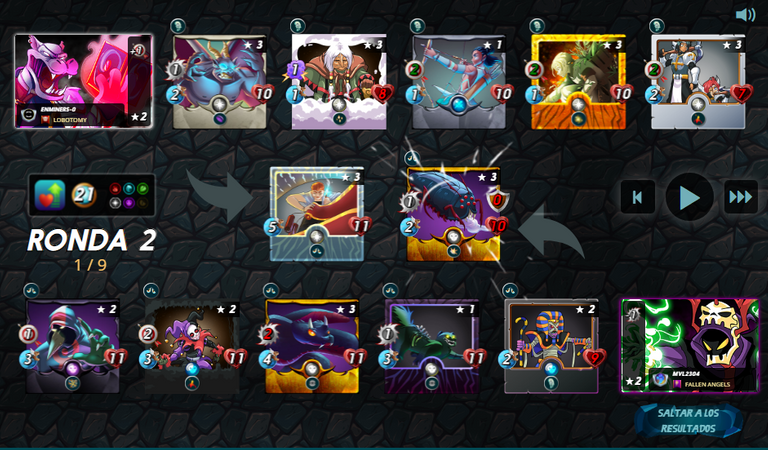 Para la ronda 3 el libreto seguia igual, con mi Beetle aguantando los ataques enemigos y mis cartas debilitando mucho a su segunda linea.
For round 3 the script remained the same, with my Beetle holding off enemy attacks and my cards weakening their second line a lot.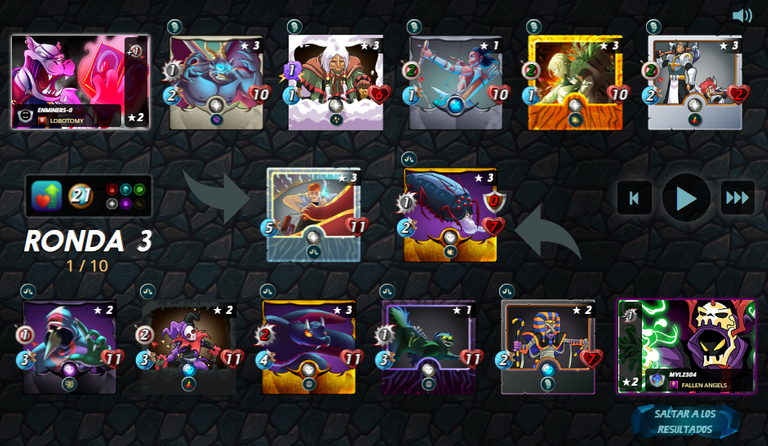 En la ronda 4 la primera carta de mi oponente cayó con los ataques de mi Sha-vi y en la ronda 5 Divine Healer haria lo mismo a manos de mi Twisted Jester, acabando asi con la mayor amenaza de mi oponente y aunque mi Crypt Beetle estaba a punto de caer, fue el campeon verdadero de esta alineacion porque se aguantó 5 rondas recibiendo todos los ataques y dandome asi la ventaja en el juego.
In round 4 my opponent's first card fell with the attacks of my Silent Sha-vi and in round 5 Divine Healer would do the same at the hands of my Twisted Jester, thus ending my opponent's biggest threat and although my Crypt Beetle was about to fall, he was the true champion of this lineup because he held on for 5 rounds receiving all the attacks and giving me the advantage in the game.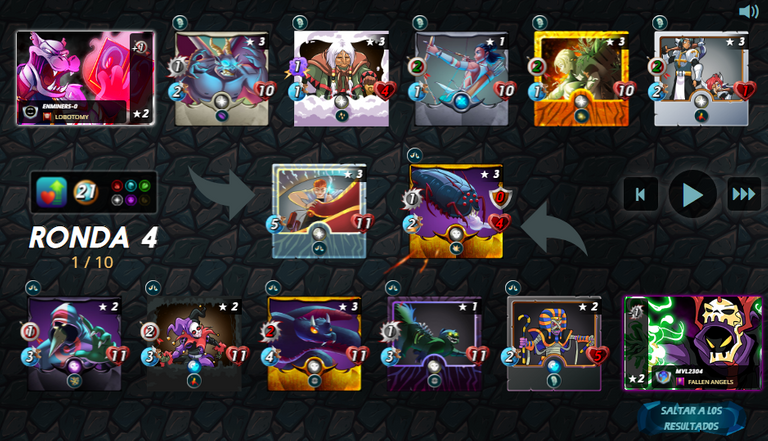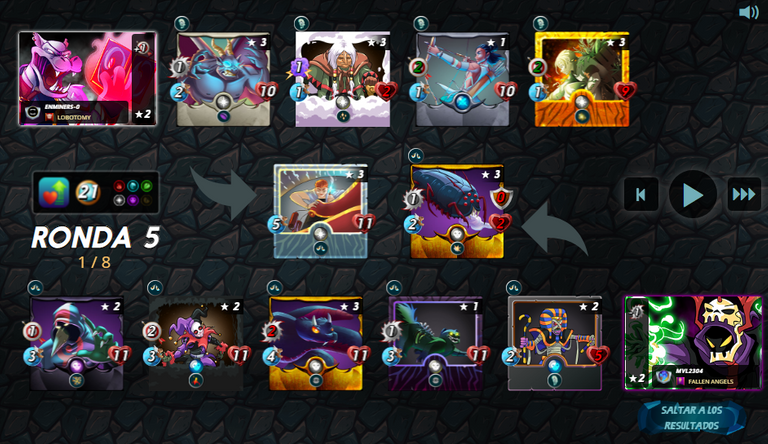 Fue en la ronda 6 que mi Beetle cayó y dejó su lugar al Undead Priest pero ya para este punto la batalla no tenia vuelta atras, te explico por que:
Su Herbalist caeria en la ronda 7, su Xenith Archer recibiria 5 puntos de daño por turno y solo le quedaban 8 de vida, osea no iba a durar 2 turnos, su Warrior of Peace no podia atacar y su Gargoya Scrapper a pesar de que no habia recibido daño, no era ninguna amenaza por su ataque y velocidad tan baja, sin el Warrior of Peace caeria en 2 turnos.
It was in the round 6 of the battle that my Beetle fell and left his place to the Undead Priest but by this point the battle had no way back, I'll explain why:
Herbalist would fall in round 7, his Xenith Archer would take 5 points of damage per turn and he only had 8 health left, so he would not last 2 turns, his Warrior of Peace could not attack and his Gargoya Scrapper even though he had not taken damage, was no threat because of his low attack and speed, without the Warrior of Peace he would fall in 2 turns.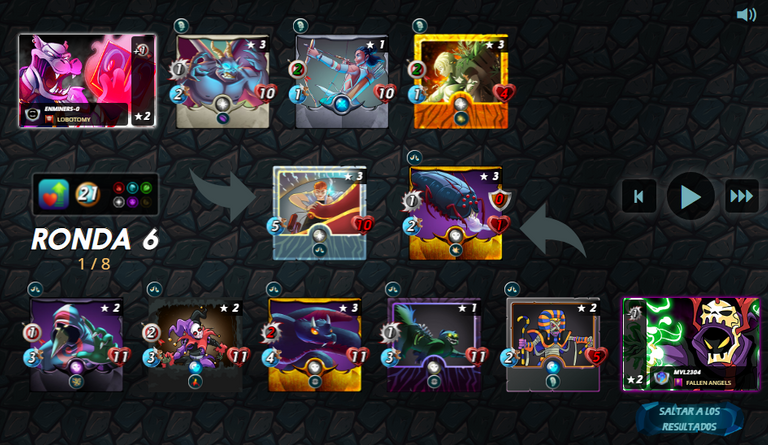 Pero claro, nada como verlo por ti mismo, asi que si quieres mirar esta batalla entera solo haz click en la imagen de abajo:
But of course, nothing like seeing it for yourself, so if you want to watch this entire battle just click on the image below: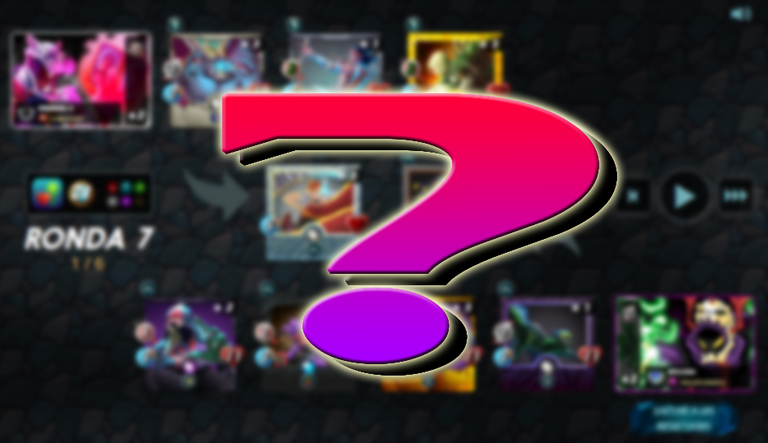 Si prefieres aqui debajo te dejo algunos intentos, unos acertados y otros fallidos donde utilice a Crpt Beetle:
If you prefer, here below are some attempts, some successful and some unsuccessful where I used Crpt Beetle:





Aunque es una carta con stats debiles no deja de ser muy util si le sabes sacar provecho a su habilidad, ademas combinada con otras cartas puedes potenciar mucho su fuerza, no dudes en experimentar con ella.
Entender los puntos debiles donde le puedes sacar ventaja a tu enemigo es primordial para convertirte en un buen jugador ¡enfocate en mejorar eso y veras como tu winrate aumentará muchisimo!
Recuerda que toda carta tiene una utilidad real y siempre podras sacarles ventaja si las estudias y analizas bien los datos que tienes a la mano, Muchas gracias por haber leído y espero que te haya gustado, no olvides seguirme si quieres ver mas contenido como este y nos vemos en mi siguiente post. ¡Saludos!
Although it is a card with weak stats it is still very useful if you know how to take advantage of its ability, also combined with other cards you can greatly enhance its strength, do not hesitate to experiment with it.
Understanding the weak points where you can take advantage of your enemy is essential to become a good player, focus on improving that and you will see how your winrate will increase a lot!
And remember that every card has a real utility in this game and you can always take advantage of them if you study them and analyze well the data you have at hand, Thank you very much for reading and I hope you liked it, do not forget to follow me if you want to see more content like this and see you in my next post. greetings!



Si eres hispano y quieres unirte a un clan haz click aqui

All game images are taken from the official game website and Splintercards, credits to whom it may concern.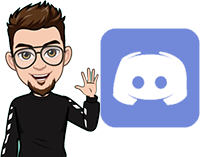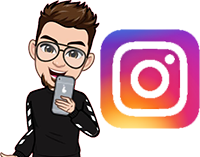 ---
---