Splinterlands - Season 119 Highlights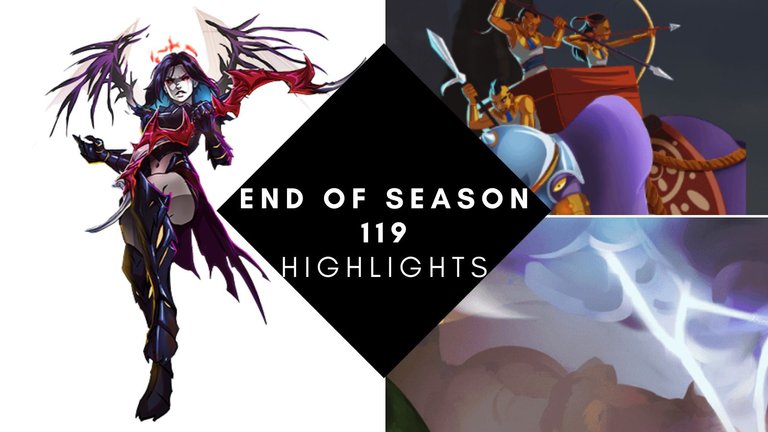 Hello Splinterfans!
Season 119 has come to an end and in the mean time we had some big news come out about the game which was pretty important.
Firstly that there would be more people leaving the Splinterlands team. This was a serious downsizing and it seems to be industry-wide, not just affecting the Splinterlands team.
We also heard that the Rebellion pack would be put to a proposal and bought by the DAO. It seems a pretty good move to have the DAO in more of an ownership role of the assets and they then pay a fee to the Splinterlands team to market and release it. The proposal sounds good to me and I would vote in favor of it.

I did not manage to play very much this season and you can see that when I did, my win / loss ratio was awful. I am maybe having a bad run or have very hard opponents?
With that in mind, I have made quite a few critical updates to my deck that I have been talking about the last weeks.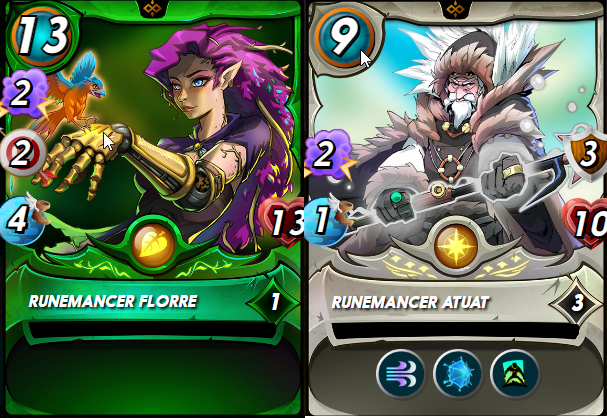 I upgraded Runemancer Florre and Runemancer Atuat to level 3 and they are good for the gold league now. I also upgraded a few fire monsters that I had neglected and was playing at level 1. Now they are leveled up, I can play fire with more confidence now. Tinderlock and Tenji Stryker are much more powerful now.


My End of Season chests were not so good as last season with no Chaos Legion packs and not as much SPS. I did get a good haul of cards though, but no legendaries this time.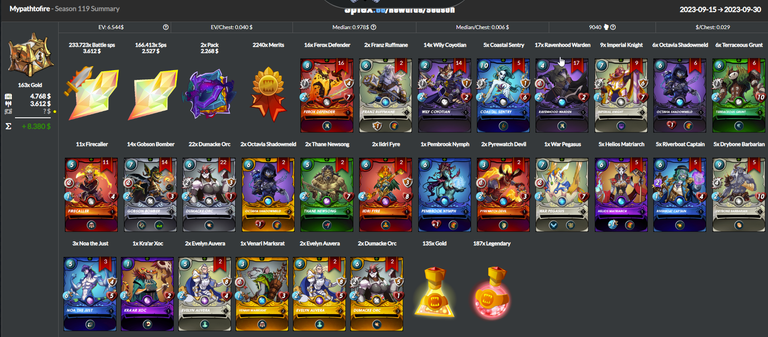 My full season rewards were ok, although not as good as last season too, with only 2 Chaos Legion packs. I did get a decent gold foil haul this time though, which was good.


My renal income was also very low as usual now and around similar levels as last season. It brings in a little DEC that can help with some rentals/guild contributions.

My staked SPS has increased to 104131.
My SPS rewards were lower by about 600 SPS. This was lower across the board really and hopefully it will pick up in the coming season.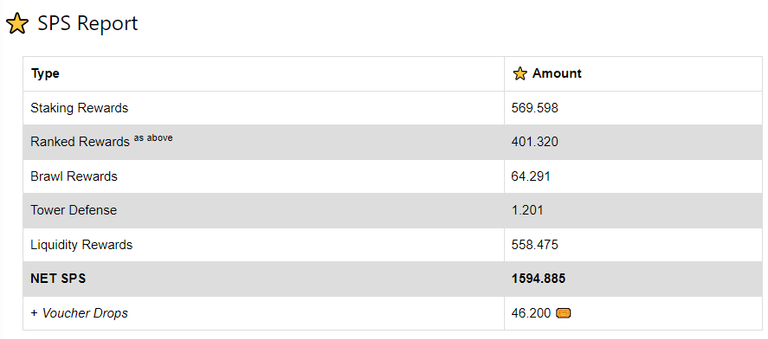 Overall it has been a pretty decent season and I am looking to continue upgrading my Riftwatchers cards with a high priority as soon as possible.
That's all for this update, thanks for reading.

Credits:
Title image created in Canva using images from source.
All images used from source unless otherwise stated.

SignUp to Splinterlands:


Let's connect: mypathtofire
---
---