Pay low ETH gas fees 낮은 ETH 가스 요금 지불 Pague tarifas bajas de gas ETH Payer de faibles frais de gaz ETH Niedrige ETH-Gasgebühren bezahlen
Hello everyone. If you are not in a hurry, you can save huge on Etherium gas fees.
When entering transaction speed, enter "other" and put in 1 or 2.
The amount of Gwei dictates the transaction speed. You can get very low fees if you want.
Converting ETH to Hive or others sucks when you pay high fees.
Have a super day and may the "spells" be with you!
안녕하세요 여러분. 서두르지 않으면 에테리움 가스 요금을 크게 절감할 수 있습니다.
트랜잭션 속도를 입력할 때 "기타"를 입력하고 1 또는 2에 넣습니다.
Gwei의 양은 트랜잭션 속도를 지시합니다. 원한다면 매우 낮은 수수료를 받을 수 있습니다.
ETH를 하이브로 변환하거나 높은 수수료를 지불 하면 다른 사람을 짜증.
슈퍼 하루를 보내고 "주문"이 당신과 함께 할 수 있습니다!
Hola a todos. Si no tiene prisa, puede ahorrar mucho en las tarifas de gas Etherium.
Al ingresar la velocidad de transacción, ingrese "otro" y coloque 1 o 2.
La cantidad de Gwei dicta la velocidad de transacción. Puede obtener tarifas muy bajas si lo desea.
Convertir ETH a Hive u otros apesta cuando paga tarifas altas.
¡Que tengas un súper día y que los "hechizos" te acompañen!
Bonjour à tous. Si vous n'êtes pas pressé, vous pouvez économiser énormément sur les frais de gaz Etherium.
Lorsque vous entrez la vitesse de transaction, entrez « autre » et mettez 1 ou 2.
La quantité de Gwei dicte la vitesse de transaction. Vous pouvez obtenir des frais très bas si vous le souhaitez.
Convertir ETH en Hive ou autres est nul lorsque vous payez des frais élevés.
Passez une super journée et que les « sorts » soient avec vous!
Hallo an alle. Wenn Sie es nicht eilig haben, können Sie bei den Etherium-Gasgebühren enorm sparen.
Wenn Sie die Transaktionsgeschwindigkeit eingeben, geben Sie "Andere" ein und geben Sie 1 oder 2 ein.
Die Menge an Gwei bestimmt die Transaktionsgeschwindigkeit. Sie können sehr niedrige Gebühren erhalten, wenn Sie möchten.
Die Umwandlung von ETH in Hive oder andere ist, wenn Sie hohe Gebühren zahlen.
Habt einen super Tag und mögen die "Zaubersprüche" mit euch sein!
Gas Fees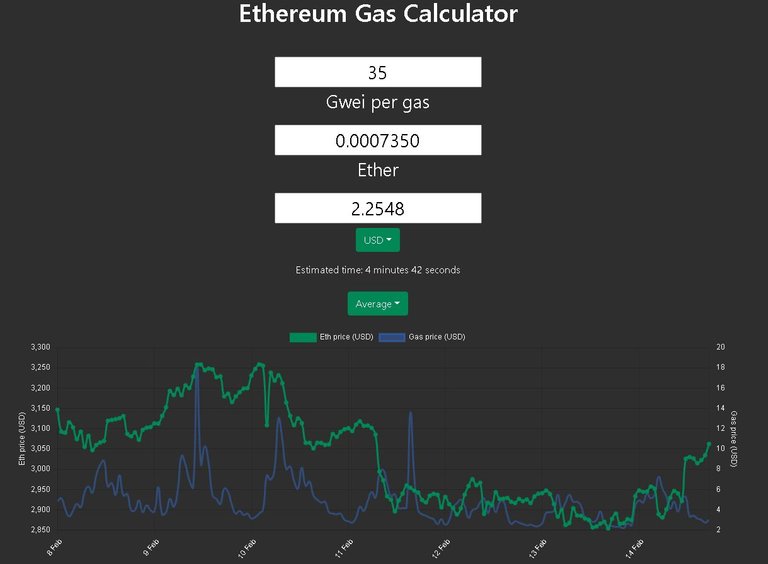 ---
---