SPS should be on your radar SPS devrait être sur votre radar SPS debería estar en su radar SPS는 레이더에 있어야 합니다.
Hello everyone. New members should make use of the SPS airdrop and the rewards from staking. My SPS rewards are far more than playing the game. I am still learning all the spells and how different cards work with each other. Tournaments are fun but you are going to need really good cards to win. Many old players plant their high cards there with robots.
Obviously it depends where you live in the world as to how valuable a few DEC is to you.
I am looking forward to the land developement. I have put a little skin in the game.
My DEFI adventure. Invest a bit in 2 popular game platforms. I believe blockchain games are the future.
NFT's have changed the game.
Cheers everyone and may the "Spells" be with you!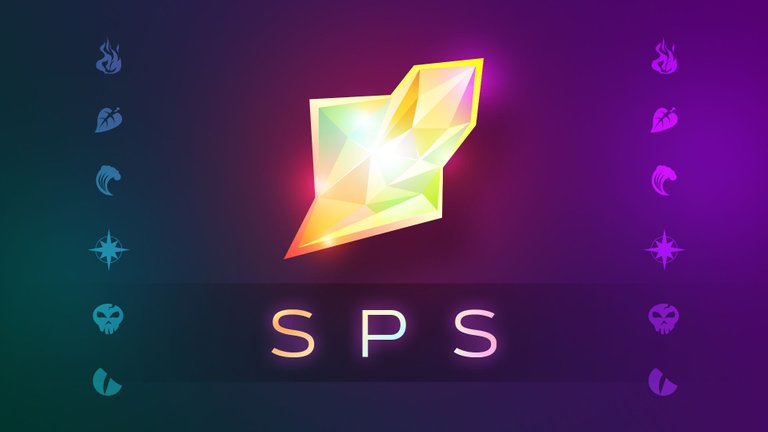 Hola a todos. Los nuevos miembros deben hacer uso del airdrop SPS y las recompensas de la apuesta. Mis recompensas SPS son mucho más que jugar el juego. Todavía estoy aprendiendo todos los hechizos y cómo funcionan las diferentes cartas entre sí. Los torneos son divertidos, pero vas a necesitar muy buenas cartas para ganar. Muchos jugadores antiguos plantan sus cartas altas allí con robots.
Obviamente, depende de dónde vivas en el mundo en cuanto a lo valiosos que sean unos pocos DEC para ti.
Estoy deseando que llegue el desarrollo de la tierra. He puesto un poco de piel en el juego.
Mi aventura DEFI. Invierte un poco en 2 plataformas de juegos populares. Creo que los juegos de blockchain son el futuro.
Los NFT han cambiado el juego.
¡Saludos a todos y que los "Hechizos" estén con ustedes!
안녕하세요 여러분. 신입회원은 SPS 공중투하및 스테취로 인한 보상을 사용해야 합니다. 내 SPS 보상은 게임을하는 것보다 훨씬 더 많은 것입니다. 나는 아직도 모든 주문과 다른 카드가 서로 어떻게 작동하는지 배우고 있다. 토너먼트는 재미 있지만 승리하려면 정말 좋은 카드가 필요합니다. 많은 오래된 선수들이 로봇으로 높은 카드를 심습니다.
분명히 그것은 당신이 몇 DEC가 당신에게 얼마나 가치있는에 관해서는 당신이 세상에 살고있는 위치에 따라 달라집니다.
나는 토지 개발을 기대하고 있다. 나는 게임에 약간의 피부를 넣어있다.
내 DEFI 모험. 2 개의 인기있는 게임 플랫폼에 조금 투자하십시오. 블록체인 게임이 미래라고 생각합니다.
NFT의 게임을 변경했습니다.
모두를 응원하고 "주문"이 당신과 함께 할 수 있습니다!
annyeonghaseyo yeoreobun. siniphoewoneun SPS gongjung stechwiro inhan bosangeul sayonghaeya hapnida. no SPS bosangeun geimeulhaneun geosboda hwolssin de manheun geosipnida. naneun ajikdo modeun jumungwa dareun cadga seoro eotteohge jakdonghaneunji baeugo issda. tonamant jaemi issjiman seungriharyeomyeon jeongmal joheun cadga piryohapnida. manheun oraedwen seonsudeuri roboseuro nopeun kadeureul simseupnida.
bunmyeonghi geugeoseun dangsini myeot DECga dangsinege eolmana gachiissneune gwanhaeseoneun dangsini sesange salgoissneun wichie ttara dallajipnida.
naneun tozzi gaebareul gidaehago issda. naneun geime yakgan pibureul neoheoissda.
no DEFI mohum. 2 gaeui ingiissneun game plaspome jogeum tusahasipsio. blockchain gami miraerago saenggakhapnida.
NFTyoo geimel byeongyeonghaess.
modureul eungwonhago "jumun"i dangsingwa hamkke hal su issseupnida!
Bonjour à tous. Les nouveaux membres devraient utiliser le largage sps et les récompenses du jalonnement. Mes récompenses SPS sont bien plus que de jouer le jeu. J'apprends encore tous les sorts et comment les différentes cartes fonctionnent les unes avec les autres. Les tournois sont amusants, mais vous aurez besoin de très bonnes cartes pour gagner. Beaucoup de vieux joueurs y plantent leurs cartes hautes avec des robots.
Évidemment, cela dépend de l'endroit où vous vivez dans le monde quant à la valeur de quelques DEC pour vous.
J'attends avec impatience l'aménagement du territoire. J'ai mis un peu de peau dans le jeu.
Mon aventure DEFI. Investissez un peu dans 2 plateformes de jeux populaires. Je crois que les jeux blockchain sont l'avenir.
Les NFT ont changé la donne.
Encourage tout le monde et que les « Sorts » soient avec vous!
---
---