You know you want to........ Tu sais que tu le veux........ Sabes que quieres........ 하고 싶은 거 알잖아........ hago sip-eun geo aljanh-a........
Open a card pack! Or 2 or 3 or well you know!
Just a hello to the community and I enjoyed the town hall today.
That is a big part in making the Splinterlands game great. Keeping us members imformed of development and upcoming changes.
I think it is good to be in relatively early to where the game is headed.
The team has some really big partnerships.
Aggroed and Matt
are special people with their passion to make the game great and the economy sustainable.
They are a breathe of fresh air in this new crypto land full of rug pullers and people looking to make a quick buck by ripping off others.
Hats off to them and the whole team. Thank you.
I opened one pack yesterday and had a nice surprise. It was a good pack!
Cheers all and may the "Spells" be with you!
C'est un élément important pour rendre le jeu Splinterlands génial. Tenir les membres informés du développement et des changements à venir.
Je pense qu'il est bon d'être relativement tôt pour savoir où le jeu se dirige.
L'équipe a de très gros partenariats.
Accepté et Matt
sont des personnes spéciales avec leur passion pour rendre le jeu génial et l'économie durable.
Ils sont une bouffée d'air frais dans ce nouveau pays crypto rempli de tireurs de tapis et de personnes cherchant à gagner rapidement de l'argent en arnaquant les autres.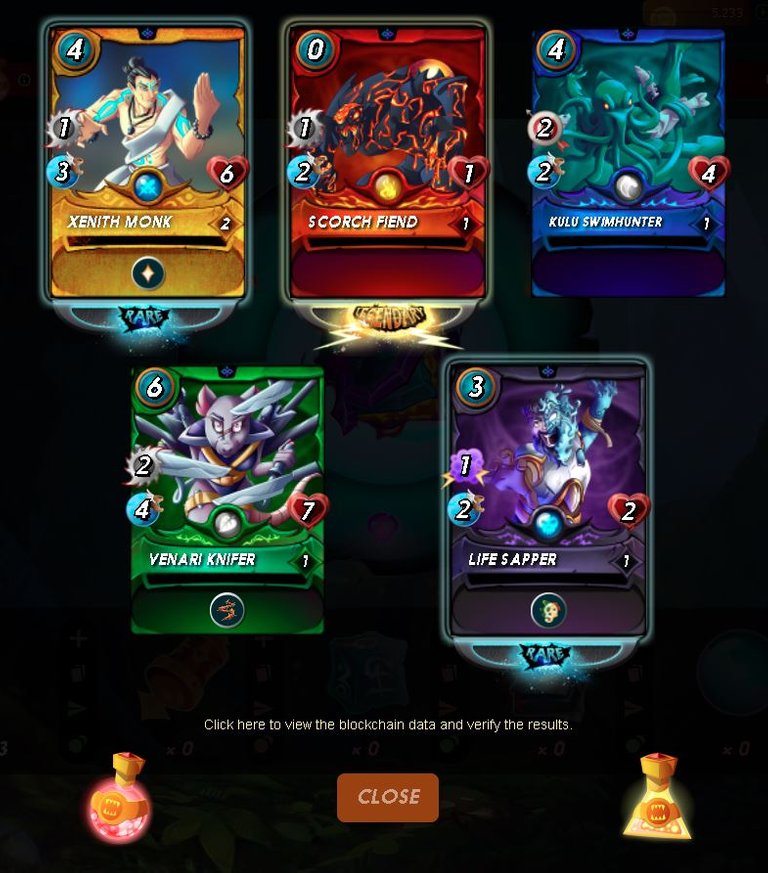 Abre un paquete de cartas! O 2 o 3 o bueno ya sabes!
Solo un saludo a la comunidad y disfruté el ayuntamiento hoy.
Esa es una parte importante en hacer que el juego Splinterlands sea grandioso. Mantenernos a los miembros informados sobre el desarrollo y los próximos cambios.
Creo que es bueno llegar relativamente temprano a donde se dirige el juego.
El equipo tiene algunas asociaciones realmente grandes.
Agredido y Matt
son personas especiales con su pasión por hacer que el juego sea grandioso y la economía sostenible.
Son un soplo de aire fresco en esta nueva tierra criptográfica llena de tiradores de alfombras y personas que buscan ganar dinero rápido estafando a otros.
Felicidades a ellos y a todo el equipo. Gracias.
Ayer abrí un paquete y tuve una agradable sorpresa. ¡Era un buen paquete!
¡Salud a todos y que los "Hechizos" os acompañen!
카드팩 개봉! 또는 2 또는 3 또는 잘 알고 있습니다!
커뮤니티에 인사를 드리고 오늘 시청을 즐겼습니다.
이는 Splinterlands 게임을 훌륭하게 만드는 데 큰 역할을 합니다. 회원들에게 개발 및 향후 변경 사항에 대한 정보를 제공합니다.
경기의 방향을 비교적 일찍 잡는 것이 좋다고 생각한다.
팀은 정말 큰 파트너십을 가지고 있습니다.
어그로드 및 매트
게임을 훌륭하게 만들고 경제를 지속 가능하게 만들려는 열정을 가진 특별한 사람들입니다.
그들은 양탄자를 끌어당기는 사람들과 다른 사람들을 훔쳐 빠른 돈을 벌고자 하는 사람들로 가득 찬 이 새로운 암호 화폐 땅에서 신선한 공기를 마시고 있습니다.
그들과 팀 전체에 경의를 표합니다. 고맙습니다.
어제 한팩 개봉하고 깜짝 놀랐습니다. 좋은 팩이었어요!
모두 건배하고 "주문"이 당신과 함께하기를 바랍니다!
kadeupaeg gaebong! ttoneun 2 ttoneun 3 ttoneun jal algo issseubnida!
keomyunitie insaleul deuligo oneul sicheong-eul jeulgyeossseubnida.
ineun Splinterlands geim-eul hullyunghage mandeuneun de keun yeoghal-eul habnida. hoewondeul-ege gaebal mich hyanghu byeongyeong sahang-e daehan jeongboleul jegonghabnida.
gyeong-giui banghyang-eul bigyojeog iljjig jabneun geos-i johdago saeng-gaghanda.
tim-eun jeongmal keun pateuneosib-eul gajigo issseubnida.
eogeulodeu mich maeteu
geim-eul hullyunghage mandeulgo gyeongjeleul jisog ganeunghage mandeullyeoneun yeoljeong-eul gajin teugbyeolhan salamdeul-ibnida.
geudeul-eun yangtanjaleul kkeul-eodang-gineun salamdeulgwa daleun salamdeul-eul humchyeo ppaleun don-eul beolgoja haneun salamdeullo gadeug chan i saeloun amho hwapye ttang-eseo sinseonhan gong-gileul masigo issseubnida.
geudeulgwa tim jeonchee gyeong-uileul pyohabnida. gomabseubnida.
eoje hanpaeg gaebonghago kkamjjag nollassseubnida. joh-eun paeg-ieoss-eoyo!
modu geonbaehago "jumun"i dangsingwa hamkkehagileul balabnida!
---
---