Runemancer Florre attacks with two different damages.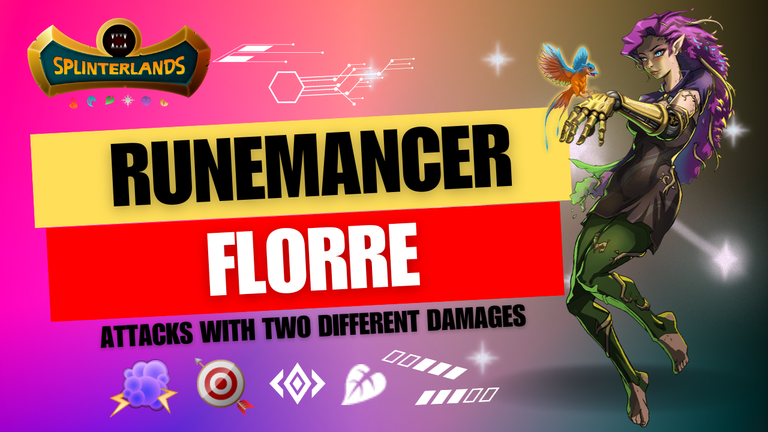 Edited in Canva
Did you know that Runemancer Florre can do double damages? She can do both magic damage and ranged damage at the same time in every turn. As the regular rule of splinterlands, this monster can't do the ranged damage when she is at the front but she still can do the magic damage if she gets to the front.
And today, I'm going to show a way where she can do both damages from the front as well which required a special ability buff from a special summoner. I'll show how she could do that below.
Let's get to the battle.
Here's the battle link if you wish to check.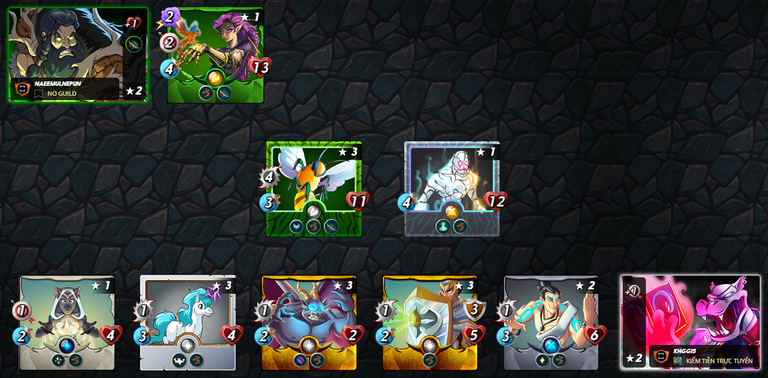 Choosing Monsters
| My Team | Opponent's Team |
| --- | --- |
| Nectar Queen | Almo Cambio |
| Runemancer Florre | Xenith Monk |
| Nil | Blinding Reflector |
| Nil | Gargoya Scrapper |
| Nil | Baby Unicorn |
| Nil | Venari Crystalsmith |
I created my team selecting only two monsters and my opponent created their team selecting six monsters where I used earth element and my opponent team used life element.
Choosing Fernheart as the summoner, I chose Nectar Queen and Runemancer Florre and they got one extra health and close ability from the summoner. I was talking about showing a way where Runemancer Florre can do both damages from the front as well which required a special ability buff from a special summoner and that special ability is this close ranged ability.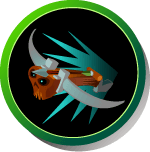 Close range ability is something that allows a ranged monster to do ranged damages from the front position but for that, a monster needs to have this ability and Runemancer Florre didn't have it. That's where the epic earth summoner can help. And this Fernheart is the only summoner who is currently providing the close range ability to all the monsters it summons in a battle.
Nectar Queen clearly didn't need this ability as that's a melee attacker and I already chose it for the front but I was thinking what would happen to Runemancer Florre if Nectar Queen dies. And the the answer was simple and easy, she would loss the range damage. So, I used that summoner that provides the close range ability which will help Runemancer Florre keep doing all damages from the front as well in case the front monster dies.
The Battle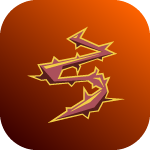 The opponent team made such a terrible lineup choosing mostly melee attackers when they can't attack until they get to the front and therefore the battle had briar patch ruleset that will allow all monsters doing thorns damage to melee attacker and in this ruleset, melee attackers should get avoided when choosing monsters.
Let's see what actually happened in the battle.
| My chosen summoner | Opponent's chosen summoner |
| --- | --- |
| | |
So, the opponent chose a summoner that provide an extra ranged attack but they chose only one ranged attacker along with five melee attackers which was a dumb move. They could simply use another rare summoner from life element if they thought of using the battle ruleset against me and in this way, their monsters could have some extra armor or health or abilities that could help them.
Then my summoner blessed my monster with an extra health and the close range ability.
Getting the first kill was little hard as the front monster of the opponent team had good health portions and all of them got extra health from the strengthen ability of Baby Unicorn and the front monster was getting tank healed by the Venari Crystalsmith. Two monsters of my team were doing total nine damages on the opponent front monster and still this opponent monster lived upto level 3 when only that opponent monster and the ranged attacker Venari Crystalsmith were doing damages on my Nectar Queen and the others were laying low.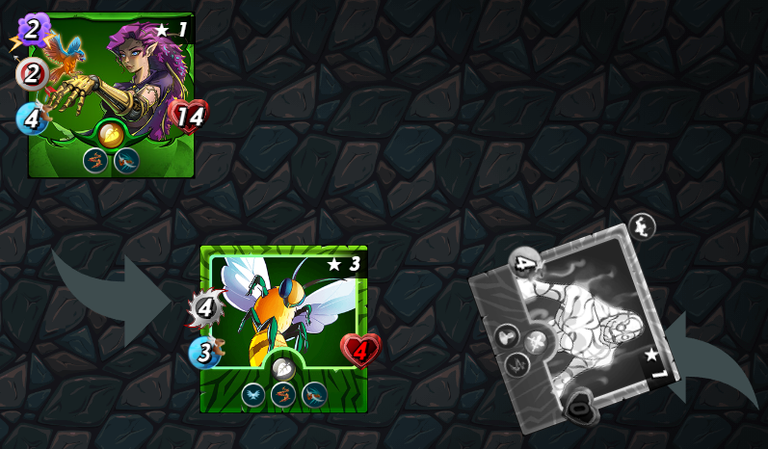 I got the first kill at round three when the opponent front monster lost all health before getting the chance of getting healed again. The lost opponent monster and the other attacker already damaged total eight health of my Nectar Queen.
Then the opponent front place was occupied by Xenith Monk who had its own healing ability and there was Venari Crystalsmith waiting with its tank healing ability. Xenith Monk missed his melee damage on my Nectar Queen as the nectar had flying ability that evade melee damage from non flying monsters. But my Nectar Queen died after damaging the Xenith Monk getting thorns damage so I'd say the opponent was getting success in using the thorns ability against me.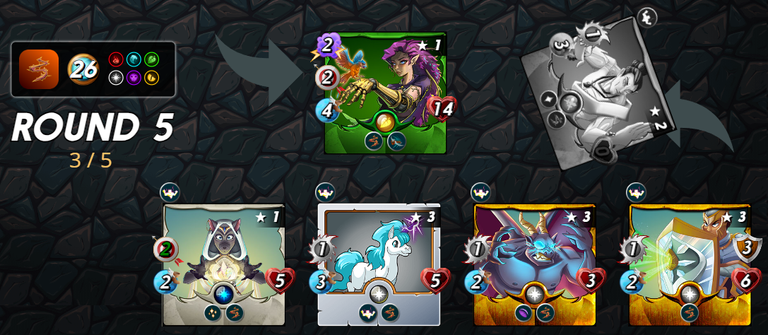 When my Runemancer Florre reached the front, the Xenith Monk did some healing for thyself but it was not enough against the double damage of my monster so the opponent monster died.
Now that I don't have any melee attacker no more so the battle ruleset and the thorns abilities are useless against my damages. When Blinding Defender and Venari Crystalsmith kept damaging health of my monster, my monster was busy taking down the front opponent monster and nailed it after some tries and it was kinda hard cause the front opponent monster had a good armor stats and was getting tank healed as well.
And now the thorns ability from the battle ruleset came to my side as the opponent monsters were mostly melee attackers. After killing the next melee attackers, the opponent team had only one ranged attacker at the front who couldn't do the ranged damage from the front as my Runemancer Florre could so it was a win for me already and my monster made it after a bit.
I see Runemancer Florre did nice on the battle using its double attacks. So, what do you think of Runemancer Florre and about my play?
---
How do you like me explaining what I'm experiencing?
If you like it, feel free to like, comment & share. I will soon come with another post writing what happens next.
Thanks for reading me, goodbye.
---
---