The Venaribusters Brawl Report #1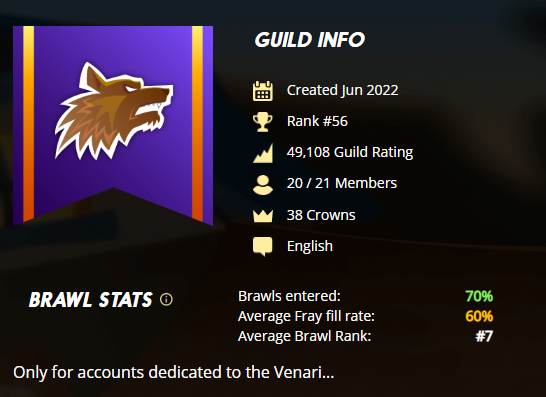 Firstly, who are The Venaribusters? We are composed of a family (@prxhunter, @thelunacysystem, and myself) as well as a group of friends (@shawnmichael-gt, @teerandom, and @atbui89) that are dedicated to the collection of the Venari! While we currently sit at 20/21 members, do not be fooled there are only 6 humans in this guild!
Guild Buildings! Currently as of 7/22/2022, The Venaribusters is mostly invested in the Guildhall, however, once more crowns are acquired then the buildings will be upgraded! With the acquisition of crowns, we will first be upgrading our arena to level 2 to allow us to earn more crowns. Secondly, we hope to upgrade the barracks ASAP to use the infamous gladiator cards which could be the difference between wins and losses.

Brawl report! This will be our first brawl at full strength thus our goal is to place first, which we desperately need to do in order to earn more crowns. Below is a chart showing who battled in what fray as well as their wins to losses.
| Fray # | Person | Win/Loss |
| --- | --- | --- |
| 1: Novice all cards | Lunacysystemdid | 6/3 |
| 2: Novice all cards | Shawnmichael-gt | 4/5 |
| 3: Novice chaos only | Thelunacysystem | 4/4 |
| 4: Novice Alpha/Beta only | Lunacysystem | 3/3 |
| 5: Bronze all cards | Atbui89 | 7/2 |
| 6: Bronze all cards | Teerandom | 6/3 |
| 7: Bronze chaos only | Fake-Shemp | 3/4 |
| 8: Silver all cards | Whitknight73 | 2/5 |
| 9: Silver all cards | Naive-God | 5/2 |
| 10: Silver chaos only | Prxhunter | 2/3 |
| 11: Bronze all GF | Naive-Bot | 2/4 |
| 12: Bronze chaos GF | Naive-Panda | 4/2 |
| 13: Silver all GF | Pandaman20001 | 4/0 |
Battles
First up is a battle using the new legendary life summoner Grand Master Rathe by @prxhunter on one of his bot accounts.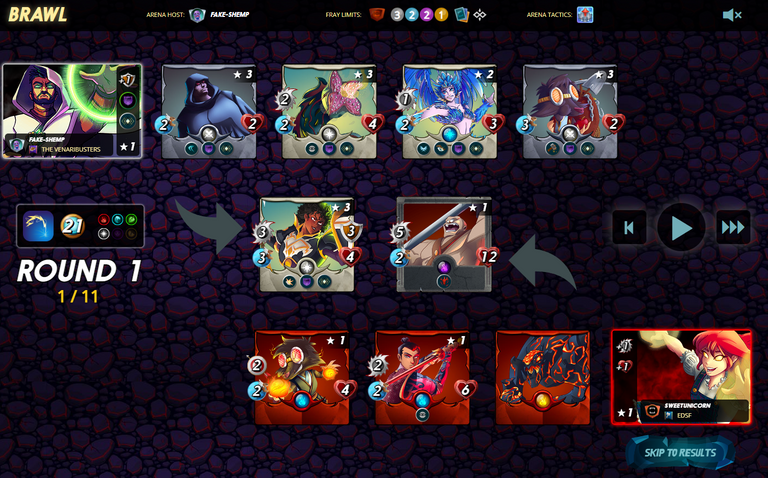 https://splinterlands.com?p=battle&id=sm_MaZK6wpa5zlDXQXHngaT&ref=
The second battle is @thelunacysystem on her bot account also using the new legendary life summoner rathe!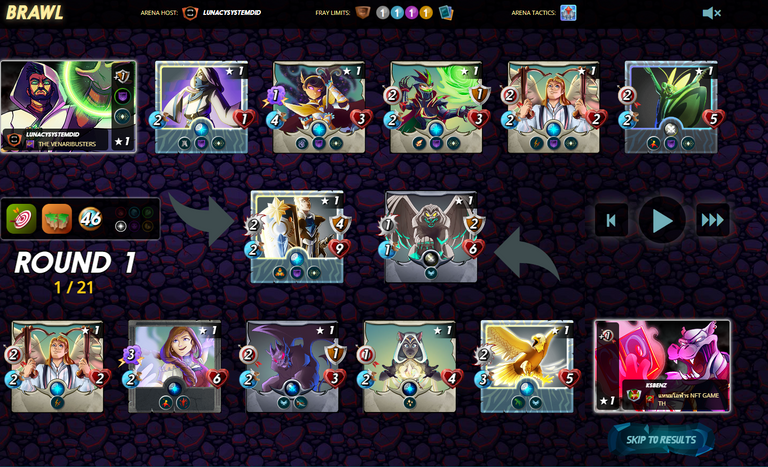 https://splinterlands.com?p=battle&id=sm_POq1ZRBR5GQCAY3VPXQq&ref=
Our third battle on display is from @prxhunter on his main account.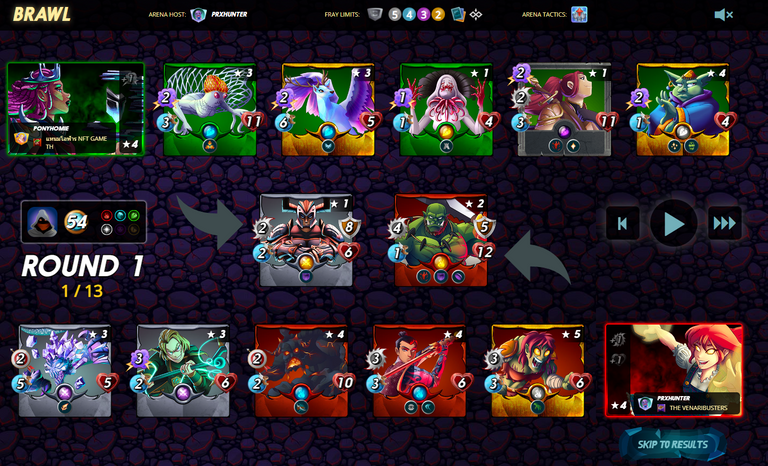 https://splinterlands.com?p=battle&id=sm_PXp1guRrzRaNqQs2LQQj&ref=
Our fourth battle is from @atbui89 showing that you can win with a level 1 starter summoner in a bronze fray!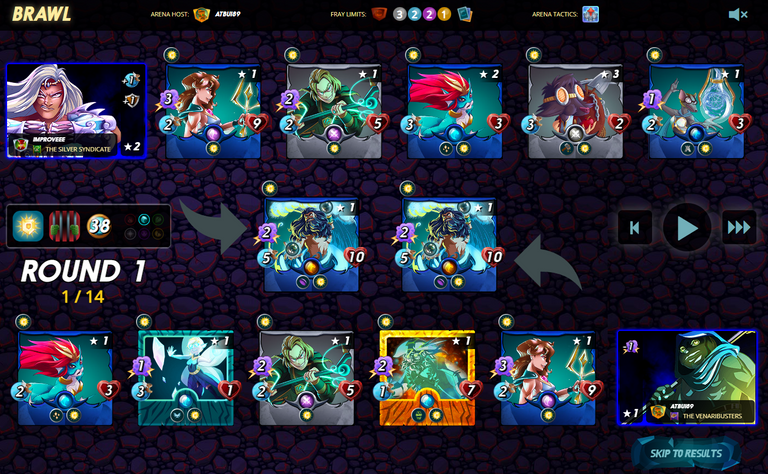 https://splinterlands.com/?p=battle&id=sm_mwZrCWQTSrnNYYIfRx5y&ref=atbui89
Who doesn't love gold foil only battles?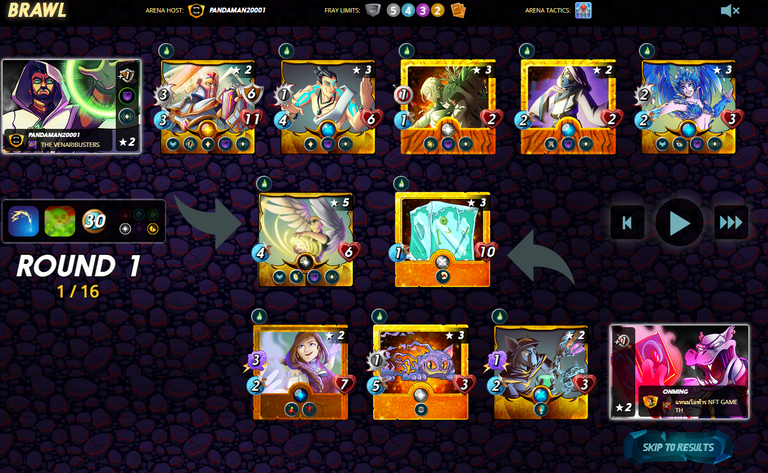 https://steemmonsters.com?p=battle&id=sm_2BoZQ2s6VUr8KZUbtl9M&ref=pandaman20001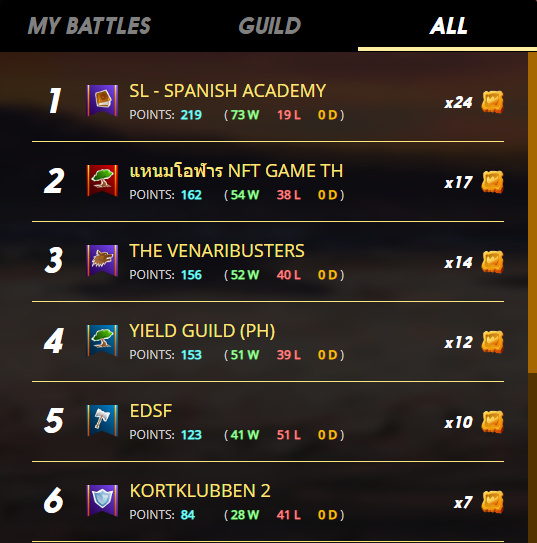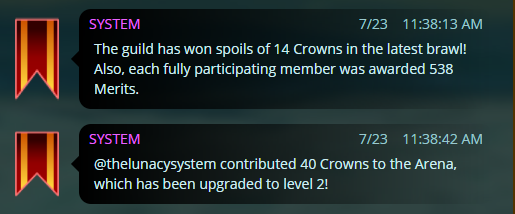 Post Brawl Thoughts: With the conclusion of the brawl, we placed 3rd out of ten guilds! I am very happy with a 3rd place finish because it allowed us to upgrade our arena to level 2 which will allow us to earn more crowns (1x->1.5x). We saw very strong performences from @atbui89 (7-2) and @teerandom (6-3) as well as a perfect (4-0) from myself on @pandaman20001. Sadly, we must fight another brawl with no gladiators...but if we can win 28 crowns from the upcoming brawl then we can upgrade the barracks to level 2. Finally, I want to show appreciation to our best brawler! Thus, going forward I will personally be rewarding the best player after each brawl has concluded. After some thought I have decided that the player with the best win-percentage will be rewarded. @pandaman20001 had a perfect 100% (4-0)...however that is my account, thus I will be rewarding @atbui89 who had a 77% winrate (7 wins out of 9 games).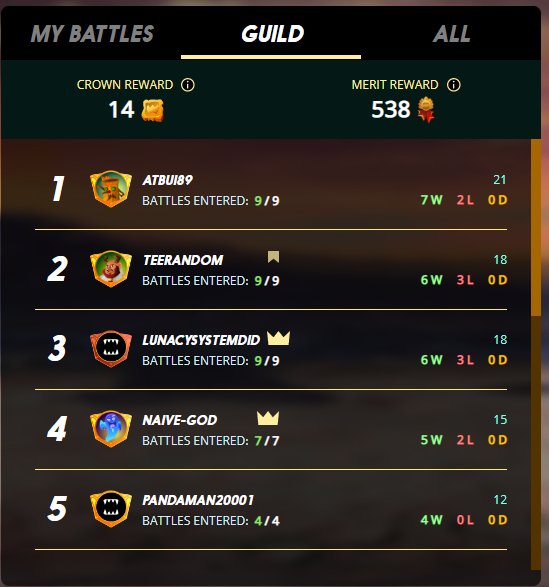 The Prize! This is my first time ever doing this, therefore I wanted to make it special and give away a Gold Foil Cruel Sethropod! In the future the prize will most likely be a reward card, however it is a prize nevertheless!


---
---