The Venaribusters Brawl Report #2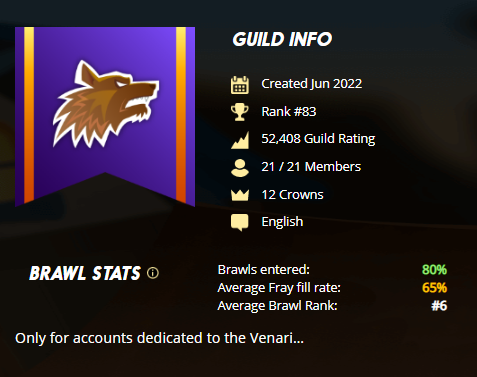 Firstly, who are The Venaribusters? We are composed of a family (@prxhunter, @thelunacysystem, and myself) as well as a group of friends (@shawnmichael-gt, @teerandom, and @atbui89) that are dedicated to the collection of the Venari! While we currently sit at 21/21 members, do not be fooled there are only 6 humans in this guild!
Guild Buildings! After the previous brawl concluded we decide to upgrade our arena to the next level (2) to allow us to earn more crowns going forward. The plan is to earn 40 crowns and upgrade our barracks to level 2. Which we desperately need to use our gladiators!

Brawl report!?
| Fray # | Person | Win/Loss |
| --- | --- | --- |
| 1: Novice all cards | Shawnmichael-gt | 4/3 |
| 2: Novice all cards | Fake-shemp | 3/3 |
| 3: Novice chaos only | Lunacysystem | 2/4 |
| 4: Novice Alpha/Beta only | N/A | N/A |
| 5: Bronze all cards | Atbui89 | 4/4 |
| 6: Bronze all cards | Whtknight73 | 3/5 |
| 7: Bronze chaos only | Teerandom | 0/5/1 |
| 8: Silver all cards | Prxhunter | 2/4/ |
| 9: Silver all cards | Thelunacysystem | 3/4 |
| 10: Silver chaos only | Naive-God | 2/0 |
| 11: Bronze all GF | Naive-Bot | 2/3 |
| 12: Bronze chaos GF | Naive-Panda | 1/1 |
| 13: Silver all GF | Pandaman20001 | 2/0 |
Battles: First up is @prxhunter using Obsidian in the reverse speed ruleset, which I find to work every well.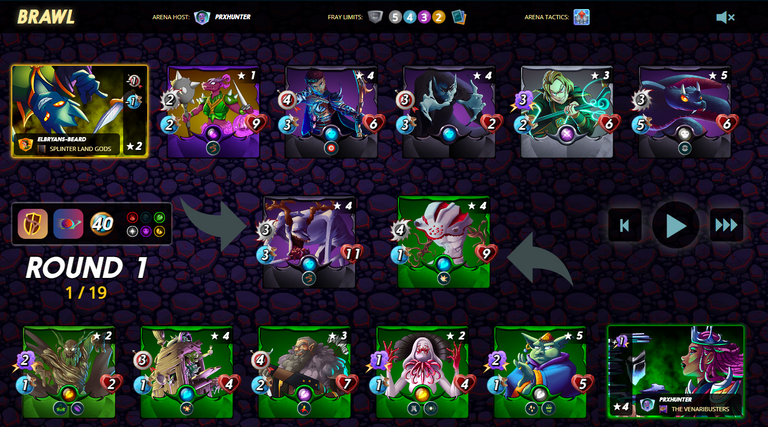 https://splinterlands.com?p=battle&id=sm_FAq7fWlxl7tOJBWSh70x&ref=
Next up was @atbui89 also using Obsidian but in the blast ruleset.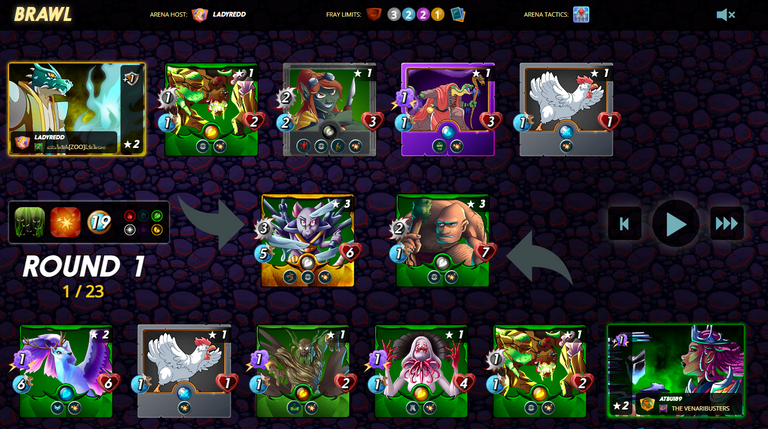 https://splinterlands.com?p=battle&id=sm_zjUrXSbV6Mvo9E9rsAnh&ref=
Next was Thelunacysystem on one of her alt accounts. Both accounts were forced to use Sloan yet archers were not allowed...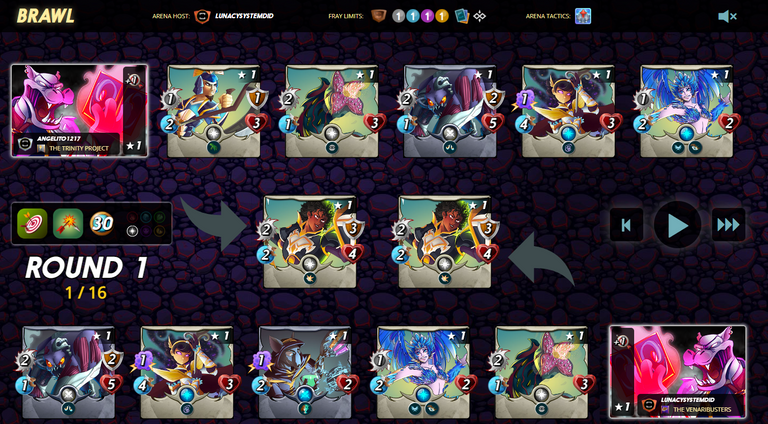 https://splinterlands.com?p=battle&id=sm_2Jobu6BquEN97X4CtWiq&ref=
Lastly, was a battle from @shawnmichael-gt using the life splinter!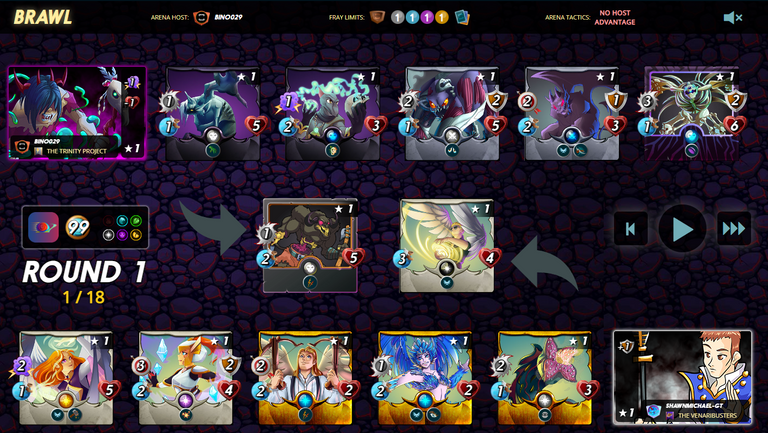 https://splinterlands.com?p=battle&id=sm_aDW6rfzEMbirMMMWNlqO&ref=
Post Brawl: 28/36...we as a guild are much better than this score. However, I am not here to make excuses as to why we underperformed. The goal is not to win every battle or every brawl but to improve together and build a strong guild for the future. Ways to do this are discussing strategies amoungst guild mates or asking what they would have played. Lastly, I challenge everyone to use Splintertools to try and "train" one brawl battle that they lost. This tool is far from perfect, but it does allow you to go back and create a different team, potentially a winning team!
The Prize! Firstly, I want to say congrats to @shawnmichael-gt for going 4/3 (57%) and being the winner of a Gold Foil Hill Giant! Currently valued at $0.54, but hopefully it will appreciate in the near future. Secondly, I truly do not know how many more gold foil cards I will give away, thus every brawl report the prize will change. My goal with this prize is to reward our best player while also incentivizing everyone to do their best.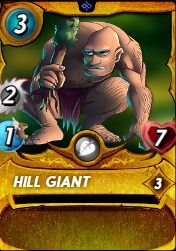 ---
---