How is my $8000 fund in Splinterlands doing at the end of Apr 2022?
I have been playing Splinterlands since 2021 Jul and after understanding the economic of Splinterlands, I highly believe that profit could be made from the ecosystem. As a result, I decided to raise money from a small group of people for a total $8000 USD in Jan. So after close to 3.5 months long, how is this fund doing so far???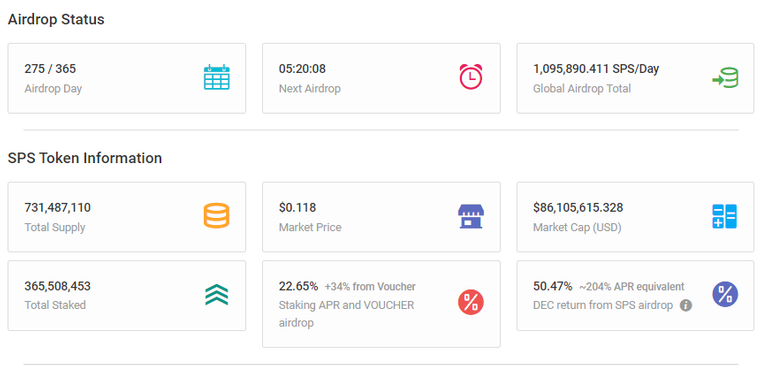 General Info
So far, SPS has already been airdropped for 275 days out of the 365 days. There is less than 100 days of SPS airdrop left.
Currently, SPS price is at $0.118. Almost half of the SPS are being staked. I used the $8000 fund to buy 2000 Chao packs when general sale started. The fund also borrowed 400 vouchers to get additional 400 bonus packs. These 400 vouchers have been paid off already.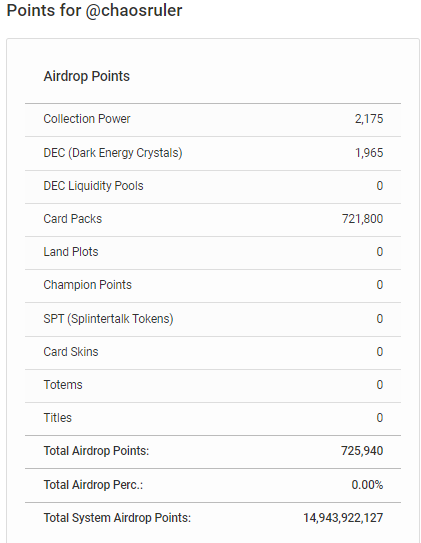 Chaosruler has a total of 725,940 airdrop points. I seldom touch this account but I do play like half a day per season to try to bring this account to silver 3 or 2 to claim some EOS chests. As you can see, there is some airdrop points from holding DEC and collection power, these came from DEC earned and reward cards won from playing the account.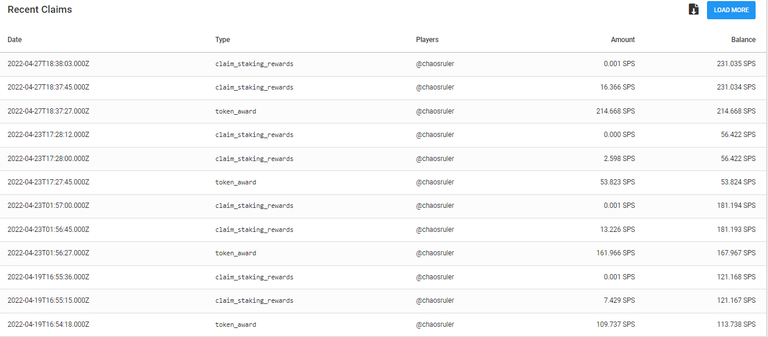 You can see the claim SPS airdrop activities. The fund used to receive 56-58SPS daily but now it is more like 51-53SPS. However, with the increase in SPS staked, the fund is now able to claim daily 2+ SPS from the staked SPS. Not a lot but it help to offset the drop in daily airdrop SPS.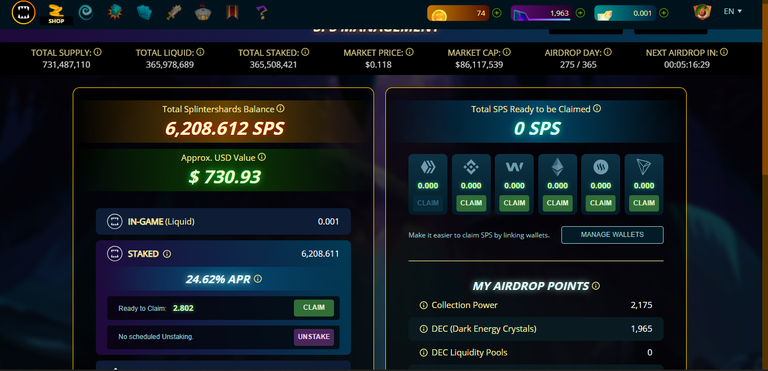 As of now, there is a total of 6208 SPS staked which is worth about $731. If you look closely in the previous screenshot, you will realise that the airdrop point for the card packs is no longer 720k. It is now 721,800. That means now instead of the 2400 packs, it is holding 2406 packs instead. So what really happen??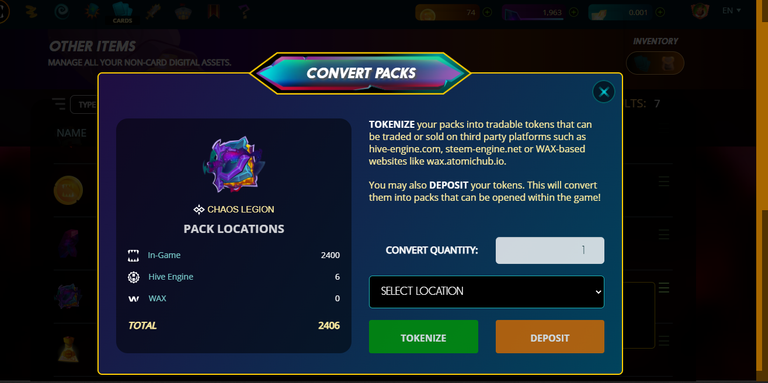 As you can see, there is 6 new chao packs in hive engine. Where did these 6 packs come from?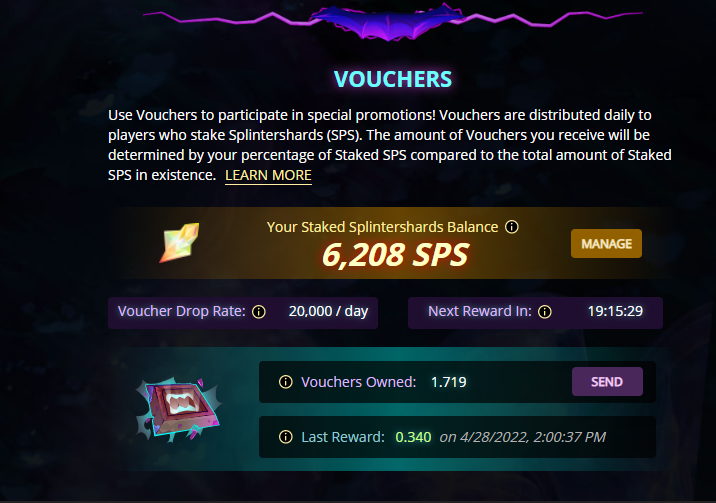 When you staked 6208SPS, beside getting 2SPS daily from the staking, you will also able to get voucher airdrop to you. With 6208SPS staked, you can get about 0.34voucher/day, roughly about 1 voucher for every 3 days or 10 vouchers/month.
Recently, Splinterlands had announced about the validator license sale and this created demand for vouchers as they can be used to offset the cost of the license. As such, the price of voucher rise from $1 to $2+.



Currently on hive engine, one voucher is about $1.61. Since the fund has already paid off the 400 owned vouchers, I actually sold all the vouchers about a week ago and use the extra fund to buy 6 more chao legion packs. That explain why now the fund hold 2406 instead.


Currently, a chao legion pack is worth like $2.91. I am very happy that Chao legion packs are holding the price very well even though individual chao cards and reward cards had continued to drop in price.
Value of the fund
Card packs = 2406 * $2.90 = $6977
SPS staked = $730
No more owned vouchers!!
Total value = $6977 + $730 = $7707.
I am actually very happy about it so far. Crypto has been on a sell off for months already but this fund has been holding its value fairly well. In fact, this is the objective of this fund. It is not meant to make quick bulk but to retain its value while has high potential for very good price appreciation in the future where Chaos Legion is fully sold.
The fund can continue to
receive free daily airdrops
receive additional SPS from staking
daily voucher airdrops
legendary summoners for each million packs sold
I am looking forward to see how well the fund can perform for this year!!!
Posted Using LeoFinance Beta
---
---