Splinterlands Weekly Battle Challenge: Dragon!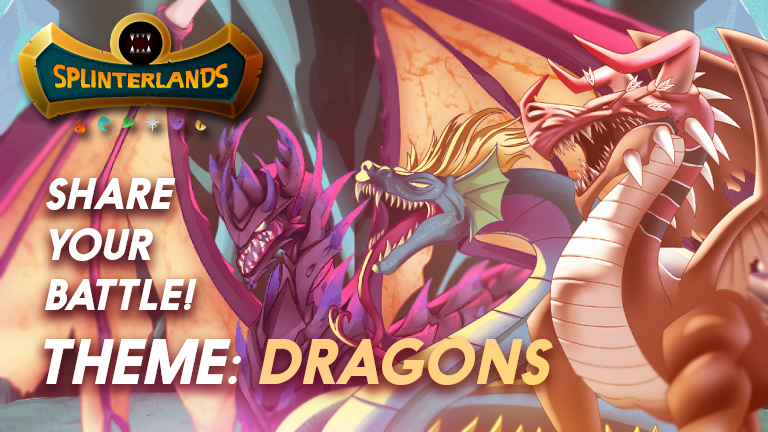 Needless to say, Kitty summoner is one of the most powerful summoner of all time, not just in dragon summoner but across all the Splinterlands summoners.
Kitty: Most powerful Summoner
Speed can be considered the most powerful stat and kitty has a boost of +2 speed. So this usually means that all your monster will move first and would have one extra hit. And that is where the true aim shine with kitty. Even though you can move fast, but that does not means you can hit the opponent. So kitty not just able to increase your chance of avoiding the opponent's attack, it also can make sure your attack landed. And last but not the least, tank heal is actually quite powerful here. Do note that most of the tank heal monsters are usually low mana monster(except spirit of the forest) so there are chances whereby they are easily picked up by sneak or opportunity or snipe monster. With tank heal in the summoner skill, you are sure to enjoy the healing throughout the matches.
Side note: That is also why I am very excited about the upcoming legendary life summoner airdrop, as the summoner has amplify skill which is similar to tank heal skill.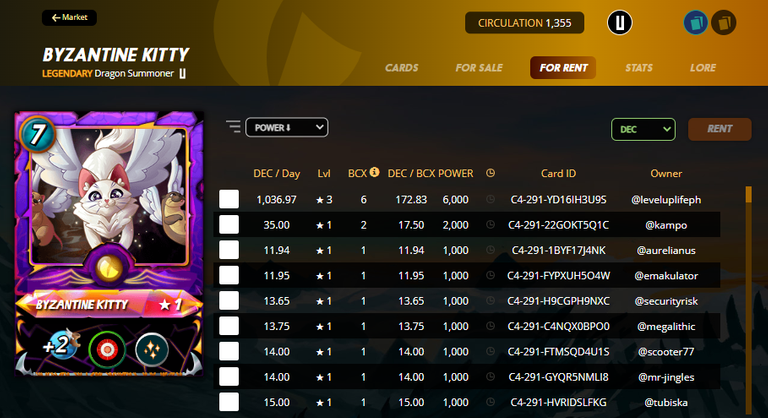 As you can see from the above picture, kitty is so powerful that there isnt enough lv2 or lv4 kitty supply for the diamond and championship players. Even lv3 kitty only has 1 remaining for rent.


As you can see from the screenshot from peakmonster, I actually rent a lv4 kitty for a insane price of close to 4k DEC/day just to play for my daily focus.
Combo
In order to take full advantage of kitty, you need
high speed
skills that goes well with high speed
multiple attacks
high hp
immunity

That is why one of my favourite combo is kitty with Almo. Almo has one of the highest hp at lv4. That means kitty is able to tank heal 5hp each round. With a speed of 6, kitty is able to boost the speed to an insane amount of 8. What is even more crazy that almo has phrase so this super high speed of 8 can even be apply to avoid magic attack. If the match rule has enrage, you can see that almo speed can go even more than 10. With immunity, Almo is not afraid of afflication. Afflication can be a huge counter to kitty as it can stop the tank heal. Immunity also help to avoid very irritating skills like poison or cripple which reduce the effect of healing. To top it off, almo is not just a front tanker, it is also very cunning to reflect range and magic attack.
Nemesis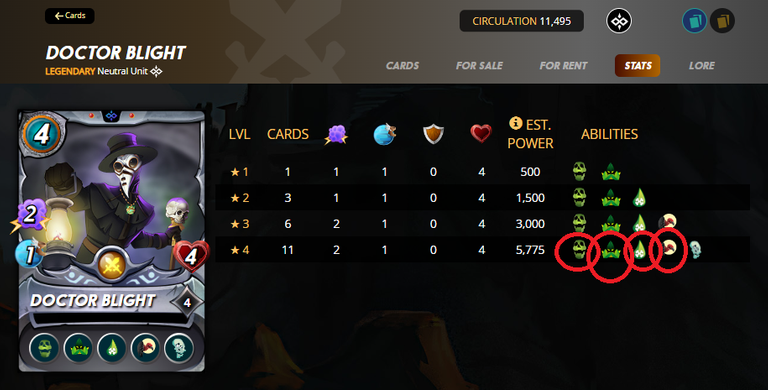 As some of you may already have known, Dr blight is super strong at lv3 onwards. It has a very high win rate at lv3 and lv4, thanks to its multiple skill. With camo, it cannot be targetted for attack. And match with scavenger, this 4 mana Dr Blight can be a super tanker in the later half of the match. It also have affliction which can stop people from healing and the poison can even pierce through void armour and divine shield.
Having said all these, you can now see that Almo totally counter Dr Blight. With immune status, Dr Blight cant even inflict affliction or poison or even weakening on Almo. Almo can even damage Dr blight with the magic reflection!
Battle URL: https://splinterlands.com?p=battle&id=sl_2738050e91fa20dd4522198d581445de&ref=namelessnameless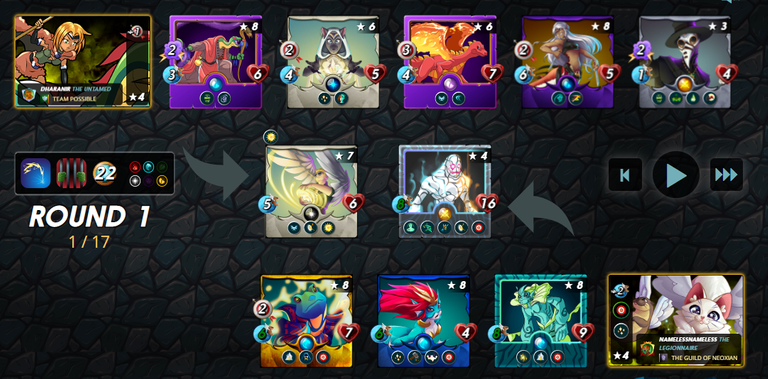 As you can see here, I can go a for very defensive build. With double tank heal and double triage heal, the idea is to outlast the opponents. And with no melee in this match, Almo is one of the best tank where he can reflect both range and magic attacks. As there is no sneak skill(there are a few exception cards) and opportunity, most of the target should be targetted at the front, unless of snipe skill which will hit kelp and that is where the 2 triage heal will come into play.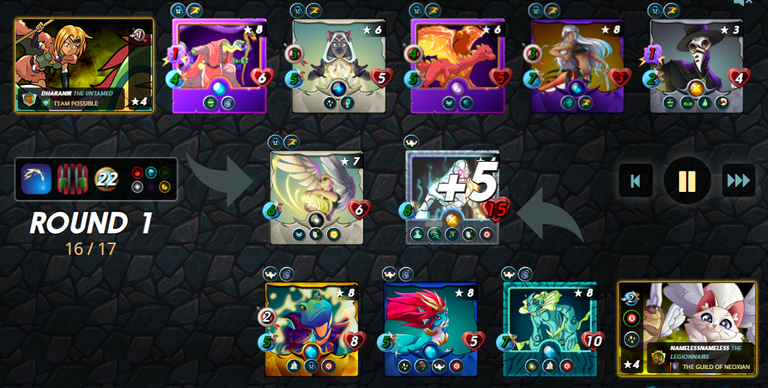 As you can see, opponent even put 2 monsters with affliction to prevent me from healing so Almo's immunity shut that down. And my kitty and merdaali guardian is able to heal 5hp each, a total of 10hp each round. With the 3 rangers and 2 magician, they are able to deal a total of 12 damage but thanks to almo high speed and phrase skill, it is always able to avoid some of the attacks and maintain its full hp quite easily.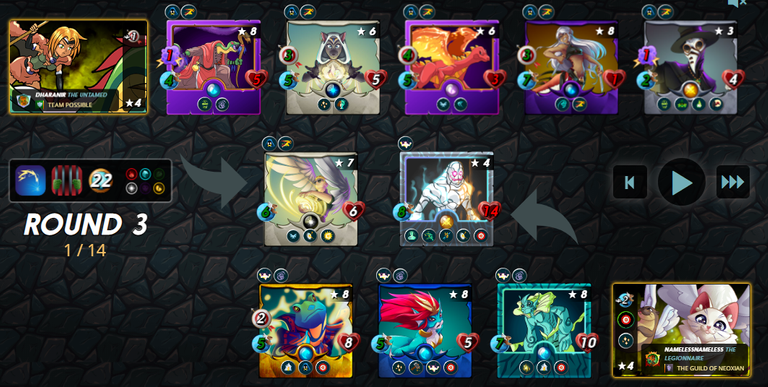 As you can see, with the magic and range reflection, Almo is able to slowly reflection damage to these attackers. And with no triage skill, the opponent is unable to heal the backline. As you can see by the above picture, at the start of round 3, some of the rangers are already at the brink of death.
Conclusion
So no need to say much, the reflection from Almo will just slowly kill off all the opponents' attack while my angelic mandarin will slowly kill off the only non-attack: Pelacor Conjurer. As you can see, Dr Blight can hardly do any usefulness in this match as it is totally shut down by Almo and kitty.
Improvement?
Actually, this match is to outlast the opponent. I am already mentally prepare for this match to go into round 25-30. With such high hp and tank heal, there are only a few situation whereby we would have lost the match. The most likely situation is that opponent has higher hp and tank/self heal.
Lucky leaf are not available in this match, otherwise the kron+llama combo can win against my almo + kitty combo
Gelatinous Cube, I already tried to reduce the number of monster in my team. However, I think it would be even better to have a monster with affliction skill.
---
---