Splinternoob Day 10: Harder to push EOS chests
Background
With the new reward system, I have started a new Splinterlands journey with an alt account starting from scratch to see how far it can progress.
Day 10
It is nearing the end of 1st season for the new reward system. So far for the past few days, the earnings, daily chests, rp rewards had been quite stagnent. So I will tend to focus less on all these moving forward since they are mainly just repetitative.
Start of Day 10


Today focus is water theme. It should be better cause kelya summoner has the most favourite buff which is speed and +1 armour for the whole team which means it helps the whole team to tank 1 more non magic attack.
End of Season Chest= 103
Rating = 2578
As usual, I will compare these stat at the end of the day to see how much I can progress for day 10.
Part 1


For Part 1 of day 10, I played a total of 13 matches. I managed to win 7 times and lost 6 times. The win rate is also quite consistent now.
For that 7 wins, my EOS chest manage to grow by 1 more to 104 chests and I am able to get 20 daily chests. My rating slightly improve to 2590.
Part 2


In Part 2, I played a total of 15 matches and I won 9. Thanks to water theme, it has a much high versatile again other teams.
Despite getting more wins, my EOS chest only grow another 1 more from 104 to 105. My daily chest increased to 25 which is a bit more than the other days(during death focus day).
With more win, my rating climb to 2664.
Day 10 Progress
| Day 10 | Start | End |
| --- | --- | --- |
| EOS Chest | 103 | 105 |
| Rating | 2578 | 2664 |
| Daily Chest | 0 | 25 |
Day 10 can consider to be quite a good progress with high win rates and my rating can consider increase by close to 100. Daily chest also considered to be more than usual at 25 chests.
Day 10 Rewards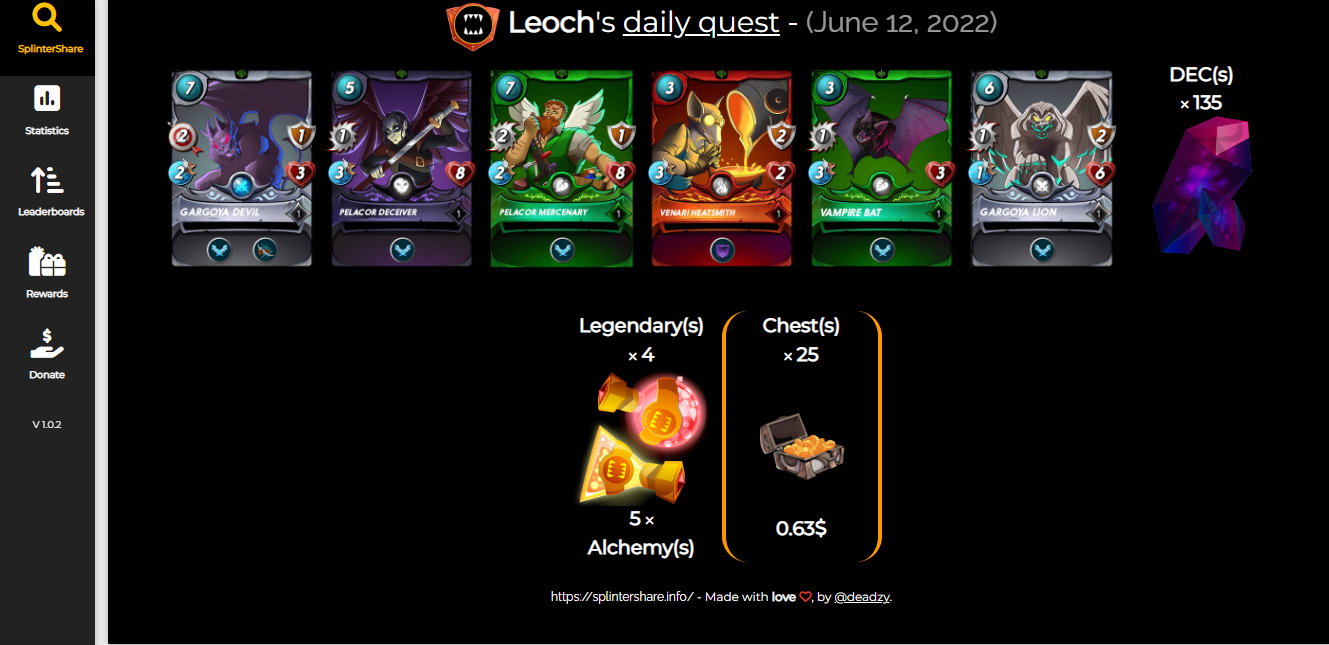 25 daily chests for
5 common and 1 rare cards
4 legendary and 5 alchemy potions
135 DEC
Total value of $0.63.
I am looking forward to the end of the season with how this account will perform for 100+ chests.
Posted using 1UP - Play2Earn & NFTs
---
---