$8000 Splinterfund: Packs opening!
Background
Been playing Splinterlands since 2021 Jul and after understanding the economic of Splinterlands, I highly believe that profit could be made from the ecosystem. As a result, I decided to raise money from a small group of people for a total $8000 USD, aiming to buy 2000 packs of Chao Legion Pack in Janurary 2022 during the start of the general sale.
Previous Update
You can read at my previous update on the Splinterfund about 15 days ago at the following:
https://peakd.com/hive-167922/@namelessnameless/usd8000-splinterfund-how-far-has-it-been-doing
Recent Development
Why I would like to do another updates is that the price of Chaos had been holding strong in the past at around $2.80 to $3.20. However, with the DEC going below the peg at $0.70, the price of the chao pack selling directly from the Splinterlands shop at 4000DEC is now worth only $2.80. As a result, the price of the chao pack on the secondary market will be worth even lower as people will arbitage it for the airdrop chances.
In addition, I have found a rental service that I would like to share and how it has impacted the Splinterfunds.
Fund Holding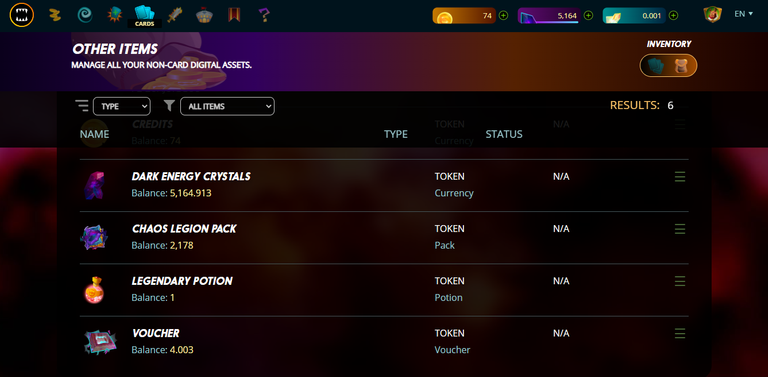 Chaos Pack: 2178
Vouchers: 4
DEC: 5164
I would always try to be more consecutives on the card prices as it may not be easy to sell. As a result, I will try to even lower the prices of the card values.
Cards Values: $500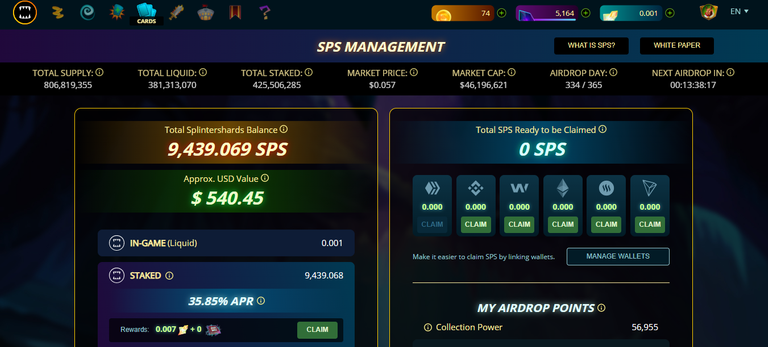 SPS: 9439, $540

Others: Borrowed 90k DEC.
I will explain a bit more about why there exist borrowing in when the Splinterfund account has already clear all the borrowed vouchers for at least a month.
Changes
One of the big changes that you can notice is the amount of Chaos Packs. Since Jan 2022, the pack the fund is holding has been stable at 2400 chao packs. It has grown a little to 2408 packs after the clearing of the borrowed 400 vouchers.
So what really has happened? I have came across a rental services that helps you to rent out the Splinterland cards. The bad thing is that it charges a 20% commission. However, it had shown that it is doing very well for chao legion cards, giving some impressive ROI. The rental service uses the multiple rental price entry to give a good estimated rental price range and help you to set your rental to the best prices, and slowly adjust the price until it is the next possible price for renting. And this service works very well with Chao Legion cards as the high quantity provides quite a rich amount of data for analysis.
I have been testing this rental service with my side account and find that it is very beneficial for this Splinterfunds.
Progress of Splinterfunds
So within the past 15 days, I had borrowed 90k DEC to buy 1k Legendary potions and 1k alchemy potions from the shop. With some existing potions, I opened about 230 chao packs.
Note: Opening chaos packs will usually cause a lost in value. However, with the rental service, it is able to provide passive rental income in the long run. So it is short term pain, long term profit.
230 chao packs is able to exchange for a card value of $500 which as mentioned above that it is a drop in value for Splinterfunds.
Rental Service
If you are also interested to use the service, you can check out
https://splinterlands.rentals/.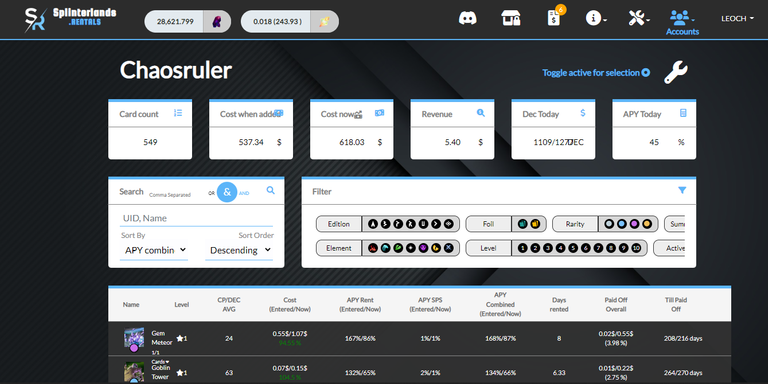 With the $500 worth of cards, the rental service is able to help to rent 549 cards.
Note: The rental service does not rent 1bcx common chao legion cards with 5CP as these cards will need a huge amount of RC with little returns.
With the 549 cards, the rental service is able to rent them out for a total of 1.1k DEC/day. With the 20% commission, I can get 900DEC per day. The APY is 46%(effective rate is 36%) which means I can get up to $250 worth of passive income DEC from renting these cards for a year.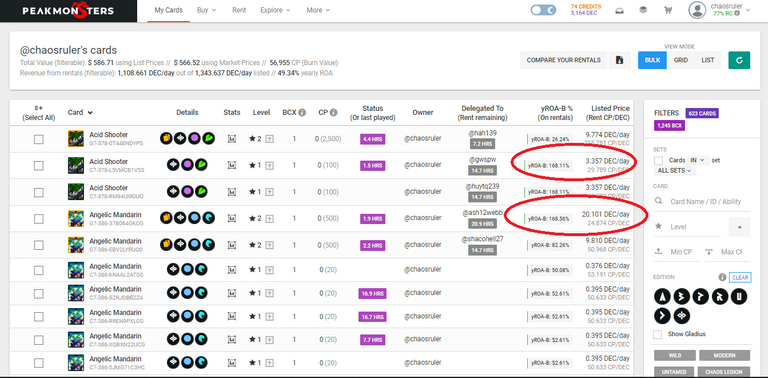 In the above screenshot taken from peakmonster, some cards are able to rent for quite an impressive rate of over 100% ROI. However, these rental price can be dynamic and the price is based on the cheapest $/BCX, not the cheapest 1bcx card.
Splinterfund values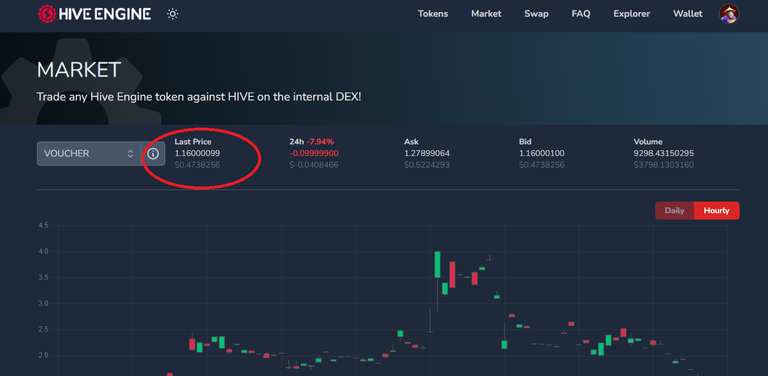 Currently the price of a voucher is about $0.47.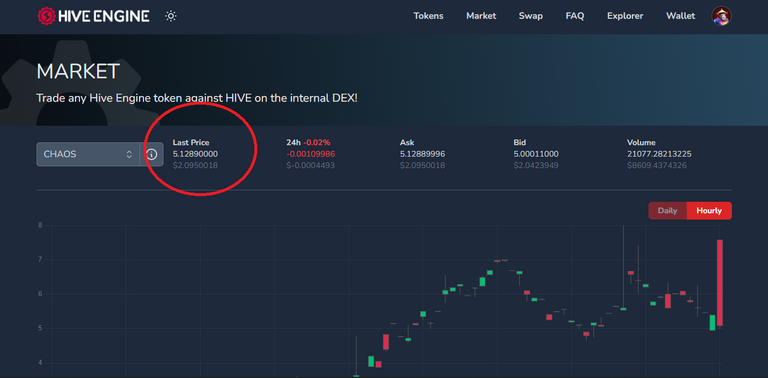 The price of a chaos pack is $2.00.
As compare to 15 days ago, you can see that both experience a huge drop in price. Voucher dropped from $1.15 to $0.47 and chao packs drop from $2.55 to $2.00.
2178 Chaos Pack = $4356
4 Vouchers = $1.88
5164 DEC = $3.55
Cards Values = $500
9439 SPS = $540
Borrowed 90k DEC = $62
Total value = $4356 + $1.88 + $3.55 + $500 + $540 - $62 = $5339.43
Net loss of 34% of the fund.
Compare to the 15 days ago, the Splinterfund value is at $6800, you can see that the drop is huge. On the other hand, this Splinterfund is for long term investment. We still can continue to get more SPS and vouchers for the next 30 days while now we have passive income of DEC. I am also looking forward to the upcoming legendary summoner airdrop.
Posted Using LeoFinance Beta
---
---