Share your battle - Magi of Chaos!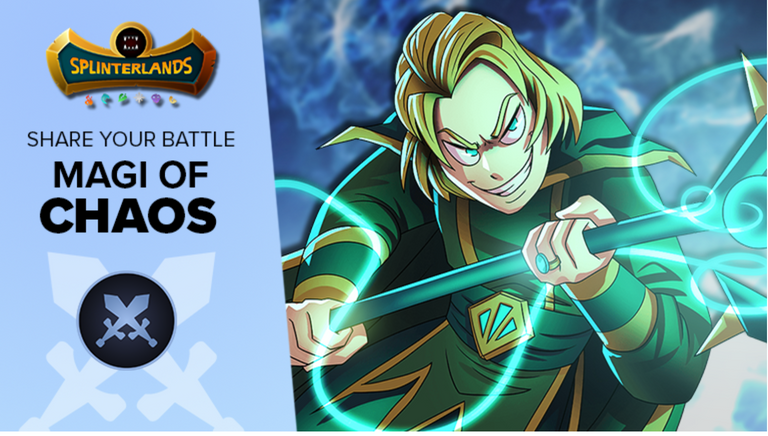 Greetings to all the members of the Hive Blockchain community, most especially those who enjoy playing Splinterlands. This week's Share Your Battle challenge features the Magi of Chaos.
---
Getting to know you
The Magi of Chaos is a six-mana epic monster from the Neutral splinter. The lore depicts it like a covert death-eater, waiting for Voldemort to rise to power. In the gold league, it has a superb 3 magic damage and has a speed of 2. At level 5, it unlocks Oppress, allowing it to do twice the damage to opposing cards that have no attack. Because its damage is magic, it will almost always hit its target. I also think that its damage is in the sweet spot - high enough to still do damage even when it is silenced, but low enough to be weakened by the skill Forcefield, which reduces 5+ damage received to just 1. Its speed is particularly useful in Reverse Speed situations.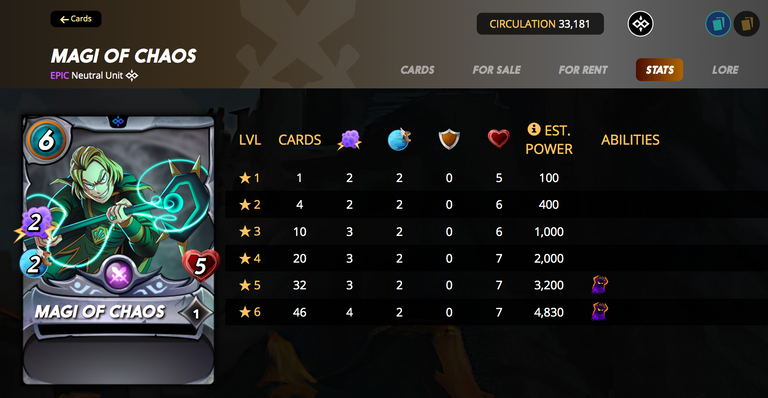 ---
Battle analysis
I used Magi of Chaos in this particular battle with these rules:
Reverse Speed - Slower monsters attack first.
Healed Out - No type of healing is allowed in the battle.
Mana cap = 38
Splinters = Fire, Water, Earth, or Death

As mentioned above, when I see Reverse Speed, I usually go for Magi of Chaos. Heavy magic damage dealer + 2 speed + affordable 6 mana = jackpot! Its Oppress ability just becomes the icing on the cake. This is effective against super tanks like Lord Arianthus and Almo Cambio. So, in this situation, I chose Yodin as my summoner and selected Magi of Chaos. Magi should be somewhere in the middle, because he is not a super tank. The other monsters that I put in were Forgotten One as my primary tank, Molten Ash Golem as my secondary tank, Doctor Blight as my late game carry card, and two others. I actually was very confident that I would win this that I did not need to think about the other two cards. I just put in Tower Griffin for the shield and the Battering Ram for its Opportunity ability and 1 speed.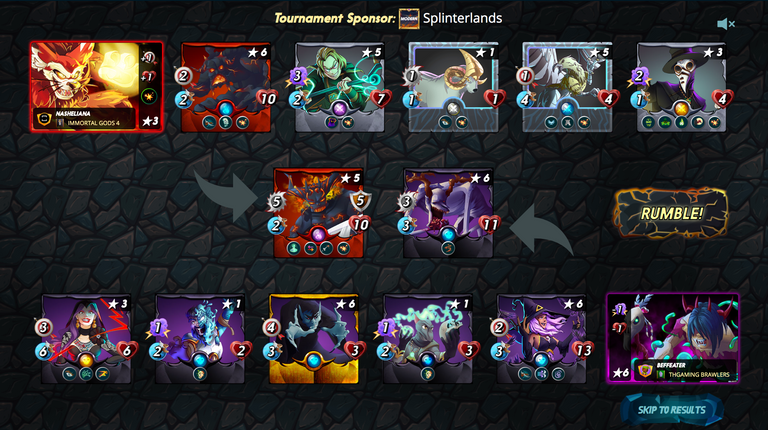 Click here to see the battle!
True enough, I won the battle. Notice also that even when my opponent silenced Magi of Chaos, the Magi still has 2 magic damage, which is pretty decent at Gold level. I thought my opponent was wrong to field in Lira The Dark because of its speed and its ability called Swiftness, which increases the speed of its allies. The Queen of Crows was also a wrong pick because it slowed me down, which was beneficial for me with respect to the rule set.
---
Rating
9 out of 10
I am a heavy user of Magi of Chaos because of its damage, low speed, and affordability. Its Oppress ability comes as a bonus. It also helps that it is Neutral, so it can be used it in most instances, except for battles with a rule set called Taking Sides, where neutral monsters are not allowed. Hope you get to use Magi of Chaos soon!
---
Are you ready to test your skills? You are welcome to sign up to
@Splinterlands
using my
referral code
.
---
Special thanks to @rqr4 for the dividers, and splintercards for the information on the rule sets.
---
---