My Case for VOUCHER Tournament Fees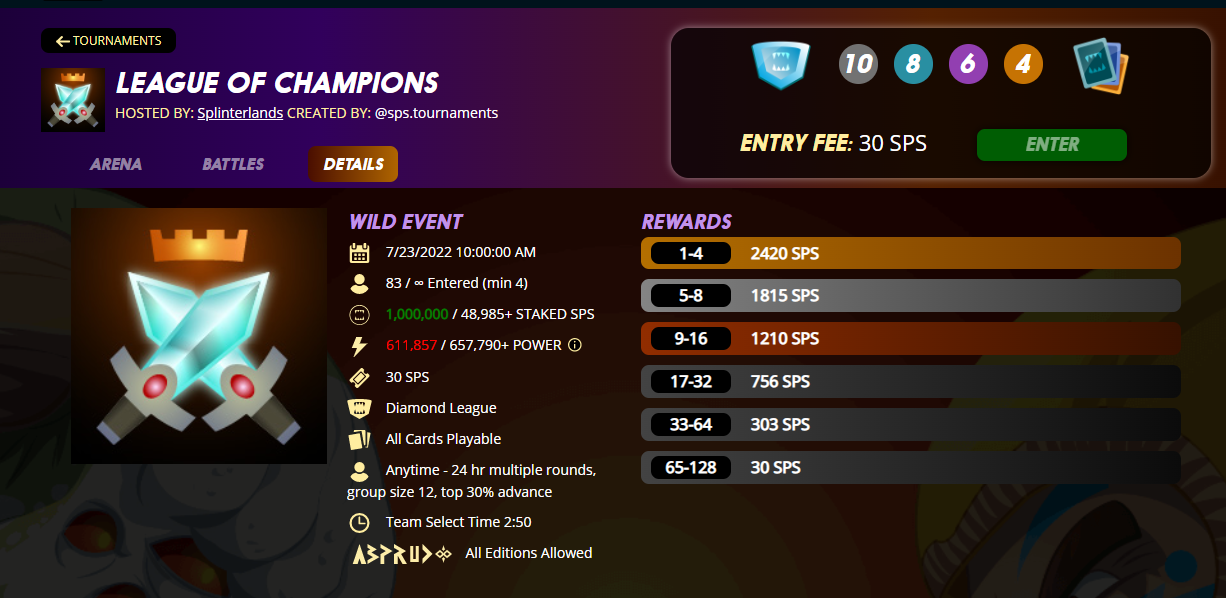 I've been banging this drum for a while, but here's an actual written down version.
The Idea: SPS staking requirments and payments should be eliminated and replaced with VOUCHER payments
Why? A few things:
We can see from the high level tournament participation numbers that these tournaments are not anywhere near as competitive as they should be. The higher level tournaments should be the most competitive ones there are!
Staking 48,985 SPS immediately prices out lots of players that could potentially compete in this high level tournament, whether they own the cards or they rent them.
VOUCHERs are the liquid derivatives of staked SPS-days
We should use that liquidity to our advantage. As aggroed always says, market gonna market. Markets are only possible whre liquidity exists.
So we combine all this and change the entry fees to be VOUCHER payments. Anybody who wants to take their shot for the tournament prize can do so. They can either generate vouchers from staking their own SPS (equivalent to the current system) or they can buy VOUCHER on the marketplace.
A numerical example:
Right now, the 48,985 staked SPS in the tournament in question generate about 2.21 VOUCHER per day. Let's call it 2 for easy math. If we want to have one of these tournaments every 2 weeks, we'd multiple that 2 VOUCHER/day by 14 and get 28 VOUCHER.
Also, the 30 SPS entry fee is equivalent to about 3 VOUCHER.
Combining the two, we get an entry fee of 31 VOUCHER.
So any player who wants to take their shot at the prize payouts can pay 31 VOUCHER and participate. That's a much lower burden than 30 SPS + staking almost 50k SPS. And maybe the 31 number is wrong. Maybe it should be 5. Or 100.
These entry fees would then get burned. This creates an ongoing sink for VOUCHER (the first ongoing one as a matter of fact). The more people that are able to participate, the more VOUCHER gets burned, the more desirable it is to hold VOUCHER, the more desirable it is to stake SPS (or buy node licenses).
The market will determine where the potential rewards are worth the risk. This also simplifies the dimensions of tournament creation. Not enough people signed up for the last one? Lower the VOUCHER fee. Too many last time? Raise it. Optimize for total VOUCHER burned.
So 2 more things...
The VOUCHER concept is amazing. We should use it more.
And also, the in-game non-card market needs to be developed so that people can obtain VOUCHER from the market in a frictionless manner. At the moment, I think that doesn't matter so much because the people who have 50k SPS staked also know how to use tribaldex. But eventually, that needs to work in-game.
Posted Using LeoFinance Beta
Edit: Another way to think about this is to separate different use cases.
We have (or will soon have): tournament entry, yield farming, governance, and decentralization all as different use cases. To me, it doesn't make sense to tie tournaments in with those other things that require staked SPS or node licenses. So using the liquid VOUCHER as the SPS derivative makes more sense.
---
---