Splinterlands Card Airdrop Math - Should You Be Buying Packs?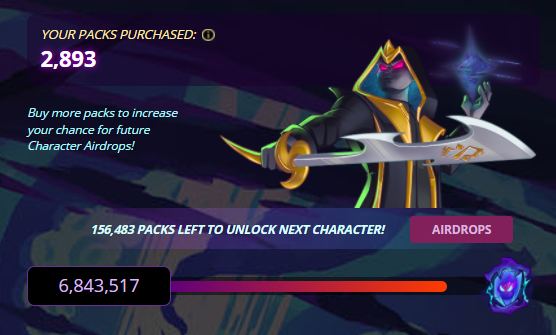 Lots of people who are getting into Splinterlands for the first time are super excited about the card airdrops we get every million packs sold. I am too!
There's lots of confusion on the expectations though, so this post is going to work through some of the math involved. Please note, I am not representing what Splinterlands will actually do here. I am just trying to help people understand how the calculations are influenced.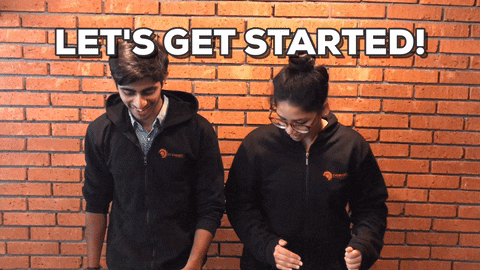 OK, so the fundamental thing to understand is that the goal of the airdrop is to introduce a new card to the deck and make it playable. This means that the population of the airdropped cards after the airdrop should be roughly equal to other cards of the same type.
So far, all the airdrops for Chaos Legion have been Legendary.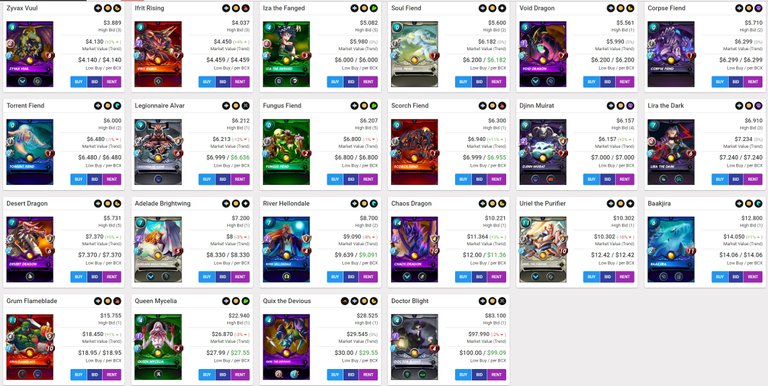 We'll ignore Blight since that was a presale special and not a regular airdrop. Other than Dr. Blight, we have 21 Legendary cards. As we close in on 7 million packs sold, how many of each Legendary card should we expect?
Bottom End Projection
If we assume no Legendary Potions were used, we would expect the number of Legendary Cards to be:
7,000,000 packs x 5 cards/pack x 0.008 (probability of legendary) = 280,000 Legendary Cards
Then we take 280,000 and divide by 21 to get the expected number of BCX per card.
280,000 / 21 = 13,333 BCX poplation per Legendary Card
Top End Projection
If we assume every pack was opened with a Legendary Potion then the probability changes from 0.008 to 0.016. So instead of 280,000 total Legendary Cards we get 560,000 total and 26,666 BCX population per card.
Airdrop Equivalency
So, if we are getting a 22nd Legendary then we need enough airdropped on pack buyers to get to an equivalent population of cards. In other words, roughly 13,333 BCX of the new card should be airdropped.
7,000,000 packs / 13,333 airdrops = 525 packs per airdrop
or if we assume the top end projection, we get
7,000,000 packs / 26,666 airdrops = 263 packs per airdrop (note: mancer has said they don't take potions into account)
Complications
Of course, it's not going to be that simple. Only about 1/3 of purchased packs have been opened. If they airdrop at the full rate, that will create way more of the newly airdropped card in play than other populations of Legendary Cards.
Looking at the Legendary Cards that were available from launch, their populations are all around 12,000, below the 13,333 with no potions and way below the 26,666 with potions.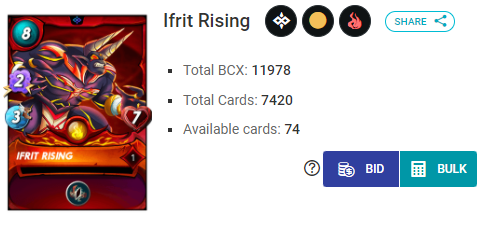 And we see that is what has happened to Iza: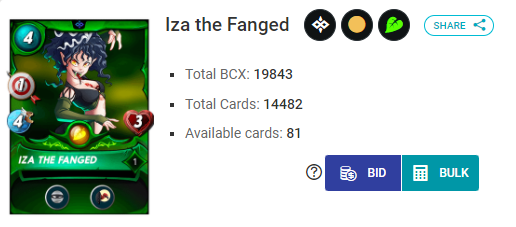 So packs opened after the Iza airdrop are able to increase the population even more, so it's likely that the number of Izas will continue to be about 50% more than the population of launch Legendary Cards.
Adding to this complication is the community expectations set by making the first 3 airdrop cards have a guaranteed airdrop per 350 packs. So now the mental anchoring is in that ballpark and yaba will have to balance the salt coming from the community versus the long term value of the next airdrop.
So What is the Answer????
I dunno! Realistically, it should be a really high number of packs to get a guaranteed airdrop. If we take the 12,000 real population numbers, then we are looking at:
7,000,000 / 12,000 = 583 packs per guaranteed airdrop.
But I can hear the whining from here about the jump from 350 to 583 (or 575 to keep it cleaner), and it's not even directed at me!
Like everyone else, I am eagerly awaiting what will actually be the case as we get closer and closer to 7,000,000 packs sold.
Should I Buy More Packs?
Regardless of what happens with this next airdrop, the ones that are still on the way are the legendary summoners. I think $4 is a super low price to get access to the full set of those, but that only works if you are buying 1,000 or more packs so you can get an appreciable number of those airdrops.
Posted Using LeoFinance Beta
---
---