Splinterlands Share Your Battle! STONE GOLEM!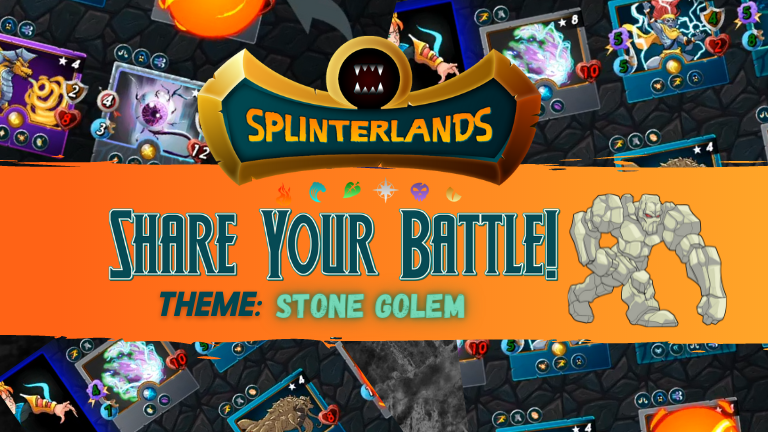 In this week Share Your Battle Challenge is a Alpha / Beta Earth Splinter monster in the spotlight. The STONE GOLEM.
---
STONE GOLEM STATS, ABILITIES and MY OPINION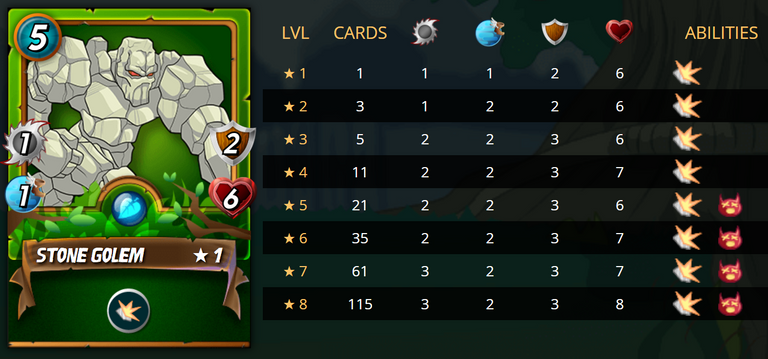 Stone Golem is a 5 Mana Cost minion of Alpha and Beta Card series.
It's a EARTH splinter monster and at Lvl 1 Stone Golem has 6 HP and 1 Armor, 1 meelee attack and the ability Shield, what reduces the damage taken from physical attacks.
With lvl 5 he gets the second ability Stun which gives a 50% Stun chance when it hits a monster.
I only have Stone Golem at lvl 1 as free card and play in Bronze and Silver League. In my opinion Stone Golem is a great card in low mana battles, because of the low mana costs and the Shield Ability. Because many low card monsters only deal 1 damage and this gets completly reduced to 0 Dmg. With an additional heal from Wood Nymph it can carry the way to the victory in some Rulesets.
Shield Ability does also reduce damage taken by Thorns, so I use him as Tank against Mylor if the ruleset fits.
---
BATTLE LINEUP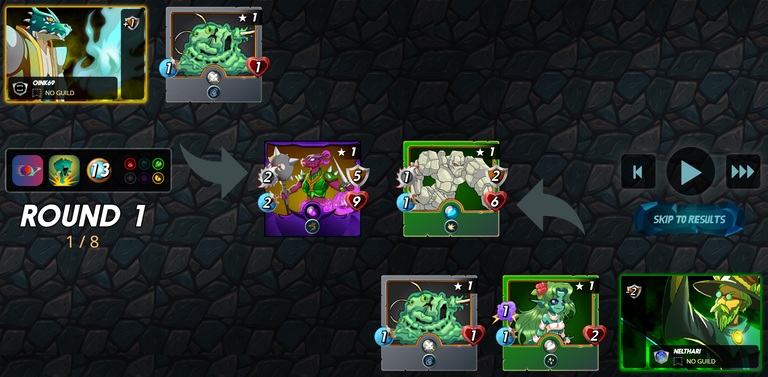 ---
RULESET
This Battle was in Silver II at 1440 rating.
13 Mana
Fire, Earth, Dragon Splinter.
Reverse Speed: Monster with the lowest speed attack first and have the highest chance of evading attacks.
Stampede: The Trample ability can trigger multiple times if the trampled monster is killed.
In the previous matches my opponent played Water and Dragon Djinn Chwala. Because Water Splinter wasn't available, I tried to counter his Dragon Play with Stone Golem and Wood Nymph.
I was really sure he will play it, because Djinn Chwala is a great tank and thorns is great in low mana matches, especially with no Water Splinter.
---
PLACEMENT
Stone Golem: Is a great tank for low mana battle fights.

Wood Nymph: Great Card with Tank Heal Ability, to keep my Stone Golem alive.

Creeping Ooze: I wouldn't use it in this ruleset, because with reverse speed it buffs the enemy monsters instead of debuffing them. But I had 1 Mana left and I used it as Health-Shield against a possible Sneak Hit.


My Opponent picked the 4 mana Dragon Splinter Drake of Arnak and Djinn Chwala a 8 Mana Dragon Monster with high HP and Armor and the Thorns ability. He also used Creeping Ooze to use the last mana left.
---
BATTLE
Click this link to watch the battle.
ROUND 1
My Stone Golem attacked first and hit the armor of Djinn Chwala. The 2 Thorns Damage were reduced to 1 because of the Shield Ability. Djinn Chwala hit for 2 Meelee Damage but this was also halved by the Shield ability to 1 damage.
Wood Nymph had nothing to heal but did 1 Magic damage to the Djinn.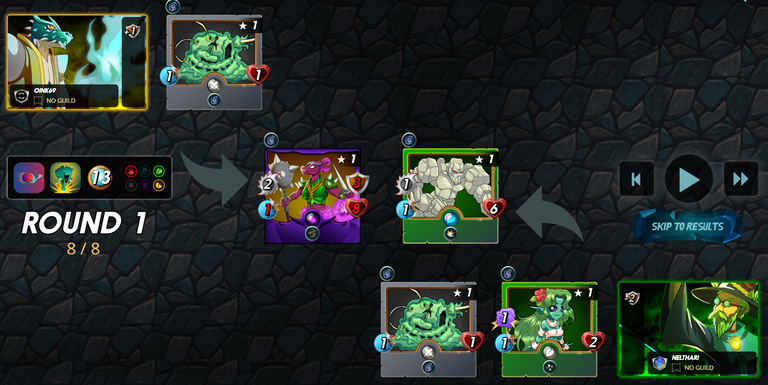 ROUND 2
In Round 2 my Stone Golem took 1 damage by Thorns and 1 damage by the attack from Djinn Chwala.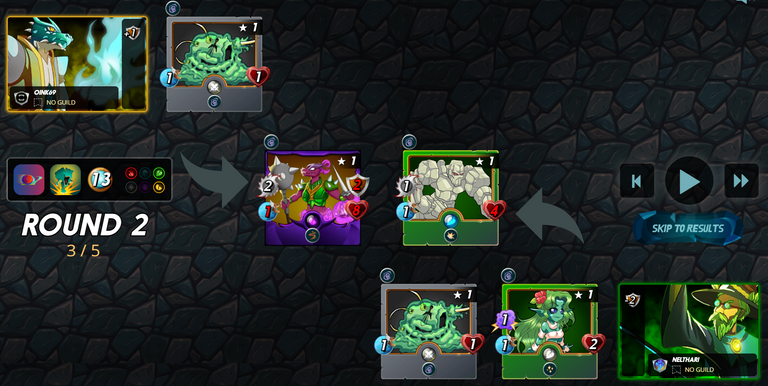 and then got healed up by 2 HP by my Wood Nymph. At this Stage it was clear that my damage taken was outhealed by my Wood Nymph and with no other monster (Snipe, Sneak) available it was clear that I will win this fight.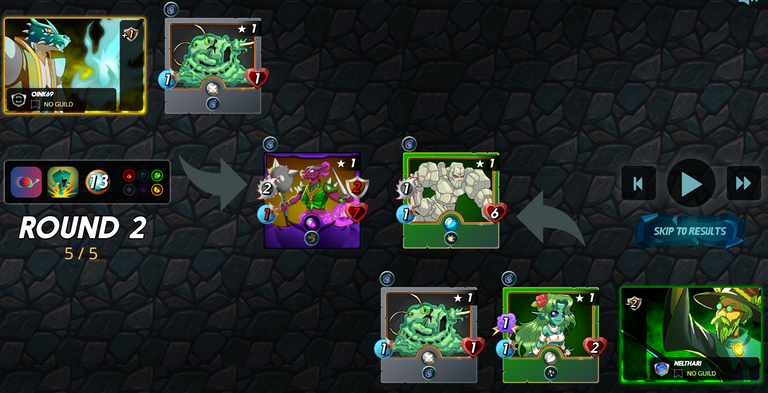 ROUND 3-5
I slowly reduced the health of the enemy Djinn and all time got healed to max Health myself.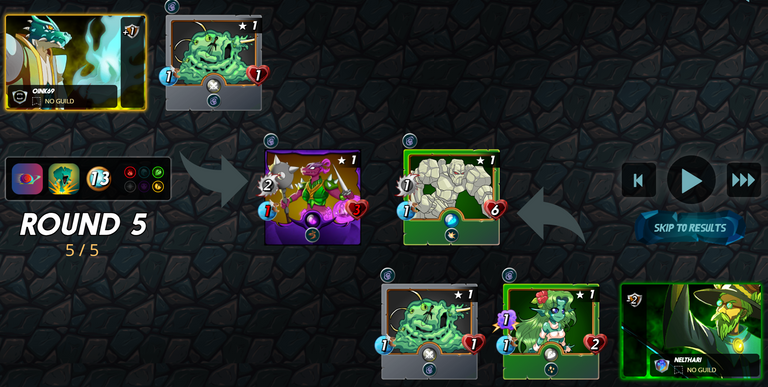 Round 6-7
After Round 7 I have won the battle with all monsters alive on my side.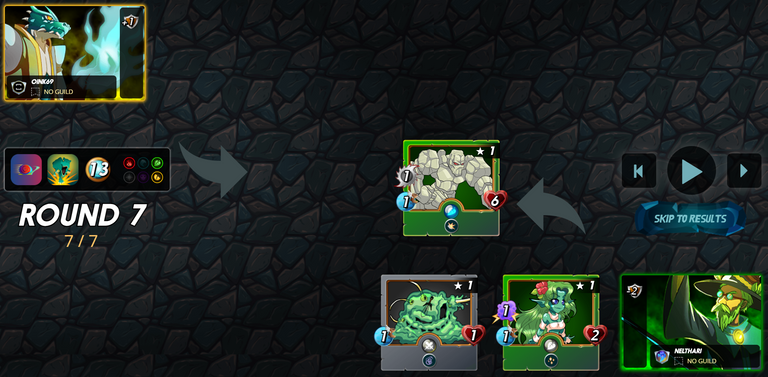 ---
STRATEGY, LEARNINGS and IMPROVEMENTS
As written before I tried to counter my opponents Dragon + Djinn Chwala Combo, what I expected because of his latest battles and the low mana ruleset with only 13 Mana.
My play with Stone Golem and Wood Nymph worked well and I have won this battle. I would have lost if my opponent takes Fire, but that's the great thing about Splinterlands. You can prepare as good as possible for the Lineup, but every Lineup can get countered by the opponents pick.
Djinn Chwala would have won if played with Kretch Tallevor (3 Mana Dragon Splinter) and Kobold Miner, a 2 Mana Fire Monster with Sneak. Kobold Miner would have killed my Ooze and my Wood Nymph.
---
What are your thoughts about this Battle and strategies?
For any Suggestions or thoughts please leave a comment below!
If you have enjoyed the content please leave an upvote here and if you want to try out Splinterlands yourself you can start playing by using my referral link here!
You can follow my Profile if you are interested in more Splinterlands relevant content!
Thanks for reading and the support!
---
---