Splintershards coming soon, important update in Splinterlands / Splintershards już niedługo, ważna aktualizacja w Splinterlands [EN/PL]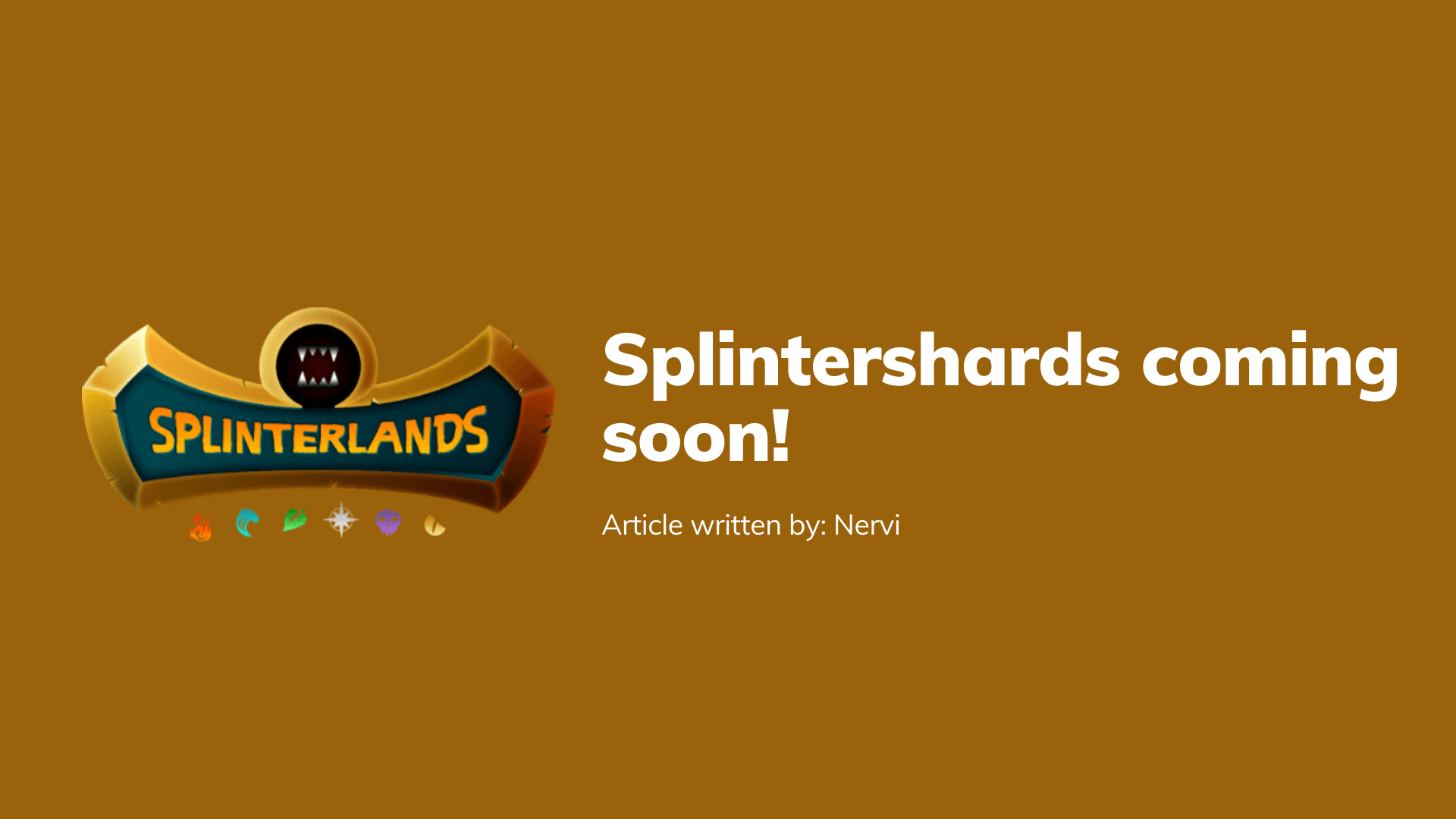 The first airdrop of the new token from @splinterlands, Splintershards (SPS) is 40 hours away! A new interface for the Splinterlands game homepage was launched today, from which we can learn a lot of things. What's on it?
Splintershards is a new governance token, which will influence the shape of the game in the future. The total supply of the token is 3 billion units and it will be distributed over several distribution channels according to different proportions (Airdrop, Staking, private sale, etc...). Our interest today is the token distribution for this year's airdrop. This will probably be the longest airdrop in the life of many of us, as it will last as long as 365 days. A total of 400 million tokens will be distributed over the next 12 months.
And among other things we can find out such information inside the new interface in Splinterlands. It presents itself as follows: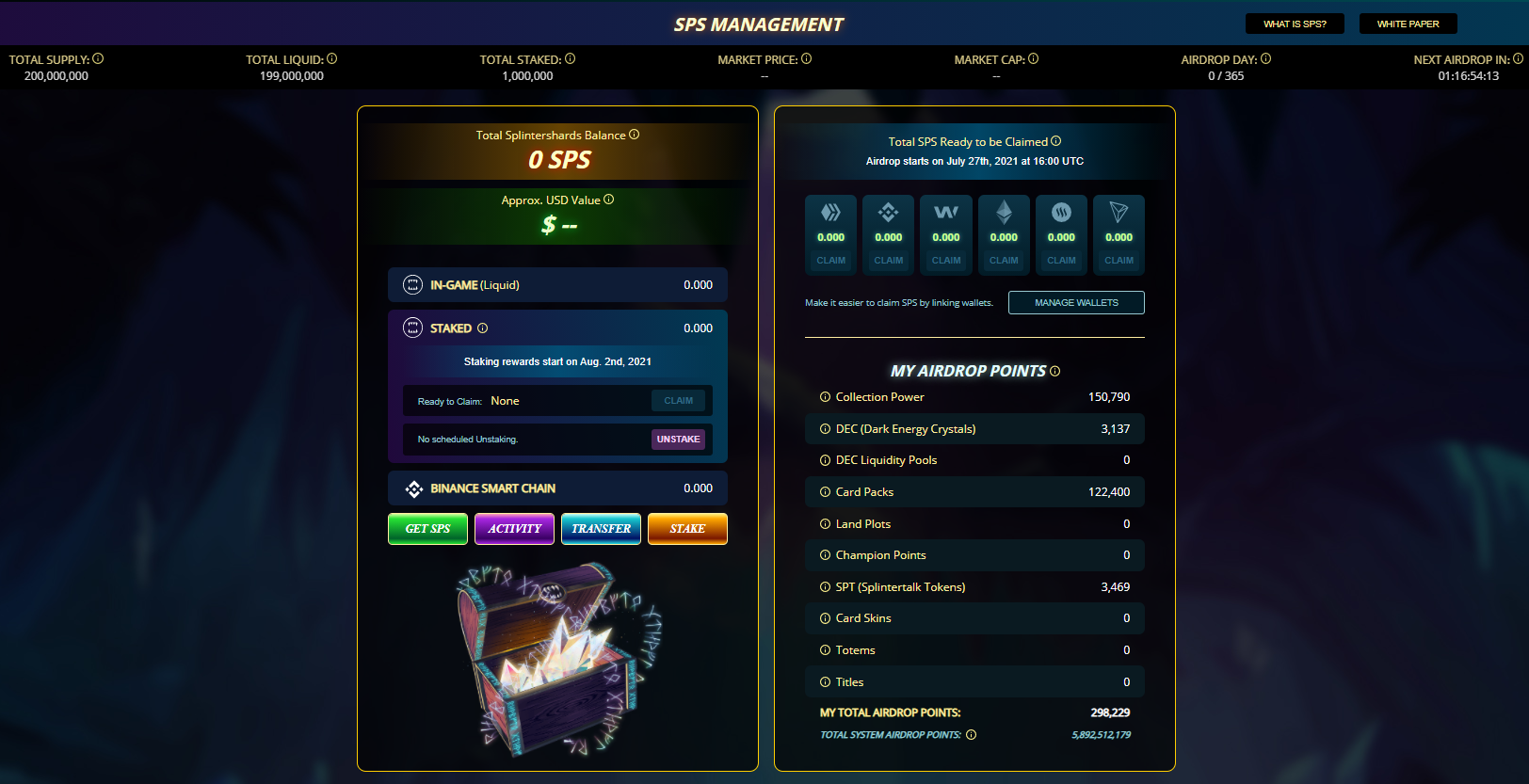 The interface looks very clear and is divided into two main sections. The left section is more general, we will find out there how many SPS tokens we have in total and what their approximate dollar value is. Below that, we will learn about the number of SPS tokens located in Staking or held in the Binance Smart Chain ecosystem. In turn, on the right side we have an insight mainly into the upcoming airdrop. It is listed below from which sections we will receive a given amount of points. For example, I will get the most points from the card collection and the number of game packs I own. At the moment I have a total of 298,229 points, this means that at the moment I have 0.005% of all the points, always something!
I really like this update, especially all these calculations, my mathematical mind likes such numbers. Now we have to wait until July 27, because then the annual Airdrop will start!
Thank you and until the next one, Nervi.
---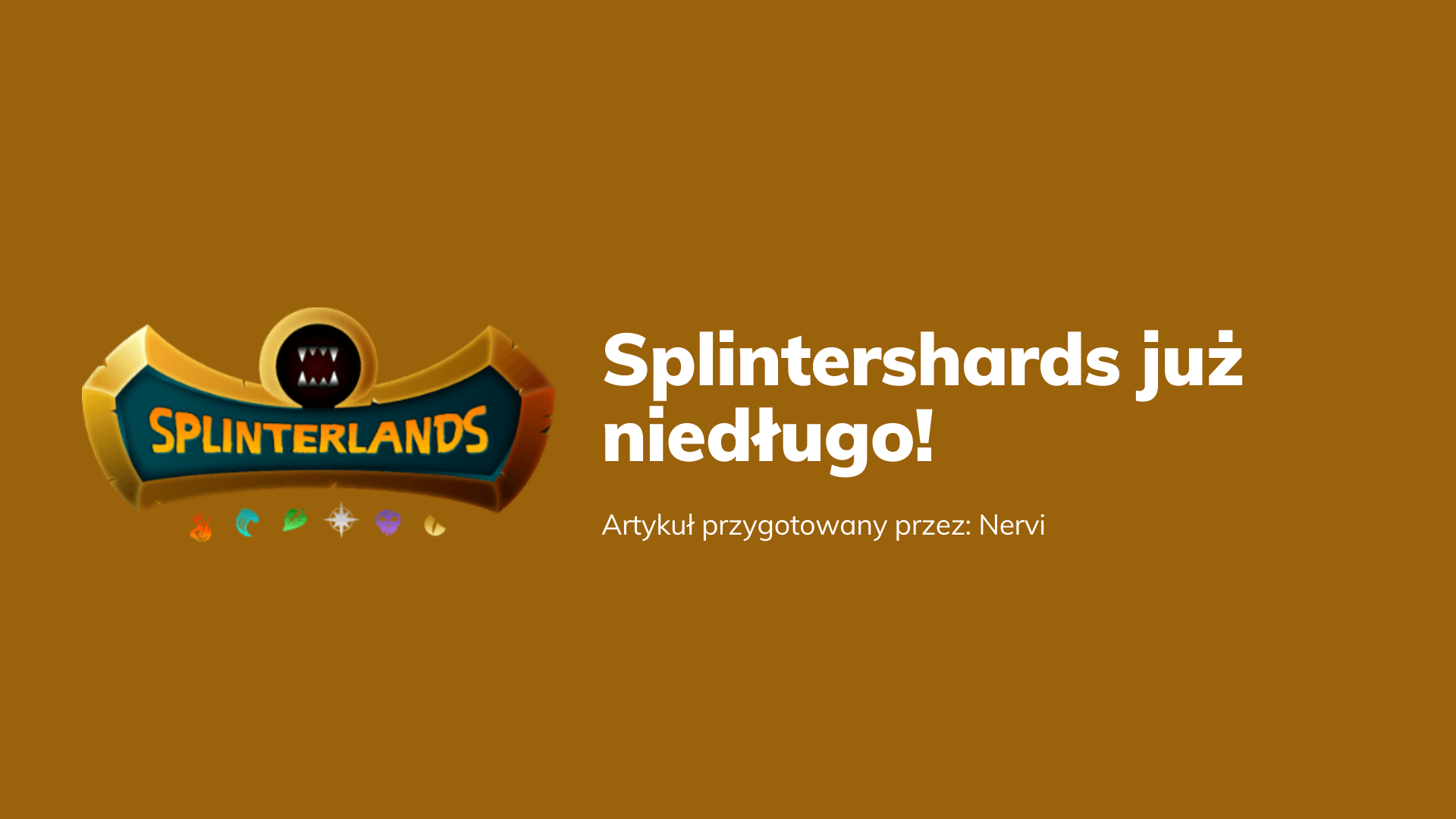 Pierwszy airdrop nowego tokenu od @splinterlands, Splintershards (SPS) już za 40 godzin! Dzisiaj został wprowadzony nowy interfejs na stronę główną gry Splinterlands, z którego możemy dowiedzieć się wielu rzeczy. Co się na nim znalazło?
Splintershards to nowy token typu governance, który będzie miał wpływ na to jaki kształt będzie miała gra w przyszłości. Całkowita podaż tokenu wynosi 3 miliardy sztuk i będzie ona rozproszona na kilka kanałów dystrybucji wedle różnych proporcji (Airdrop, Staking, prywatna sprzedaż itp..). Nas dzisiaj interesuje podział tokenu dla tegorocznego rozdawnictwa. Będzie to chyba najdłuższy airdrop w życiu wielu z nas, ponieważ będzie trwał aż 365 dni. Łącznie zostanie rozdane 400 milionów tokenów przez następne 12 miesięcy.
I między innymi takich informacji możemy dowiedzieć się w środku nowego interfejsu w Splinterlands. Prezentuje się on następująco: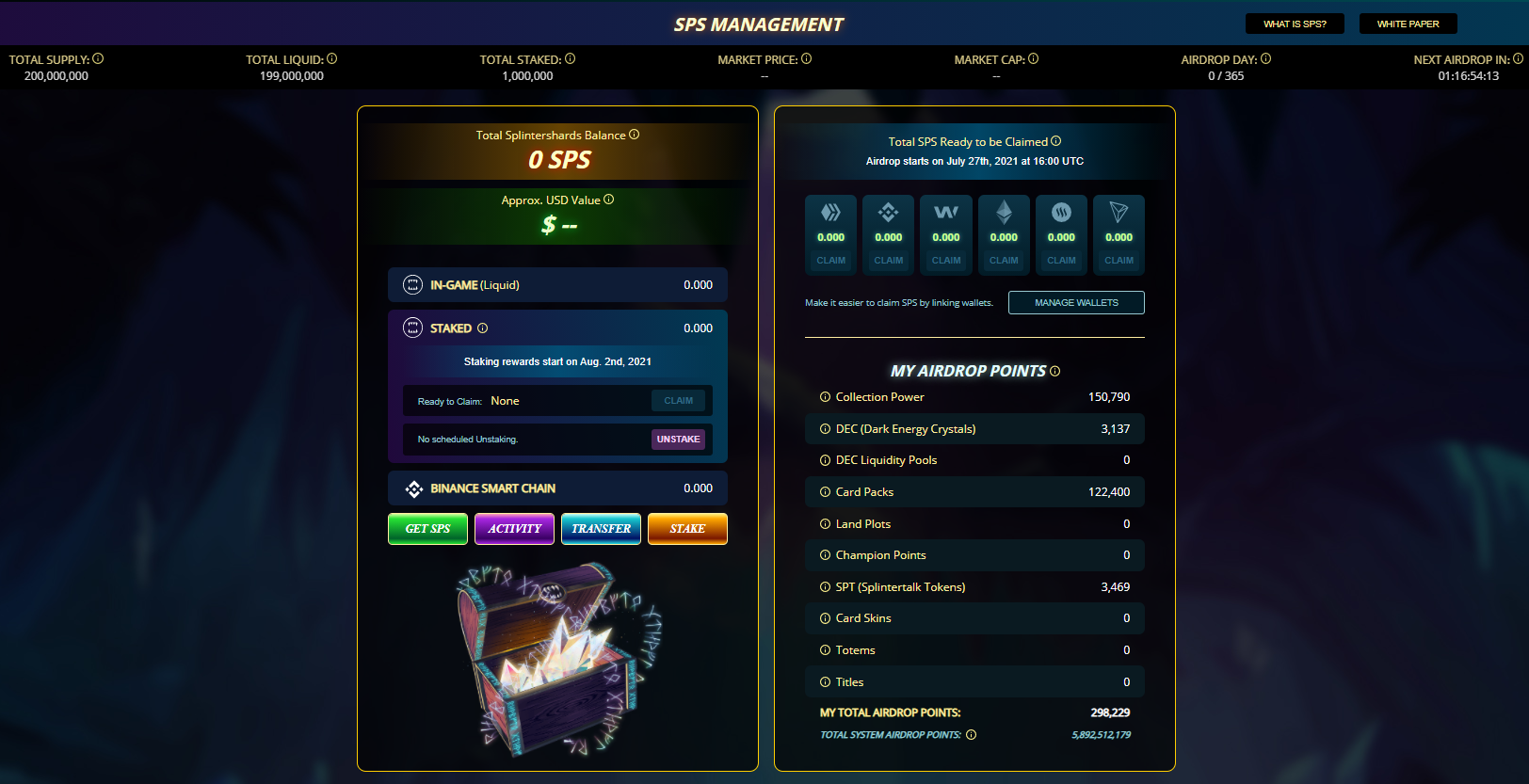 Interfejs wygląda na bardzo przejrzysty, został podzielony na dwie główne sekcje. Lewa część jest bardziej ogólna, dowiemy się tam ile łącznie posiadamy tokenów SPS oraz jaka jest ich przybliżona wartość w dolarach. Poniżej dowiemy się o liczbie tokenów SPS ulokowanych w Staking czy posiadanych w ekosystemie Binance Smart Chain. Z kolei po prawej stronie mamy wgląd głównie w nadchodzący airdrop. Zostało niżej wyszczególnione z jakich tytułów będziemy otrzymywać daną ilość punktów. Ja na przykład najwięcej punktów dostanę z tytułu kolekcji kart oraz ilości posiadanych paczek do gry. Łącznie na ten moment mam 298,229 punktów, oznacza to, że w tej chwili posiadam 0.005% wszystkich punktów, zawsze coś!
Bardzo podoba mi się ta aktualizacja, szczególnie te wszystkie wyliczenia, mój matematyczny umysł lubi takie cyferki. Teraz trzeba czekać do 27 lipca, ponieważ wtedy zacznie się roczny Airdrop!
Dziękuję i do następnego, Nervi.
Posted Using LeoFinance Beta
---
---