I share with you my battle with Spirit Hoarder (ESP|ENG)

Un saludo amigos espero se encuentren muy bien el día de hoy. En esta ocasión me sumo nuevamente al reto semanal el cual consiste en compartir nuestras batallas con una carta asignada por #Splinterlands.
Personalmente me gusta participar en estos retos semanales porque me hacen aprender mucho sobre el juego y me dan la oportunidad de usar cartas que no he utilizado antes, y a la vez me hacen explorar nuevas estrategias para poder ganar mis encuentros.
Para empezar quiero comentarles que finalmente he adquirido el Spellbook cosa que me emociona mucho porque esta era una las metas que me propuse a corto plazo en el juego. También es la primera vez que rento una carta, y fue la de Spirit Hoarder para realizar este reto y poder compartirlo con todos ustedes.
En esta batalla utilicé el elemento de muerte el cual veo con un alto potencial para convertirse en uno de mis mazos preferidos por sus grandes cualidades que posee en batalla.
Mi invocador elegido fue Contessa L'ament la cual se encarga de reducir -1 el ataque a distancia a todas las cartas del enemigo. Mi adversario en esta ocasión utilizó a Octavia Shadowmeld de invocador la cual se encargó de disminuir -1 la salud de todos mis monstruos, pero este no fue un problema ya que poseían una buena cantidad de salud producto de mi elección de cartas.
El limite de maná es esta batalla fue de 30, y fue más que suficiente para hacer una buena selección de cartas y poder quedarme con la victoria. Salí con una alineación de 5 de los cuales la mayoría fueron del elemento muerte a excepción del Spirit Hoarder que es neutral.
Cabe destacar que fue una batalla en novato por lo que no hubieron reglas que afectaran su curso. Ahora acompáñenme a repasar la alineación de forma más detallada amigos.
Recuerden que pueden ver la repetición en el siguiente enlace
Greetings friends, I hope you are doing well today. This time I join again to the weekly challenge which consists in sharing our battles with a card assigned by #Splinterlands.

Personally I like to participate in these weekly challenges because they make me learn a lot about the game and give me the opportunity to use cards that I have not used before, and at the same time they make me explore new strategies to win my encounters.

To begin with, I want to tell you that I have finally acquired the Spellbook which I am very excited about because this was one of the goals I set for myself in the short term in the game. It is also the first time I rented a card, and it was the Spirit Hoarder card to make this challenge and share it with all of you.

In this battle I used the element of death which I see with a high potential to become one of my favorite decks for its great qualities it possesses in battle.

My chosen summoner was Contessa L'ament which is responsible for reducing -1 ranged attack to all enemy cards. My opponent this time used Octavia Shadowmeld as a summoner which was in charge of reducing -1 the health of all my monsters, but this was not a problem because they had a good amount of health due to my choice of cards.

The mana limit in this battle was 30, and it was more than enough to make a good card selection and be able to take the victory. I went out with a lineup of 5 of which most of them were of the death element with the exception of Spirit Hoarder which is neutral.

It should be noted that it was a rookie battle so there were no rules that affected its course. Now join me in going over the lineup in more detail folks.

Remember that you can watch the replay in the following link
---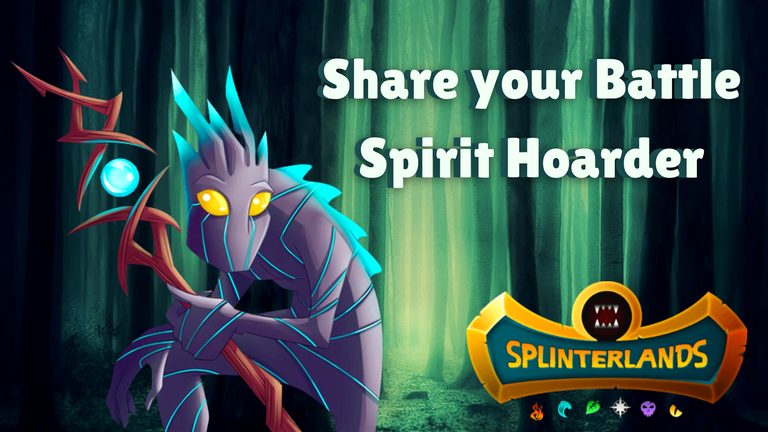 The background was edited in Canva with elements from Splinterlands
---
Alineación y comentarios generales de la batalla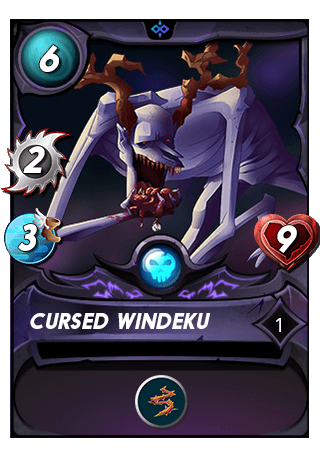 En primera posición utilicé a Cursed Windeku como tanque por sus buenas estadísticas, con 9 de salud, 3 de velocidad, 2 de ataque y con un coste de maná de solo 6 era el candidato perfecto para ir a la cabeza. Además tiene Thorns que es una de mis habilidades favoritas en el juego por lo efectiva que es.
Su desempeño en la batalla fue como lo esperaba, aguantó los ataques del oponente y también le hizo suficiente daño con la habilidad de Thorns. Pudo esquivar un ataque y se mantuvo en pie hasta el final del encuentro.
Esta es una carta que me gusta mucho como tanque, con una buena estrategia da una buena ventaja.
---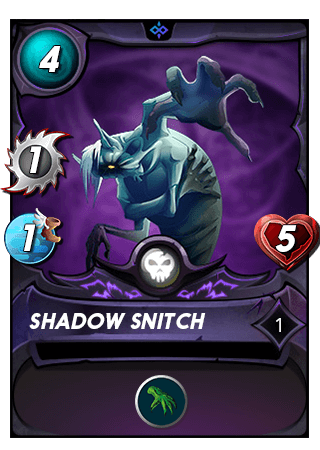 En la segunda posición decidí irme con Shadow Snitch como pueden ver solo tiene 1 de ataque y 1 de velocidad pero tiene buena cantidad de salud y la habilidad de Reach por lo que me pareció una buena estrategia como soporte de mi tanque y para aguantar algunos golpes y hacer algo de daño al contrincante.
Cumplió con su rol en la batalla ya que resistió hasta el final y pudo dar el ataque final para vencer al Cursed Windeku del enemigo.
La habilidad de Reach es muy buena ya que es útil usar una carta que la tenga en esta posición.
---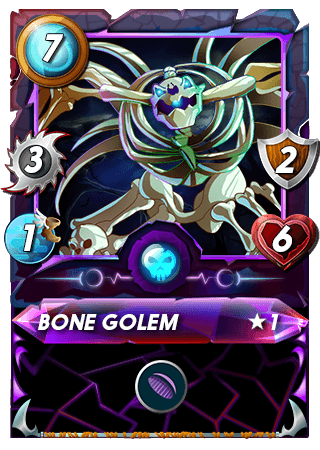 En el tercer puesto hice uso de Bone Golem Posee 2 de escudo, 6 de salud, 3 de ataque y 1 de velocidad, por sus buenas estadísticas pude usarlo de tanque fácilmente pero como vieron me pareció mejor usar a Cursed Windeku en este encuentro.
Pese a todo esto no tuvo participación en la batalla ya que no recibió daño más allá de haber disminuido 1 punto su salud por la habilidad del invocador del oponente, tampoco produjo daño en la batalla, por esta razón quiero usarlo en futuras batallas para ver el efecto de su habilidad y su desenvolvimiento en mis estrategias.
---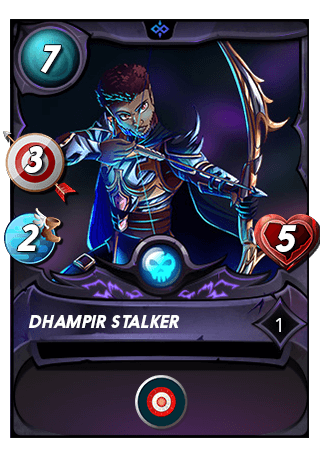 En el cuarto puesto coloqué a Dhampir Stalker con 5 de salud, 2 de velocidad y 3 de ataque a distancia. A diferencia de la carta en la posición anterior si tuvo una participación en la batalla, tiene una habilidad increíble True Strike la cual consiste en nunca fallar sus ataques, al tenerla se vuelve peligrosa con su ataque a distancia de 3.
Esta carta es muy buena para tenerla de aliada en tu mazo, y su coste de maná me parece muy bien para lo que ofrece.
---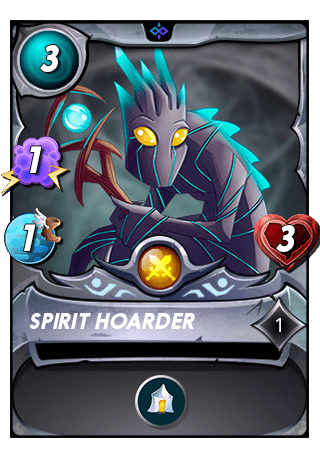 Finalmente y en la quinta posición coloqué a Spirit Hoarder el protagonista de este reto y de esta batalla. Con 3 de salud, uno de velocidad y 1 de magia. Tiene la habilidad de Triage en el nivel 1 el cual se encarga de curar al monstruo de la ultima posición así que digamos que encargó de curarse a si mismo.
Hablemos de su desenvolvimiento en esta batalla, luego de curarse hizo el penúltimo ataque para que mi Shadow Snitch venciera al ataque del oponente y luego se encargó de dar el golpe final al Undead Badger del oponente para darme la victoria. Como pueden ver su participación fue clave y más que perfecta para este reto.
---
In first position I used Cursed Windeku as a tank because of his good stats, with 9 health, 3 speed, 2 attack and with a mana cost of only 6 he was the perfect candidate to go ahead. He also has Thorns which is one of my favorite abilities in the game because of how effective it is.

His performance in the battle was as expected, he withstood the opponent's attacks and also did enough damage with Thorns ability. He was able to dodge one attack and held his own until the end of the match.

This is a card I really like as a tank, with a good strategy it gives a good advantage.

---

In the second position I decided to go with Shadow Snitch as you can see it only has 1 tap and 1 speed but it has a good amount of health and the ability to Reach so I thought it was a good strategy as a support for my tank and to withstand some hits and do some damage to the opponent.

He fulfilled his role in the battle as he resisted until the end and was able to give the final attack to defeat the enemy's Cursed Windeku.

The Reach ability is very good as it is useful to use a card that has it in this position.

---

In the third place I used Bone Golem He has 2 shield, 6 health, 3 attack and 1 speed, because of his good stats I could use him as a tank easily but as you saw I thought it was better to use Cursed Windeku in this match.

Despite all this he had no participation in the battle as he did not receive damage beyond having decreased 1 point his health by the ability of the opponent's summoner, nor did he produce damage in the battle, for this reason I want to use him in future battles to see the effect of his ability and his performance in my strategies.

---

In fourth place I placed Dhampir Stalker with 5 health, 2 speed and 3 ranged attack. Unlike the card in the previous position if he had a participation in the battle, he has an incredible ability True Strike which consists of never miss his attacks, having it becomes dangerous with his ranged attack of 3.

This card is very good to have as an ally in your deck, and its mana cost seems to me very good for what it offers.

---

Finally and in the fifth position I placed Spirit Hoarder the protagonist of this challenge and this battle. With 3 health, one speed and 1 magic. He has the ability of Triage at level 1 which is responsible for healing the monster of the last position so let's say he was in charge of healing himself.

Let's talk about his performance in this battle, after healing himself he made the penultimate attack for my Shadow Snitch to defeat the opponent's attack and then he was in charge of giving the final blow to the opponent's Undead Badger to give me the victory. As you can see his participation was key and more than perfect for this challenge.

Pensamientos finales de mi batalla
Me gustó mucho participar en este reto, usé cartas nuevas y pude aprender a cómo alquilar cartas. Sobre Spirit Hoarder me parece muy buena carta la verdad, sus habilidades pueden ser muy útiles no solo tiene la de Triage sino que posee Dispel y Blind en niveles más altos por lo que se puede volver bastante poderosa.
En esta batalla aprendí a hacer estrategias con el mazo de muerte y como mencioné anteriormente es un mazo que me esta empezando a gustar para utilizarlo en futuras batallas.
Espero les haya gustado mi participación para el reto semanal, espero se encuentren de lo mejor, nos leemos en la próxima ocasión amigos.
I really enjoyed participating in this challenge, I used new cards and I could learn how to rent cards. About Spirit Hoarder I think it's a very good card, its abilities can be very useful, not only it has Triage but also Dispel and Blind at higher levels so it can become quite powerful.

In this battle I learned to strategize with the death deck and as I mentioned before it is a deck that I am starting to like to use in future battles.

I hope you liked my participation in the weekly challenge, I hope you are doing well, see you next time friends.
---

---
---