Splinterlands: Runi Purchase on OpenSea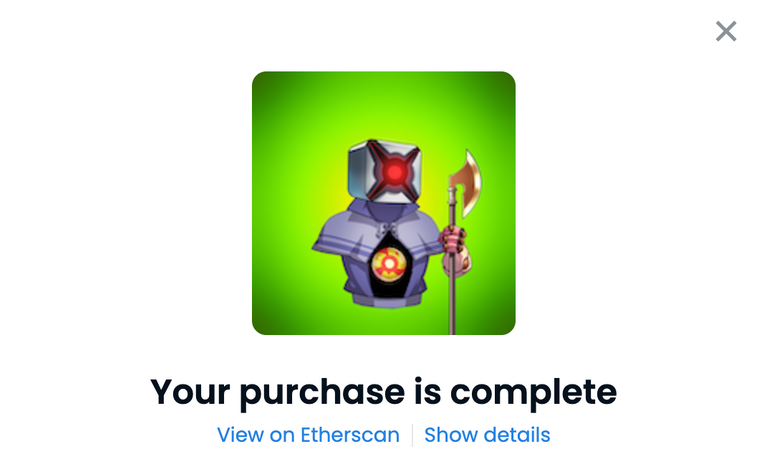 My itch for Runi came very quickly after my Whitelist minting experience. As I had mentioned, the excitement of minting the Runi reminded me of the same feeling I got when opening my first Alpha pack years ago. I was immediately hooked but only had one Whitelist mint. Therefore, I started to watch the market on OpenSeas carefully for one to buy. I initially focused on a good background as I could see that most Runi had the regular and common gray background.
Also, the thought of being able to swap or trade traits was interesting to me so I started to specifically look for traits I wanted. However, the prices were pretty wild as the rarer items were going for too much. Even though that the swapping was subsequently clarified, I still wanted something that could go well with my first Runi, the Ape. I focused on a green background as I thought it would go well with the one I already had in a number of ways. Even the search for the Runi was exciting although not as much as minting one.
I ended finding one a bit above the general mint price but like I have experienced in the game with cards, it is better just to buy what we want rather to keep rolling the dice by opening the unsecured like packs. The green will definitely go well with my Ape but I still feel that I will need more to make my Runi truly unique. I have been watching the market carefully but have not had a much success as others that know how to navigate the NFT marketplace very well.
I could not resist getting another Runi despite the challenges to get my Whitelist spot. In the end, I am continually committed to the project and still think this will be unique at the end of the day. We are currently in a down market, but once things rebounds by the continued development around the ecosystem, Runi could be among the most unique assets we have available to us as players. I am sure there is a list of utility coming for those in and outside the ecosystem!

Discord: @newageinv#3174
Chat with me on Telegram: @NewAgeInv
Follow me on Twitter: @NAICrypto
The following are Affiliate or Referral links to communities and services that I am a part of and use often. Signing up through them would reward me for my effort in attracting users to them:
Start your collection of Splinterlands today at my referral link
Expand your blogging and engagement and earn in more cryptocurrencies with Publish0x! Sign up here!
My go to exchanges are Bittrex and Coinbase; get bonuses for signing up!
The future of the internet is here with Unstoppable Domains! Sign up for your own crypto domain and see mine in construction at newageinv.crypto!
Always open to donations!
ETH: newageinv.eth
BTC/LTC/MATIC: newageinv.crypto
DISCLAIMER: The information discussed here is intended to enable the community to know my opinions and discuss them. It is not intended as and does not constitute investment advice or legal or tax advice or an offer to sell any asset to any person or a solicitation of any person of any offer to purchase any asset. The information here should not be construed as any endorsement, recommendation or sponsorship of any company or asset by me. There are inherent risks in relying on, using or retrieving any information found here, and I urge you to make sure you understand these risks before relying on, using or retrieving any information here. You should evaluate the information made available here, and you should seek the advice of professionals, as appropriate, to evaluate any opinion, advice, product, service or other information; I do not guarantee the suitability or potential value of any particular investment or information source. I may invest or otherwise hold an interest in these assets that may be discussed here.
---
---