Alpha and Beta Epic's on the rise. Sorry about that.
The addiction is real.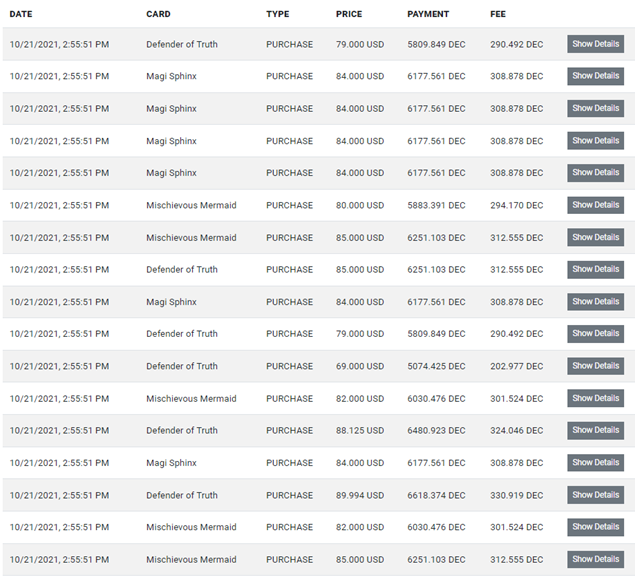 I think that addiction is the only way to describe what is happening at this stage. Any sensible person would be selling for a massive profit instead of buying at 20x what they paid for them a few months back.
The @splinterlands team has really ruined my self control and will be the reason that my relationship breaks up. The whole system is just too addictive.
While I do still play the game every day and compete for quests and cards. The rental market is where the fun is. At the moment I'm flirting with 10K DEC per day in income which is a fantastic amount to be getting.
I know that these numbers will likely not last forever but it's more fun to keep re-investing and adding to my deck than to cash out the income. That will come in time if the game keeps growing at this rate.
Until then I will double down and keep buying.
My poison at the moment are beta and alpha epic cards.
They are very in demand for rental and can net 200 % - 300% in returns. Especially mischievous mermaid. I have managed to snap up 23 of them over the past few weeks and have 0.95% of their total supply and growing. Unfortunately the supply has dried up as it is a rare card and will have to wait for a few more to come on the market.
I currently have them all rented out at 395 DEC per day for 137% APR. My level 5 is dragging down the percentages at just 40%.
On the plus side since I keep buying up limited supply, the values keep going up and making them even more valuable.
Here is before and after my latest purchases.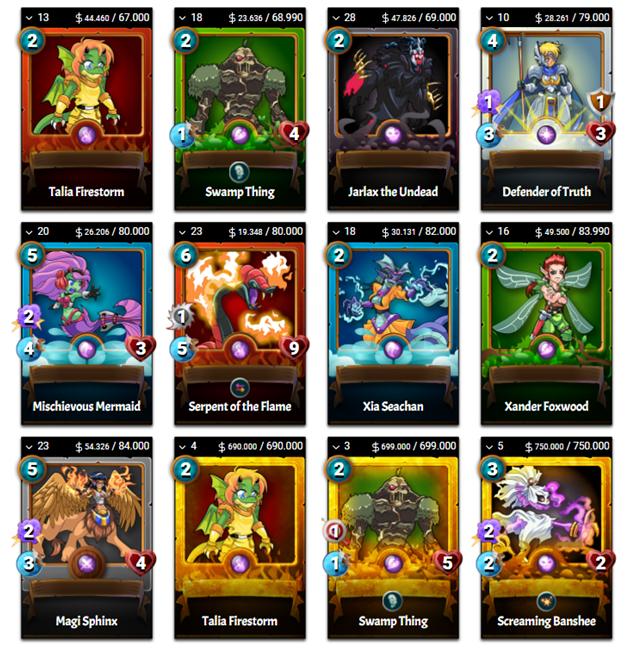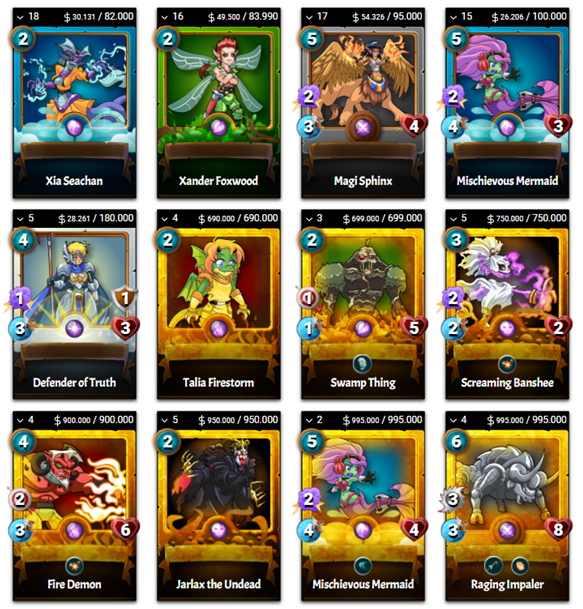 Look at the Defender of truth and Mermaid that have jumped from $80 to $100 and $180.
Luckily I have been buying them up since $40 but with limited supply the price jumps are getting bigger and bigger. Did the same with Magi Sphinx and Dark enchantress alpha and beta versions.
Soon there will be nothing left in this Epic section left under $100.
It might take a while but I'll try to wipe the whole supply out.
I'm selling level 1 Untamed that have terrible rental prices and buying more expensive cards but they will keep going up in value due to limited supply and give a far better rental return than having hundreds of untamed common that are hard to manage and could drop in price when chaos legion drops next month.
Just doubled the base cost for Raging Impaler as I made this post too. It was looking far too cheap at $29 so now it's $47 for the lowest on the market. Sorry about that.
This is a big part of the game and the markets have created a whole new dimension to gameplay and earning. I love playing the markets and there is a lot to be made from playing it well.
We have more players joining every day and very little new cards so there is never enough to go around. Anything with a supply of under 5k cards will be impossible to come by in years to come and earn a nice return on rentals.
It's a win win.
Posted Using LeoFinance Beta
---
---