How much does it cost to rent 15k in collection power in Splinterlands?
What is collection power
Collection power is part of the economics in @splinterlands. It is used as a method to rank accounts and their level within the game. To access different tournaments or leagues you must meet a certain collection power requirement.
As you can see there are requirements to get into the silver league starting at 15,000 Power.
For the post we will assume that DEC is 1c each even if it is slightly higher just to take a look at how it works out.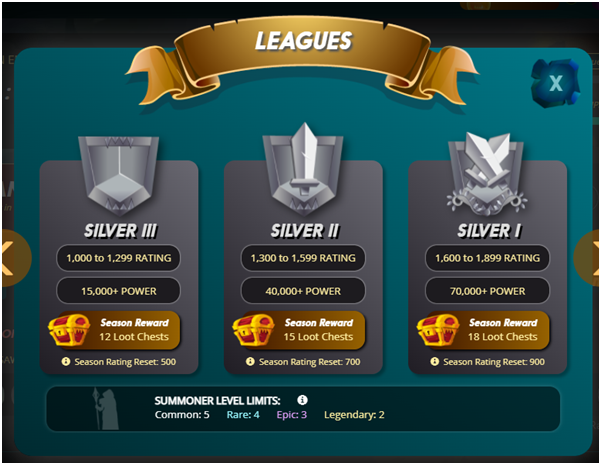 With the latest updates to gameplay from the @splinterlands team you will need to reach the bronze league to earn DEC rewards for winning battles (1000CP) a figure which I have seen a lot of new players giving out about in Discord.
As a long term player I might be wrong but this si a very easy figure to reach by renting cards. It can even be done with just one card.
Cheapest single card is Level 1 Diamond Dragon. 97.500 USD 10.950 DEC (~$0.117)
(1,000 CP = 87.336 CP/DEC) Which is not a great price for 1000 CP. Instead oyu can get it by renting multiple cards which will work out at about 5 DEC per day or 5c.
5c per day to get into the earning ranks doesn't sound too bad to me.
Silver level
Now for silver level you don't want to just blindly rent cards as that would be a waste of funds, so we will take a look at the markets. You will want a maxed out summoner at this level.
I will pick Kretch Taylor at level 3 for 2k collection power at 12 DEC.
Once you go into the monster the prices at the top are from 600 CP per DEC downward but from 100 CP per DEC you have a huge selection of cards to choose from.
We will still need 13000 CP to be able to play in the silver level and for less than $1.50 per day all included can be active and winning at that level.
With 12 cards at seasons end, you will start to build your own collection power as well as daily rewards. If I went into individual card prices I sure that I could do it for less than $1 per day or 100 DEC. Over the course of a season this should be no problem to win back between battles and cards with the requirement lowering every single season as you keep increasing your own collection power.
The first part for me would be to buy a couple of summoners with my DEC and rent a team around then according to the daily quest.
I know that it will cost a few dollars to get started but for $20 and some smart decisions, you should be on your way to turning a profit within the first couple of seasons at most or less with one good reward card.
This is play to earn but as @aggroed always says. It's not free to play. You need to have skin in the game to get the benefits from it.
I would love to hear form new players about how this is working out for them or what can be done to make it easier to get to the higher leagues. It should all be about climbing the ranks and getting up to those good rewards while building a deck. Renting is handy but only a temporary solution until you can build your own deck form the game.
Posted Using LeoFinance Beta
---
---