One of the most important blockchain events of 2022, Next Block Expo 2022 connects companies with investors.
Hello leofinance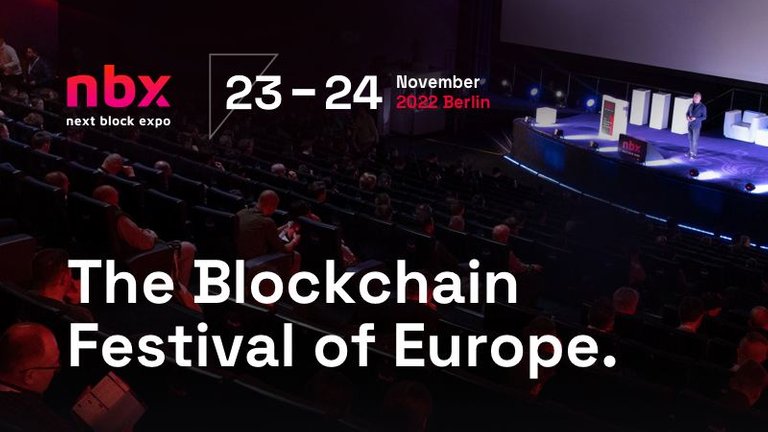 The goal of Next Block Expo is to become the most promising networking opportunity for the European blockchain community in 2022. It will do this by hosting a pitch competition and developing a mobile app to connect people, projects, and investors.
The most significant individuals and initiatives in the web3 space will be brought together at the first Next Block Expo event, which is expected to draw a few thousand guests, on November 23 and 24 at the Berlin Station site. NBX is a fantastic platform for blockchain startups and established enterprises to address current difficulties and future opportunities, with presentations and speeches at the main stage, roundtables, workshops, and hackathons.
"We are aware of the benefits of networking and teamwork in the blockchain. According to Tom Kopera, co-founder of Next Block Expo, "Our mission is to streamline the procedure, establish a welcoming environment and cutting-edge tools for everyone to meet, talk, and share ideas, as well as help startups raise financing and investors uncover lucrative prospects."
All visitors to the Next Block Expo will have access to a special smart networking app where they can:
Find a list of attendees that fit their needs based on the match-making algorithm
Chat & schedule 1:1 meetings with other conference participants
Find key information about the event, speakers and startups
Create your own, personal agenda for the conference by picking relevant sessions
Learn about promos, special offers and side events prepared by companies attending NBX and partners.
Event partners at the Next Block Expo can use the app to construct a landing page specifically for their project and introduce themselves to attendees.
The pitch competition is one of the original events envisioned to bring together investors looking for possibilities and businesses in need of funding. It's intended for use by early-stage web3 projects to pitch the concept and solution they're developing to a panel of experts. A panel of angel investors, venture capital firms, software companies, and industry veterans will be able to hear the Web3 founders' brief pitch of their concept. The jury will announce the top 3 projects after the pitch competition.
According to Tom Kopera, this is a special chance for founders to present their ideas, receive insightful criticism, forge important relationships, and secure finance for their future endeavours.
Startup founders must register on the Next Block Expo website, which will open on September 18, 2022, in order to take part in the pitch competition. Three categories will be available for project submission: Metaverse/NFTs, Blockchain Gaming, and Decentralized Finance (DeFi). At the Berlin event, up to 20 projects will be chosen and given the chance to present.
The previous event series known as Cryptocurrency World Expo, which was hosted over the course of six years, has evolved into Next Block Expo. A few thousand people will attend the 2022 edition, along with 80 speakers, more than 100 sponsors, exhibitors, and partners.
Six content categories pertaining to DeFi, blockchain gaming and GameFi, scaling and infrastructure, web3 discovery, fundraising and investing will be available to guests at the event's venue, Berlin Station.
For more information, check out the website https://nextblockexpo.com/
Sorese:
In Victoria's Press Release
---
---