Splinterlands in 2023: what would you need to start earning?
Splinterlands in 2023: what would you need to start earning?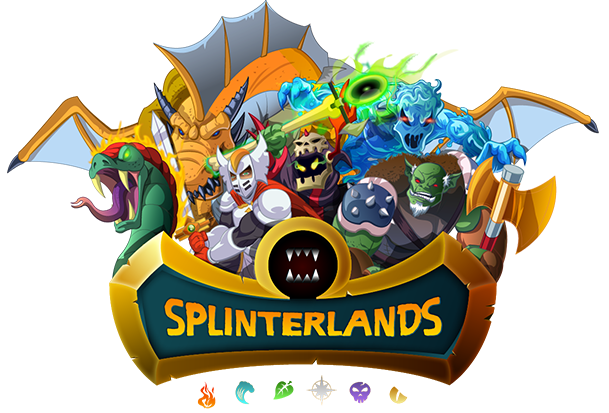 Hi everyone! as a daily Splinterlands player, playing with 2 accounts in Silver Modern League and being the Splinterlands game captain for our guild Non Fungible Gaming, I try to follow every change to the game from all news feeds and content creators to maximize my profit by learning new ideas or strategy's to use when I'm playing.
Last week one of the content creators I'm following on YouTube posted a video about how to earn extra with blogging thanks for that @SLOBcrypto! I did this before, but kind of forgot about this, being busy with real life stuff and with all my different games.
What Is Splinterlands?
So, for people who don't know, Splinterlands is an online collectible card game using blockchain technology. Every card in the game is owned as a NFT and is traded on the Hive blockchain. It's the digital, modern version of Magic: The Gathering with some extra advantages like it's much easier to rent out cards to other players for profit, join tournaments and Guild Brawls.
Cards are available to buy and sell through the ingame marketplace as well as on third-party online marketplaces like Peakmonsters and Monstermarket. Winners can earn real money in the form of Splinterlands own governance token Splinterlands Shards (SPS), making it a lucrative platform for extremely skilled players with the best cards.
With your card set you battle other players, each card has it's own mana value, strengths and abilities and every battle has another mana cap and different rule set, in the higher leagues up to 3 rulesets combined, so if you can wrap your head around the do's and don't in this particular match better than your opponent does, you'll have an advantage already, making it a highly strategic game.
when you click the BATTLE button, the game searches for an opponent and gives you and your opponent a mana cap and rulesets, I did a battle just now to give you an example: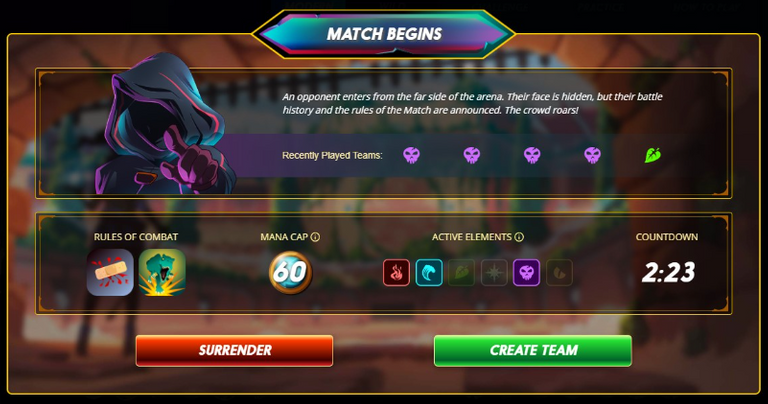 So in this battle I can see I can spend a maximum of 60 mana, I can use the splinters Fire, Water and Death, and my opponent likes to use Death, probably because his daily quest (called daily focus) requires him to use the Death splinter to win games with. Using this splinter every time though, is a poor strategy because it makes him very predictable and easy to counter: So I bet he's using the Death Splinter again, nerfing my magic monsters so I'm not gonna use magic on him, I'll use Water to fight him, making a team out of all available cards, 60 mana is considered high so I can build a strong team with high mana cards, but, of course so can my opponent. Every battle you get 2 minutes and 30 seconds to make your team.
You can watch the battle unfold for yourself here.
This was a lower level player, so an easy win for me, getting me 0.115 SPS and 6529 Reward Points which are used to collect reward chests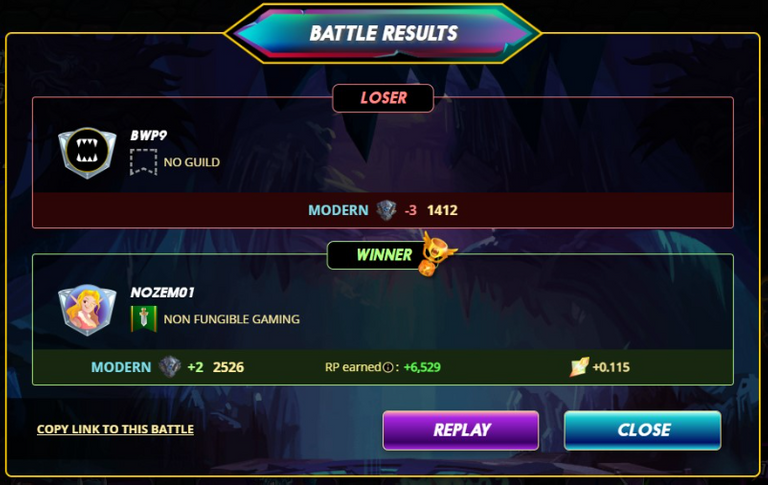 What do I need to get started?
You can try out the game for free, but to start earning cards and cryptocurrency you'll need to buy a $10 spellbook, with it you get 3000 in-game credits worth $3 to buy or rent cards to start your journey. If you haven't made an account already, please consider using my referral link to sign up, I'll happily send the amount I get for your signup back to you in DEC or SPS to help you start.
You can also join my guilds discord server for some extra help and advice if needed.
When you buy the spellbook, you get access to start and earn with your battles, however, using the starter cards which you can use when you don't own any cards yourself, won't earn you anything. This was done to prevent massive bot farms leeching from the games economy and only extracting value, hurting everyone actually playing the game, so you need to rent or buy at least 1 single common and rare card including the summoners from every splinter, when you also buy the epic and legendary cards it will give you some more options and of course better chances for winning your battles.
Personally, I don't like to rent, because you're only making someone else rich, so I'll rather buy my cards, I do this on https://monstermarket.io/ and not the in-game marketplace, because this way I get some fee the site takes returned to me in DEC so I can buy some more cards.
Card prices vary every day but I'll use todays prices and show you how you can look for yourself, so I go to monstermarket, and I select the latest set Chaos Legion, these cards are still being sold and much cheaper as the older sets, so for new players I recommend to only buy from this set and maybe some key cards from the older Untamed set, and maybe some from the recent Riftwatchers mini-set, but they're still too expensive for my liking to buy a lot of them.
I also select regular foil, common and rare cards and 1 splinter at a time, to keep things clean, you'll get a view like this, displaying the available cards and current prices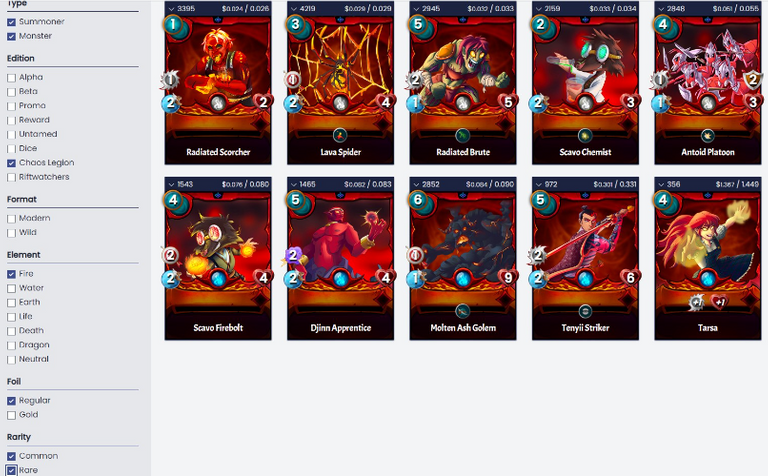 you need to look at the price at the most top right in the cards, that's the right price for single cards, adding these up we would need $2.21 to buy all common and rare for the fire splinter, we also need to do this for the other splinters Water, Earth, Life, Death and Neutral. The Dragon splinter isn't needed to start playing.
Adding the prices up we would need $4.32 for the water splinter, $2.93 for the earth splinter, $2.10 for the life splinter, $2.76 for the death splinter and $1.46 for the neutrals for a total of $15.78 excluding the $10 spellbook.
Keep in mind: this is the bare minimum to start earning, and you'll have only common and rare cards, with lvl 1 summoners so you can only play level 1 cards, as I've told before, buying the epic and legendary cards is not a bad idea, I use some more than others, if you want help in this come chat with us in our discord channel mentioned above.
For a lvl 2 summoner deck with levelled key cards you need roughly $60, a higher deck means more wins and being able to fight in higher leagues, however, if you're still trying to learn the game, it's ok to start with a lvl 1 deck and first learn everything there is to learn, and it's a lot!
With new cards and rulesets being added on a regular basis, this game strategy depth is getting bigger and better.

Thank you for reading, I hope this can help some people, please upvote and share.
If you haven't made an account already, please consider using my referral link to sign up, I'll happily send the amount I get for your signup back to you in DEC or SPS to help you start.
Have a great day!

---
---