Splinterlands - Is The End Nigh?
The lifeblood of games, especially the play to earn variety is an influx of new players.
Most of the older players are in a phase now where they have what they need and are not reinvesting much and are taking profits.
In order to take profits, you need someone willing to buy which is why bringing in newer players is important.
Looking at the latest update to the quest system, here are my thoughts.
Splinterlands used to be quite low cost to access and start earning. All you needed was to spend $10 on the spellbook and you could grind your way up, earning cards and DEC from the quests and battles.
A while ago DEC was removed from the bronze 3 rewards and then Chaos legion came out and the card power from chest drops was reduced making it a lot harder to climb the ranks but still possible with a grind.
With the new quest update you get a 100% reduction on season points and focus points from the quests if you use the starter cards, meaning there is no way to gain any rewards using the starter cards anymore.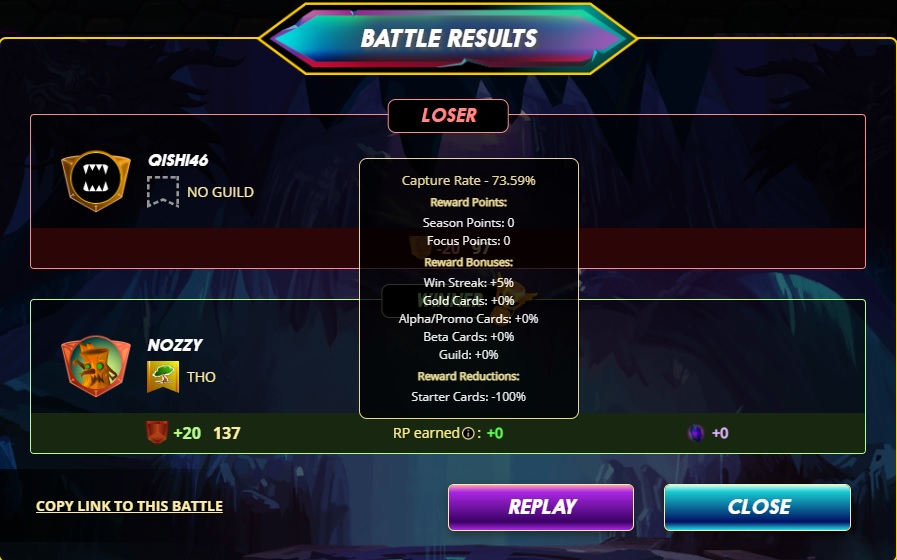 The only way to actually start earning from the game now is to not only buy the spellbook but also buy a whole bunch of cards, not just for 1 splinter, but for all, as the focus splinter changes daily. This will discourage a lot of new players and with the airdrop coming to an end soon also, some of the older players will be thinking about cashing out.
I am very happy that I cashed out a few months ago, don't get me wrong I enjoyed Splinterlands and I made a 4 figure amount from the game with only a $30 investment, but In my opinion the game is not going to recover its former glory if they do not encourage newer players.
I have always enjoyed these type of card games, I was a Hearthstone player for a long time but for me Splinterlands has run its course. I am still playing another card game Gods Unchained. This one is well worth checking out if you like me are looking for a new card game to play.
​
These are just my thoughts and the fanboys will hate on me no doubt. I could be wrong, time will tell.
---
---