EOS Report & Rewards


End Of Season Rewards & Thoughts





Post Season Thoughts

So another season is over and a new one has just begun. This season was the first official season I changed my strategy and approach. Recently I grew my CP to high enough to reach Gold 2. I was surprised to find that I could stay competitive even without max level cards at my disposal. I managed to get to around 2500 without the first 5 days of the season before retiring my cards to the rental market until the last day as so many of us do. It's hard to ignore how lucrative renting can be in the back end of the season and unfortunately for those who play the rental game, they do tend to suffer high prices and rug pulls on a large scale.


I managed to collect more than 2.5k DEC in the last 2 days before my cards returned for the rewards.



Highlights

Highlights of the season included winning a daily quest pack while watching SharmadHD and I pulled a Harklaw in another daily of which I cannot find the picture now.


THE EOS REWARDS

A great spread of commons were pulled along with a Twilight Basilisk, Lava Launcher and 1 Chaos Pack which I did open and pulled and Ifirit Rising!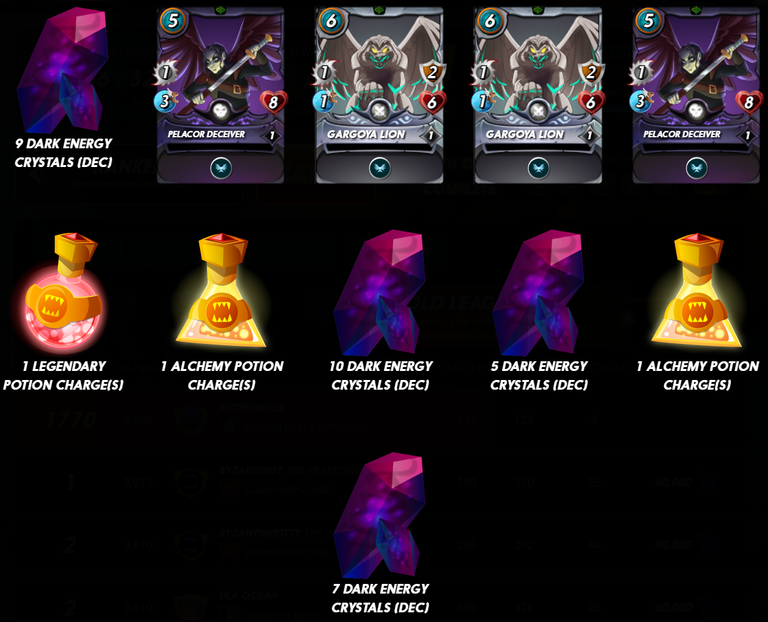 Final Thoughts
Overall it was a good season for me for rewards. I believe I am heading in the right direction in terms of balancing my daily quests, renting out my cards and EOS and am hoping I can push to unlock Gold 1 next season. From there it will be a long road to Diamond league as I literally will have to triple the levels of many cards to be competitive. I believe tactically I am getting stronger but there is only so far skill can take you when you in amongst people dropping level 8 commons and at best your matching them with level 5s. Had I the upgraded cards, I believe I could push the top 100 in Gold but that's really the story for most Splinterlands players now isn't it!?


Well this wraps up my first EOS post. I hope you found some value in this post and hope that you follow to see future posts like this! Feel free to shill your cards you want me to follow for future blogs! Feel free to check out my other series and my streaming channel on twitch (links below)
Episode 5 Splinterlands Card Population Spotlight
Episode 6 Splinterlands Card Population Spotlight
Episode 7 Splinterlands Card Population Spotlight
Episode 8 Splinterlands Card Population Spotlight
Episode 9 Splinterlands Card Population Spotlight
https://www.twitch.tv/nytehawker

Feel free to check out other super cool Splinterlands twitch community streamers:
https://www.twitchmetrics.net/channels/follower?game=Splinterlands


Check out some of these other bloggers who support my Blog &/or Stream:
Lordanquek,Silentwill,Myeong,Drabs587
Gamboy Ali,Mezume,KimiKimi
Allani545,Ketchup,Lovesniper,GlobalWarming
Godly-Rich,Holoz0r,Bakuoni,LoosestGoose
Rakhmen (aka DarthWolfGaming),Cmmndrbarwang, Eddie-3speak,Urri2020
Liverpool-fan,Smartvote,Groovy828,Steemitboard
Skylinebuds,TheCrevolution
(More to Follow)
---
---