Splinterlands Card Population Spotlight - Episode 10

Splinterlands Card Population Spotlight - Episode 10 04.04.22-10.04.22
In this series I am going to drop 5 Random cards into the spotlight to analyse population decline over the course of the week or period of time. The aim of these posts are to hopefully get people to identify the deflationary pressure rate on certain cards relative to their price and popularity and hopefully help you determine which cards you may need to make a move on (before they become out of reach financially). This episode I am having a look at a range of regular foil cards. My analysis is primarily focussed on what I see of each card in bronze, silver & gold level leagues. I hope you enjoy!

WANT TO JOIN SPLINTERLANDS?
If you are new to Splinterlands and want to get started, please use my affiliate link to support me and get in touch as I offer starting bonuses including DEC and Card Delegations and advice to help any new player get into the game! https://splinterlands.com?ref=nytehawker

Elven Defender

Elven Defender - Untamed Series - Neutral - Common
Abilities: Shield (lvl 5), Knock Out (lvl 10)

The Elven Defender is a relatively strong tank. Equipped with 3 Armour and 8 Health, you can can be assured this Elven warrior wont go down without a fight.


Thoughts - My thought process for this card has been primarily on 2-3 factors. The first being that it is now at lowest prices seen in 3 months making this a great buy particularly with the upcoming updates to the reward system surrounding Untamed Spellbook cards. This will put big pressure on it's price. Another thing is at this current price, it's viable to build to level 5 for the extra armour, speed, health and most importantly the Shield ability. At this point, Elven becomes a brutal prospect particularly with any strategy that involves +1 Attack boosts. Overall, this often unused card is a great budget buy at the moment at is versatile because of it's neutral status. I think right now is probably one of the best times we have seen that give this card the respect it deserves for Silver League players in particular. We are seeing good burn rates (30 in the last week) suggesting that people are making their move on this also. If your interested, ladder you way in as you don't want others to know and spark fomo against this Elven's price shield. Long term, I am unsure of how it will stand the test of time, but I do believe now is as good a chance as any to take a swing and see.


Price Change: $.39-$.32

Regular Foil Population Change: 41,227-41,197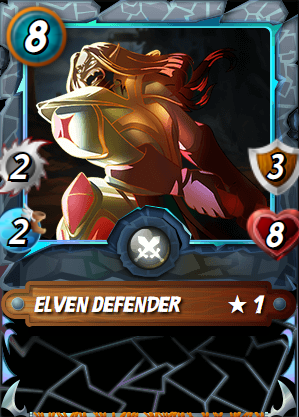 Spineback Turtle
Spineback Turtle - Beta Series - Water - Common
Abilities: Thorns (lvl 4)
The Spineback Turtle is a low summoning point Tank. It's slow and can't do alot of damage, but you do get 2 Armour and 6 Health to burn making it great defensive card to hold the line while your backline does the grunt work.

Thoughts - I actually really like this card and for some reason maybe I'm the only one. But it's more likely because I invested in buying a GF which comes with thorns as a base card purchase. And that's really where this card is at for the lower leagues. Once the thorn ability is achieved, this armoured turtle can inflict a lot of damage on unsuspecting opponents, particuly handy in reverse speed, who often neglect to anticipate the possibility of this being used at level 4 in play. I don't blame them who actually uses this turtle? The price of this card has been somewhat stable over the last week. But you may have been able to score a cheap one under $2 a week ago and probably will get more chances. Overall, the Spineback is not a popular option due to the $2 price tag and while I believe in the use-case, it doesn't make it anymore a prospect for the majority. Long term however, I do think their is room for investment growth, but I'd be surprised to see this hit $10 anytime in the near future. For this reason I will suggest looking to cheaper or other options. With just 1 burn in the last week, we could be waiting a long time to see any turtle eggs from owning.

Price Change: $2.20-$2.09
Regular Foil Population Change: 17,721-17,720


Delwyn Dragonscale
Delwyn Dragonscale - Promo Series - Dragon - Common
Abilities: Summoner +1 Magic
Delwyn Dragonscale is a Summoner with +1 Magic. For 5 summoning points you get to use this Dragon Summoner for any of the other Splinters.

Thoughts - Delwyn is one of those semi-popular cards, that occasionally pops up in the Silver and Gold Leagues. The +1 Magic buff is a useful and often match winning option when available for use. A worthy investment and I think ROI is reasonable enough to warrant owning. We are seeing both good burn rates (26) and a slow but steady daily increase over the last week as the value of Delwyn has been re-discovered by many who may have overlooked in the past. Due to use-case alone, I do think Delwyn will reach all time highs in the near(ish) future and I do believe long term prospect odds are currently on side also. The demand is there so if your looking to buy, your going to need to lay out a few pennies. Or you could wait and see if an opportunity comes along where you might score it for under $5? But I'd say the odds will be against you and you better wipe that Dragonscale off your face.

Price Change:$8.60-$8.89
Regular Foil Population Change: 41,642-41,616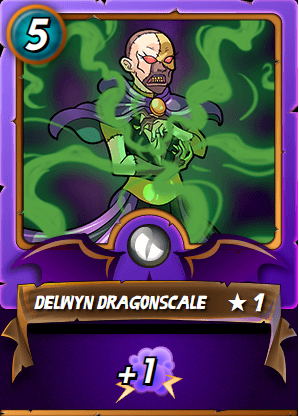 Mitica Headhunter
Mitica Headhunter - Untamed Series - Earth - Epic
Abilities: Snare (lvl 1), Piercing (lvl 4), Shatter (lvl 6)
The Mitica Headhunter is a ferocious spear thrower sending a whopping 4 Damage at level 1! Then add the 5 speed and 5 health along with Snare starting ability and you have one of the strongest backline ranged cards in all of Splinterlands!

Thoughts - Could there be anything more scary than the prospect of duking it out in a ranged battle with Mitica? This card is definitely a fan favourite if you can afford to field it at 8 summoning points. This card is so powerful that even the effects of Quix don't really do much to slow it down. At level 3 in the Silver leagues you may be unlucky enough to come across one that is level 3 dishing at 5 damage and if your really unlucky you'll find it in play with Prince Rennyn. If that happens, say your peace and close your eyes! Overall, I'd say just owning a level 1 will be enough to make a difference in many battles. The key to Mitica is hiding it so you can get off as many shots as possible before losing it to the frontline or backline attacks. If Mitica is still alive by the 4th or 5th round, your probably winning the battle. Short-Mid-Long term I am bullish on this card both for ownership and investment. Worth every cent you pay and I think has $100+ potential. With just over 6k Population in play, it doesn't surprise me no one wants to combine or burn this card. Hovering around the lowest prices we've seen in 2 months, could now be your chance to become the newest Headhunter in Splinterlands?

Price Change: $12.21-$11.49
Regular Foil Population Change: 6,049-6,049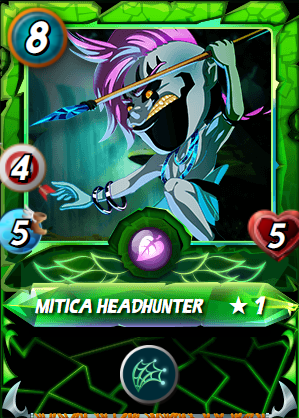 Bila The Radiant
Reward Series - Life - Legendary
Abilities: Life Leech (lvl 1), Dvine Shield (lvl 2), Stun (lvl 3)
Bila The Radiant is a backline Magic Tank via it's Leech ability. Don't let this Radiant drain life for too long or you may find your life has ran out of time.

Thoughts - One thought that comes to mind when I think about Bila is 'I want this!' Sadly, I do not yet own this card and I'm not alone. I love a good life strategy and I think Bila would fit in nicely to several. Maybe a Delwyn with Kralus, Djinn Renova, Divine Healer, BILLA, Darius & Adelaide Brightwing combo would go nicely in a field of life magical dreams! But back to reality, I think Bila could serve nicely hiding toward the back of your line-up. The biggest drawback is it's 8 mana cost. And for it's current price, I think it's good value for investment ROI. Unfortunately, I forgot to put in the population numbers of this card a week ago so I only have it's current POP amount, but this makes for a good re-visiting in the near future to check it's progress . With mostly sideways movement over the last two months, it's hard to anticipate what the players think of this card going forward. But one thing we do know is with such low population and value for gameplay, this card will probably be of use for a number of years to come. At $22 I think your bang on the lower end of it's current price cycle. But invest for ROI in game and not POP decline ROI.


Price Change: $21.95-$22.08
Regular Foil Population Change: 5,264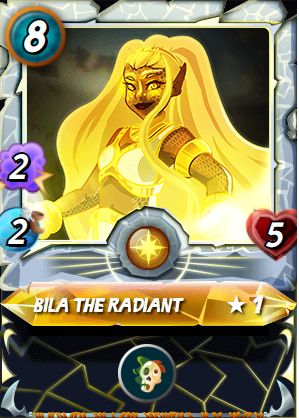 SPOTLIGHT WEEK 4 REVISTED
Nightmare
Nightmare - Reward Series - Death - Common
Abilities: Blast (lvl 1), Phase (lvl 6)
The Nightmare is a fast and health abundant tank with explosive capability to boost right from Level 1. The downside is it will cost you 8 summoning points and you need to get it to level 2 to gain a crucial attack point. That's when speed/damage/health aspect begins to have impact on any frontline.

Thoughts - Another cheaper DEC common that has not been sighted often post Chaos but unlike the Barking Spider above, I do believe we have to note that 500 burns in one week is a significant advertisement for recent popularity. This tells me that players are honing in on the need to have this card in their death arsenal and I am convinced at level 5 in the Silver league this is one 'dark horse' many are not bargaining on seeing and this gives me a bullish lean on this prospects of this card long term both in strategy and as an investment. I own this card but only 1, but am now starting to think after following Nightmare for the last week, it may be time I joined in on the untapped potential of this in my strategy. The recent price movement may be another suggestion for those considering, that it may be worth making a move on before it's price turns into a Nightmare.
UPDATE: Massive movement to the downside making this card even more appealing to the masses. We see that since Episode 4, Nightmare has dropped an eye-watering 4,676 in population. The opportunity to pick up this card for cheap is still there as we have seen a drop off in 24 hour volume due to ongoing Chaos sales and people hoarding SPS assets, along with massive inflation of bots and deflation of DEC value. Probably something I should have forseen but I make no promises when I give my thoughts and if it makes you feel any better, I purchased some back when I did this episode. To mitigate costs, ladder in as you go to lower your buy in prices when stacking and always be on the hunt for bargains on Peakmosters!

Price Change: $.67-$.40
Weekly Regular Foil Population Change: 158,827-154,151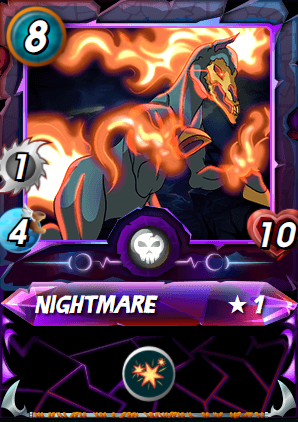 Well this wraps up episode 10 (Wohoo double figures!) of 'Splinterlands Card Population Spotlight' I hope you found some value in this post and hope that you follow to see future posts like this! Feel free to shill your cards you want me to follow for future blogs!
Feel free to check out previous episodes and my streaming channel on twitch (links below)
Episode 5 Splinterlands Card Population Spotlight
Episode 6 Splinterlands Card Population Spotlight
Episode 7 Splinterlands Card Population Spotlight
Episode 8 Splinterlands Card Population Spotlight
Episode 9 Splinterlands Card Population Spotlight
https://www.twitch.tv/nytehawker

Feel free to check out other super cool Splinterlands twitch community streamers:
https://www.twitchmetrics.net/channels/follower?game=Splinterlands


Check out some of these other bloggers who support my Blog &/or Stream:
Lordanquek,Silentwill,Myeong,Drabs587
Gamboy Ali,Mezume,KimiKimi
Allani545,Ketchup,Lovesniper,GlobalWarming
Godly-Rich,Holoz0r,Bakuoni,LoosestGoose
Rakhmen (aka DarthWolfGaming),Cmmndrbarwang, Eddie-3speak,Urri2020
Liverpool-fan,Smartvote,Groovy828,Steemitboard
Skylinebuds,TheCrevolution
(More to Follow)
---
---