Splinterlands Card Population Spotlight - Episode 8


Splinterlands Card Population Spotlight - Episode 8 24.03.22-28.03.22
In this series I am going to drop 5 Random cards into the spotlight to analyse population decline over the course of the week or period of time. The aim of these posts are to hopefully get people to identify the deflationary pressure rate on certain cards relative to their price and popularity and hopefully help you determine which cards you may need to make a move on (before they become out of reach financially). This episode I am having a look at a range of regular foil cards. My analysis is primarily focussed on what I see of each card in bronze, silver & gold level leagues. I hope you enjoy!


Charlok Minotaur
Charlok Minotaur - Reward Series - Fire - Common
Abilities: True Strike (lvl 1), Retaliate (lvl 6)
The Charlok Minotaur is a frontline Melee Tank that starts with the True Strike ability. This ability negates the effect speed might have on damage chance.

Thoughts - The Charlok is a card that is often overlooked in favour of Living Lava for 7 summoning points. The True Strike ability does provide use case for reverse speed and opportunity battles but only in high summoning point battles. Probably the best trait about Charlok is it's current price. It's a budget Tank on the open market that has seen recent price shift from just $.14 - $.23 in just a few days. The 159k pop means that I think the price has overextended. 40% increase is quite considerable which leads me to think this pump is short lived. But with nearly 300 pop burns, it's quite obvious there are players out there looking to stack this card for some of the bonuses that come at higher levels. I think for the price, this is one of those cheaper options out there to build your deck but also for investment on a smaller scale. Charlok definitely will 10x from here as the population creeps under 100k, that of course is if your patient enough to sit on it for 2-5 years. If all Chalok's were to be combined to level 10 and considering those that have been burnt forever, there is the potential of this card to drop to a population of less than 1000, so one day we almost can guarantee this card will deflate to less than 10,000. This actually gives me a bullish lifelong investment prospect that could see this card 100x from here, but don't ask me how long you'll need to wait for that.

Price Change: $.14-$.23

Regular Foil Population Change: 159,814-159,568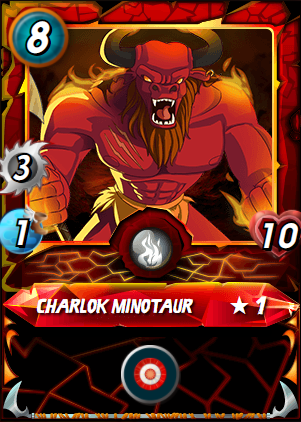 Warrior Of Peace
Warrior Of Peace - Reward Series - Life - Common
Abilities: Demoralise (lvl 1), Headwinds (lvl 6), Silence (lvl 10)
The Warrior Of Peace is a Defensive Tank with the Demoralise starting ability. Along 5 speed, 7 health, this Warrior can be quite useful in preventing any opponent from maximising their Melee strategy.

Thoughts - Now I think this is a card that often is neglected but is quite useful for countering opponents who may have the edge on you in Melee. When used with Truthspeeker, you suddenly force the enemy to almost always double the amount of Melee damage needed to overpower you, that is of course if you can keep it alive long enough for your counter strategy to give you the upper hand in the battle. With nearly 200 being burnt in just this short period of time, I think at just $.36, we can be assured that this card has 10x+ long term investment potential. Once again it's all depending on how long your prepared to hold for such ROI.

Price Change: $.38-$.36
Regular Foil Population Change: 114,475-114,281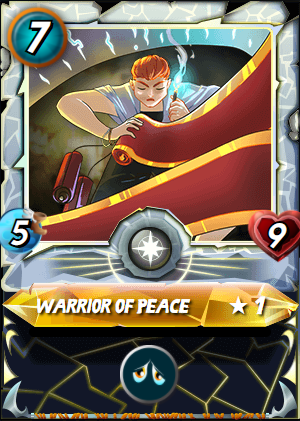 Serpent Of Eld
Serpent Of Eld - Untamed Series - Water - Rare
Abilities: Dodge (lvl 1), Return Fire (lvl 5) Poison (lvl 8)
The Serpent Of Eld is a low-mid ranged Melee Tank. It is a well rounded unit that will always create headaches for any opponent.

Thoughts - Right now, the Serpent is extremely popular among the bots. When used with Keyla, the +1 Speed and +1 Armour make this card extremely difficult to hit with the dodge ability. Over the last few days, the population grew or is still up from the massive opening of Untamed packs that happened recently. This population boost is temporary and did not impact price which has stabilised post Chaos release. I think the Serpent is a must in the lower leagues, particularly at level 3 when it receives a 4th damage point EDIT: and another +1 Speed and +1 Health at lvl 4! But the price is preventing many from achieving this as what happens with cards with multiple use-case and ever lowering population. I do believe this is one such card that has value in investment, but it has already made one leg up in the investment journey so bear in mind for long term gains, you will need to spend some money. 10x from here is not out of the question.

Price Change:$3.58-$3.58
Regular Foil Population Change: 14,281-14,305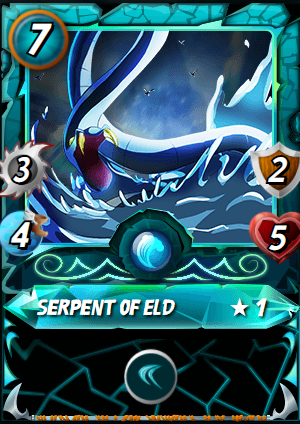 Silvershield Assassin
Silvershield Assassin - Reward Series - Life - Rare
Abilities: Sneak (lvl 1), Double Strike (lvl 1), Poison (lvl 5)
The Silvershield Assassin is every bit the powerful Melee Sneak. With dual starting ability including Double-Strike, you can be assured this Assassin will leave a trail of destruction in the enemy backline.

Thoughts - This is arguable my favourite backline card in the Life Splinter and not just because it's a cool card to look at! I love a good backline strategy and this card is pivotal to this. Stacking the Silvershield Assassin with Silvershield Knight and combining to level 3, where it gains +1 Melee attack, you suddenly find it can deal 6 damage per turn. The good news is, the bots can't afford to own it, the bad news is the bots can afford to rent it. As for deflationary pressure, we are seeing burns, but on a very gradual scale and that is because the price tag prevents many from gaining access to this card for levelling up. We have seen the price begin to move upwards again and deservedly so. I think this 'Super Sneak' has a bright future long term both with investment and use-case. For this reason it would not surprise me to see this card head to $20 and beyond in the next year or two. I would be surprised if this card hasn't reclaimed the $10 zone by years end and once it does, I doubt we will see it back down to it's current price ever again.

Price Change: $5.99-$6.75
Regular Foil Population Change: 19,420-19,410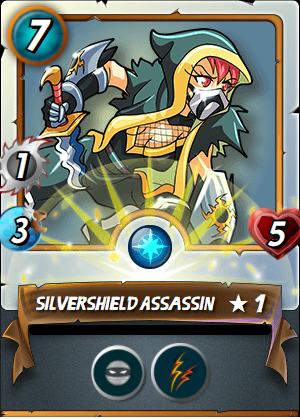 Spirit Druid Grog
Spirit Druid Grog - Reward Series - Earth - Legendary
Abilities: Resurrect (lvl 1), Life Leech (lvl 2), Slow (lvl 3), Headwinds (lvl 4)
The Spirit Druid Grog is a Backline Magic unit that needs to be well hidden from the enemy to begin with but is worth it's weight if kept alive long enough!

Thoughts - The Spirit Druid Grog is not a card you see often in the lower leagues but if you have come up against one at level 2, you will notice that with Obsidian you suddenly have a dangerous card as it begins to leech life with 3 Magic attack. When carefully hidden, it is a nightmare watching it's health gain as you battle to get to it before it becomes too powerful to take out. For this reason and because of it's price dropping back below $25, I think it could be a worthy investment to have at level 2 for gameplay alone. Long term, we will see Druid grow as an investment financially. One of those cards that will eventually go beyond the $100 mark. But if your looking from a purely investment strategy, there are definitely other cards that will 100x for cheaper if time is not an investment factor in your thought process.


Price Change: $27.65-$24.98
Regular Foil Population Change: 5,380-5,378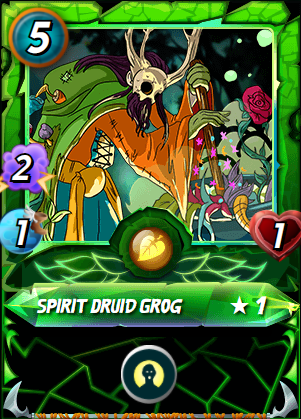 SPOTLIGHT WEEK 3 REVISTED
Haunted Spirit
Haunted Spirit - Alpha/Beta Series - Death - Rare
Abilities: heal (lvl 1), Magic Reflect (lvl 4), Void (lvl 7)
A strong but rather cheap tank with starting Heal ability. The Haunted Spirit is a force to be reckoned with in many battle conditions. Magic Reflect coming in at level 4 adds a new level of hurt for any opponent.

Thoughts - Is this card still popular? Before Chaos it was arguably one of the most sort after cards in all of Spliterlands. I think I even remember seeing it at $60 at one point. But now I think the Cursed Windeku has taken over as the new Death cheapy tank. I cannot foresee Haunted Spirit reclaiming that mantle. The ship has sailed for any ROI on this card and if you are left holding one as it currently stands. Your decision to hold will likely be purely for event modes and the Wild Format. But having said that, the new format split might allow the Haunted Spirit to 'rise' once again to spook opponents.
UPDATE: We have seen a small increase in population, but also a decrease in price which might entice a bit of interest in those wanting to own one. My sentiment remains the same for the Haunted Spirit as there has been nothing as of yet to suggest a revival from this undead spirit!

Regular Foil Price Change: $18.69-$14.99
Regular Foil Population Change: 9,973-9,976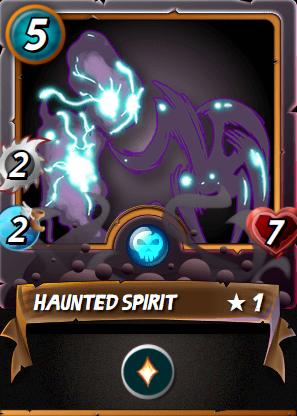 Well this wraps up episode 8 of 'Splinterlands Card Population Spotlight' I hope you found some value in this post and hope that you follow to see future posts like this! Feel free to shill your cards you want me to follow for future blogs! Feel free to check out previous episodes and my streaming channel on twitch (links below)
Episode 3 Splinterlands Card Population Spotlight
Episode 4 Splinterlands Card Population Spotlight
Episode 5 Splinterlands Card Population Spotlight
Episode 6 Splinterlands Card Population Spotlight
Episode 7 Splinterlands Card Population Spotlight
https://www.twitch.tv/nytehawker

Feel free to check out other super cool Splinterlands twitch community streamers:
https://www.twitchmetrics.net/channels/follower?game=Splinterlands


Check out some of these other bloggers who support my Blog &/or Stream:
Lordanquek,Silentwill,Myeong,Drabs587
Gamboy Ali,Mezume,KimiKimi
Allani545,Ketchup,Lovesniper,GlobalWarming
Godly-Rich,Holoz0r,Bakuoni,LoosestGoose
Rakhmen (aka DarthWolfGaming),Cmmndrbarwang, Eddie-3speak,Urri2020
Liverpool-fan,Smartvote,Groovy828,Steemitboard
Skylinebuds,TheCrevolution
(More to Follow)
---
---