Dragon + Death Cards Battle Challenge Eng/FR : Venari Bonesmith
Dear Splinters,
Peace
Venari Bonesmith is a monster card in Splinterlands that belongs to the Death Splinter. It is a Rare card and has the ability to "Leech life", "Poison his enemies", and "Dispel". This means that when it is used in battle, it can restore 1 health point each time he hits the opposite side's monsters on the board.
Venari Bonesmith est une carte monstre dans Splinterlands qui appartient au Death Splinter. C'est une carte rare et a la capacité de "sangsiver la vie", "empoisonner ses ennemis" et "dissiper". Cela signifie que lorsqu'il est utilisé au combat, il peut restaurer 1 point de vie à chaque fois qu'il touche les monstres du côté opposé sur le plateau.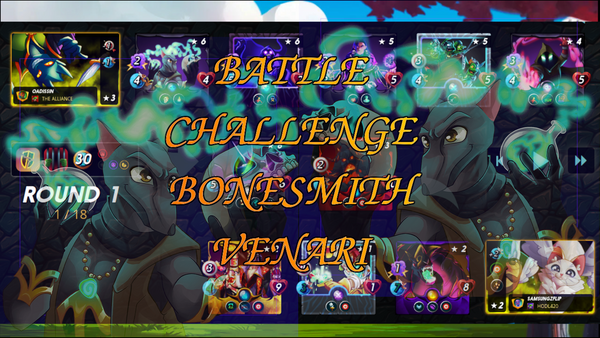 A player can use Venari Bonesmith to keep their monsters strong and battle competent as long as the battle last. The Bonesmith's "Dispel" ability can also be used strategically to cancel the high-performing cards abilities of the opponent which gives a strategic advantage in the battle.
Un joueur peut utiliser Venari Bonesmith pour garder ses monstres forts et compétents au combat tant que la bataille dure. La capacité "Dispel" du Bonesmith peut également être utilisée de manière stratégique pour annuler les capacités des cartes très performantes de l'adversaire, ce qui donne un avantage stratégique dans la bataille.
A highlight of the battle's key elements
Présentation des phases clet du Combat
Battle Ruleset:
Règles du Combat


| | |
| --- | --- |
| Unprotected: Monsters do not have any armor and do not get armor from Abilities or Summoner Buffs. les monstres n'ont pas d'armure et ne reçoivent pas d'armure des capacités ou des buffs d'invocateur | |
| Keep Your Distance: Monsters with Melee attack may not be used in battles. les monstres avec une attaque de mêlée ne peuvent pas être utilisés dans les batailles | |
| | Fire: Active |
| | Death: Active |
| | Dragon: Active |
2 . Modern format at the Golden League II
Format moderne // Golden League II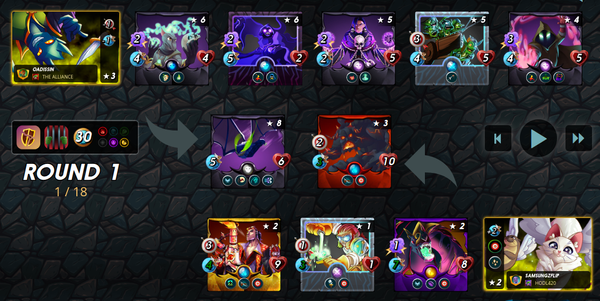 Teams composition in the arena
Allignement des cards dans l'arène
The teams on the battlefield aligned different summoners in the arena for this mythical battle. The Death element opposed the Dragon of Fire element in this special fight where all cards on the board were up to their game since the first round.
Les équipes sur le champ de bataille ont aligné différents invocateurs dans l'arène pour cette bataille mythique. L'élément Mort s'est opposé à l'élément Dragon de Feu dans ce combat spécial où toutes les cartes du plateau étaient à la hauteur de leur jeu depuis le premier tour.
Quix the Devious ★ 3
Quix the Devious has a super advantage in this battle since my summoner reduced the opponent range attacks by one point
Riftwing ★ 8
Riftwing is one of my non attacking cards that causes too many difficulties to the enemies in the arena. This tank card protected long enough the back line
Venari Bonesmith ★ 6
Venari Bonesmith our star in this battle challenge offered a beautiful spectacle during the successive rounds
Death Elemental ★ 6
Death Elemental has abilities that protected my lineup during this battle
Revealer ★ 5
Revealer has an interesting magic attack characteristic that revealed to be important in this battle
Goblin Chariot ★ 5
Goblin Chariot has provided some range long-distance attacks that helped defeat the opponent cards easily
Magi Necrosi ★ 4
Magi Necrosi was great too.
Quix le sournois a un super avantage dans cette bataille puisque mon invocateur a réduit d'un point les attaques à distance de l'adversaire
Riftwing est l'une de mes cartes non attaquantes qui cause trop de difficultés aux ennemis dans l'arène. Cette carte de réservoir a protégé assez longtemps la ligne arrière
Venari Bonesmith notre star dans ce battle challenge a offert un beau spectacle lors des rounds successifs
Death Elemental a des capacités qui ont protégé ma composition pendant cette bataille
Revealer a une caractéristique d'attaque magique intéressante qui s'est révélée importante dans cette bataille
Goblin Chariot a fourni des attaques à longue distance qui ont aidé à vaincre facilement les cartes adverses
Magi Necrosi était super aussi.

--
The Battles have important moments which impacted the battles
Opponent team lineup composition
Byzantine Kitty ★ 2
Byzantine Kitty is the legendary summoner that I would love to own but appreciate observing it actions on the battlefield
Molten Ash Golem ★ 3
Molten Ash Golem was in great form in the first position in the lineup with back up from summoner
Void Dragon ★ 2
Void Dragon is strong magic dragon card that contributed to bringing down my tanker
Halfling Alchemist ★ 1
Halfling Alchemist was the interesting card in this lineup
Tinderlock ★ 2
Tinderlock was the most powerful monster on the board since it activated the last standing when I conquered all the opponent's front line cards
Byzantine Kitty est l'invocatrice légendaire que j'aimerais posséder mais j'apprécie de l'observer sur le champ de bataille
Molten Ash Golem était en grande forme en première position dans la formation avec le soutien de l'invocateur
Void Dragon est une puissante carte de dragon magique qui a contribué à faire tomber mon tanker
Halfling Alchemist était la carte intéressante de cette gamme
Tinderlock était le monstre le plus puissant du plateau depuis qu'il a activé la dernière position lorsque j'ai conquis toutes les cartes de première ligne de l'adversaire

What is the current market value of the focus cards
Total cards printed: 1,836,947
Regular foil
Market
0.03$ low card price
0.03$ low Bcx price = 12262 cards on the market
Distribution
633,100 cards circulating
10,420 cards burned
Gold foil
Market
0.87$ low card price
0.87$ low Bcx price = 237 cards on market
Distribution
15,056 cards circulating
17 cards burned
Resource
Quelle est la valeur marchande actuelle de notre Hero
Carte régulière
0.03$ bas prix de la carte
0.03$ bas prix Bcx = 12262 cartes sur le marché
Distribution
633 100 cartes en circulation
10 420 cartes brûlées
Feuille d'or
Marché
0.87$ bas prix de la carte
0.87$ bas prix Bcx = 237 cartes sur le marché
Distribution
15 056 cartes en circulation
17 cartes brûlées
Ressource
My strategies
Mes stratégies
This battle strategy is to focus on monsters with high speed, magic or ranged attacks. Speed can be utilized to gain the initiative and attack first, while the magic and ranged attacks can damage enemies from a distance, making it more difficult for them to hit back. Additionally, it is important to use monsters with low mana values, since they will be able to attack more often than higher mana monsters.
I have opted to use monsters with abilities that can increase their attack or damage output, such as Poison. Lastly, the combination of the monster's range, magic, and non-attack monsters with different offensive abilities created the difference on the battlefield.
Cette stratégie de combat consiste à se concentrer sur les monstres avec des attaques à grande vitesse, magiques ou à distance. La vitesse peut être utilisée pour gagner l'initiative et attaquer en premier, tandis que les attaques magiques et à distance peuvent endommager les ennemis à distance, ce qui les rend plus difficiles à riposter. De plus, il est important d'utiliser des monstres à faible valeur de mana, car ils pourront attaquer plus souvent que les monstres à mana plus élevé. J'ai choisi d'utiliser des monstres avec des capacités qui peuvent augmenter leur attaque ou leurs dégâts, comme Poison. Enfin, la combinaison de la portée des monstres, de la magie et des monstres non attaquants avec différentes capacités offensives a créé la différence sur le champ de bataille.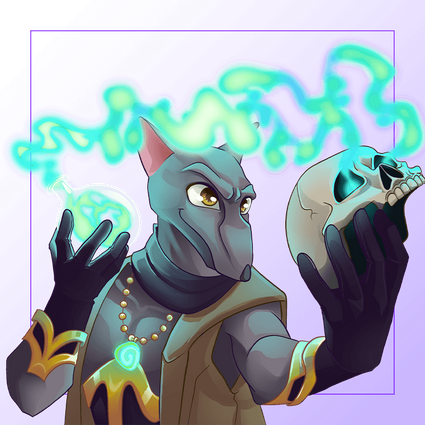 Did my strategy work?
Ma stratégie a-t-elle fonctionnée?


Yes, my lineup produced the expected results. Venari Bonesmith has a Magic attack, which allowed my mostly gathered magic cards to attack from a distance. Bonesmith also has the Poison ability that inflicted extra damage each round, and the Dispel ability, which I could not experience during this battle, nevertheless I succeeded in bringing down the last standing Tinderlock. With life leech and poison, Venari Bonesmith was a formidable force in a battle with no armor and limited magic attack points. The combining effort of all the monster on my lineup shared their part in the victory against the powerful opponent summoner Byzantine Kitty.
Oui, ma gamme a produit les résultats escomptés. Venari Bonesmith a une attaque magique, qui a permis à mes cartes magiques principalement rassemblées d'attaquer à distance. Bonesmith a également la capacité Poison qui a infligé des dégâts supplémentaires à chaque tour, et la capacité Dispel, que je n'ai pas pu expérimenter pendant cette bataille, néanmoins j'ai réussi à faire tomber le dernier Tinderlock debout. Avec la sangsue de vie et le poison, Venari Bonesmith était une force formidable dans une bataille sans armure et avec des points d'attaque magiques limités. L'effort combiné de tous les monstres de ma formation a partagé leur part dans la victoire contre le puissant adversaire invocateur Byzantine Kitty.
Pour avoir des détails sur le défi en cours, clique sur le lien en dessous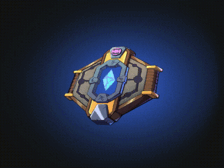 Do I often select this Warrior to fight in the arena? why or why not?
Est-ce que je sélectionne souvent cette carte pour combattre dans l'arène ? Pourquoi ou Pourquoi pas?
I often select the Bonesmith to play in Splinterlands because the death team can always be more effective when the poison ability appears on the battlefield. I play with the magic monsters as often as the rulesets will favor the setup of the death element magic attack cards. Bonesmith's level is going up very soon. I have a great plan to unlock the last ability which is Dispel.
Je sélectionne souvent le Bonesmith pour jouer à Splinterlands car l'équipe de la mort peut toujours être plus efficace lorsque la capacité de poison apparaît sur le champ de bataille. Je joue avec les monstres magiques aussi souvent que les règles favoriseront la mise en place des cartes d'attaque magique de l'élément mort. Le niveau Bonesmith augmente très bientôt. J'ai un super plan pour débloquer la dernière capacité qui est Dispel.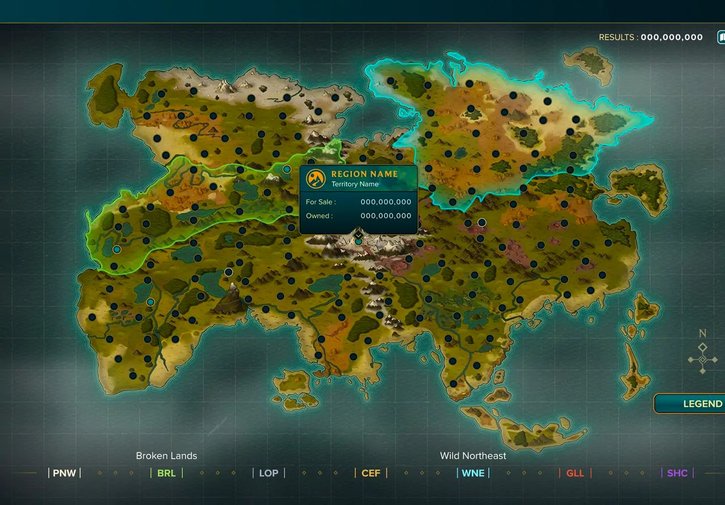 --
Thanks for the battle challenge curation team. My lineup team selection resulted from spontaneous strategy and the battle ruleset.
Merci pour l'équipe de curation pour le défi de combat cette semaine. Ma sélection d'équipe était le produit d'une stratégie spontanée associée aux règles de combat.
If you appreciate this post, I invite you to explore my collection of publications on this blog.
I invite you, dear readers to share in the comment section whatever suggestions or questions you would like to ask.
Si vous aviez apprécié cet article, je vous invite à explorer mon blog pour découvrir ma collection de publications.
Plus d'informations sur Splinterlands sur le groupe de télégrammes officiel [Splinterlands Telegram]
Je vous invite, chers lecteurs, à soumettre dans la section des commentaires toutes vos suggestions ou questions.
Si vous souhaitez jouer à Splinterlands et que vous ne possédez pas votre compte, cliquez sur le lien ci-dessous pour commencer votre exploration de ce jeu de société passionnant.

If you are interested in playing Splinterlands and don't own your account, click on the link below to start your exploration of this exciting board game.
Check in for free here my referral link
Resource: Background sound
Airglow - Memory Bank
Electronic, Synth Pop, Retrowave
Attribution 4.0 International (CC BY 4.0)

Warm regards
---
---