Flying Dragon - Splinterlands Weekly challenge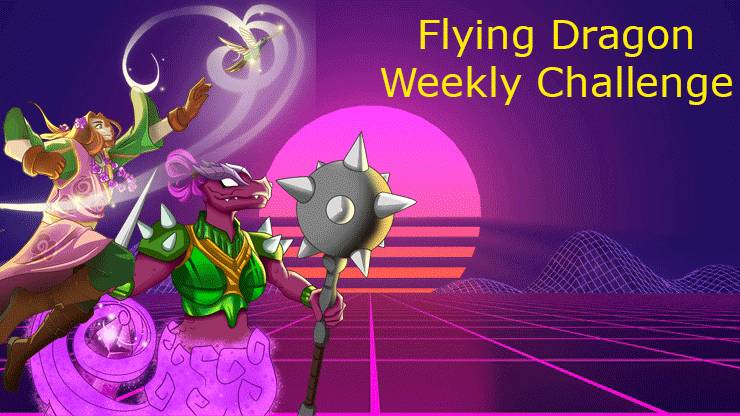 A different challenge than usual because the usable cards are all dragon cards. I will take this opportunity to show you 2 cards that I regularly rent.
Thanks to @splinterlands for these challenges and helping the community.
Un challenge différent de d'habitude car les cartes utilisable sont toutes les cartes dragon. Je vais en profiter pour vous montrer 2 cartes que je loue régulierement. Merci à splinterlands pour ces challenges et pour aider la communauté.

Card
---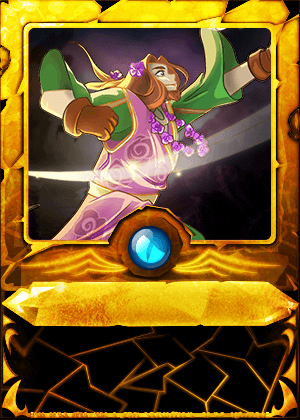 Brighton Bloom is a card that I particularly appreciate. While situational, it's perfect when the "Earthquake" battle modifier is in play.
I only use it in this specific case but having it aside just in case is still nice, especially the low price to rent it at LVL1. If I were to play it more, I would aim to make a dodge based team with a lot of speed and flight that can be strong against physical teams.
Brighton Bloom est une carte que j'apprécie tout particulièrement. Bien que situationnel, elle est parfaite quand le modificateur de bataille "Earthquake" est en jeu.

Je ne l'utilise que dans ce cas précis mais l'avoir de côté au cas où est toujours sympa, surtout le faible prix pour en louer au LVL1. Si je devais la jouer plus, je viserai pour faire une équipe basée sur l'esquive avec beaucoup de vitesse et le vol qui peut être fort contre des équipes physique.

Djinn Chwala is one of the new Reward cards. The stats coupled with the ability "Thorns" make it a very strong card in Bronze and Silver. At LVL 4, she gains the ability "Enrage" which is sure to be useful in view of the Djinn's HP.
Being one of the newest cards, it doesn't cost a lot to rent and should be a must-have if you like to play Dragon.
Djinn Chwala est une des nouvelles cartes Reward. Les stats couplée avec la capacité "Thorns" en fait une carte très forte en Bronze et Silver. Au LVL 4, elle gagne la capacité "Enrage" qui est sûre d'être utile au vue des HP du Djinn.

Etant une des dernières cartes, elle ne coûté pas grand chose à louer et devrait être un de vos must-have si vous aimer jouer Dragon.

Cards & Strategy
---
| Card                            | ENG | FR |
| --- | --- | --- |
| | As I mentioned above, I use Brighton Bloom because there is the "Earthquake" rule. Coupled with theft and cards with a lot of HP, I hope to win by playing over time | Comme j'ai mentionné plus haut, j'utilise Brighton Bloom car il y a la règle "Earthquake". Couplée le vol et des cartes avec beaucoup de HP, j'espére gagner en jouant sur la durée |
| | Djinn Chwala is one of the best cards in tank position in the low leagues. With thorns and its HP pool, we aim to kill the tank and potentially the card second with just this card. | Djinn Chwala est une des meilleures cartes en position de tank dans les leagues basses. Avec thorns et son pool de HP, on vise a tuer le tank et potentiellement la carte en second avec juste cette carte. |
| | Eagle is there to fill the gap. I should have used a card with snipe like the Lone Boatman, but the eagle is still a decent card especially with a card that boosts physical damage. | Eagle est présent pour combler le trou. J'aurai surement du utiliser une carte avec snipe come le Lone Boatman mais l'aigle est toujours une carte correct surtout avec une carte qui boost les dégâts physiques. |
| | Shieldbearer is here to take draw maximum damage. I'm looking to play over time and the only cards that need to take damage should be this card and the tank. | Shieldbearer est ici pour prendre attirer le maximum de dégâts. Je cherche à jouer sur la durée et les seuls cartes qui doivent prendre des dégats devrait être cette carte et le tank. |
| | Renova is one of the only epic cards I own and I love using it. Very good offensive and defensive stats, + 1 HP to all allies make it a perfect choice in this strategy. | Renova est une des seul carte épique que je posséde et j'adore l'utiliser. De très bonne stats offensives et défensives plus le 1 HP à tout les alliées en font un choix parfait dans cette stratégie. |
| | If you have the mana to put it down, Sand worm is an interesting card to play. Decent HP with a monstrous attack makes it a constant danger. The only downside is his speed, we cross our fingers so that he does not miss his shot. | Si on a le mana pour le poser, Sand worm est une carte intéressante à jouer. Des HP correct avec une monstrueuse attaque en fait un danger constant. Le seul bémol reste sa vitesse, on croise les doigts pour qu'il ne rate pas son coup. |
| | Not much to say about Herbalist. Decent card for the cost, she's here to fill the remaining 2 mana and do some damage. I put it in last position to tank the blow of a possible Sand worm and protect mine. | Pas grand chose à dire sur Herbalist. Carte décente pour son coût, elle est ici pour combler les 2 mana restant et faire quelque dégâts. Je l'ai mis en dernière position pour tanker le coup d'un éventuel Sand worm et protéger le mien. |

Battle
---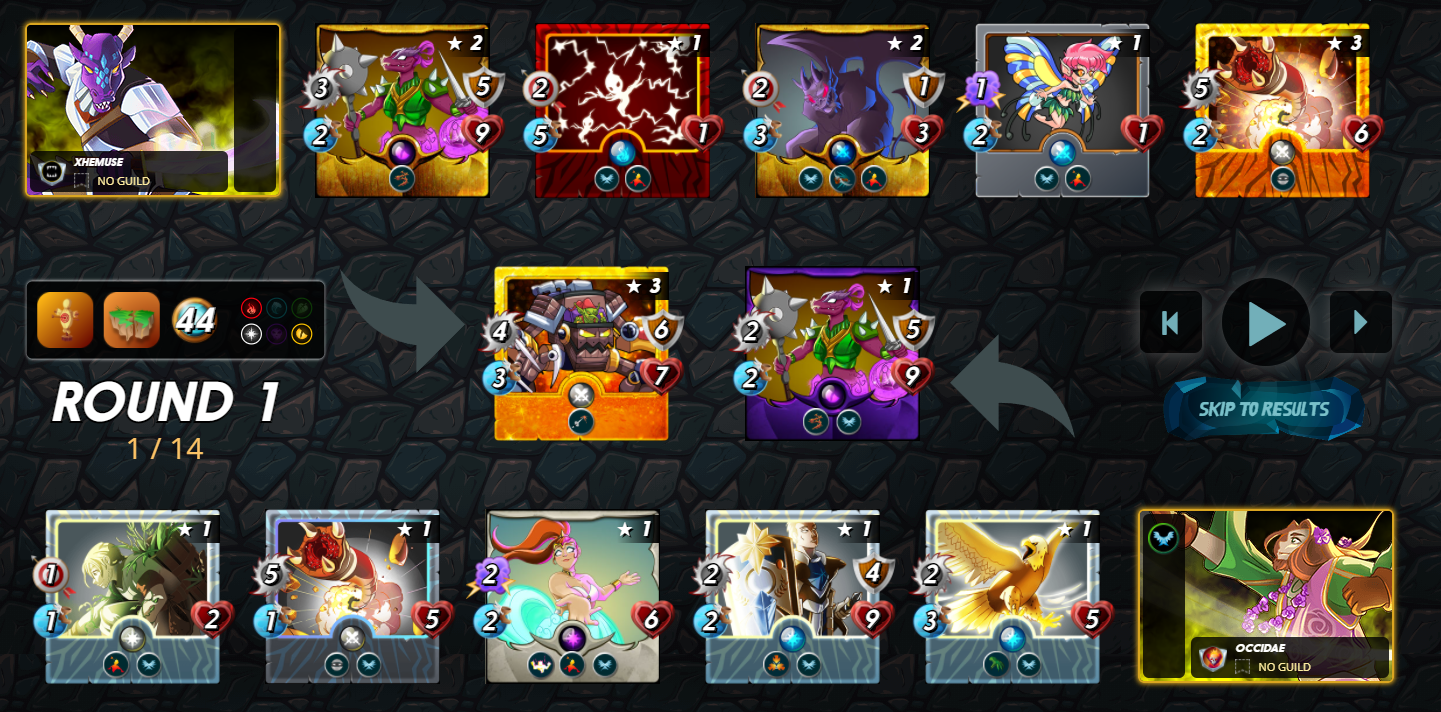 Link to the battle

Opinion
---
I rarely use dragon cards. It is not because the cards are weak, on the contrary, there are a lot of strong dragon cards. But as I try to optimize the cost of my rentals, the dragons are not the priority.
I try to use as much as possible the free cards and those that I have dropped in quest. For the rest, I rent useful cards and cards for the CP.
But a card like Brighton is one of those useful cards that I keep aside for easy wins in special cases. It is this rental strategy that brings me to 1800+ rating by spending just 20 DEC / day
J'utilise rarement les cartes dragons. Ce n'est pas parce que les cartes sont faibles, on contraire, il y a beaucoup de cartes fortes en dragon. Mais comme j'essaie d'optimiser le coût de mes locations, les dragons ne sont pas la priorité.

J'essaie d'utiliser au maximun les cartes gratuites et ceux que j'ai drop en quête. Pour le reste, je loue des cartes utiles et des cartes pour la CP.

Mais une carte comme Brighton font partie de ces cartes utiles que je garde de côté pour avoir une victoire facile dans les cas particulier. C'est cette stratégie de location qui m'améne à 1800+ rating en dépensant juste 20 DEC/jour

Thanks for everyone who read this and for your support.

---
---