Ligth attack | Splinterlands Weekly challenge, Jaguar Crystal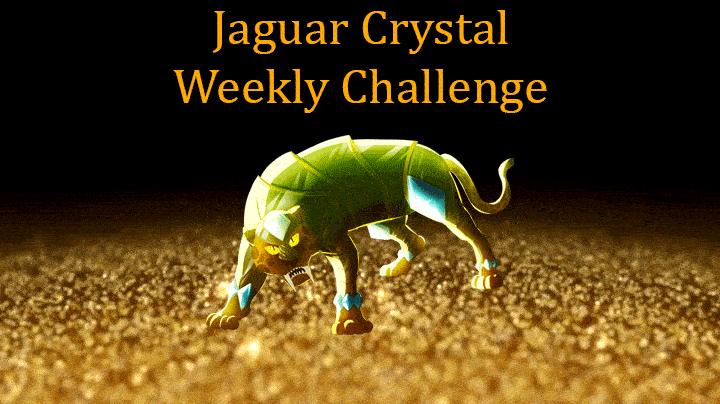 It's always fun to try challenges. We can test cards that we do not usually use in various circumstances.
Thanks to @splinterlands for these challenges and helping the community.
C'est toujours fun d'essayer ces challenges. On peut essayer des cartes que l'on a pas l'habitude d'utiliser. Merci à splinterlands pour ces challenges et pour aider la communauté.
---
Card
---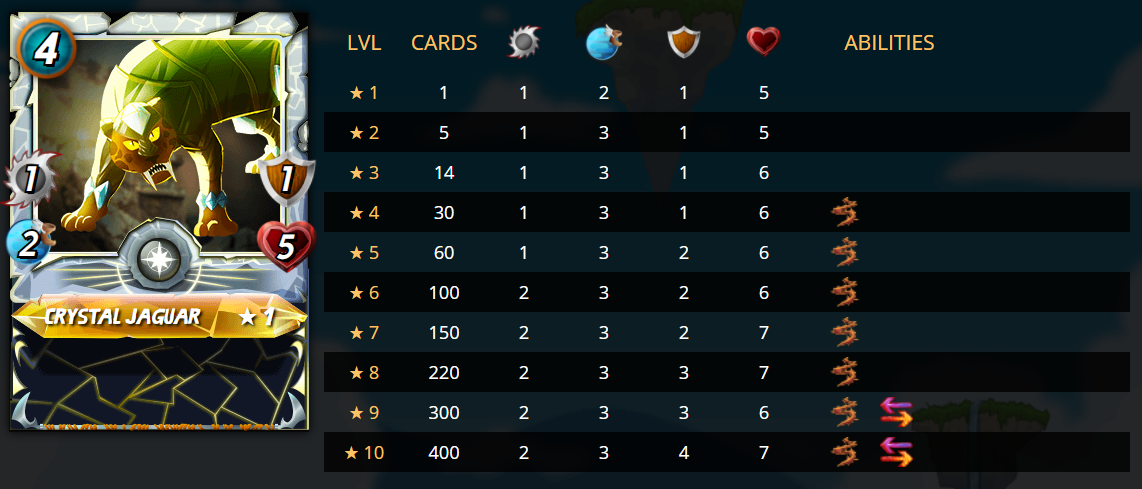 Crystal jaguar is a 4 mana tank card with great stats for its cost. Most Splinters have a 4 mana tank, the most comparable is the Spineback Turtle with similar stats as well as the Thorns ability at level 4.
Where the turtle wins in terms of stats, the jaguard gains the Retaliate ability at level 9 which makes it a better counter against a melee team.
Ligth is generally a pretty good counter against physical damage, so the Jaguar fits well into this strategy.
Crystal jaguar est une carte tank de 4 mana avec des stats plus correct pour son coup. La plupart des Splinters ont un tank a 4 mana, le plus comparable est le Spineback Turtle possedant similaire stats ainsi que la capacité Thorns au lvl 4.

Là ou la tortue gagne au niveau des stats, le jaguard gagne la capacité Retaliate au niveau 9 ce qui en fait un meilleur counter contre une équipe mélée.

Ligth est généralement un assez bon counter contre les dégàts physique, le jaguar rentre donc bien dans cette stratégie.
---
Cards & Strategy
---
| Card                            | ENG | FR |
| --- | --- | --- |
| | I pick Mylor because my opponent mostly used Dark cards in those previous games. Armor can absorb much more damage than 1 damage most of the time and can function as a divine shield against a physical team. | J'ai utilisé Mylor parce que mon adversaire a utilisé principalement des cartes Tenebres dans ces ancienne parties. Un d'armure peu absorber bien plusque 1 de dégât la pluparts du temps et peu fonctionner comm un bouclier divin contre une équipe physique. |
| | Imposed card of the challenge, Jaguar Crystal works well as the first tank in the current mana pool. It has enough stats to support the other cards while the assassins take care of the back-line. | Carte imposé du challenge, Jaguar Crystal fonctionne bien comme premier tank dans la tranche de mana actuel. Il possède assez de stats pour supporter les autres cartes le temps que les assassins s'occupe de la back-line. |
| | Silvershield Knight is there as the second tank as well as the main support of the team. His Inspire ability boosts the attack ability of assassins. It can also act as a meatshield if the jaguar dies. | Silvershield Knight est là en temps que second tank ainsi que principal support de l'équipe. Sa capacité Inspire permet de booster la capacité d'attaque des assassins. Il peut aussi agir comme meatshield si le jaguar meurt. |
| | Feral spirit is the first of the 2 main attackers. With his speed and inspires boost, this makes him a force to be recognized for his low cost of 3. | Feral spirit est le premiers des 2 attaquants principaux. Avec sa vitesse et le boost d'inspire, cela fait de lui une force à reconnaître pour son faible coût de 3. |
| | Elven Cutthroat is the second assassin. It's more or less the same as the cat, but with lower stats due to its neutral card condition. | Elven Cutthroat est le second assassin. C'est plus ou moins la même chose que le chat, mais avec des stats plus faible de par sa condition de carte neutre. |
| | Truthspeaker is the second support to boost team survivability. Between this card and Mother Khala, Truthspeaker is often a better choice at low level, especially in anticipation of a team without magic damage. | Truthspeaker est le second support pour booster la survivabilité de l'équipe. Entre cette carte et Mother Khala, Truthspeaker est souvent un meilleur choix a bas niveau, surtout en prévision d'une équipe sans dégâts magiques. |
| | Lone boatman is my last choice. It is rather good card in last place because of its 1 armor and its 3 HP. With the Snipe ability, the card comes within the idea of killing the back-line as a priority. | Lone boatman est mon dernier choix. C'est une plutôt bonne carde en dernière place à cause de son 1 d'amure et de ses 3 HP. Avec la capacité Snipe, elle rentre dans l'idée de tuer la back-line en priorité. |
Battle
---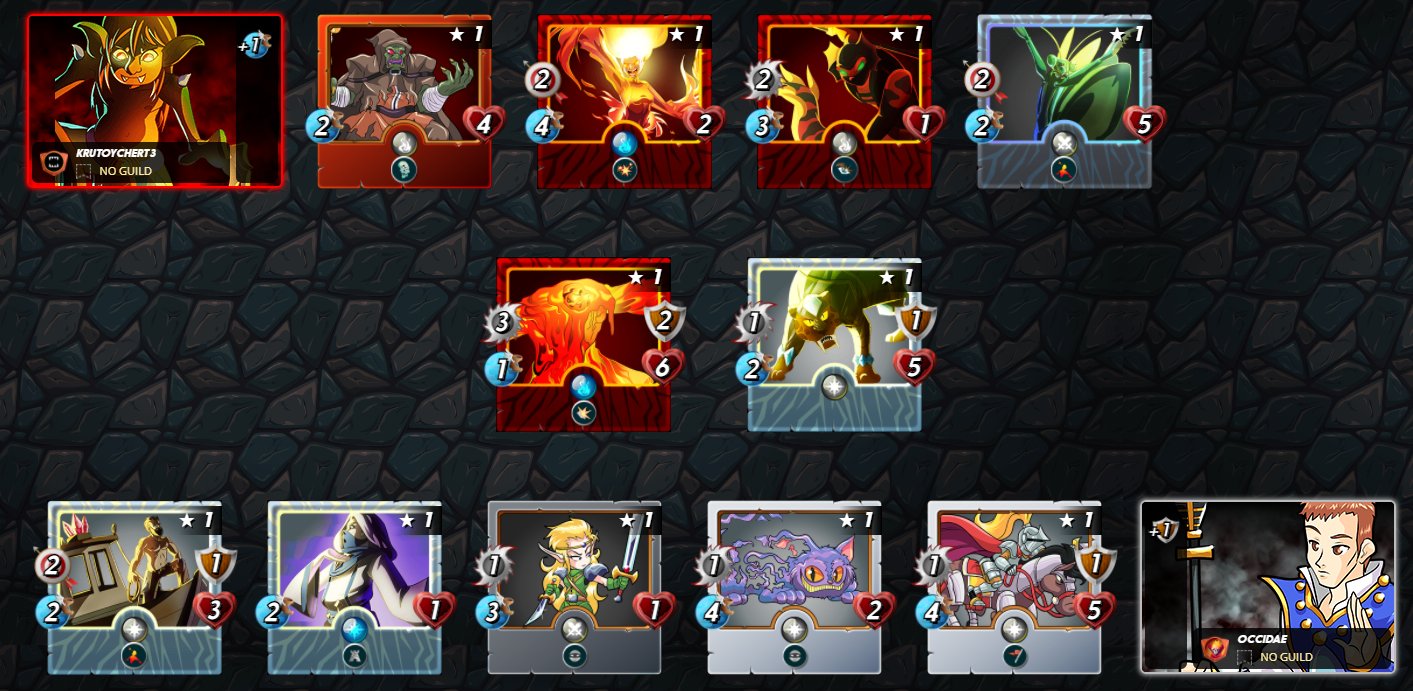 Link to the battle
---
Opinion
---
Jaguar crystal is a decent card. With good stats and anti-melee abilities, she can shine under certain conditions, especially when melee cards can attack from any position.
But for me, light cards are played in high mana pools, especially if you only have basic cards. In this case, we would prefer a more resistant tank to protect the team.
Jaguar crystal est une carte correct. Avec de bonnes stats et des capacités anti-mélée, elle peut briller dans certaines conditions, en particulier dans le cas où les cartes mélée peuvent attaquer depuis n'importe quel position.

Mais pour moi, les cartes lumière se joue dans des pool de mana élévée, surtout si on a seulement les cartes de base. Dans ce cas, on préférerait un tank plus résistant pour proteger l'équipe.

Thanks for everyone who read this and for your support.

---
---