Pelacor Mercenary - Card of the day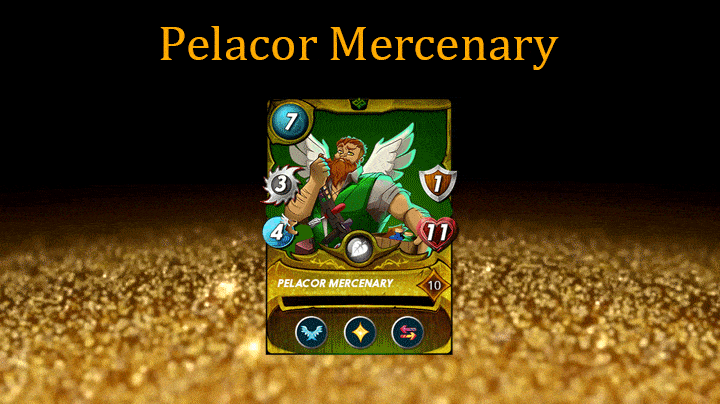 I have way too much free time and for months I haven't been able to find any interesting games to keep me entertained.
Playing splinterland, I had never really seen what this Blockchain can bring. A few weeks ago, I discovered Hive Blog as well as the various projects revolving around it. So I will try to use my free time to help the community.

Stats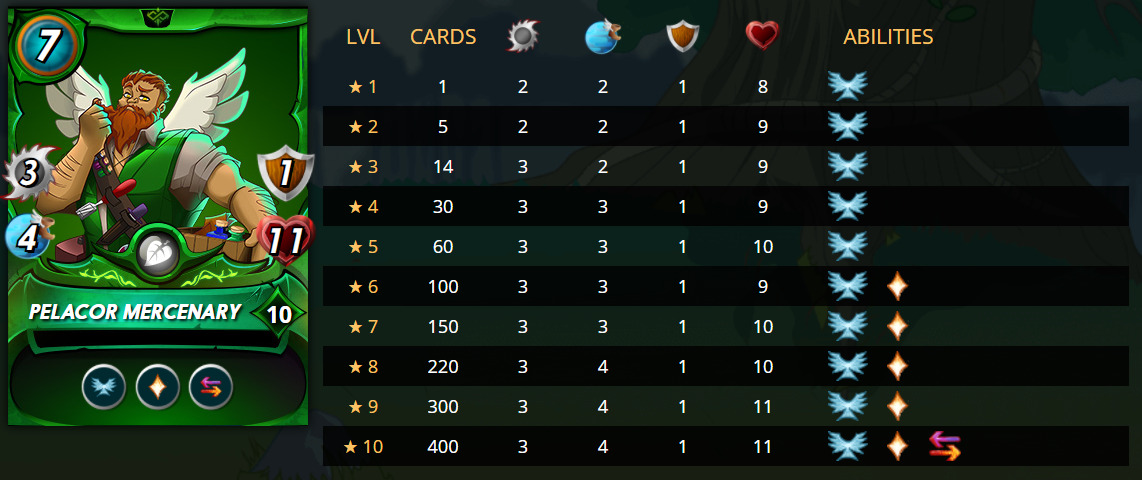 Pelacor Mercenary is a card with a high HP pool and 1 point of armor that will allow it to absorb 1 non-magic hit regardless of his power. With the Fly and Heal ability, it's pretty easy to tell that she was designed to be on the front line in anticipation of an enemy using physical attacks. At LVL 10, she gains the Retaliate ability which allows her to maximize her fairly low damage potential.
On the other hand, it lacks the speed to take full advantage of its Fly and attack for Retaliate, but we will come back to this later.
The stats and abilities make it a very good tank in case of "Poison", "Earthquake" combat modifier and also when magic cards are prohibited.

Similar cards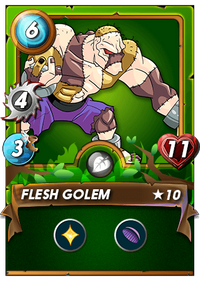 Flesh golem
Flesh Golem is the most compared card with Pelacor Mercenary, but there are several differences worth discussing. First Flesh, wins Heal at LVL 3 which makes it usable in Bronze league unlike Gold for Pelacor. In addition, if we continue to evolve the card, Flesh gets Void which makes her an anti-magic card while Pelacor is better against physical damage.

If we look at the stats, they are quite comparable. Same HP, but 1 additional attack. Pelacor compensates with 1 speed, 1 armor, and Fly which makes it a much more resilient card against melee and ranged cards.
---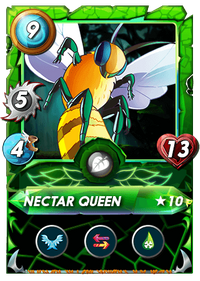 Nectar Queen
Nectar queen is probably the best comparison, at least in the low league. Both only have Fly up to LVL 6, and both have Retaliate at LVL MAX. Our Queen trades Heal for Poison, which is a much more situational skill.

Similar to Flesh Golem, the stats are quite similar to Pelacor. The only difference is 2 attack and 2 additional HP. While 2 HP is probably worse than 1 Armor at this card level, the combination of 5 Attack, Retaliate and Poison makes it a deadlyl card in the event of a counter.

Additional cards & Strategy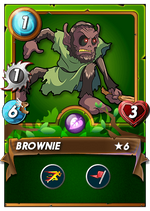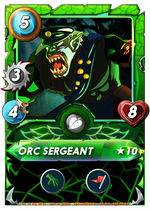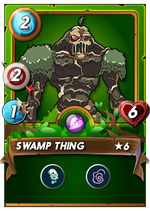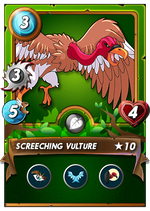 With its stats and abilities, Pelacor is a very resilient card with a high dodge ability. On the other hand, it has relatively little attack and just below an interesting speed to constantly dodge.

Brownie gives Pelacor the missing stats to shine. It considerably increases its ability to do damage as well as its survival. We can go even further by adding an Orc sergeant and a Screeching Vulture to go full melee.

In the same idea, we can add Swamp Thing to reduce the speed and life of opponents cards to maximize the chances of dodging.

Opinion
Pelacor Mercenary is an interesting card with good stats, but it has a big problem. It only becomes really interesting in LVL 6 and therefore only in Gold League, unlike other tanks usable from the start like Unicorn Mustang, Stone Golem or a Flesh Golem LVL 3.
But with the right situation and a card like Brownie to sublimate these qualities, Pelacor has a lot of advantage at maximum level. If we add the fact that it is currently one of the cheapest cards on the market, there is a way to do something with it if you have the means and the required level.

Thanks to everyone who took the time to read this article.


En français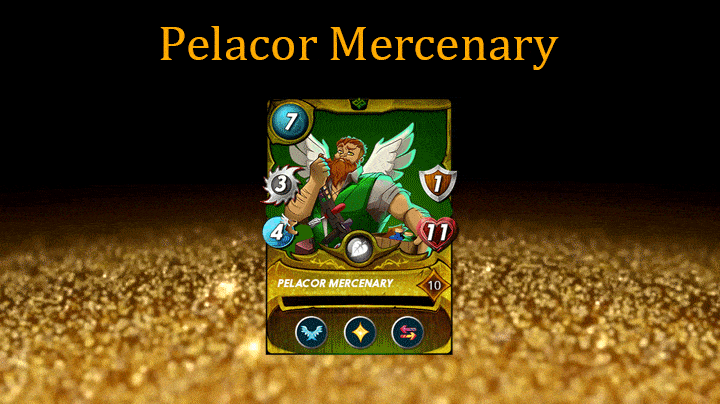 Les temps sont sombres. J'ai beaucoup trop de temps libre et cela fait des mois que je n'arrive pas à trouver des jeux intéressants à me mettre sous la main pour me divertir.
Jouant à splinterland, je n'avais jamais vraiment fait le tour de ce que cette Blockchain peu apporter. Il y a quelques semaines, j'ai découvert Hive ainsi que les différents projets tournant autours. Je vais donc essayer d'utiliser mon temps libre pour apporter mon aide à la communauté.

Stats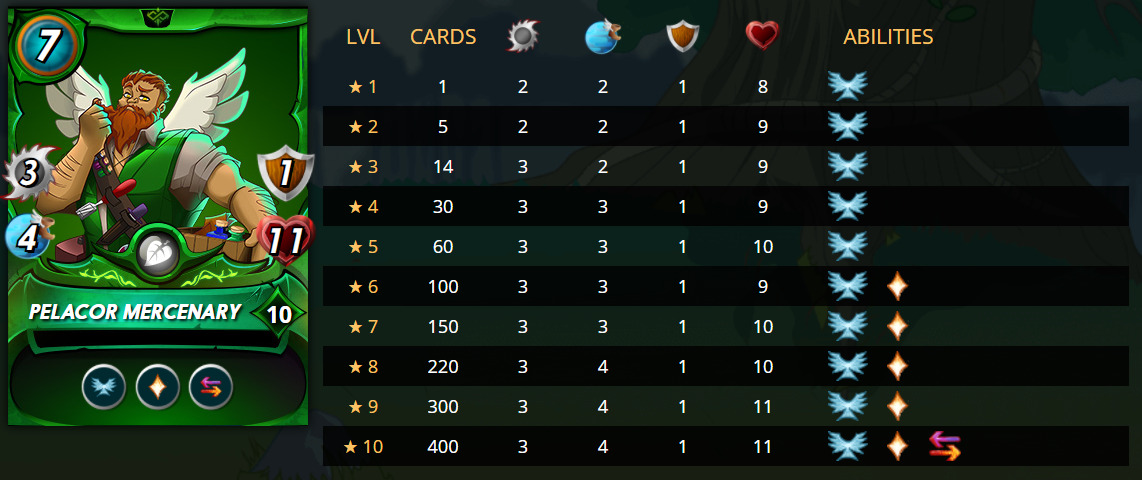 Pelacor Mercenary est une carte avec un pool de PV élevée et 1 point d'armure qui lui permettra d'absorber 1 hit non-magique. En rajoutant, la capacité Fly et Heal, il est assez facile à dire qu'elle a été conçu pour être en première ligne en prévision d'un ennemi utilisant des attaques physiques. Au LVL 10, elle gagne la capacité Retaliate qui lui permet de maximiser son potentiel de dégât assez peu élevée avant.
Elle manque par contre de vitesse pour profiter pleinement de sa capacité vol et d'attaque pour Retaliate mais on reviendra dessus un peu plus tard.
Les stats et capacités en font un très bon tank en cas de modificateur de combat "Poison", "Séisme" et aussi lorsque les cartes magiques sont interdites.

Cartes similaires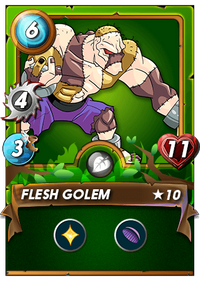 Flesh golem
Flesh Golem est la carte la plus comparée avec Pelacor Mercenary, mais il y a plusieurs différences dignes d'être discuté. D'abord Flesh, gagne Heal au LVL 3 ce qui fait qu'elle est utilisable en League Bronze contrairement à Gold pour Pelacor. De plus, si on continue d'évoluer la carte, Flesh obtient Void qui fait d'elle une carte anti-magique alors que Pelacor est meilleure contre les dégâts physique.

Si on passe au niveau des stats, elle sont assez comparable. Même HP, mais 1 d'attaque supplémentaire. Pelacor compense avec 1 de vitesse, 1 d'armure et Fly ce qui en fait une carte bien plus résistante contre des cartes de mêlée et à distance.
---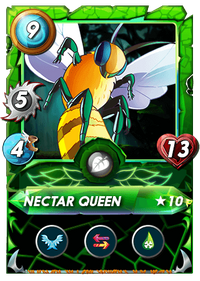 Nectar Queen
Nectar queen est probablement la meilleure comparaison, en tout cas en bas league. Toutes les 2 ont seulement Fly jusqu'au LVL 6, et les 2 ont Retaliate au LVL MAX. Notre abeille échange Heal contre poison, qui est une compétence beaucoup plus situationnelle.

De la même façon que pour Flesh Golem, les stats sont assez similaire que Pelacor. La seule différence est 2 d'attaque et de 2 HP supplémentaire. Si les 2 HP sont probablement plus mauvais que 1 d'armure a ce niveau de carte, la combinaison de 5 d'attaque est Retaliate et Poison en fait une carte beaucoup plus mortel en cas de contre.

Cartes complémentaires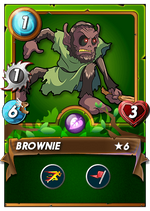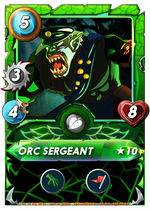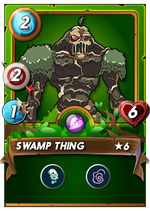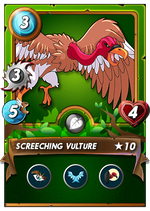 Avec ses stats et ses capacités, Pelacor est une carte très résistante avec une forte possibilité d'esquive. Elle a par contre assez peu d'attaque et juste en dessous d'une vitesse intéressante pour esquiver constamment.

Brownie donne les caractéristiques manquantes à Pelacor pour briller. Elle augmente considérablement sa capacité à faire du dégât ainsi que sa survie. On peut aller encore plus loin en rajoutant un Orc sergeant et un Screeching Vulture pour partir en full mêlée.

Dans le même genre, on peut rajouter Swamp Thing pour réduire la vitesse et la vie des adversaires pour maximiser les chances d'esquive.

Opinion
Pelacor Mercenary est une carte intéressante avec de bonnes stats mais elle à un gros problème. Elle ne devient réellement intéressante qu'au LVL 6 et donc seulement en Gold League, contrairement à d'autres tank utilisable des le début comme Unicorn mustang, Stone Golem au encore un Flesh Golem LVL 3.
Mais avec la bonne situation et une carte comme Brownie pour sublimer ces qualités, Pelacor à beaucoup d'avantage au niveau maximum. Si on rajoute le fait qu'elle est actuellement une des cartes les moins cher du marché, il y a moyen d'en faire quelque chose si vous en avez les moyens et le niveau requis.

Merci à tout ceux qui ont pris le temps de lire cette article.

---
---