Mission accomplished - I am now a Champion player in Splinterlands!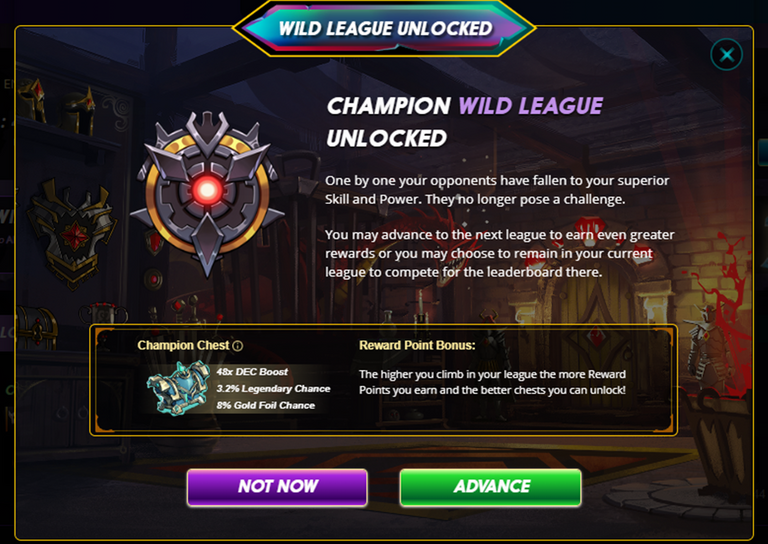 Holy cow! I am now officially a Champion in the metaverse of @Splinterlands – one of, if not the most popular blockchain game in the entire world! This was my main goal from the start of my Splinterlands journey and I wrote it down on a piece of paper 4th of April 2021: "I will become a Champion in Splinterlands within a year", It said! Take a look below.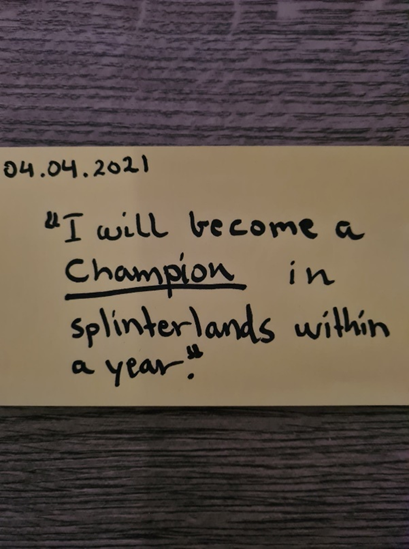 And my oh my, I am here, a bit more than 1 year later, my goal is within a decent range, I have now become a Champion in Splinterlands! What a great feeling! Not only to reach your goal but also in terms of knowing that you are good enough to beat down the best players in game, thus this must be rewarding! Being amongst the best that early in a blockchain game is exciting to think about!
Vel, as a matter of fact it is game changing in terms of rewards. If you thought that you earned decent amounts in bronze, silver think again. It is when you enter Gold, Diamond and Champion that those chest really start to be of value. Just look at my daily gold chest rewards from todays daily quest:

Screenshot from Splex.gg
$5.173 for playing a game! I mean, it took me an hour to make 10 chests, but it is a game, and it is fun, I would have played it anyway! Me being paid $5.173 for playing a fun game is nothing else than revolutionary. On top of that this is only Gold league. Imagen when you enter the Champion league - the reward chests will be outstanding.
Just look at the rewards multiplier below here. Comparing Gold chests with Champion chests is just ridiculous. Take a look at the DEC boost. From Gold to Champion the DEC payout from each chests is multiplied with 6. In other words you earn 6 times more DEC from a Champion chest than of a Gold chest.
That is just tremendous in terms of payout. The legendary chance is multiplied with 3 and you have a 5% increased chance of getting a gold foil! That is just groundbreaking! Are you paying attention to what this could mean for your earnings in game? The payouts are great even though we are in a deep bear market. Imagine when the NFTs are not able in chests anymore and the only way to get them is through other players. Then what you earn today can be lifechanging money down the road.
Again, just look at those multipliers – where do you see yourself? In gold, Diamond or Champion? I will choose Champion every time, and I did it! I am officially a Champion in Splinterlands!



On the other hand you cant just make your way into the Champion league and expect great returns. You should come prepared. The players over in the Champion corner really knows how to play and make some great strategies. It is not only about having those Chaos Legion cards maxed out, you really need to have a mix of both untamed and chaos legion cards in order to beat those bad boys down to their knees. It is what Splinterlands says: "It is not for the faint of heart"!
Anyways, becoming a Champion has been a hell of a ride and it did not come cheap nor was it easy – you really need to know how to play your decks/cards. Worth it? I would have done it again, and again and again! It is both fun and rewarding at the same time!
Next target? Vel, I really need to get to Champion 1 and start to compete with the best of the best. There are rumors that if you do it very good and are placed amongst the top 50 players in Splinterlands you will get a decent amount of DEC. For instance, the first place in Champion 1 gets 200,000 DEC. Up for the challenge? You bet!
How about you? Are you playing Splinterlands? And if so, how you doin?
Cheers
-Olebulls

Who Am I And Why Am I Here?
I am @Olebulls and I'm working in IT and Finance. I've always been passionate about finance and finding smart ways to manage and save money. I believe establishing money management strategies as early as possible is the key to securing your future. I began using different strategies myself in real estate, stocks and crypto and I have now built some decent amounts. That amount is growing every day and is now escalating after several crypto adoptions.
I'm here to create content about finance, crypto and money management.
Disclaimer: This is not financial advice. I am not an expert. You should do your own research before investing.
---
---