New daily rewards in Splinterlands is getting better! Modern VS Wild who would have thought?
Hola mi amigos!
Yet again I am here to write about @Splinterlands! The latter play2earn game is getting more complex each day and active players seems to fall of the course because of all the adjustments that are taking place, understandable!
As of today I was opening my first new daily reward chests and I have to admit it was shocking to see some of my chests giving 12x and 13x more rewards. I am talking about potions. For a couple of days ago we would usually get like 1 potion each of both legendary- and alchemy potions. As of today I got 12 legendary potions in one chest and 13 alchemy potions in another chest. I might have been lucky? We will see, but if we continue to see these rewards we do not need to buy potions anymore. This means saving a shitload of "monitas"! Up until now everybody always bought them to get better chances of getting legendary- and gold foil cards, which is understandable, as the value can be found in those cards.
As long as I am active in the game I will continue accumulating packs of all different "seasons". This "improvement" of rewards do have a lot to say for me. I do not know how much potions I have bought but lets look at a calculation of what you can save if you where to buy 500 packs next month.
If you where to open 500 packs you would need 10 potions for each pack. 500 packs * 10 potions equals to 5000 potions in total. With an average price of 45 DEC (legendary + alchemy potions / 2) you would need 225 000 DEC (45 * 5000) to cover up for all the potions. In todays DEC price (0,000523) that equals to (0,000523*225 000) $118 US Dollars! Now that is a decent cost reduction to you as a player if you are looking to building even more assets within the game. Congratulations!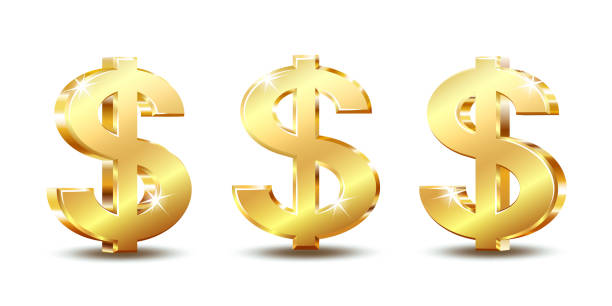 Source
Worth mentioning is that the higher league you are in the more potions the chests will contain - just like the increase of DEC every time you are getting into a higher league. How much? You will see that info pop up when you advance in a league. Then you can see your payout of that specific league you are entering. So, if you are in for buying packs mowing forward this is valuable for us. Just look at my above calculations and you understand quickly what I am talking about. And if you buy a ton of packs you better start grinding towards the champion league - Splinterland told us that getting into higher leagues will provide much more potions from the chests. OH YEAH! I think I will reach Champion 3 this season and I am looking forward to play with the big boys/girls!
Beneath you have proof of how many potions I did get in one single day! It is like 13 days just got blown away in a single day, lol! Bravo Splinterlands!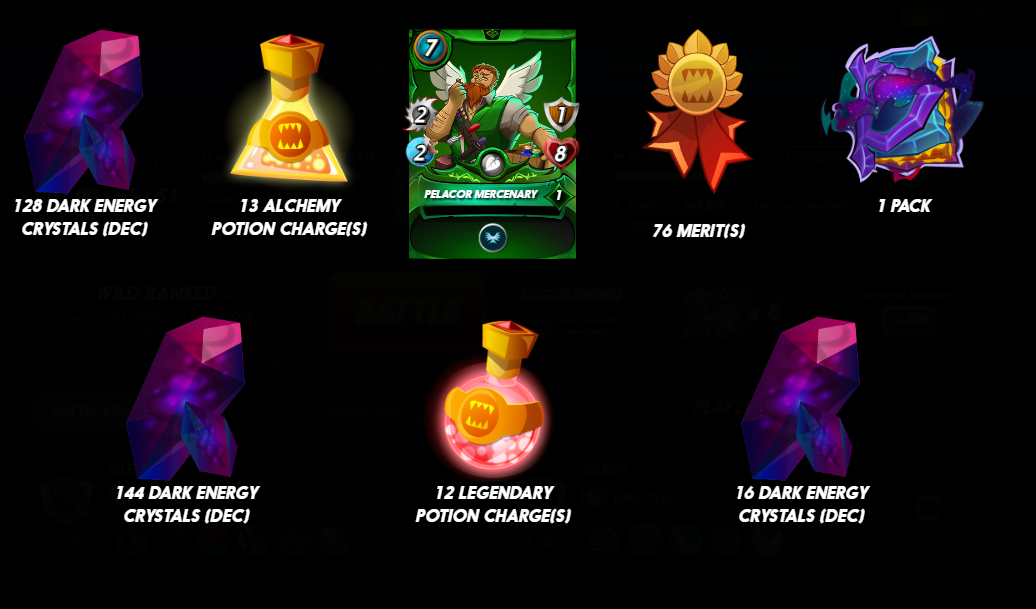 Modern vs Wild
These formats are almost identical, the only difference is that you can use all your cards in WILD and only core, reward, promo or any other mini-set cards from the Chaos League and untamed edition in MODERN. That is fantastic! I also need to ad that the collection power have been cut in half for modern format. This means that you only need 250 000 collection power to reach champion 1 in the modern format, while you need 500 000 collection power to reach Champion 1 in WILD format.
HELL YEAH! FINALLY I AM GETTING TO CHAMPION IN MODERN FORMAT! At least that was my thought, but above all expectations it turns out that it is much easier for me to advance in leagues in the WILD format. The players in the modern format are really beating me from the earth to the moon. I am actually exhausted and I was thinking of buying that archmage bot? But before I did that I was thinking maybe I should try out WILD format first. The first thing that met me in wild format was this image:

"Not for the faint of heart"! LOL! This was going to be a disaster! No way I was going to survive against alpha players with maxed out cards. However, little did I know but the competitiveness in the alpha edition was poor. As I played I noticed I got a new winning streak record and my rating was just boosting towards diamond league as the acceleration of a formula 1 car.
I am trying to figure out what is the reason behind all of this? My first thought was that the players over in the wild format was most likely investors that saw value in the game from the start and was accumulating those alpha and beta cards. They did not focus on the gaming aspects of the game, hence lower competitiveness in the WILD format.
I also have to add to this that I think the Chaos legion cards are really good if you have them maxed out. They have a good variety and the abilities are really outstanding compared to the older cards. The old cards really find it hard to compete with the modern cards.
Now you know that - if you are struggling in the modern format and did not find the time nor the motivation to fight in the WILD format now is the chance. Get over there and try it out, maybe you can reach higher leagues in the WILD format?
See you in the arena of CHAMPIONS!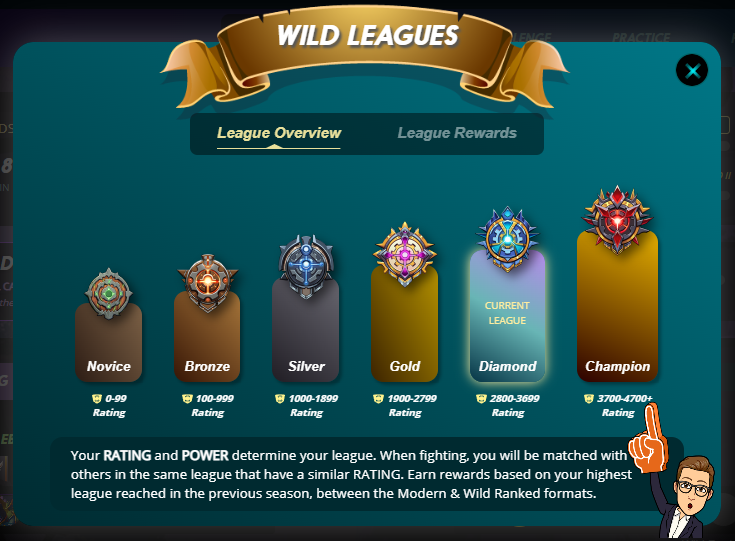 Cheers
-Olebulls
Posted Using LeoFinance Beta
---
---