Splinterlands Tournament Report - Gobson Master Silver (Alpha Edition Only Tournament)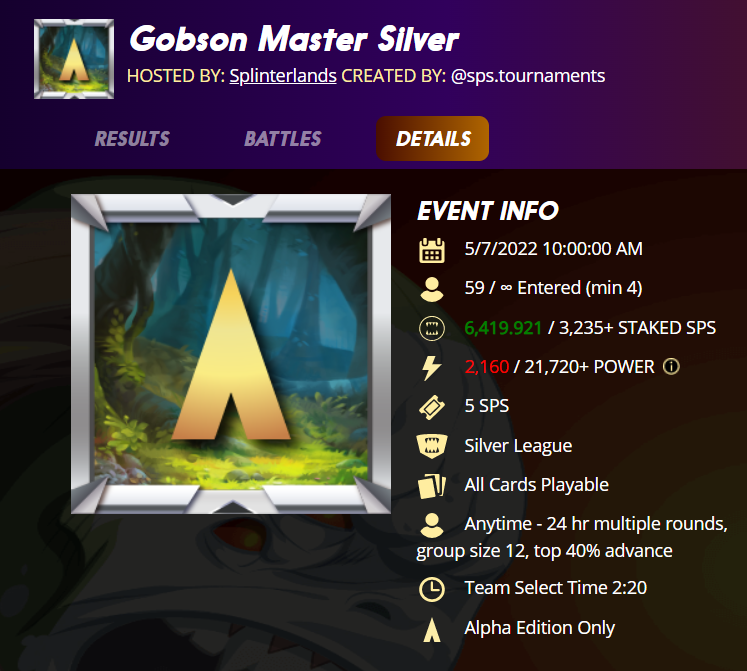 I have always wondered how would it be to play Alpha Edition only cards in a tournament. As we know, Alpha Edition cards are mostly owned by the WHALES and OGs of Splinterlands, and normally out of reach for a normal player that has limited budget.

Kudos to PeakMonsters rental platform, a normal player like me can have a chance of competing in a Alpha Edition only tournament by renting the card power required.
Since I am renting for card power, it is important to evaluate the potential return from the tournament versus renting cost. I will share my thought process of renting Alpha Edition cards that are normally exclusive to the selected few.
Tournament Reward Structure
| Ranking | Payout |
| --- | --- |
| 1-4 | 189 SPS |
| 5-8 | 148 SPS |
| 9-16 | 96 SPS |
| 17-24 | 72 SPS |
| 25-32 | 33 SPS |
| 33-40 | 21 SPS |
| 41-48 | 12 SPS |
| 49-56 | 8 SPS |
| 57-128 | 5 SPS |
The entry fee for the Gobson Master Silver (Alpha Edition Only Tournament) is 5 SPS. As long as the participants for this tournament do not exceed 128 players, everyone is guaranteed to receive back the 5 SPS entry fee.
We have to consider the rental cost for the 2 days tournament in order to calculate the real cost to enter this tournament.
Rental Cost
Due to the lack of Alpha Edition cards circulating in the rental market, rental cost can be hefty. Instead of renting all the cards for 2 days, I plan to rent by batches for 24 hours.

The first batch of cards consist of summoners and some cards with high CP/DEC rental ratio. I have to make sure I can rent card power of at least 21,720 to qualify for the tournament. Summoners is a must and I have to grab them before they become unavailable due to lack of supply.

The second batch of cards will be rented after the tournament has started. Since this is a 24 hours multiple rounds tournament for 2 days, my second batch of 1 day rental will cover for the whole duration (2 days) of the tournament. Of course, this is in condition that I can place high enough ranking to qualify for day 2.
In total, I spent 1124 DEC to rent the required Alpha Edition cards to participate in the tournament.
*Disclaimer: I did not rent all the Alpha Edition cards at max Silver level. The rental cost for some of the cards are too hefty for my allocated budget.
Using the DEC/SPS conversion rate of 70, I spent a total of 21 SPS in rental cost and tournament entry fee.
Card Rental = 1124 DEC = 16 SPS
Tournament Entry Fee = 5 SPS
Total = 21 SPS
I have to make sure I can place higher than rank 40 out of 59 players to cover my participation cost.
Tournament Playing Experience
At first I thought that playing with only Alpha Edition cards can be very fun since I do not have much chance to use Alpha Edition cards in my normal rank play.
In reality, the matches can be very repetitive and very RNG oriented. There are only 59 cards in the Alpha set with no Neutral splinter. Most of the matches will have similar line up where the outcome of battle relies on the monster placement and player's luck. A different attack order of the same monster most of the time can affect the end result.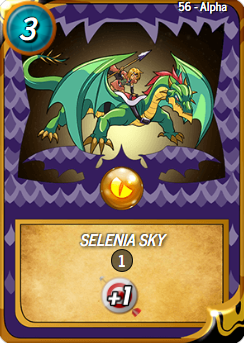 Selenia Sky is the only dragon summoner and must have at max available level. Dragon monsters are exceptional strong in the Alpha only battle with strong abilities.
Results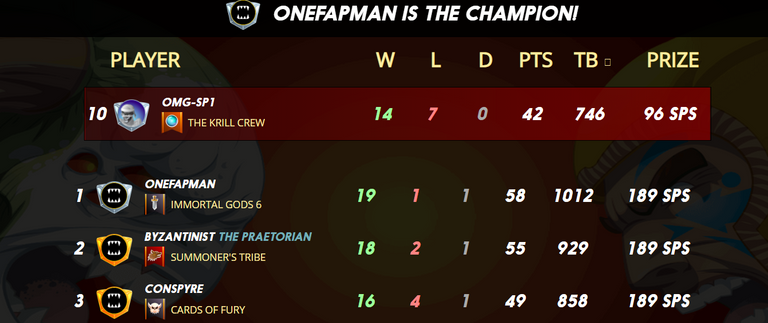 I managed to place at rank 10 and get a prize give out of 96 SPS. That is a nett 75 SPS profit from the tournament. About half of the top ten players in the tournament are actually rent-to-play players.
Given the hassle to rent Alpha Edition cards that can be quite ridiculously price, will I spent my time and money to enter Alpha Edition only tournament in the future?
I might, if the payout is lucrative, but for now I do not think it has a good risk to reward payout. At least, this is a view from my playing calibre which have little chance to get top ranking in tournament.
If a player can consistently place in the top ranking of a tournament, I think Alpha Edition only tournament can be a lucrative niche target for them with less competition.
---
---