Guaranteed 400% Gains With This One Simple Trick

Wanna make a BUNCH of money?
I know you do.
It's easy, but it's not for everyone - Work!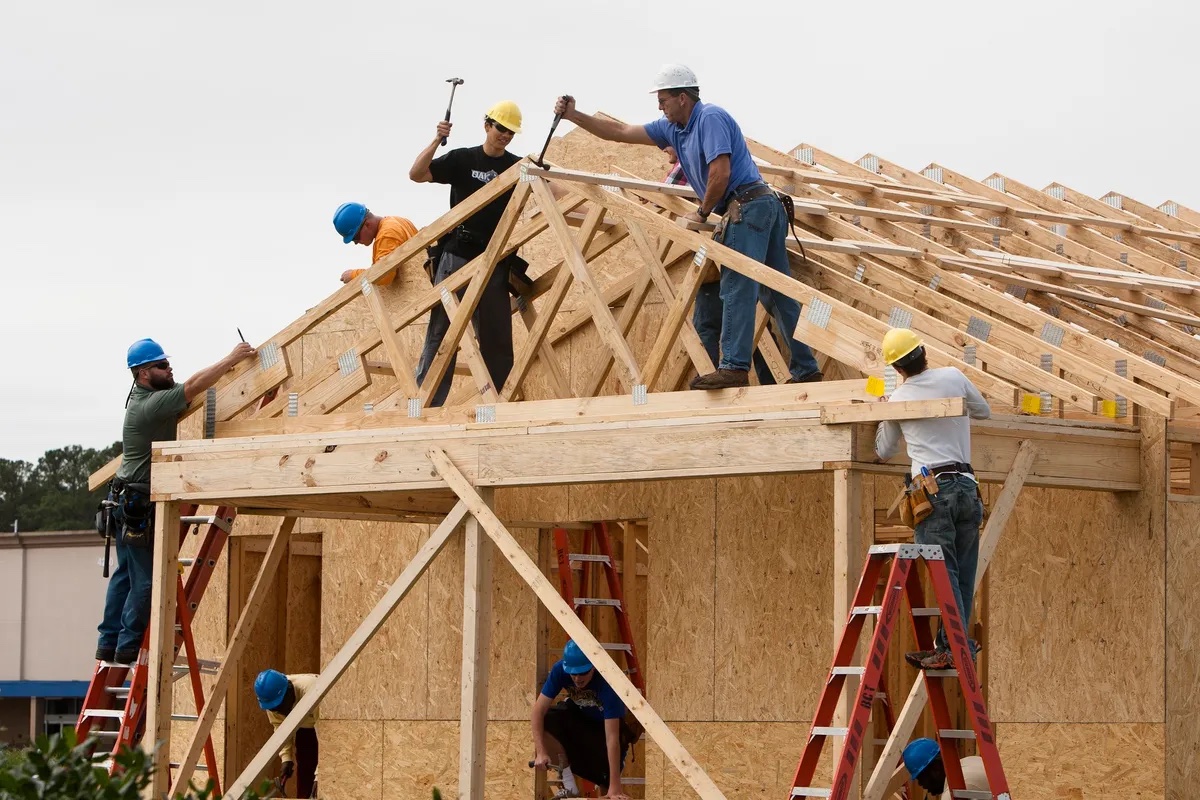 Clickbait title yes, but it's true. If you live in the United States you have a great opportunity to make a bunch of money in a relatively short time simply by working.
There is a massive shortage of people willing and able to do real honest blue collar work right now. I don't know why exactly (I have my theories, but I'll save those for another post) but there is a large demand for real workers (not those fake office workers, but people who actually do things that matter like construction).
Let's face it, blue collar workers in America have been getting shafted for decades now. We've all heard some Boomer lament, "These kids just don't want to work anymore." And that is true on the surface, but I think it's less that the kids don't want to work, and more that the kids aren't stupid. There are lot of jobs paying $12 or $15 an hour now, but nobody can live on that in this inflationary environment.
I did a little thinking. When the Boomers largely entered the work force at entry level, it was the 1970's. A time of high inflation similar to now. I did some calculations using an inflation calculator I found on the internet and if workers were getting paid now what they were making in the 70's for the same type of work, the worst job anyone could find today should be paying $20 an hour. Slightly skilled or unpleasant work should be paying $30-$40 an hour. Highly skilled or dangerous work should be paying $50-$70 an hour. But workers today aren't making near that much.
So what's a Zoomer to do? Sit back and whine? Beg daddy government for a stimmy check? Invest his $3,000 of savings in the next hot crypto pump n dump? Nah.
Get a blue collar job.
This is a golden age of blue collar work. I know framers (construction) who are acting like pirates right now. They will start a job, get the house about half framed, then go to their employer and tell him they each need an extra $5,000 or they're quitting and going home that day. The employer is forced to pay if he wants his building built. It's glorious!
I know truck drivers who get a new job every six months to a year with another company for a substantial pay increase from their last job. It's glorious!
I myself am getting into the asbestos abatement field. A dirty nasty tough job for sure, but starting pay for a guy off the street (and most companies pay for your training and certifications too) is $30 an hour. Show up on time every day for a few months and you can make supervisor where the hourly pay is a good bit more.
How long does it take to get a CDL? About 5 weeks if you go to a formal trucking school. Much less time if you have a buddy who will let you borrow his truck to take the test in. Any trucker now can easily make $70k a year right off the bat. Get a few years experience and you can easily be making $100k a year just driving.
Compare that with four years of Church of Woke indoctrination at a college just to get a degree nobody cares about and a career at Starbucks paying peanuts + tips.
If you're a lady reading this and think, "I can't be a truck driver or construction worker." BS! There is no job anywhere closed to women anymore. Yeah, you'll be entering a man's world and you might have to take some crap you won't have to deal with at Starbucks, but you'll be making WAY more too.
If you're a lady and you want to stay in a female dominated field, look into nursing or dental hygienist. Nursing school can be expensive and take a while, but some states will make you a dental hygienist with just six months of school and some of them make six figures too.
I like playing Splinterlands, but let's face it, nobody except the top 1% of Splinterlands players are ever going to make real money. The rest of us are just having some fun and maybe making a little fun money on the side.
So keep playing Splinterlands and looking for that next 1,000X coin. But get some real world skills and a blue collar job and make a KILLING in this tight labor market!
Posted Using LeoFinance Beta
Posted Using LeoFinance Beta
---
---