Kitsune
Kitsune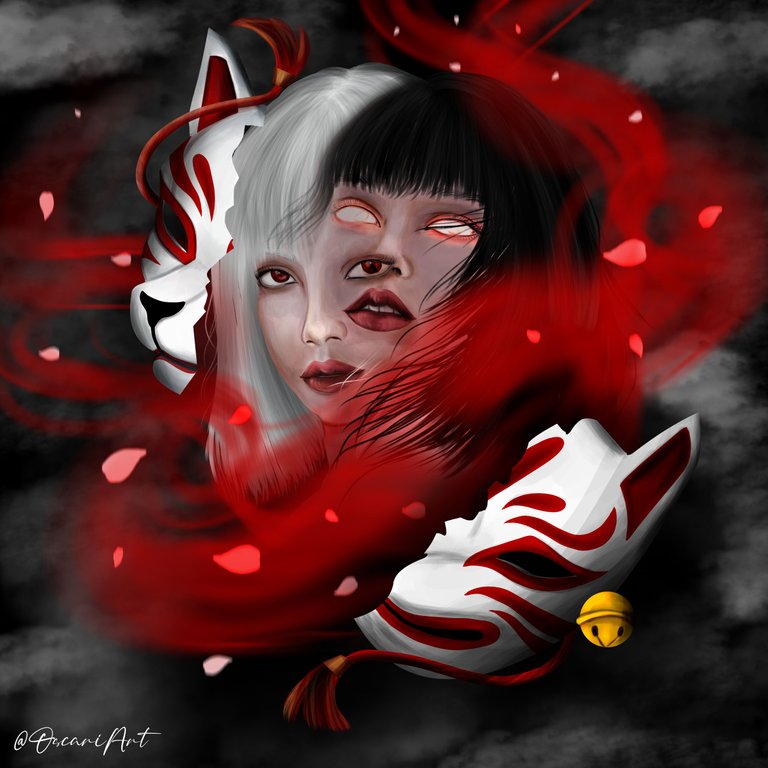 ---
ENGLISH
Hello my dear community of #AlienArt, I hope you are very well and have a good start of the week, I welcome you to one of my art posts.
I made this illustration this weekend, I was supposed to rest and not illustrate until today, but things happen! lately I'm not resting well, I suffer from insomnia due to small anxiety attacks and what helps me a lot to clear my mind and calm down is drawing and listening to music. My creative process is quite weird sometimes, but all good! All good! :3 . Without making more this about me, I share with you the process of this illustration.
SPANISH
Hola mi querida comunidad de #AlienArt, espero que estén muy bien y tengan un buen inicio de semana, les doy la bienvenida a uno de mis post de arte.
Esta ilustración la hice este fin de semana, se suponía que iba a descansar y no ilustrar hasta hoy, ¡pero cosas que pasan! últimamente no estoy descansando bien, sufro de insomnio por pequeños ataques de ansiedad y lo que me ayuda mucho a despejar la mente y calmarme es dibujar y escuchar música. ¡Mi proceso creativo es bastante raro a veces, pero todo bien! ¡Todo correcto! :3 . Sin hacer más esto sobre mí, comparto con ustedes el proceso de esta ilustración.
---
PROCESS - PROCESO
---
Sketch and Colors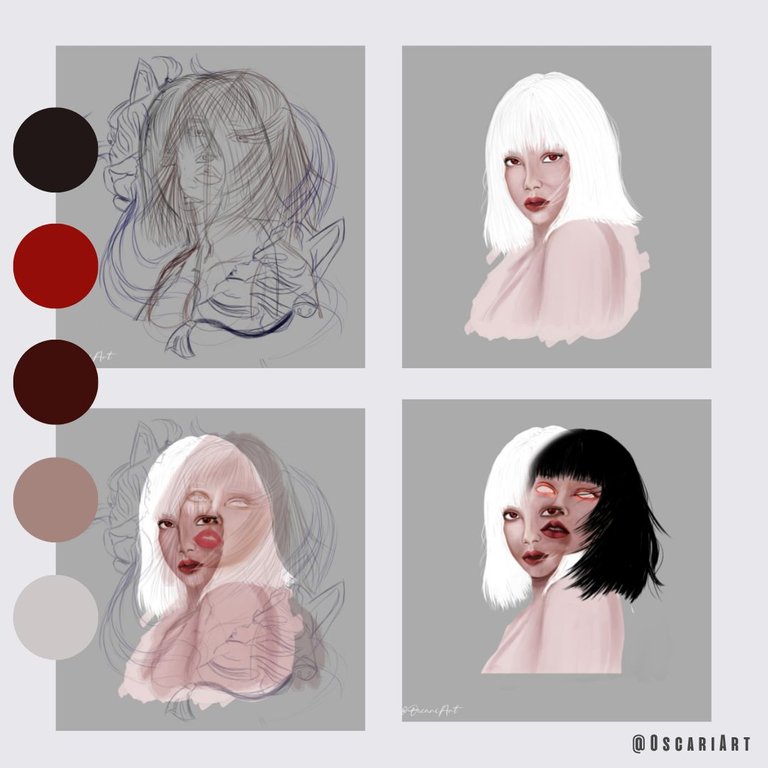 ---
For this one I was inspired by a Japanese legend, where it describes Kitsuné as a spirit of a small white fox that is closely linked to the deity of Inari (god of fertility), it is said that it is sent by Inari to protect the forests, shrines and villages... 🍃 On the other hand, it can also be a prankster spirit and can even transform into a rather young and pretty woman.
It is very typical to see her mask in anime, manga, Japanese festivals, among others. That's why I liked the idea of doing something about this. Starting this illustration mainly with the sketch, the proportion of the faces was difficult to work with, but once I had that I moved on to the base colors.
Para ésta me inspiré en una leyenda japonesa, donde describe a Kitsuné como un espíritu de un pequeño zorro blanco que está estrechamente vinculado a la deidad de Inari (dios de la fertilidad), se dice que es enviado por Inari para proteger los bosques, santuarios y pueblos.... 🍃 Por otro lado, también puede ser un espíritu bromista e incluso puede transformarse en una mujer bastante joven y bonita.
Es muy típico ver su máscara en anime, manga, festivales japoneses, entre otros. Por eso me gustó la idea de hacer algo al respecto. Empezando esta ilustración principalmente con el boceto, la proporción de las caras fue difícil de trabajar, pero una vez que lo tuve pasé a los colores base.
---
Details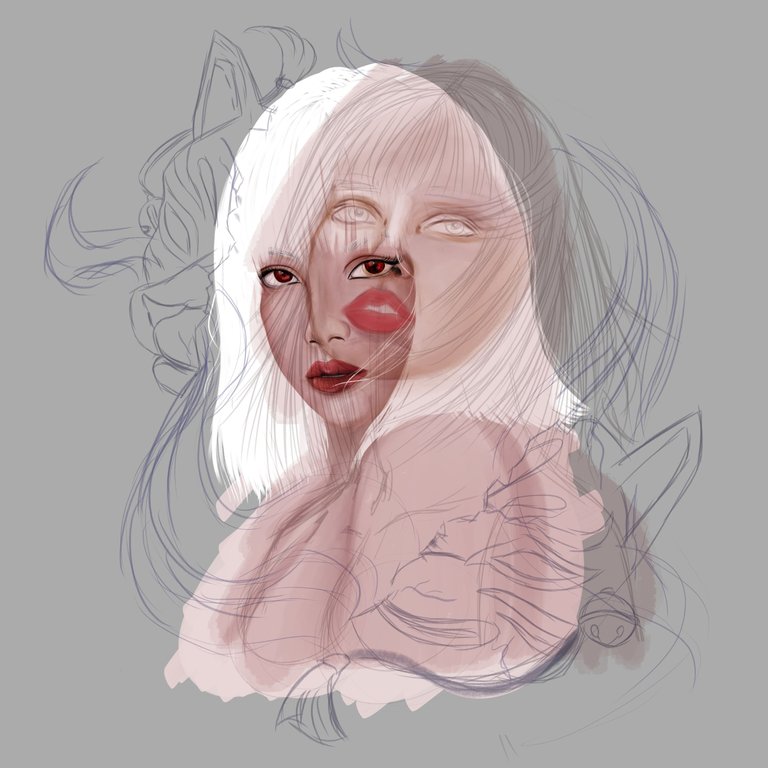 ---
I worked this in sections, first the face of one girl then the other one, I wanted to show the possession or transformation of Kitsuné into a girl, this was very difficult, intertwining the faces in some way was the most complicated, to tell the truth I was about to leave the illustration or change the context of it, but haha I'm stubborn!
What I did was to place the layer of one of the faces in multiply fusion and with the soft erase brush I smoothed just where the faces intertwined.
Esto lo trabajé por secciones, primero la cara de una chica y luego la otra, quería mostrar la posesión o transformación de Kitsuné en una chica, esto fue muy difícil, entrelazar los rostros de alguna manera fue lo más complicado, a decir verdad estuve a punto de dejar la ilustración o cambiar el contexto de la misma, pero jaja soy terca.
Lo que hice fue colocar la capa de una de las caras en fusión múltiple y con el pincel de borrado suave alisé justo donde se entrelazaban las caras.
---
Shadows - Lighting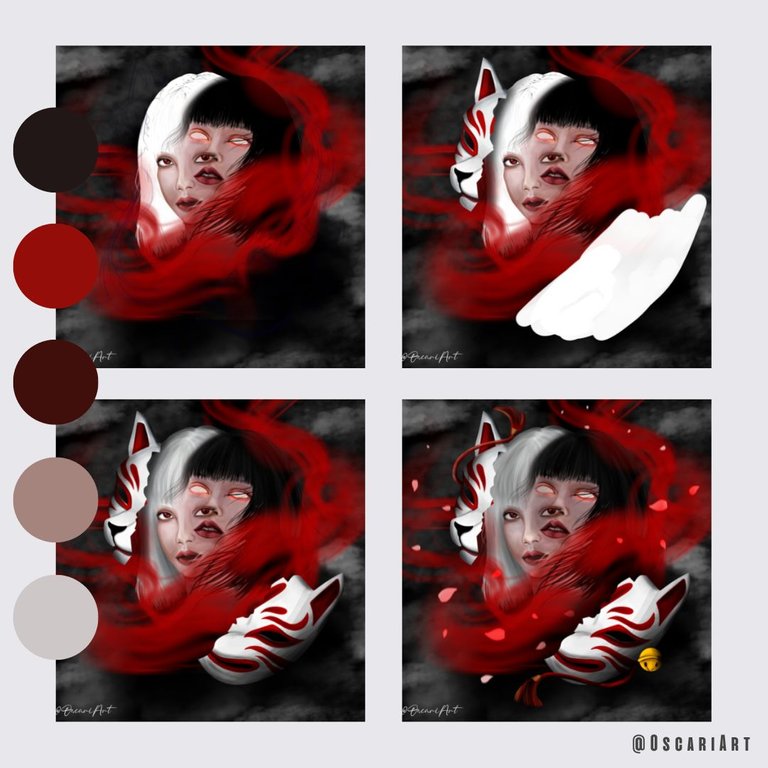 ---
Then I elaborated the red smoke, I did it with an airbrush, then I went to filter - blur of movement, in order to give it that perception. Then I made the mask, the faces and this, I worked them with watercolor brushes.
And to finish in the smoke I added some flower petals, I put this layer in "brightness overexposure" and I also added the motion blur effect. For the background I put a dark background with haze.
Luego elaboré el humo rojo, lo hice con aerógrafo, luego pasé a filtro - desenfoque de movimiento, para darle esa percepción. Luego hice la máscara, los rostros y esto, los trabajé con pinceles de acuarela.
Y para terminar en el humo añadí unos pétalos de flores, puse esta capa en "sobreexposición de brillo" y también añadí el efecto de desenfoque de movimiento. Para el fondo puse un fondo oscuro con neblina.
---
Illustration Finished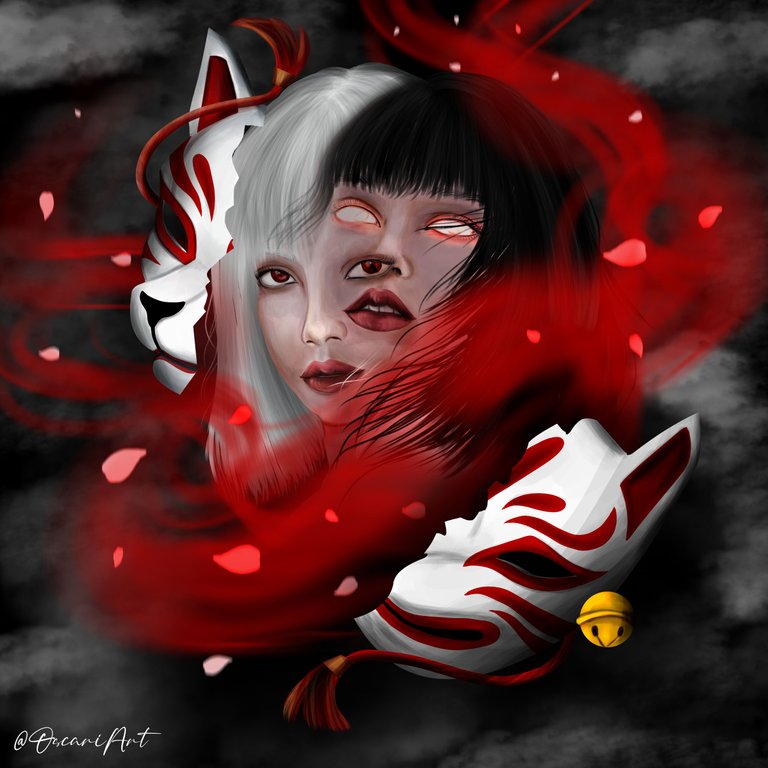 ---
Well, this is the final result. I hope you like it. Thanks for making it this far! I wish you a nice day ✨.
Bueno, este es el resultado final. Espero que les guste. ¡Gracias por haber llegado hasta aquí! Les deseo un buen día ✨.
---
Kitsune Japanese Fox
---

---
Twitter:
Instagram:
Tools - Herramientas
Huion H430P Graphics Tablet | Tableta Gráfica Huion H430P
Translated in Deelp
App used | App utilizadas:
Illustration made in Clip Studio Paint - Ilustración elaborada en Clip Studio Paint
All images are my own - Todas las imágenes son de mi autoría
---
---