Splinterlands Art Contest Week 233 | "Coastal Nymph" Jesber's Version [ENG-ESP]
Coastal nymphs inhabit the shores of Lemell's islands. They are an agitated and ill-tempered splinter of nymphs, quick to anger and rise to a fight. They travel across the archipelagos on great rafts of driftwood, scavenging from the seabed and selling their finds to local villages. Link
Las ninfas costeras habitan las costas de las islas de Lemell. Son una astilla de ninfas agitadas y malhumoradas, rápidas para enfadarse y levantarse a pelear. Viajan por los archipiélagos en grandes balsas de madera a la deriva, rebuscando en el fondo del mar y vendiendo sus hallazgos a las aldeas locales. Link
---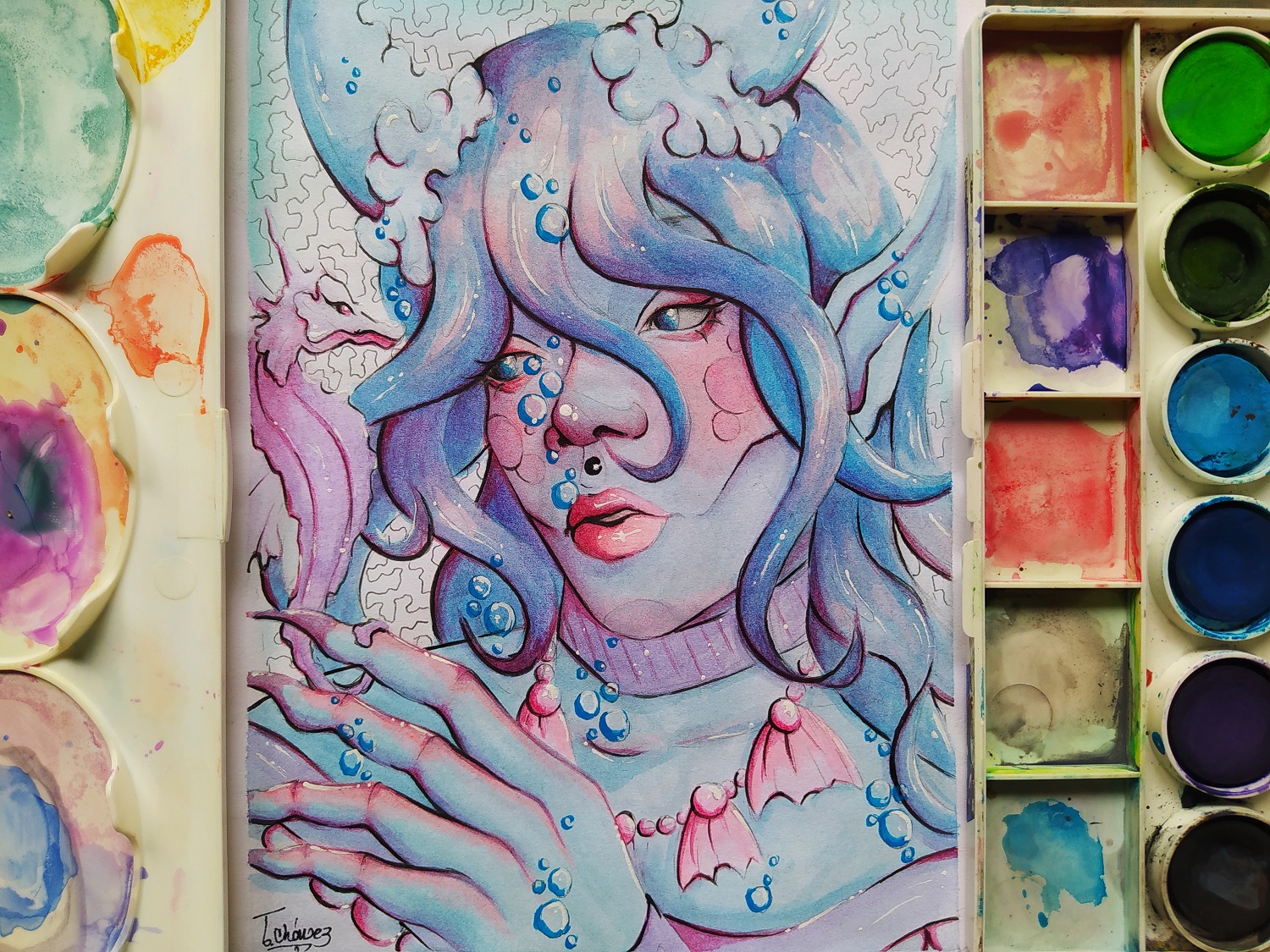 ---
🌿 Coastal Nymph ✨ | 🌿 FAN ART🌿
Original JesberChavez
Hello beautiful people! I bring you a new drawing for the art contest by @Splinterlands, which is done every week. I took the Coastal Nymph card as a reference, since I love those mermaid inspired cards and this is one of them. What I loved the most about this drawing was the color palette, I loved those cold tones, I haven't done a color palette as cold as this one for a long time.
Hola gente bonita! Les traigo un nuevo dibujo para el concurso de arte por parte de @Splinterlands, el cual se hace cada semana. Tome como referencia la carta de Coastal Nymph, ya que me encantan esas cartas inspiradas en sirenas y está es una de ellas. Lo que mas ame de este dibujo fue la paleta de color, esos tonos tan fríos me encantaron, tenia tiempo sin hacer una paleta de color tan fría como está.

---
⬛➖⬜➖◼➖➖◻➖🌵 PROCESS // PROCESO 🌵➖◻➖◼➖⬜➖⬛
---
As I had been drawing half-body characters most of the time, I decided to go this time to draw only the face and make my version in portrait. I took a close look at the original illustration so I could take references from it and integrate them into my drawing. The truth is that there was not much to do, since the character did not have many elements to highlight and reflect in the portrait. In the end, I realized that it would be good to add a seahorse so the character would not look so empty visually, leaving a good composition in the sketch.
Como había estado dibujando la mayoría de veces personajes a medio cuerpo, decidí irme esta vez por dibujar solo el rostro y hacer mi versión en retrato. Me fije muy bien en la ilustración original para así tomar referencias de la misma y que me sirvieran para integrarlas a mi dibujo. La verdad no había mucho que hacer, ya que el personaje no tenia muchos elementos para destacar y reflejar en el retrato. Al final, me percate que seria bueno agregar un caballo de mar y así el personaje no se vería tan vació visualmente, quedando una buena composición en el boceto.
I started working on the color and for that I used the color palette of the original character as a reference. Mostly blue was the most predominant color in the illustration, so much of the color work I used in this drawing was blue, adding variants or complementing through the chromatic circle, so that any color that was going to use, fit perfectly and everything integrates very well. If we see well the drawing, we can see that at the end we have a cold color palette, complemented with the red color in very light tones, to continue with the same cold color palette.
Comencé a trabajar el color y para ello use como referencia la paleta de color del personaje original. Mayormente el azul era el color que más predomina en la ilustración, así que gran parte del trabajo de color que use en este dibujo fue el azul, agregando variantes o complementando mediante el circulo cromático, para que así cualquier color que fuese a usar, encajara perfectamente y todo se integra muy bien. Si vemos bien el dibujo, podemos fijarnos que al final quedo una paleta de color fría, complementada con el color rojo en tonos muy claros, para seguir con esa misma paleta de color fría.
I used watercolors in their entirety to work the color in this drawing, complementing the line with black ink. The final details are the part that I enjoy the most to tell the truth, adding the line and the shines I really love it too much and doing this part of the drawing, that is; the final details, I know that I am finishing it and soon I will see the result of it. To be honest, I didn't think that this drawing was going to like so much, but I really loved how it turned out. The color palette, the details and all the general composition of the drawing simply enchanted me, without a doubt a drawing that is added to my favorites of the year, staying in the first places of my list.
Use acuarelas en su totalidad para trabajar el color en este dibujo, complementando el linear con tinta en color negro. Los detalles finales son la parte que mas disfruto a decir verdad, agregar el linear y los brillos la verdad que me encanta demasiado y haciendo esta parte del dibujo, es decir; los detalles finales, se que estoy terminando el mismo y pronto veré el resultado del mismo. Siendo sincero, no pensé que este dibujo que fuese a gustar tanto, pero de verdad que ame demasiado como quedo. La paleta de color, los detalles y toda la composición general del dibujo simplemente me encanto, sin duda un dibujo que se agrega a mis favoritos del año, quedando en los primeros lugares de mi lista.
¡I hope you like it!
¡Espero que te guste!

⬜️◾️🌿"Coastal Nymph"🌿 Jesber's Version◽️⬛️
---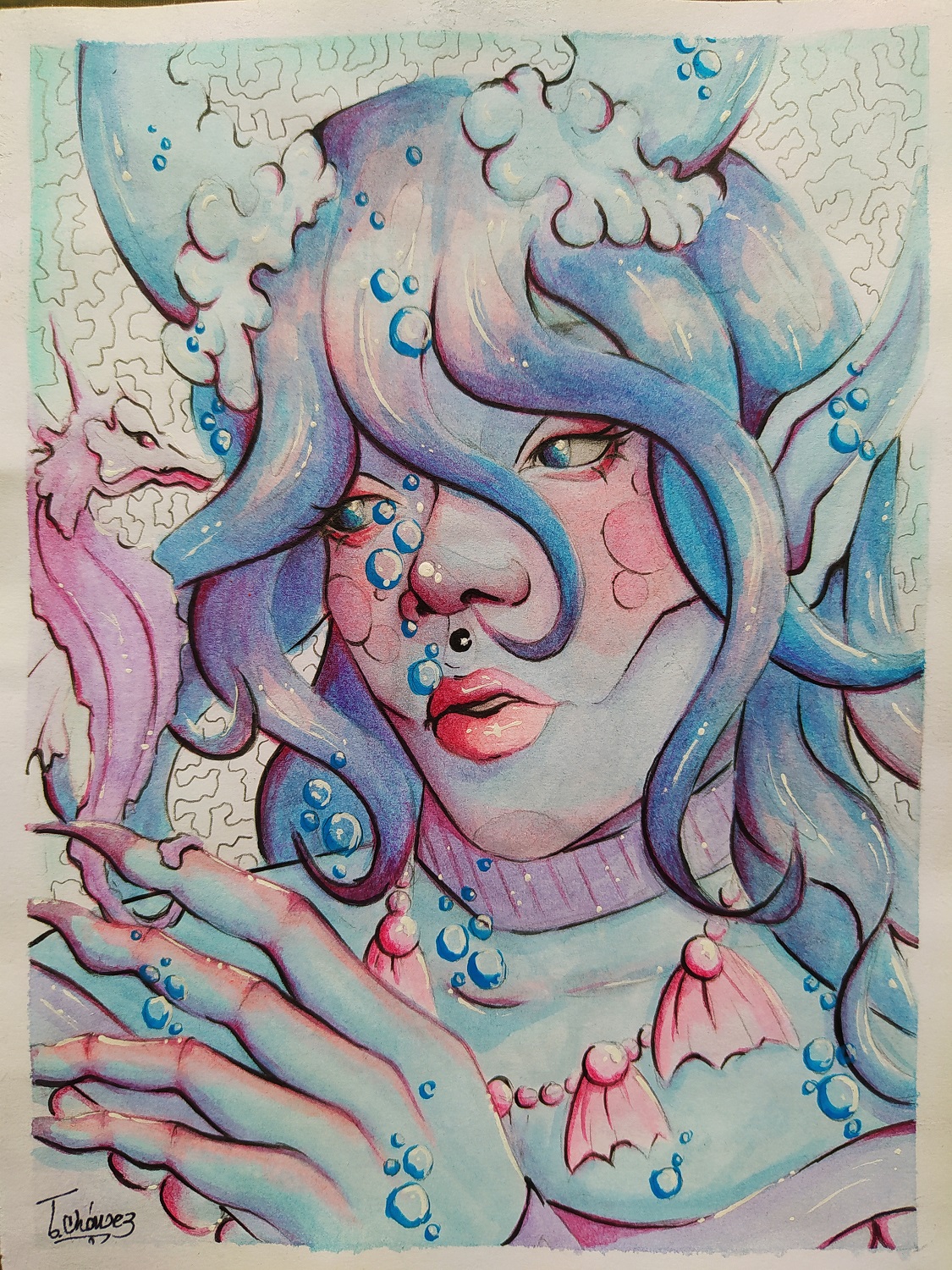 Original Jesber Chavez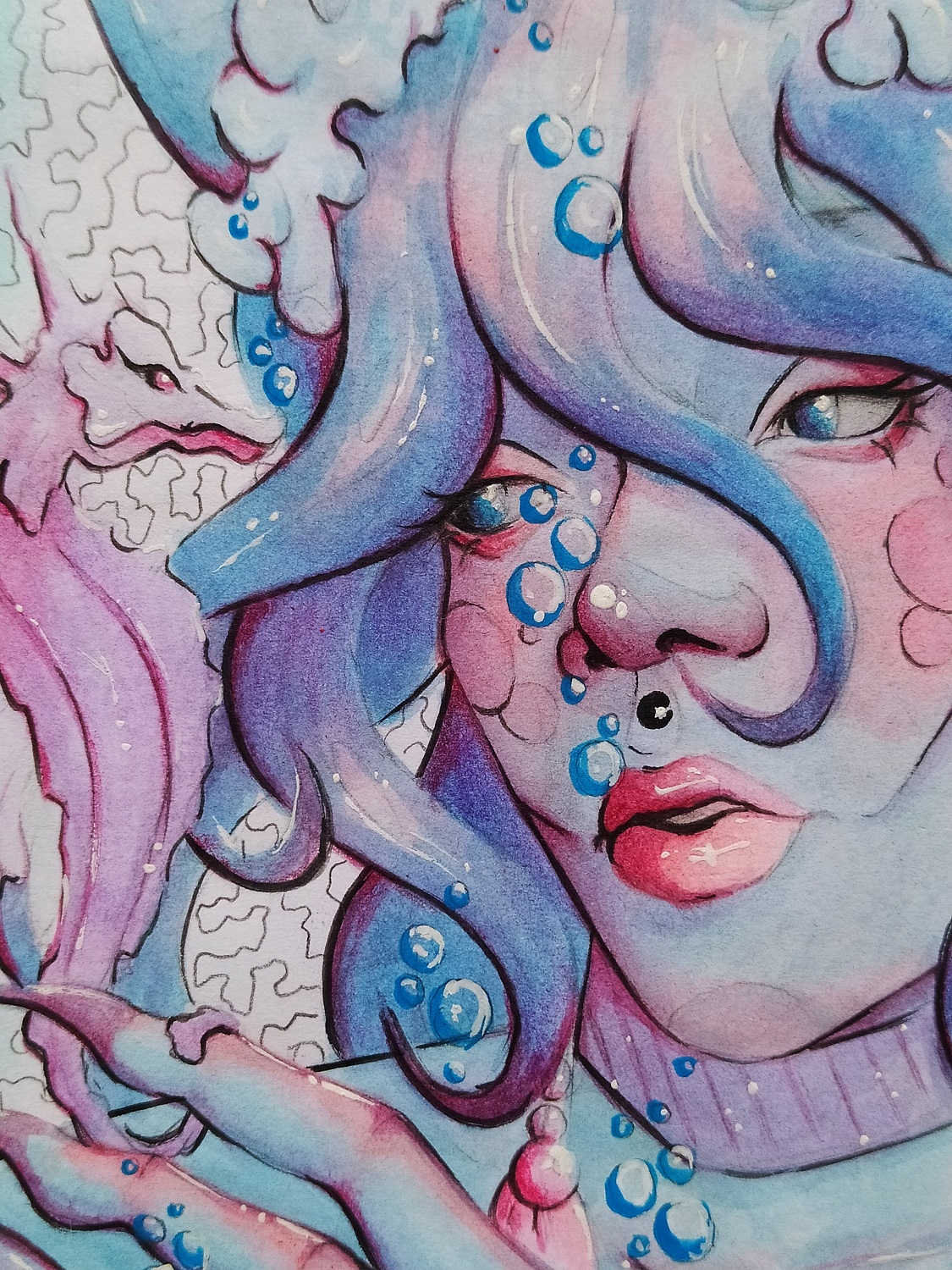 ---

🌿Coastal Nymph🌿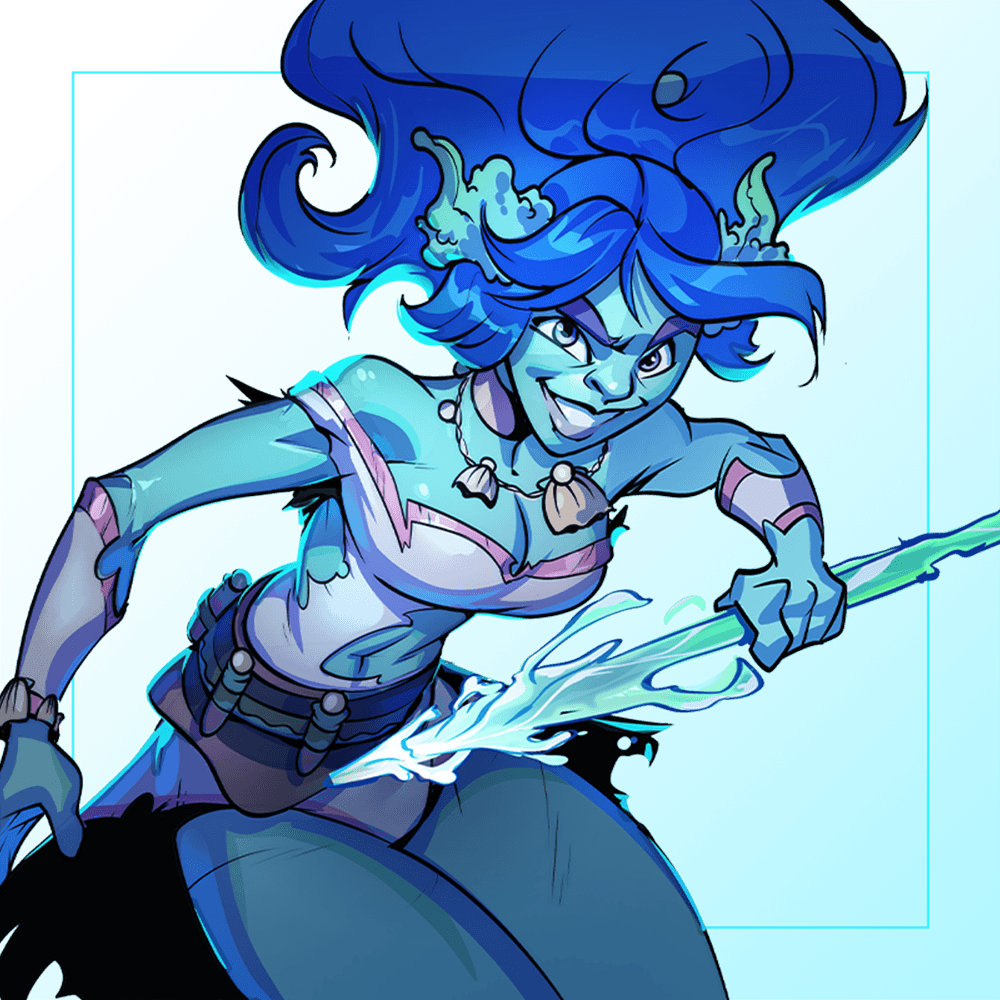 Link

Summary of the Process
Resumen de todo el Proceso
---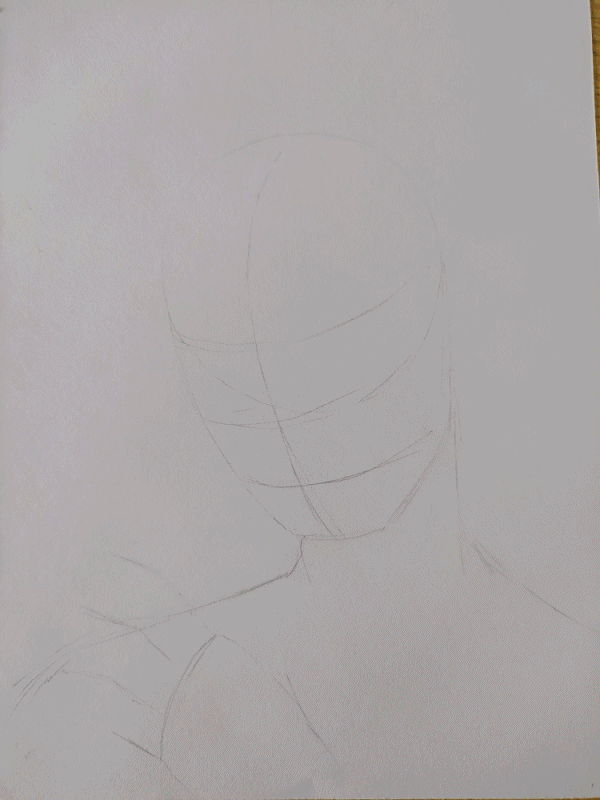 ---

✨Thanks for entering the publication.✨

✨Gracias por entrar en la publicación.✨
---
NFTShowroom
Rarible
GhostMarket
Instagram
---
---
Translated thanks to Deepl
Traducido gracias a Deepl
https://www.deepl.com/translator
---
---
---