Splinterlands FanArt | DJINN APPRENTICE Inspiration | Social Media Challenge [ENG-ESP]
Djinn Apprentices prefer to study under more powerful djinn to hone their magic. While not as strong or cunning as others of their kin, they are just as dangerous to untrained warriors.
When the Chaos Legion arrived, it had a diverse effect on the djinn. Not a unified race by any means, some chose to align with the Chaos Legion, some chose to defend against it, and others chose to go their own path and leave it all behind. Djinn Apprentices chose to align themselves with Djinn Inferni, believing in his mission and his vision. Link
Los aprendices de djinn prefieren estudiar con djinn más poderosos para perfeccionar su magia. Aunque no son tan fuertes o astutos como otros de su especie, son igual de peligrosos para los guerreros sin entrenamiento.
La llegada de la Legión del Caos tuvo un efecto diverso en los djinn. Algunos optaron por aliarse con la Legión del Caos, otros por defenderse de ella y otros por seguir su propio camino y dejarlo todo atrás. Los aprendices de djinn eligieron aliarse con el djinn Inferni, creyendo en su misión y su visión. Link
---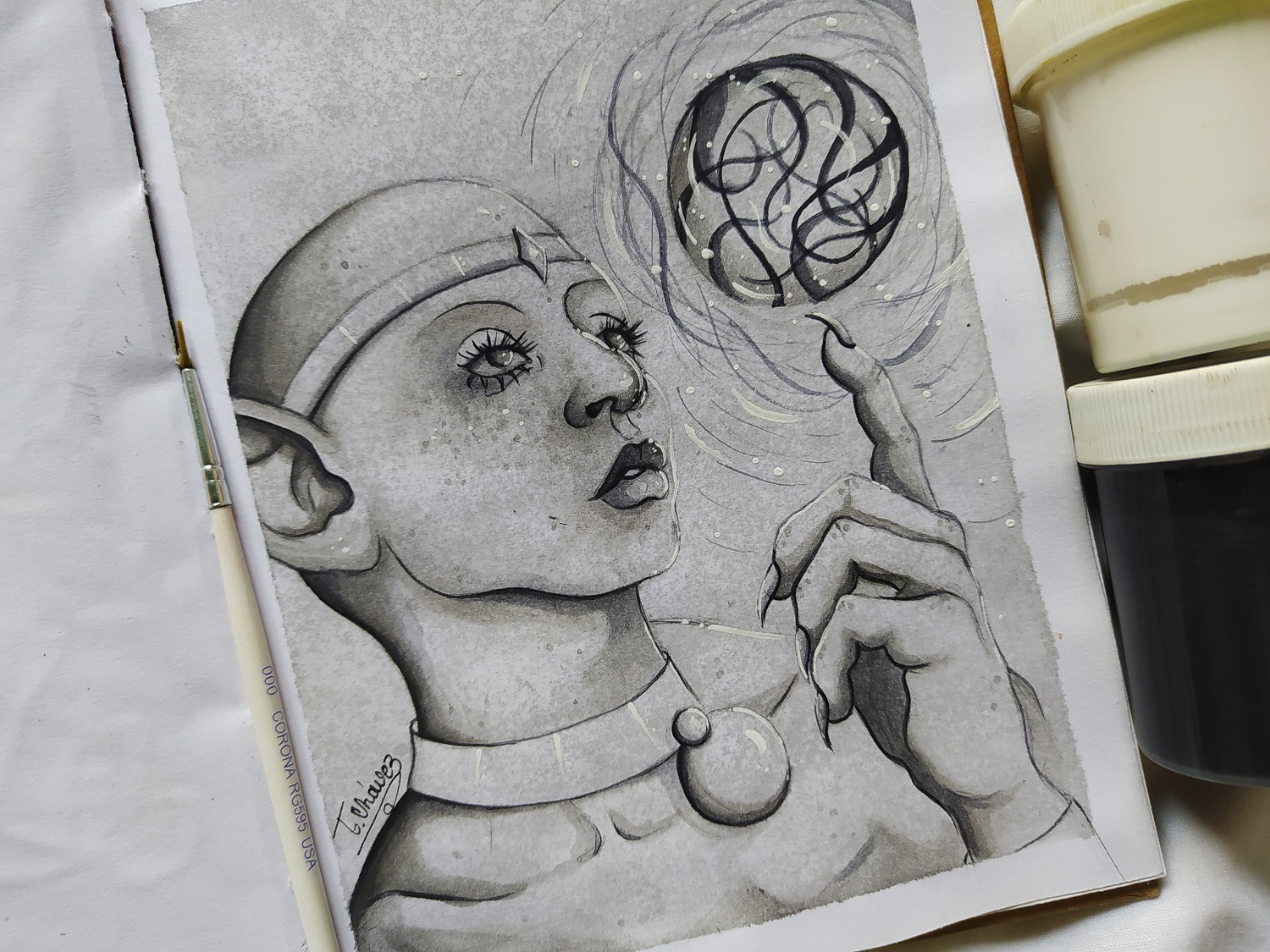 🌿DJINN APPRENTICE✨ | FAN ART✨🌿
Original JesberChavez
---
Hello, I hope you all are well, I share with you a new drawing, which is inspired by DJINN APPRENTICE from @Splinterlands. The truth, I had too long time without making a drawing only in black and white, type grisalla, remember that in my past times I only worked in black and white, I didn't use color at all, so with this work I felt like using this technique again.
Hola! Espero estén bien todos, les comparto un nuevo dibujo, el cual esta inspirado en DJINN APPRENTICE de @Splinterlands. La verdad, tenia demasiado tiempo sin hacer un dibujo solo en blanco y negro, tipo grisalla, recuerdan que yo en mis tiempos pasados solo trabajado en blanco y negro, para nada usaba el color, así que con este trabajo me entraron las ganas de usar esta técnica nuevamente.

---
⬛➖⬜➖◼➖◻➖🌵 PROCESS // PROCESO 🌵➖◻➖◼➖⬜➖⬛
---
I started making the sketch in my sketchbook and for that, I was looking at the reference for a few minutes and I realized that the original character did not have many elements to highlight, that's when I decided to make my version only of the face, linked to the fact that I had not done a drawing focused only on the face for a long time.
Comencé haciendo el boceto en mi cuaderno de dibujos y para ello, estuve viendo la referencia unos minutos y me di cuenta que el personaje original no tenia muchos elementos a destacar, fue entonces cuando decidí hacer mi versión solo del rostro, ligado al hecho de que ya tenia bastante tiempo que no hacia un dibujo solo enfocado a el rostro.
I had planned to do a few things in the drawing, but the truth is that I wanted to leave the simplicity of it, since the original illustration if you see it for a moment, is so beautiful but so simple at the same time that I wanted to leave that in my drawing. Once I had the sketch finished, I started to work on the painting on it, which for this I only worked with black, as I had told you before.
Tenia pensado hacer unas cuantas cosas en el dibujo, pero la verdad quise dejar la simplicidad del mismo, ya que la ilustración original si la ves por un momento, es tan hermosa pero tan sencilla a la vez que quise dejar eso en mi dibujo. Una vez tuve el boceto terminado, comencé a trabajar la pintura en el mismo, que para ello solo trabaje con negro, como les había dicho anteriormente.
I used black in 99% of the drawing, yes, but I used two different art materials, such as cold paint and ink, since cold paint is very clear when worked as watercolor and to give darkness to the drawing, such as more pronounced shadows and so on, I used ink, since it has a stronger pigment when worked.
Use negro en el 99% del dibujo sí, pero use dos diferentes materiales de arte, como lo fueron pintura al frió y tinta, ya que la pintura al frió es muy clara al trabajarla como acuarela y para darle oscuridad al dibujo, como sombras mas pronunciadas y demás, use tinta, ya que posee un pigmento mas fuerte al trabajarla.
To be honest, this drawing made me remember those times when I worked my drawings only in black and white and I always had that fear inside me when I wanted to work with color and I didn't do it, I don't know why? I must be thankful that at the time I had the courage to begin to investigate and work with color, because the truth is that the progress I have had over time has been enormous.
Siendo sincero, este dibujo me hizo recordar aquellos tiempos en donde trabaja mis dibujos solo en blanco y negro y siempre tenia ese miedo dentro de mi al querer trabajar el color y no hacerlo, no se por qué? Debo agradecer de que en su momento tuve el valor de comenzar a indagar y trabajar el color, porque la verdad que el avance que he tenido con el tiempo ha sido enorme.
I hope you like it!
¡Espero que te guste!

⬜️◾️"DJINN APPRENTICE" Jesber's Version◽️⬛️
---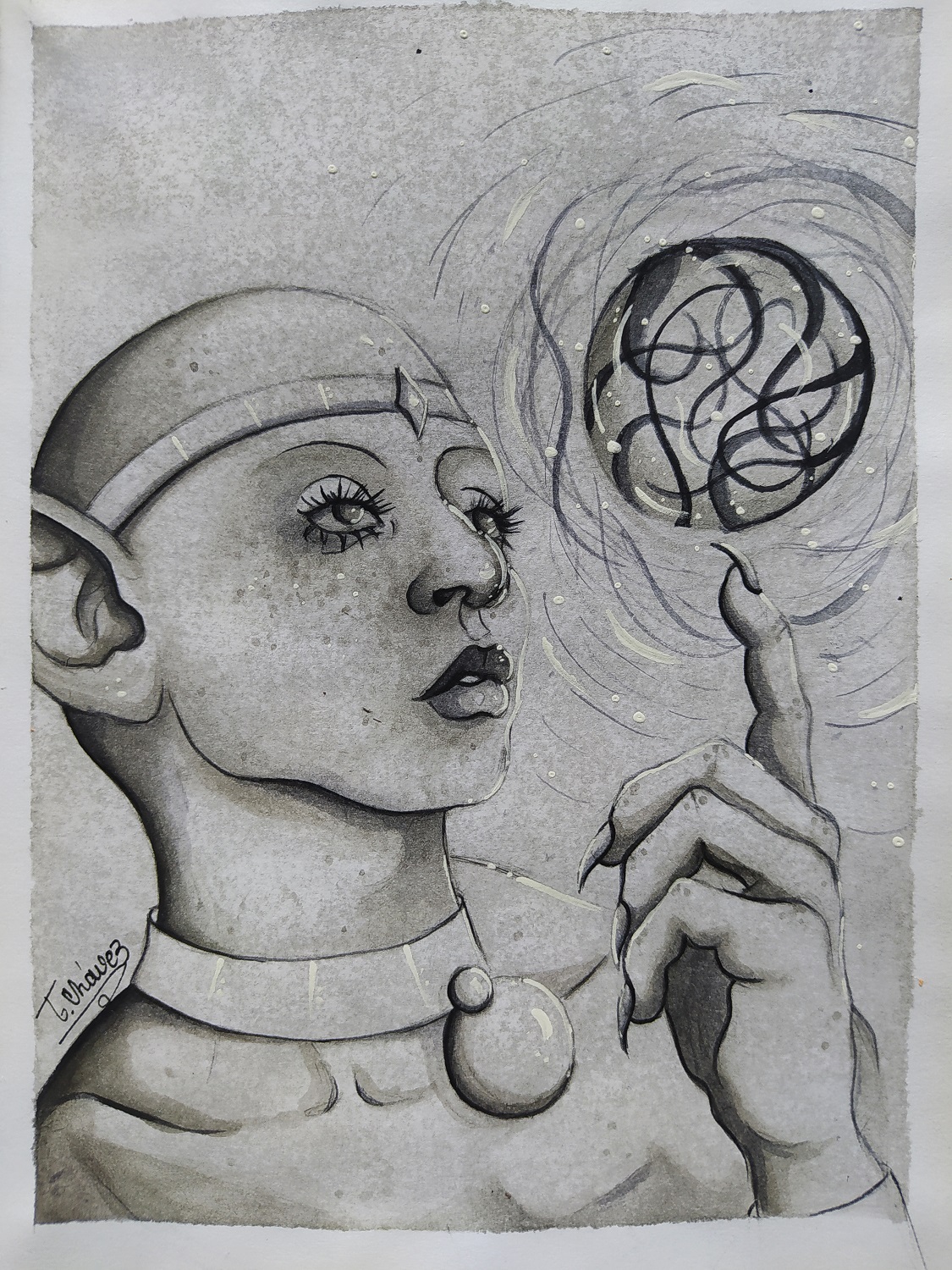 Original Jesber Chavez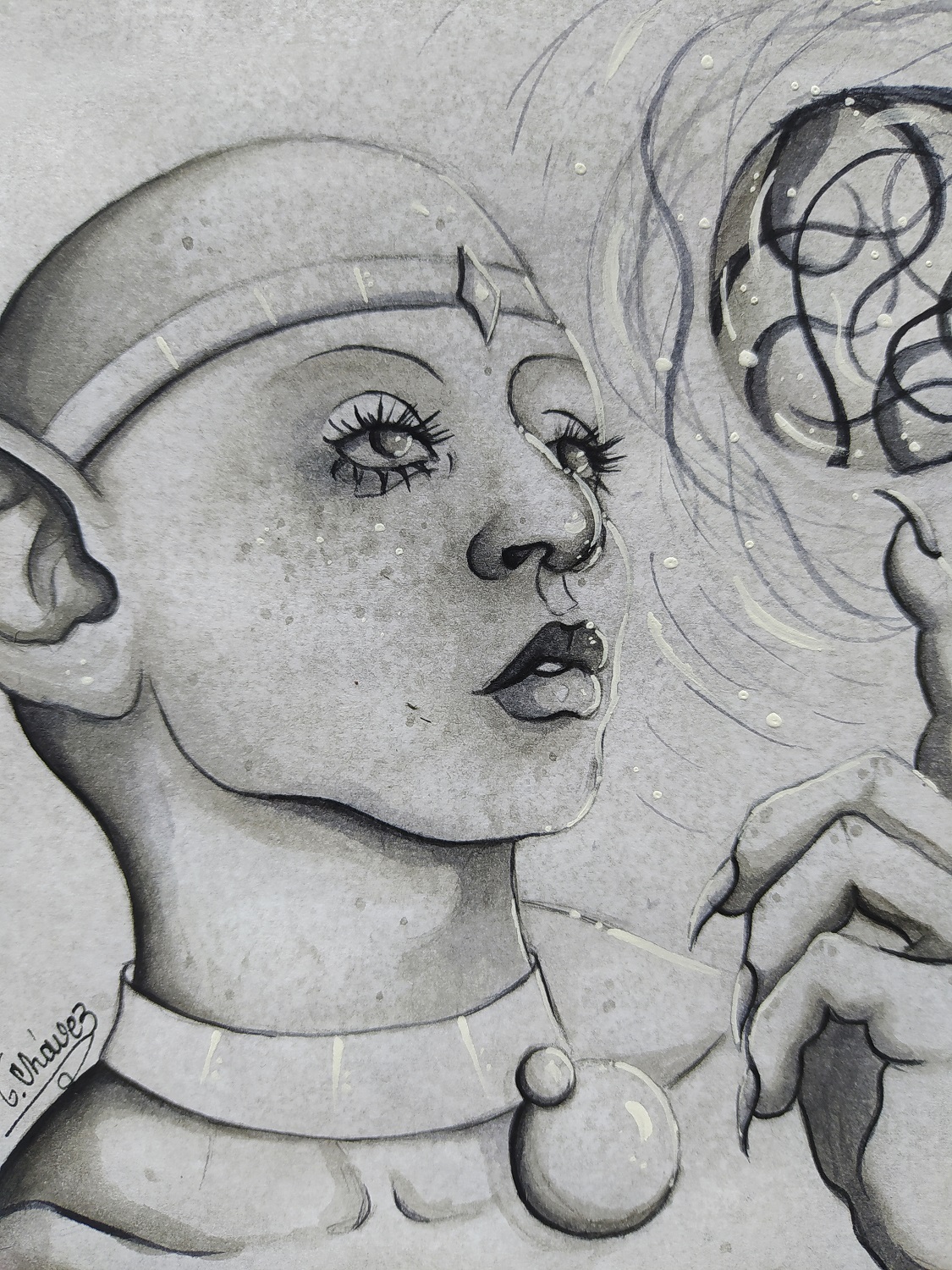 ---

🌿DJINN APPRENTICE🌿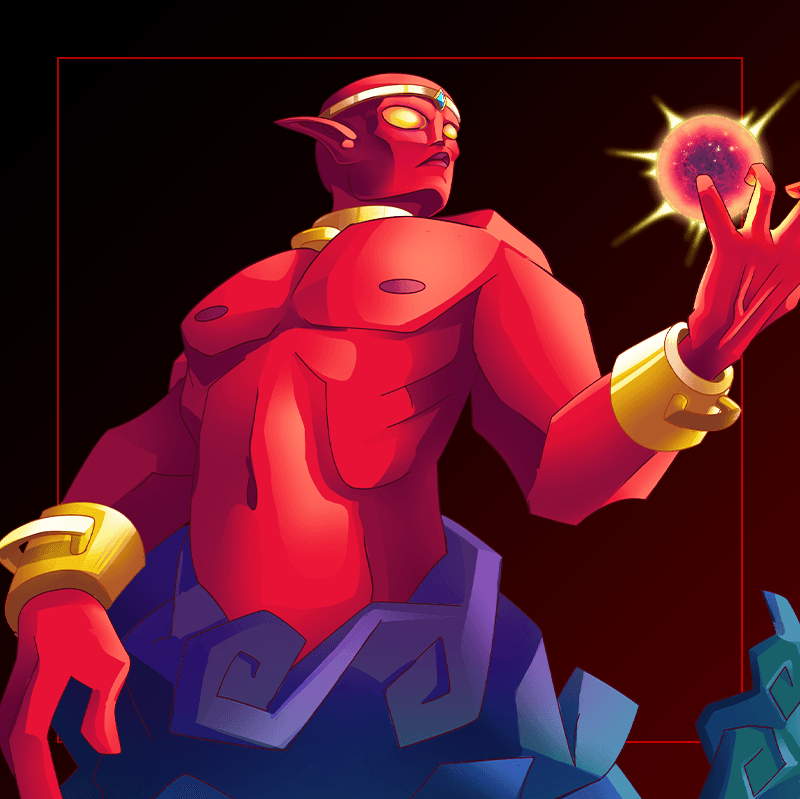 Link

---
Summary of the whole Process
Resumen de todo el Proceso
---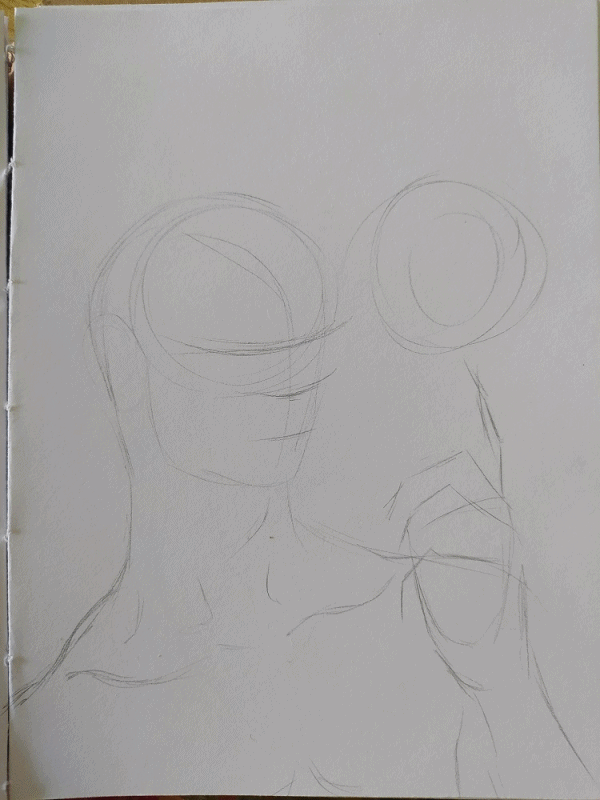 ✨Thank you for entering the publication.✨

✨Gracias por entrar a la publicación.✨
---
NFTShowroom
Rarible
GhostMarket
Instagram
---
---
Translated thanks to Deepl
Traducido gracias a Deepl
https://www.deepl.com/translator
---
---
---