Splinterlands FanArt | Torrent Fiend Inspiration | Social Media Challenge [ENG-ESP]
Within the Realm of Chaos resides Uul, an eldritch dark god that has consumed countless realities.
It is this ancient entity of madness and despair that Silus of the Rift called upon to fulfill his plans of conquest. What Silus offered was of great interest to Uul: to feed upon The Source. To taste mana from the Well which had been forever beyond its enormous reach.
And so the elder god of a thousand screaming worlds gazed upon a single point of pure, primal energy, its power a familiar echo of the creation of All. When Silus opened the Gateway, Uul knew that its enormity could never pass through the revealed portal; however, that did not mean it could not make its presence known in the world beyond. Link
En el Reino del Caos reside Uul, un dios oscuro que ha consumido incontables realidades.
Silus de la Grieta recurrió a esta antigua entidad de locura y desesperación para llevar a cabo sus planes de conquista. Lo que Silus ofrecía era de gran interés para Uul: alimentarse de La Fuente. Probar el maná del Pozo que había estado por siempre fuera de su enorme alcance.
Y así, el dios anciano de mil mundos chillones contempló un único punto de energía pura y primigenia, cuyo poder era un eco familiar de la creación del Todo. Cuando Silus abrió el Portal, Uul supo que su enormidad nunca podría atravesar el portal revelado; sin embargo, eso no significaba que no pudiera dar a conocer su presencia en el mundo del más allá. Link
---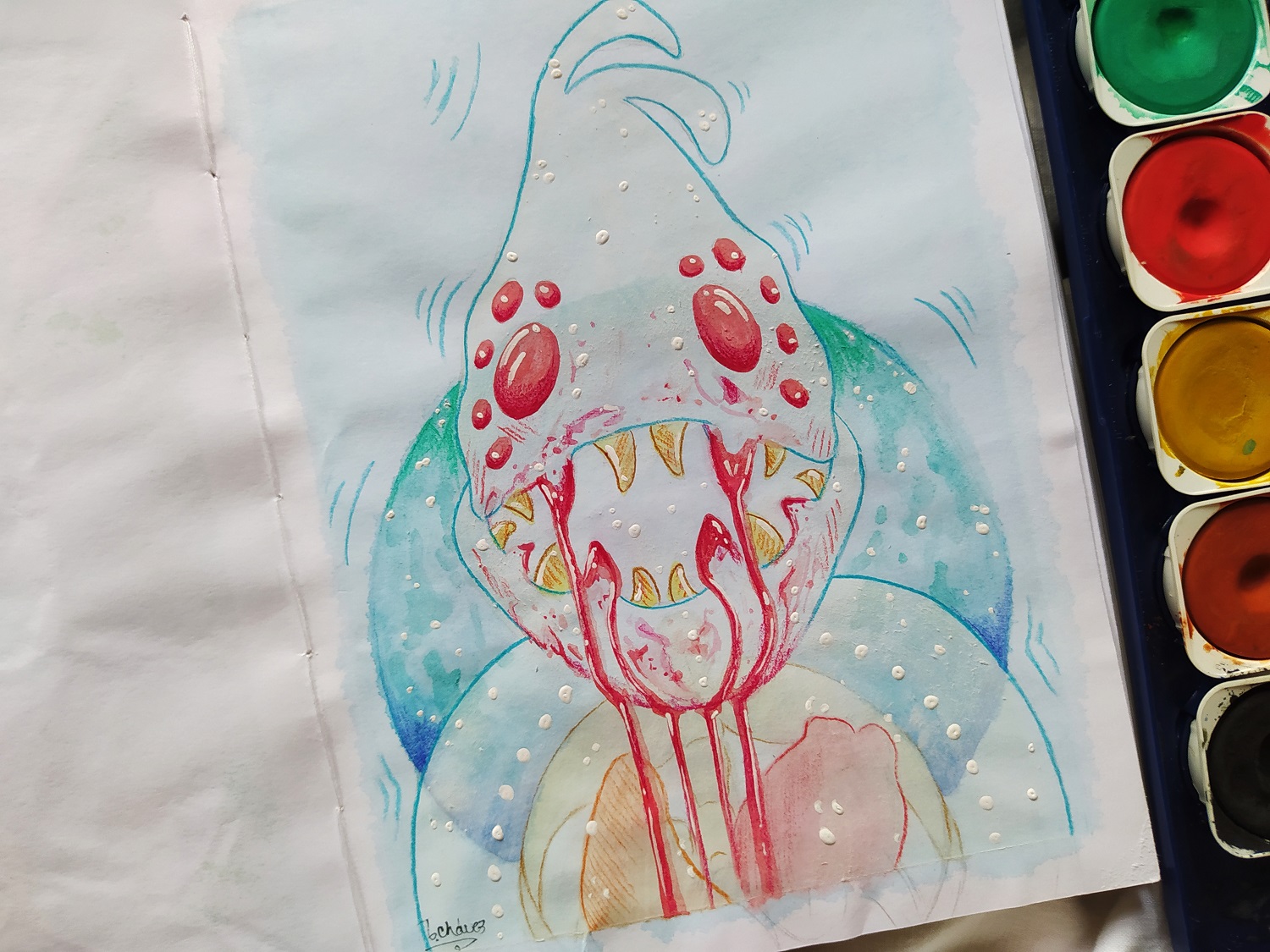 🌿✨ Torrent Fiend | FAN ART✨🌿
Original JesberChavez
---
I saw this character hanging around in the letters section of @Splinterlands and I don't know, I thought it was so cute and I'm not the best person for these things, everything cheesy and cute in life, I've just never been interested, but I saw this character and it was adorable. Torrent Fiend came to me immediately ready to draw him and that's what I'm going to do this time.
Les cuento, vi este personaje rondando en la sección de cartas de @Splinterlands y no se, me pareció tan tierno la verdad y yo no soy la mejor persona para estas cosas, todo lo cursi y tierno que haya en la vida, simplemente nunca me ha interesado, pero este personaje lo vi y se me hizo adorable. Torrent Fiend entro a mi listo de inmediato para dibujarlo y es lo que haré esta vez.

---
⬛➖⬜➖◼➖◻➖🌵 PROCESS // PROCESO 🌵➖◻➖◼➖⬜➖⬛
---
I knew it wasn't going to be a humanoid character, as I usually do in occasions for #fanart of Splinterlands, I wanted to keep the character anatomically, without changing absolutely nothing of him. I only focused on the face, because if we see the original illustration, the character has a transparent body, and to be honest, I had no idea how I would work that transparency in my drawing, so I just kept the face.
Sabia que no iba a ser un personaje humanoide, como suelo hacer en ocasiones para #fanart de Splinterlands, quise conservar anatómicamente el personaje, sin cambiar absolutamente nada de el. Eso si, solo me enfoque en el rostro, ya que si vemos la ilustración original, el personaje tiene un cuerpo transparente, que para serles sincero, ni ida de como trabajaría esa transparencia en mi dibujo, así que mejor me quede solo con el rostro.
I made the sketch in my sketchbook and detailed elements of the original illustration, to integrate them into my drawing, to have a 100% similarity, which in my opinion I achieved very well. I started to work on the color once I had finished the sketch and for that, I took as a reference the color palette of the original character, which I thought was nice, because it had colors like blue, green, yellow and red, but worked in a few saturated tones, almost worked as pastel tones, which is very tender for me on that part.
Hice el boceto en mi cuaderno de dibujos y detalle elementos de la ilustración original, para integrarlas en mi dibujo, para que tuviera una similitud del 100%, lo cual y a mi parecer logre muy bien. Comencé a trabajar el color una vez que había terminando de hacer el boceto y para ello, me fije y tome como referencia la paleta de color del personaje original, la cual me pareció linda, ya que tenia colores como azul, verde, amarillo y rojo, pero trabajados en tonos pocos saturados, casi trabajados como tonos pastel, lo cual se me hace muy tierno por esa parte.
| | |
| --- | --- |
| | |
After working on the color in the drawing, I take this opportunity to tell you that I used watercolors to give color to the drawing, I started to think for a while how to integrate something of me to the character, since I felt him a little distant to my style of drawing, so I thought of filling him with blood all over his mouth, so that it drips all over his face and gives him that touch of darkness that my illustrations usually have. And well, to finish it, I did a color lineart, which I never do, but I felt necessary this time and a couple of details like glitter in many areas of the drawing and that's it.
Luego de estar trabajando el color en el dibujo, aprovecho de contarles que para darle color al mismo use acuarelas, me puse a pensar un rato como integrar algo de mí al personaje, ya que lo sentía algo distante a mi estilo de dibujo, así que se me ocurrió llenarlo de sangre en toda la boca, que escurra por todo su rostro y le de ese toque de oscuridad que suelen tener mis ilustraciones. Y bueno, ya para terminarlo, le hice un linear a color, lo cual no hago nunca, pero sentí necesario esta vez y un par de detalles como brillos en muchas zonas del dibujo y listo.
I hope you like it!
¡Espero que te guste!

⬜️◾️"TORRENT FIEND" Jesber's Version◽️⬛️
---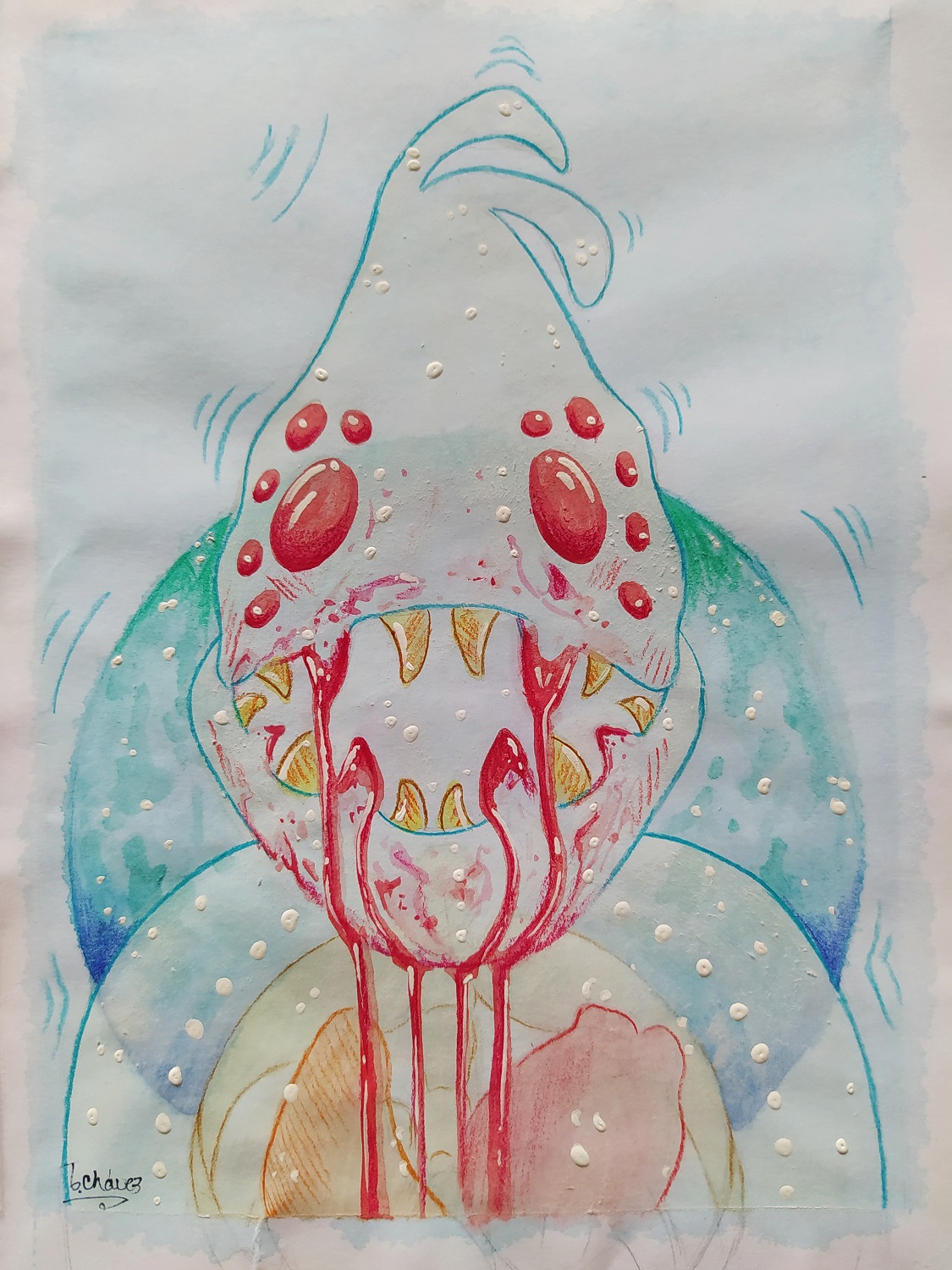 Original Jesber Chavez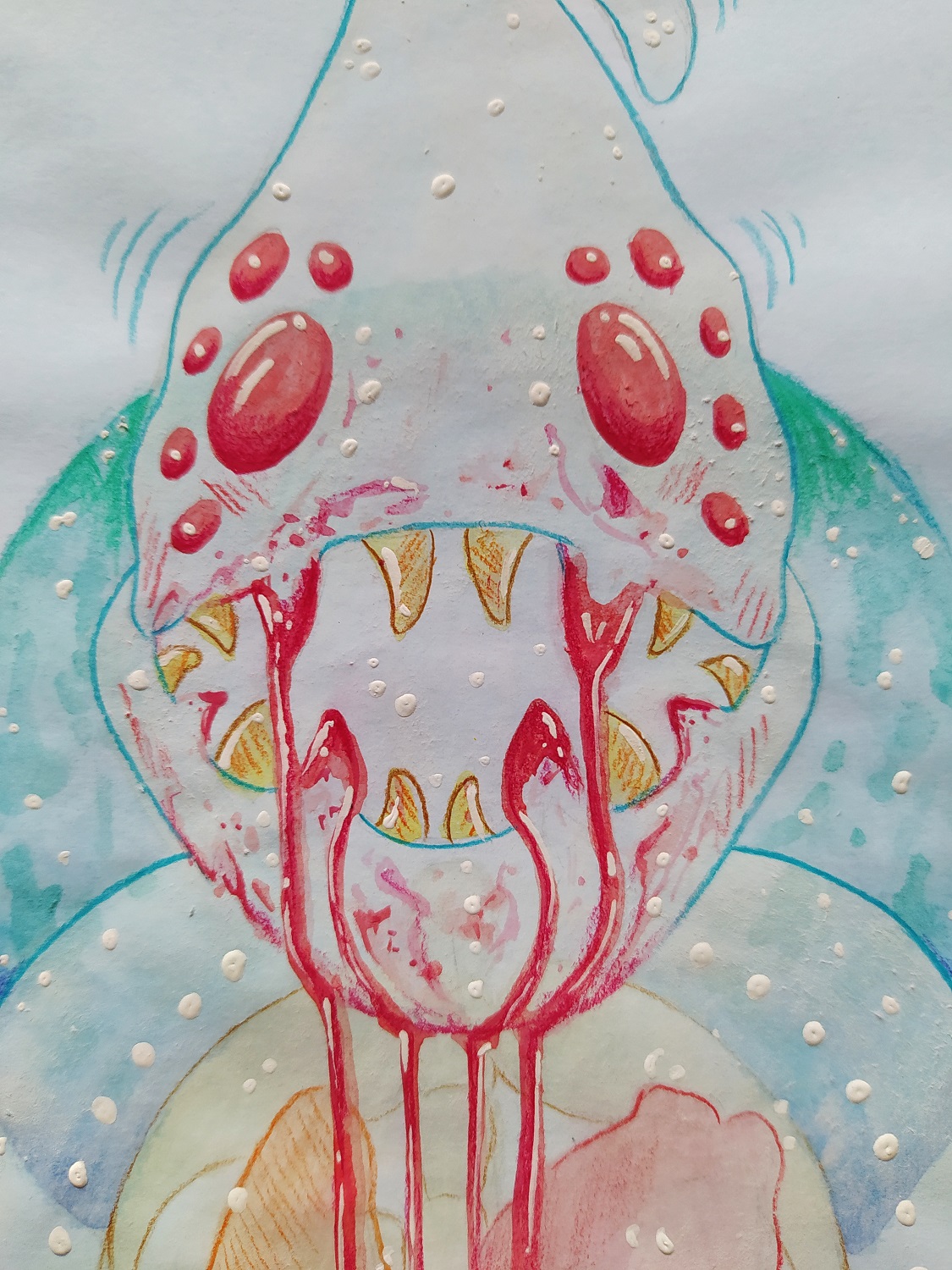 ---

🌿Torrent Fiend🌿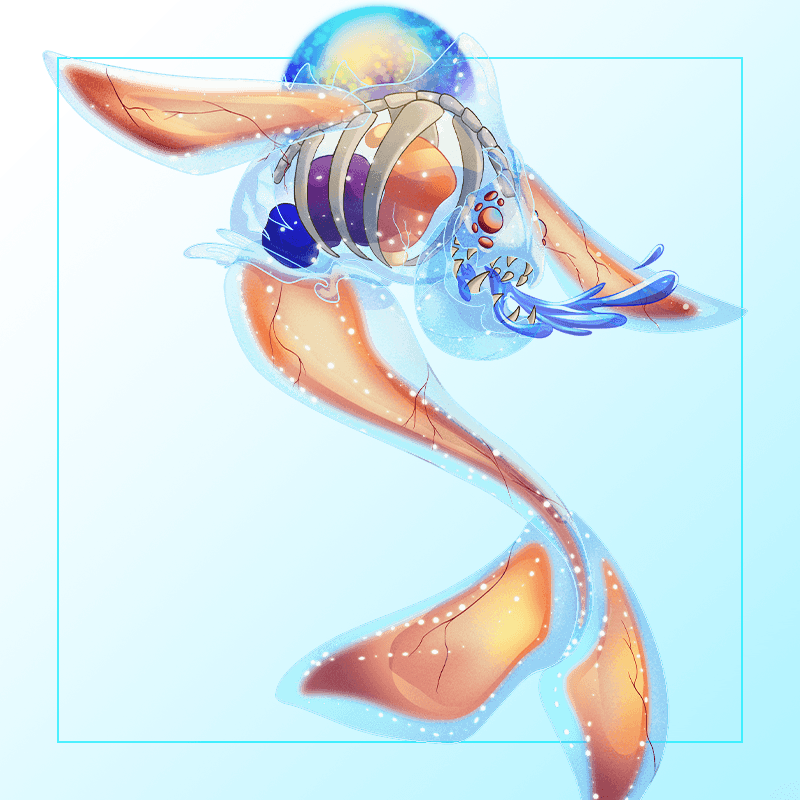 Link

---
Summary of the whole Process
Resumen de todo el Proceso
---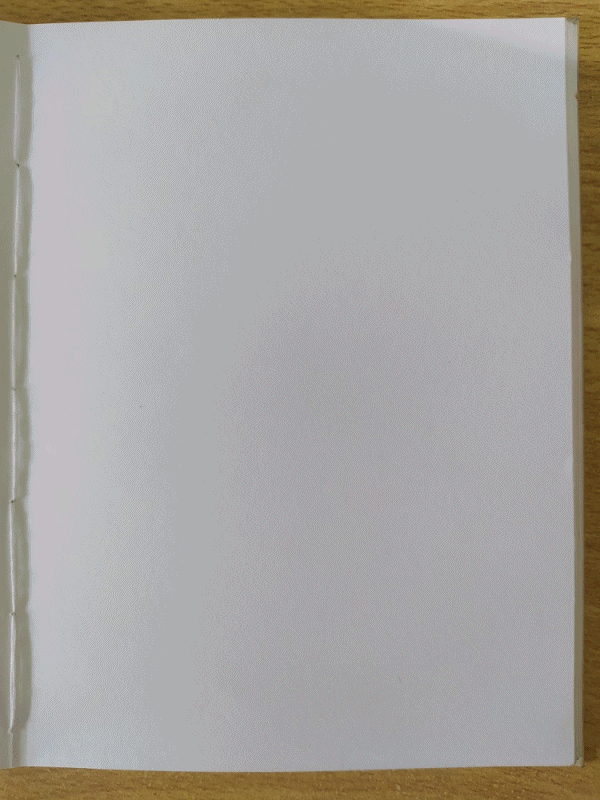 ✨Thank you for entering the publication.✨

✨Gracias por entrar a la publicación.✨
---
NFTShowroom
Rarible
GhostMarket
Instagram
---
---
Translated thanks to Deepl
Traducido gracias a Deepl
https://www.deepl.com/translator
---
---
---